About Arkivoc
Philosophy of the Journal
In a climate of high subscription charges often levied by commercial publishers and learned societies alike, Arkivoc was launched in 2000 as a journal with a very different philosophy: it was designed for universal on-demand distribution at no cost to authors (no page charges or other fees), or readers (no access or downloading charges).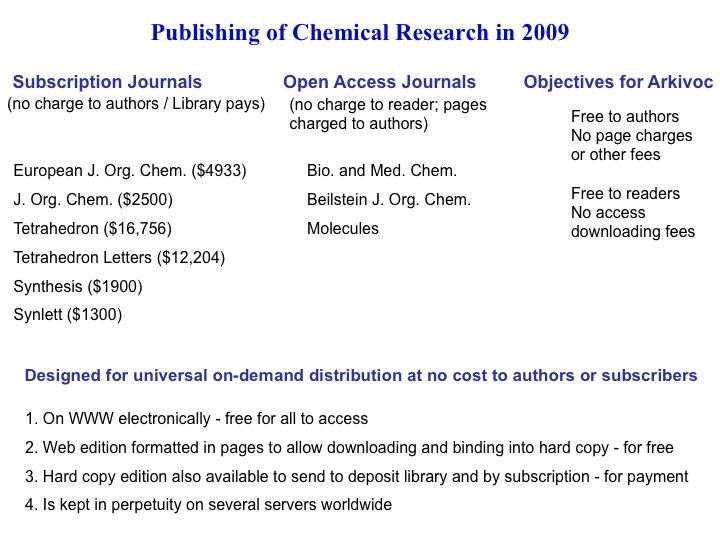 Many of the standard publishing procedures are used in Arkivoc, but a major difference is that the "Control Board" which runs the journal is unpaid. Arkivoc also has a very large Editorial Board of Referees, currently with close to 1,000 members. Arkivoc is unique from most such boards in that about half our members come from outside Western Europe, North America and Japan.
An important part of the philosophy of Arkivoc is to honor chemists from around the world. Distinguished scientists, including chemists, have long been honored in their own countries and a small number, mainly from a few Western developed countries, are honored internationally. Arkivoc has chosen to recognize chemists from around the world and, so far we have produced 85 commemorative issues honoring chemists from 33 countries.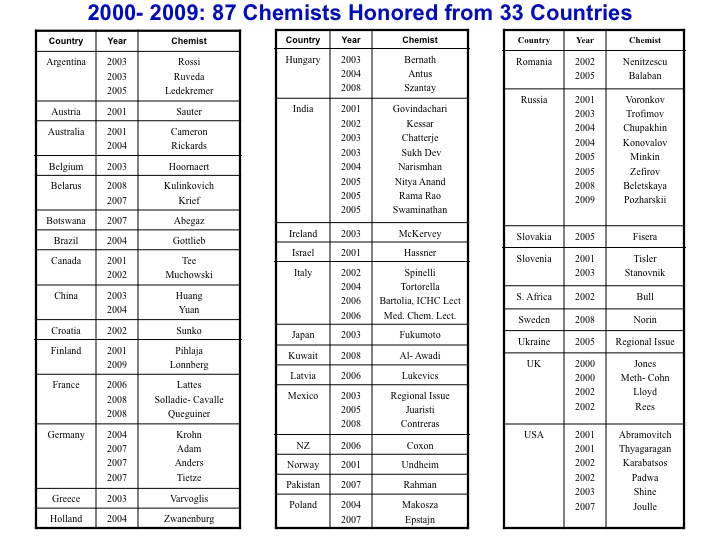 Growth of the Journal
In less than a decade, Arkivoc has progressed significantly in the number of manuscripts received and published. The number of visitors to its website has also increased dramatically: we now have about 100,000 visitors making nearly a million hits per month on the website.

Our impact factor has risen steadily and has now overtaken that of several other journals (Figure 8); while it is still well below that of the best journals in organic chemistry, we believe that our influence in the field will continue to grow.

Flohet Conference
We have also tried to improve contacts between chemists worldwide by running an annual heterocyclic and synthetic conference at the University of Florida. At this conference we offer a dozen plenary lectures from some of the world's most distinguished chemists (Figure 9) together with short courses on various aspects of organic chemistry, 20-30 invited lectures, some 60 posters, and a full social program. Figure 10 shows the program for the 2009 conference.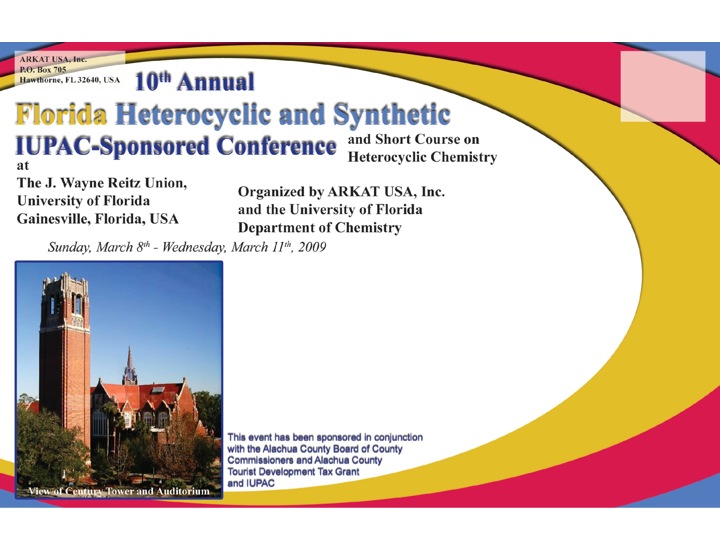 We hope that all chemists will help our efforts to extend the hand of friendship to organic chemists all around the world. We now have a rather high rejection rate for Arkivoc, but if you submit a manuscript we will try to provide you with constructive criticism that may be helpful even if it is rejected. We hope that you will access Arkivoc and, when relevant, cite Arkivoc; the subject index will help you find suitable papers.
We also hope that you will consider coming to the Flohet conference; it gives excellent value and all profits go to support Arkivoc. We only regret that we cannot reduce fees or give any awards because the whole operation of Arkivoc and Flohet occurs without major support and is only made possible by the unstinting efforts of a large number of community-minded chemists.
Contact Arkivoc
ARKAT, USA, the body behind Arkivoc, designates different contacts to handle various queries about their organization and journal. To submit a query, go to http://www.arkat-usa.org/contact-us/