Browse this collection
Filters
Photographer / Artist
Title
Subjects
Related Collections
Search this collection with other related collections in these groups
Browse this collection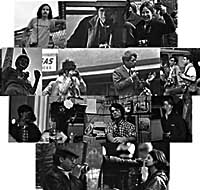 The Michigan Daily Alumni Photographers Project is a collaborative effort of the University of Michigan Board of Student Publications, The Michigan Daily and Bentley Historical Library to preserve and promote the rich photographic heritage of The Michigan Daily. That heritage provides documentation of the campus, the community, and the wider world and demonstrates the technical skills and aesthetic vision the photographers brought to their assignments.
More than 100 students photographers have worked for The Michigan Daily since the first photographs were printed ca. 1900. The roster of Daily alumni photographers includes some who have gone on to notable careers as photojournalists--Pauline Lubens, Steve Kagan and Sara Krulwich to name just a few. Some have found success as commercial photographers, while for others photography became an avocation as they pursued other career paths.
To supplement the Bentley's Michigan Daily collection, the Bentley and the Board of Student Publications have reached out to former Daily photographers who may have personal collections of their work for the Daily, asking if they would consider contributing a selection of their best images for inclusion in the Michigan Daily Alumni Photographers Project. To date Jay Cassidy (1967-1969), Steve Kagan (1970-1973), and Sara Stillman (1995-1998) have contributed to the project. Cassidy has contributed his entire collection of 4882 images (original negatives and digitized surrogates). Kagan provided a selection of 91 digitized images and Stillman had earlier donated her collection of negatives to the archives. A selection of Stillman's negatives and approximately 200 images from the Bentley's Daily collection have been digitized in the initial phase of the project
A complete run of The Michigan Daily going back to the first issue in 1890 is now available online in the Michigan Daily Digital Archive.
Rights and Permissions
The University of Michigan Library provides access to these materials for educational and research purposes. These materials may be under copyright. If you decide to use any of these materials, you are responsible for making your own legal assessment and securing any necessary permission. If you have questions about the collection, please contact the Bentley Historical Library. If you have concerns about the inclusion of an item in this collection, please contact Library Information Technology.