Teaching and Learning
Baker Library Develops Virtual Open House 2020

Skip other details (including permanent urls, DOI, citation information)
This work is licensed under a Creative Commons Attribution-NonCommercial-NoDerivatives 4.0 International License. Please contact mpub-help@umich.edu to use this work in a way not covered by the license. :
For more information, read Michigan Publishing's access and usage policy.
At Harvard Business School Baker Library, a major impact of the pandemic was the upending of the method for delivering our signature MBA Open House event. Held every August during MBA "START" week, the open house serves as our opportunity to introduce students to Baker Library's spaces, services, resources, and staff. We normally hold this in person in the library over the course of an afternoon. This year we held the event virtually via Zoom.
Deciding on a format for our synchronous event was challenging. Typically, 250-300 first-year students attend the event. Would this hold, or would we see a much smaller number of students? We determined a panel session with representatives from reference, access, and special collections would allow us to maintain a level of intimacy and keep things conversational, rather than lecture-like, even if we had a high attendance rate. We set the Zoom up as a meeting rather than a webinar to encourage interaction and enable students to see and "meet" each other as well as library staff. The event was scheduled for two different days and times to accommodate different time zones. Pre-registration was required to gauge headcount and give us the ability to contact attendees post-event with a thank-you/welcome message and event recording.
A second-year MBA student served as our panel moderator. He posed a few questions to each panelist to highlight use cases–how we can best serve students during their first year at HBS– rather than provide instructional content. Having a student moderator was particularly useful in keeping students engaged, as he served as a trusted advisor who had "been there, done that." He had great pieces of advice for using Baker's services and resources as a first-year student that we as librarians learned from as well.
We developed corresponding asynchronous content on the Open House web page (https://www.library.hbs.edu/MBA-Open-House-Fall-2020) to provide more detailed information about library services and resources (see Figure 1, Figure 2, and Figure 3). During the live session, we used the chat feature in Zoom to share links to this content so students could explore Baker's services while listening to speakers.
Producing the asynchronous content was more challenging for us. As a residential campus with no remote students, we have relied on in-person programming and outreach, so had little experience with video production. We now appreciate the interdependence in timing video production with marketing and other deadlines.
The overall experience was challenging but successful – we had an excellent attendance rate (about 15% over our typical yield), and student feedback was positive. Our overall takeaways? Things don't have to be perfect in our new environment – just-in-time and on-point content and interaction are key. This experience has given us the confidence and skills required to meet the needs of our students given the current circumstances.
Figure 2. Baker Library MBA Open House web page: Instructional Videos, FAQs, and Newsletter Subscription.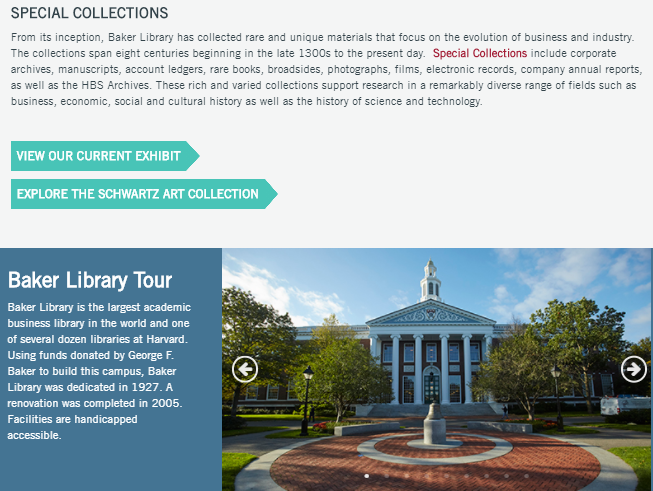 Figure 3. Baker Library MBA Open House web page: Special Collections Overview and Virtual Library Tour.
---
Top of page