Teaching and Learning
A Librarian's Approach to Teaching the Business Pitch

Skip other details (including permanent urls, DOI, citation information)
This work is licensed under a Creative Commons Attribution-NonCommercial-NoDerivatives 4.0 International License. Please contact mpub-help@umich.edu to use this work in a way not covered by the license. :
For more information, read Michigan Publishing's access and usage policy.
Column Introduction
This case study describes the experience of an Entrepreneurship Librarian who, in collaboration with a Business Librarian, engages students in learning the fundamentals of a business pitch as part of a first-year business course. The journey from designing the lesson to assessment reveals opportunities for improvement and suggestions for any librarian that is considering teaching this topic. - Christina Sheley and Sandy Miller, Column Editors
Abstract
A business pitch can make or break an entrepreneur. Missing the mark during a pitch can mean losing out on prize money or investor funds to support the growth of a business. Introducing students to the fundamentals of a business pitch helps to set them up for future success as an entrepreneur. This case study describes how an Entrepreneurship Librarian taught the elements of a business pitch to a first-year business course offering students a unique perspective, particularly when identifying a market opportunity. Short videos assisted with students actively learning the elements of a business pitch and guided development of their own pitches. The librarian attended their practice pitches to assist the instructor with preliminary assessment in both structure and content of the student business pitches. Teaching the business pitch provides librarians a new engagement opportunity to impress upon both faculty and students that a librarian's expertise extends beyond library resources.
Keywords: Business pitch, library instruction, entrepreneurship
---
Student entrepreneurs delivering business pitches, whether through pitch competitions or as part of coursework, are an increasing occurrence on university campuses. Popular television shows such as Dragon's Den and Shark Tank have made the term "business pitch" or "elevator pitch" part of the everyday vernacular. For those unfamiliar with the concept, a business pitch is when an entrepreneur has a specific amount of time to pitch their product or service to a potential investor. The length of a pitch varies but often entrepreneurs are only given a few minutes to present; the students in the course written about here were given only sixty seconds. They were taught five key areas that should be communicated in their pitches: the problem being tackled, the solution to solve the problem, the key defining feature that will compel a customer to purchase the solution (otherwise known as the value proposition), an overview of the market size and competitors, and finally, the ask.
The University of New Brunswick (UNB) Fredericton is one of two campuses that make up the UNB system. According to UNB's Resource Planning & Budgeting Team, the fall 2018 full-time enrollment for the Faculty of Management stood at 744 students, of which 703 were undergraduates and 41 were graduate students (University of New Brunswick, 2019). There is one Business Liaison Librarian for the Faculty of Management, and they have held the role for several years, building a strong relationship with instructors through scaffolded instruction and weekly office hours. In September 2018, the role of Entrepreneurship Librarian was created to serve as a functional specialist, supporting multiple faculties, including the Faculty of Management.
In November 2018, a new required first-year business course focused on business planning and entrepreneurship was approved by the University. The 13-week course introduces students to the concepts of strategic thinking and value creation by requiring students to actively engage with the community to develop a business idea. In the fall term, there were three sections with six teams with approximately six students on each team, for a total of 18 teams across the three sections. There was an expectation that students would actively conduct market research and incorporate insights in their business pitch and business plan. The top three pitch winners from each section would then move on to compete in a university-wide pitch competition.
The Director of Learning and Research Services at the library viewed this course as an ideal opportunity for the Entrepreneurship Librarian and Business Librarian to collaboratively engage with the course and be part of building a new course from the ground up. Additionally, the lead instructor of the new course acknowledged the value brought by the library and was enthusiastic to collaborate. Due to previous collaborations with the Entrepreneurship Librarian, the lead instructor was aware of their previous work experience with entrepreneurs and asked if they would provide instruction on a business pitch. Ultimately, librarian involvement was integrated throughout the course in the form of an instruction session, market research assignment, required office hours, business pitch instruction and assessment, and showcasing of business plan resources. This case study will specifically focus on the business pitch instruction and assessment assistance offered by the Entrepreneurship Librarian.
Pedagogical Approach
During initial discussions, the lead course instructor suggested three videos that could be used during the librarian's instruction to communicate various aspects of a business pitch to students. The first gives an overview of the key elements of a business pitch and four tests that it must pass (Wise, 2006). The second video describes using a message map to develop a pitch (Gallo, 2012). The third is an example of a business pitch delivered by a Utah State student (UtahStateCES, 2010). Based on the librarian's previous experience with pitch instruction, which was lecture-based, they decided to test out incorporating the videos in their session. With only 40 minutes allotted, the videos would provide short breaks between class discussions and ideally help keep students' attention on the content. Also, by requiring students to watch the short videos in class, rather than prior to class, it ensured that everyone viewed the content and was able to actively participate in the class discussion.
The librarian began the 40-minute business pitch instruction session with a short video on the elements of a pitch and the criteria it should meet. A discussion was then facilitated by the librarian to have the students break down the elements of the pitch and discuss considerations to make when creating their own pitch. Areas of consideration included keeping the language succinct and easy to understand while also proving the potential market demand for the business idea. While working through the elements of a pitch, the librarian recorded student answers on a whiteboard so they could be referred to throughout the session.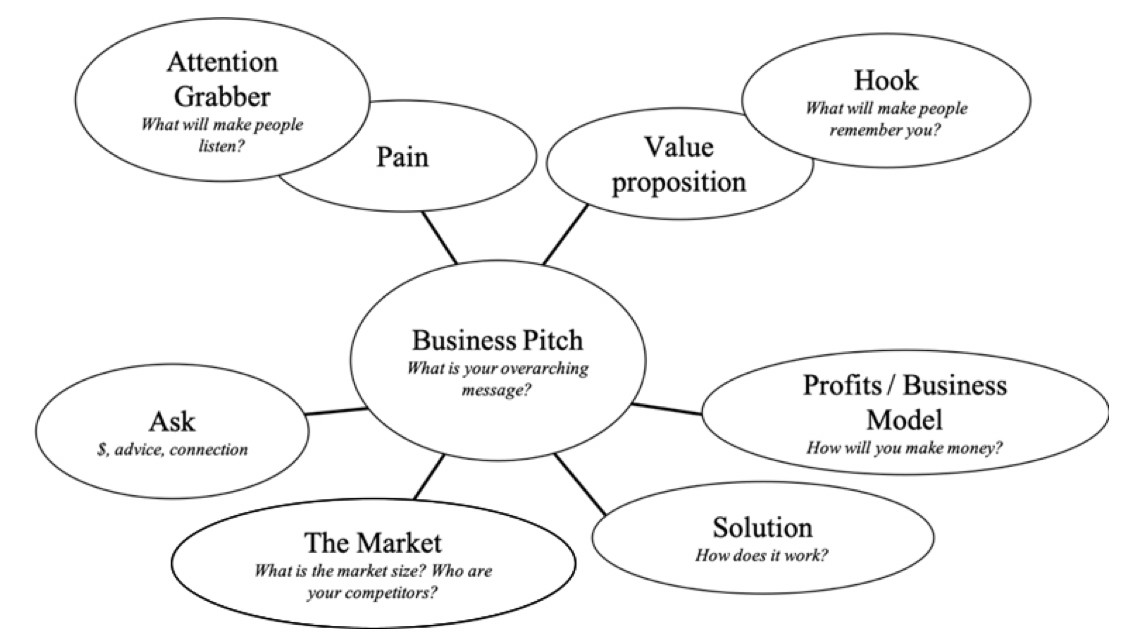 Figure 1.
Message map template used to assist with business pitch creation. Adapted from Gallo (2012).
Next, students watched a video on how to develop a message map and use it to visualize a business pitch. A message map helps tell a story by visualizing everything on one page. It helps to simplify a message by mapping what needs to be communicated while keeping the message clear and concise. The librarian and students then worked together to create a message map template on the whiteboard. Students were encouraged to use elements from the first video to help with building the message map template (see Figure 1). The message map was built around the overarching message that students were trying to communicate. To communicate that message, they needed to demonstrate the problem they were solving and the value that they were bringing to their customers. Along with that, students needed to address the market size and competitors, which is where they were reminded by the librarian to take advantage of the market research resources available through the library that were covered in a previous session. This helped to reinforce the content covered in the previous session and guided students to connect the market research resources to the development of their business pitch. The lead instructor also expected students to open their business pitch with an "attention grabber" and then include a memorable "hook" mid-pitch, and then repeat the hook at the end. Therefore, these elements were also included in the message map template. Students were given ten minutes to start working on their message maps and the librarian circulated to each group assisting with any questions.
Lastly, students were shown an example of a business pitch delivered by a student from Utah State and then asked to comment on what he did well and what could have been improved. The intent for this section of the session was to allow students to assess a business pitch and identify positive and negative elements based on what was discussed from the previous two videos. Students positively commented on the memorable hook used in the pitch, inclusion of how profit will be generated, and the effective use of body language, but negatively commented that he spoke too quickly and struggled with communicating the pain of his potential customers.
Assessment
Librarians can provide a unique approach to business pitch assessment due to their extensive knowledge of library resources. In fact, librarians may surprise themselves with the kind of feedback they can offer, thanks in part to the multitude of reference interactions they have conducted. Students are often unaware of credible information sources, but a librarian can offer suggestions on where students can find relevant information to strengthen their pitch. Librarians are also likely to pay close attention to statements made about the market opportunity in a pitch. For example, if a student says the market opportunity for their business is 50 billion dollars, a librarian will inquire where they found this information and whether it came from a credible source. In this particular case, the librarian has experience with business pitches through previous work with entrepreneurs and more recent engagements with various pitch competitions on campus. The level of engagement with the pitch competitions varied from hosting a session on developing a business pitch to judging a pitch competition, and lastly, working with students as a mentor to help strengthen their pitch with library resources.
The librarian was invited to subsequent classes to assist each instructor with providing feedback to students on their practice business pitches. The feedback mainly focused on strengthening communication of the existing problem and how their solution directly solved that problem. For many students, the librarian suggested they consider using market research to more effectively communicate a problem. As an example, students creating phone cases using recycled plastic could open their pitch with a statistic about the amount of plastic being recycled on a yearly basis. This also indicates a need for the librarian to incorporate content in future instruction sessions on formulating and communicating a problem statement. There was also a lack of market opportunity discussed in a few pitches, and the librarian encouraged them to include that information and offered to meet with them one-on-one to research potential sources. Students frequently failed to orally cite the source of statistics used so they were encouraged to do so in order to give credibility to their pitch. There were also a few teams that were unprepared to give a practice pitch and could have benefited from extra time during the instruction session to work on it. At various points, students also offered peer feedback, which was equally effective, as it demonstrated they were taking what was learned in the initial session and applying it in practice.
Lessons Learned
Librarians should expect instructors to have strong opinions on the elements of a pitch that should and should not be included. The librarian had a sense of what they would instruct prior to meeting with the lead instructor for the course. However, it was clear after the meeting that the lead instructor had different expectations, which greatly influenced the final structure of the session and resulted in the use of the three videos. In hindsight, the librarian should have pushed back, making it clear they would prefer to incorporate their own materials into the session, which would have included additional focus on library resources. Ultimately, it was a valuable learning experience and pushed the librarian to consider other methods and tools, such as short videos, for instructing in the future. It was also clear that working with three different instructors led to varying expectations across the three sections. The librarian worked to remain neutral but at the same time gently reinforce what the lead instructor expected from the outset. The librarian should have asked the lead instructor for a pitch assessment rubric to ensure consistent alignment to the course expectations among all instructors and to provide documentation to support the librarian in discussions regarding content of the pitch and final assessment.
It should be noted that with only 60 seconds for each business pitch, it was difficult to quickly note and summarize feedback. For future feedback sessions, the librarian will create their own short rubric, as it will help guide assessment, making the feedback process less hectic and rushed. Another improvement to measure the effectiveness of the instruction session would be to incorporate a pre- and post-pitch evaluation in which students are given 60 seconds to pitch their business at the beginning of the session and again at the end of the session to demonstrate student learning.
Final Recommendations
These are the final recommendations for any librarian that is considering instructing on a business pitch:
Work with the instructor(s) to align expectations on content covered during instruction and the final pitch students are expected to deliver.
Incorporate resources directly related to the library, such as market research databases; encourage use of oral citations, and emphasize using credible sources.
Make the session as interactive as possible with the use of short videos, class discussion, and time for students to work on their pitch while the librarian circulates to assist.
Create an assessment rubric to be used during the practice pitch session. Share it with students beforehand so they are reminded of the elements they need to include.
Consider having students give a pre- and post-pitch during the session to demonstrate student learning.
Librarians unsure about their ability to instruct a session on business pitches might consider attending a pitch competition in the community. This can help with identifying areas of a pitch that could be strengthened by library resources or help form future assessment questions based on comments from the judging panel.
Additional Resources
The list below provides a few starting points to learn more about developing and delivering a business pitch.
References
Top of page