A Western Bibliomania for Japanese Photobooks

Skip other details (including permanent urls, DOI, citation information)
Volume 10
,
Issue 2
:
Ten Years of the Trans Asia Photography Review / Notes from the Field
,
Spring 2020
This work is licensed under a Creative Commons Attribution-NonCommercial-NoDerivatives 4.0 International License. Please contact mpub-help@umich.edu to use this work in a way not covered by the license. :
For more information, read Michigan Publishing's access and usage policy.
Editor's Note: The text below is a response to the following question posed by the TAP Review: Do you think national, regional, or cultural frameworks (e.g. Japanese photography, Southeast Asian photography, Arab photography) are useful at this point? What might be the alternatives?
---
International interest in Japanese photobooks exploded in 2001 with the release of Andrew Roth's book-on-books anthology, The Book of 101 Books, and its documentation of illustrious works such as Eikoh Hosoe's Barakei (Killed by Roses; 1963), Kukiji Kawada's Chizu (The Map; 1965), Nobuyoshi Araki's Senchimentaru na tabi (Sentimental Journey; 1971), and Daido Moriyama's Shashin yo sayonara (Bye Bye Photography, Dear; 1972).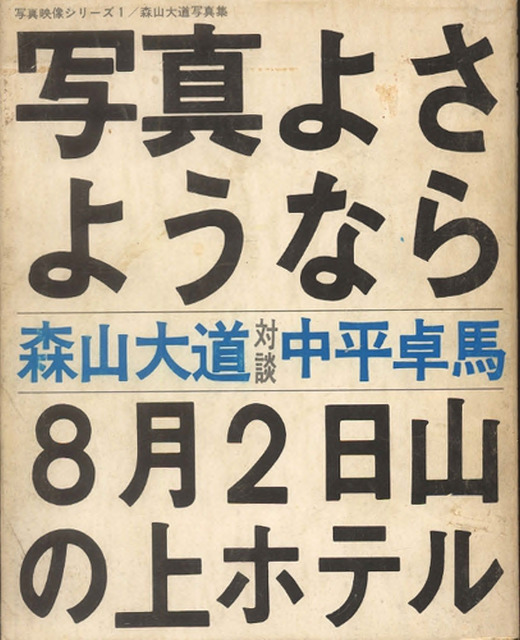 Fig. 4. Daido Moriyama, Shashin yo sayonara (Bye Bye Photography, Dear), Tokyo: Shashin Hyoron Sha,1972.
Three years later, The Open Book (2004), by the Hasselblad Center, and The Photobook: A History, vol. 1 (2004) furthered interest in the little-known subject of photobooks from Japan.
Well-heeled international collectors and museums jumped on the bandwagon and used these volumes as shopping lists. A market was created where none had been. By 2006, competition was fierce as dealers and auction houses recorded eye-popping prices for sales of postwar photobooks from Japan. Despite great efforts by the anthology editors to expose books that were previously unknown in the West and present them as individual endeavors with distinct and nuanced sensibilities, careless readings of these books-on-books created an oversimplified history conceived by immaculate conception and filtered through a one-size-fits-all understanding of the very complex and diverse field of Japanese postwar photography publishing. Not all the images in Japanese photobooks are are-bure-boke (rough, blurred, and out of focus) collections shot by heavy-drinking male photographers roaming the urban streets and countryside of Japan!
What has often been discarded in this oversimplified history is the diversity of photographers who make up the Japanese photobook world and the interwoven dialogue that Western and Japanese photobook-makers have had and continue to have with one another: Ed van der Elsken's collaborations with Eikoh Hosoe; Andy Warhol and William Klein's influence on Daido Moriyama; the unwavering and courageous depiction of working women in Toyoko Tokiwa's Kiken na Adabana (Dangerous Fruitless Flowers; 1957), and the daring mid-1990s photography and books by the Onna noko shashinka, a group of women photographers who reframed female depiction (and who, after initial critical acclaim, are now marginalized as "young women who took nude selfies"). Rather, in its place arose a demand for more books by known stars with a niche market for up-and-coming talent.
A result of this Western interest in Japanese photobooks has been a recent expansion of resources within and beyond the contemporary Japanese publishing community to meet the demand: Mainstream publishers are creating numerous facsimiles of celebrated and rare books, independent publishers are thriving, bookmaking workshops are multiplying, and photography festivals are adding book markets. As with any rapid expansion, there is good, bad, and everything in between. Facsimile editions of varying degrees of quality are being released at a breakneck speed. Some are quite good and provide access to out-of-print expensive books that would otherwise be beyond the budget of most book buyers. However, others are fourth or fifth re-edits and produced only to cash in on a name brand. This glut of reprints and facsimiles can sometimes overshadow the many strong titles by lesser-known and emerging photobook-makers.
Leading this publishing expansion of facsimile and reprint editions of well-known postwar Japanese photobooks is London-based Mack Books, with a 2017 bilingual facsimile of Masahisa Fukase's Ravens — first printed as Karasu (Ravens) in 1986 by Soku sha; and, more recently, with a redesigned 2019 reprint of Fukase's Family (Kazoku), from 1991. These books, along with facsimiles of the seminal Provoke magazine (1968–69) by Nitesha in 2018, are both feeding a market and influencing a younger generation of Western photographers who are mining a revived interest in postwar Japanese photography and visual arts.
In my opinion, the reprint market is now a bit out of hand, with an explosion of releases flooding photo fairs and online bookshops. A prime example is Kohei Yoshiyuki's Koen (The Park), which was first published by Seven sha in 1980 and has now undergone numerous Western re-edits: a 2007 edition by Hatje Cantz/Yossi Milo, a 2011 re-edit by Osiris, a 2019 trade and special edition by Radius Books, and several others. Having access to these rare books is certainly an asset, but I wonder if the funds spent on multiple reprints of the same historical book could be directed to publishing projects by promising younger and lesser-known photographers.
Fortunately, there are a number of Japanese and Western independent publishers, such as Roshin, T+M Projects, Chose Commune, Akaaka, and New Fave, that are supporting a new generation of talented photobook-makers from Japan, such as Emi Anrakuji, Motoyuki Daifu, Miho Kajioka, Mari Katayama, Rinko Kawauchi, Hajime Kimura, Kazuma Obara, Lieko Shiga, and Daisuke Yokata, to name only a few. Without a doubt, all these photographers are well aware of the national, regional, and cultural precedents set by celebrated 1960s–'80s Japanese photographers that include Daido Moriyama, Nobuyoshi Araki, and Ishiuchi Miyako.
Their books, however, cover a much wider range of styles and personal visions in a push to expand narrow Western assumptions of Japan and its culture. Motoyuki Daifu, whose Holy Onion was released in 2019, presents a series of photographs of his mother peeling an onion in his family's chaotic and cluttered kitchen. It is a very "un-Japanese" scene with none of the austere minimalism often associated with Western stereotypes of a refined Japanese living space. In Gift, Mari Katayama, who was born with tibial hemimelia, a rare deficiency that hindered the growth of her legs and left her with a clawlike left hand, confronts her otherness through self-portraits that highlight her disability and question traditional standards of both Western and Asian beauty.
Meanwhile, Daisuke Yokata, a prolific bookmaker, confronts traditional photographic processes in images and books that willfully challenge the divide between analog and digital techniques. Freely mixing between the two, he often employs extreme temperatures to purposefully distort the darkroom development of prints, which are then scanned for further digital modifications. Adding yet another layer, Yokata demonstrates his nontraditional working process in public performances that have the feel of a DJ sampling from everything within his reach.
In response to this globally visible increase in photobook publishing by younger Japanese artists, there have unfortunately arisen numerous oversimplifications when very diverse voices are bundled together under a singular sensibility. It is therefore a bit problematic to ask the question "Are these photographers and their photobooks part of a distinctly national, regional, or cultural framework?"
From my perspective, this is a potentially dangerous path to follow. Neat categories and narrow cultural definitions do more harm than good. They limit an audience's ability to appreciate and understand an artist beyond stereotypes and clichéd assumptions. Although less accessible and requiring more work on the viewer's part, a free-flowing plurality that eschews a "one-size-fits-all" ethos is much more liberating. It encourages a global cross-pollination of photographers to share and learn from one another. If I were hard-pressed to name any common thread among contemporary photographers currently publishing books in Japan, I'd have to say it is a generational perspective over a cultural or regional framework. To advocate that there is a distinctly Japanese visual sensibility is to generalize a very diverse and multilayered community of photographers and their photobooks.
---
Russet Lederman is a writer, editor and photobook collector who lives in New York City. She has taught art writing at the School of Visual Arts in New York and writes on photobooks for print and online journals and publications, including FOAM, The Eyes, IMA, Aperture and the International Center of Photography. She is a co-founder of the 10×10 Photobooks project, co-edits The Gould Collection, lectures internationally on photobooks, and has received awards and grants from Prix Ars Electronica and the Smithsonian American Art Museum.
Top of page