Thinking of a Place

Skip other details (including permanent urls, DOI, citation information)
This work is licensed under a Creative Commons Attribution-NonCommercial-NoDerivatives 4.0 International License. Please contact mpub-help@umich.edu to use this work in a way not covered by the license. :
For more information, read Michigan Publishing's access and usage policy.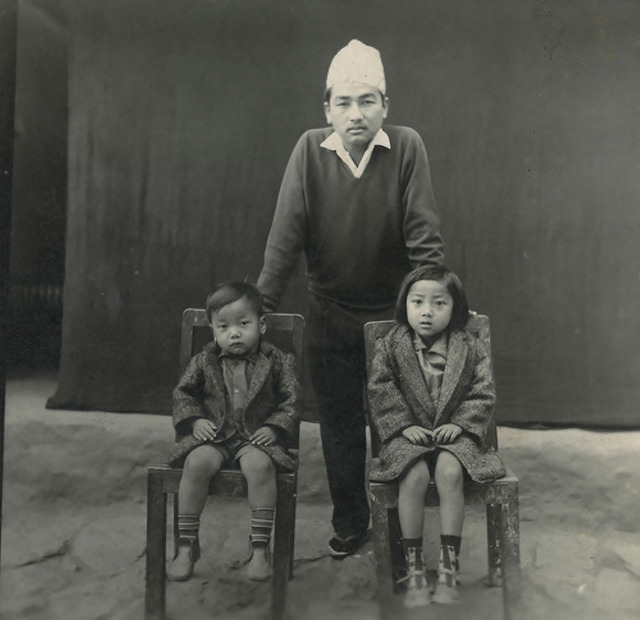 Fig. 1. Thakuri, Ganesh, Dad with Gurans and Mahendra, Bhadaurey, 1967, 21/4" x 21/4", resin-coated print, courtesy of Surendra Lawoti.
I enjoy standing by our second-floor-bedroom window and looking out onto Linden Avenue in our Scarborough home in Toronto's eastern suburbs. There are small detached, semidetached, and bungalow houses that line the street in the middle-class neighborhood. Sometimes, I pick up my iPhone and take a picture or two of the view and post them on Instagram. It occurred to me only recently that this window view resembles a sight overlooking a cluster of houses in my birth village, Bhadaurey, in eastern Nepal. The view comforts me. And grounds me as well.
Just like the view that transports me back to my village, I have family photos that do the same. I have collected the photos from various albums that were stored in our family home in Gwarko, Kathmandu. I have appointed myself their custodian after the passing away of my father, in 2015. A tiny photograph depicting my two eldest siblings with our dad is my favorite. It evokes in me a sense of innocence, fragility, and tenderness. It conjures up both joy and sadness. For a long time, I did not know the details of the photograph's making. Then I started asking.
This image connects me to the past, to a history of photography in my village that has not been chronicled, and to the present, with my work as a photographer today.
The two-and-quarter-inch-square, black-and-white contact print on resin-coated paper photograph was taken in front of our house in our village. When I ask my sister Gurans, who now lives in Grimbsy, England, if she has any recollection of being photographed that day, she says no. Gurans didi (elder sister) was likely around four and half years old then. And Mahendra dai (elder brother), who now lives in Kalamazoo, Michigan, was a year younger than she.
Looking at the photograph, I find it amusing that our dad is wearing black socks with slippers. My father as I knew him would have chosen to present himself formally, by wearing shoes, or wearing slippers without socks. The photographer has hung a black fabric for the backdrop. The three figures form a pyramid, my dad standing tall over my siblings. The white collars of my dad's shirt and his white topi (hat) become the crown of the triangular form. The photographer understood composition. The frame extends beyond the backdrop on the left side, perhaps because it was not wide enough. But the photographer utilizes the space on the left, creating a depth in the frame. Without that space, the photograph spatially would be too flat.
My great-grandfather Sher Bahadur Lawoti built the house in front of which the photograph was taken. It withstood the devastating 8-magnitude earthquake of nabbey saal (1934). Unfortunately, in 2004, Maoist rebels burned down. My grandmother was there when they arrived in scores. Grandmother was a powerfully strong woman. As a single mother, she raised my father and looked after the family affairs. My grandfather had passed away when my dad was an infant. I have often wondered about the challenges of being a single mother in that day and age. It must have been incredibly distressing for my grandmother to see her house crumble to pieces, the result of violent historic forces beyond her control. She was traumatized since that day until her death, in 2011.
The eastern hills of Nepal are home to the adivasi (indigenous) Limbu people. The Limbu practiced a kipat system of communal land ownership, and self-governed through chiefdoms before annexation of the region through conquests started by Prithvi Narayan Shah in the mid-eighteenth century that formed modern-day Nepal. Bhadaurey, in the Panchther district, is now part of Kummayak Rural Municipality under the demarcation and reorganization of boundaries in Nepal's new federal system. Most of the villagers are Lawotis, a subgroup within the Limbu tribe. All Lawotis are related. A person younger than I could be my uncle or aunt or grandfather, depending we fall genealogically. In this way, in our village, a photograph of anyone has the potential to be a family photograph to all of us.
Bhadaurey, around the altitude range of thirty-five hundred feet, sits on the slope of a hill. On the top is salleri, a thick patch of evergreen pine forest, a main source of timber and firewood for the locals. At the bottom is a gorge through which runs a river, Sarangwa Khola. Small clusters of houses are scattered along the slope, surrounded by terraced fields for growing corn, millet, and other hardy grains, which have supported the largely agrarian village life. In recent years, many people have temporarily migrated to the Middle East, or to countries such as Malaysia and Korea, for employment. For this village, like most of the others in Nepal, this has become necessary for economic sustenance.
My siblings and I, unlike most of our fellow villagers, were fortunate to receive an education in the capital city of Kathmandu — our dad's political career required him to be there. Our education opened doors for us to migrate to our current countries of residence: Canada, the United States, and the United Kingdom. When I moved to America, in 1994 (I earned my college degree before migrating to Canada, in 2008), I brought a few photographs with me, but they were recent 4x6 color images printed at a one-hour lab. I did not think to bring many older photographs, as I thought I would be in the States temporarily, just for my university education. At that age, I had not mapped out my life nor had I understood the value of family photos.
Looking at the photograph of my father and siblings, I wondered why my mom is not in the picture. When I ask her, she responds: "Being the buhari [daughter-in-law], I was probably working in the field or busy doing some house chore."
My mom, who never received formal schooling, fulfilled her role of a "housewife" like most other village women in patriarchal Nepal. And she contemplates, based on the clothing my father and siblings are wearing in the picture, that it was taken in 1967, after my father was elected for the first time to the Rastriya Panchayat, the national parliament under then reigning monarch Mahendra. She suggests my father must have returned from Kathmandu and brought back the coats, socks, and shoes my sister and brother are wearing. She does remember that the photographer must have been a police sergeant, the only photographer in the area at the time.
Devendra Prasad Lawoti, an uncle, who was the headmaster of the local high school, agrees: "His name was Ganesh Thakuri. He was a sergeant, in charge of the police station." According to Devendra kaka (uncle), Thakuri was from Kathmandu. He had a Yashica camera and often used it on a tripod. There was a darkroom in his house. He would charge one rupee for four copies of one photo. Kaka adds for context: "One bottle of locally brewed alcohol cost one rupee then. One would be paid one rupee for working in someone's field for a day in those days." Most people could afford just a photograph as a group, so four people took one group shot and paid twenty-five paisa each for their copy.
"I had to walk six hours to Therathum to get my ID photo taken for my School Leaving Certificate exams," kaka tells me. Therathum had the nearest photo studio, run by a man named Chhunuman Joshi. Sometimes people had to wait more than a day for the roll in the camera to finish before the film could be processed and prints could be made. This was in 1964. Kaka cannot remember how much he paid for his ID photos.
By the time I was a teenager, photography was more accessible. I can remember taking a specific photo with a point-and-shoot camera. This was in the mid-1980s, when I was in grade seven or eight. By that time, one-hour photo labs had arrived in Kathmandu. I had returned home to our village for the Dashain and Tihar festivals, as my siblings and I did when schools were not in session. I remember photographing a group portrait of five brothers from the neighboring village. The brothers were older than I, in their late teens or early twenties. The picture was taken a few minutes away from our house. The brothers, standing in a line, smiled big-heartedly for the camera. The background, I remember, was lusciously green with bamboo trees and other foliage. The morning September or October light was crisp. Taking that photograph provided a moment of pure human connection with my subjects, which I found gratifying but also puzzling.
After that, photography became a serious hobby, and eventually I went to art school and studied photography at Columbia College Chicago. I received my MFA in photography from the Massachusetts College of Art and Design, in Boston, in 2005. My work has been exhibited in Canada, the United States, the Netherlands, Singapore, Colombia, India, and Nepal. I currently teach photography as an adjunct faculty member at OCAD University, in Toronto.
By the time I was born, in 1972, Ganesh Thakuri had moved away and Sinddha Bahadur Pradhan was the photographer. My first sight of a camera was through Pradhan. I remember him in the fortnightly bazaars photographing people in a makeshift studio in front his house. People in groups or in pairs, wearing their best clothes, sporting new watches and holding transistor radios, would pose. Seeing Pradhan with his twin-lens reflex camera piqued my curiosity.
Pradhan and his family migrated to Dharampur, Jhapa, in the eastern plains of Nepal, a decade ago. Pradhan tells me that his lineage can be traced back to Bhaktapur, one of the three cities in Kathmandu Valley, eight generations before him. "After the invasion of Kathmandu by Prithvi Narayan Shah, and with the fear of nose-cutting atrocities of Kritipur residents post-invasion," he told me, "my family migrated east to Bhojpur." His great-grandfather Badri Singh Newar, five generations before him, was the one to move to the area of Bhadaurey, sometime around the mid-nineteenth century. Newar had the skills to imprint designs on fabric sewn by the Limbu women. The locals valued his imprinting skills and encouraged him to settle there. The local Limbus gave Newar the nickname Bhotu, as he was wearing a bhoto shirt, a locally sewn undergarment similar to a tank top.
In May 2018, over the phone, when I asked about his practice, Pradhan tells me he learned photography from a man named Yam Bahadur Chemjong, who had technical knowledge from his stays in India. Pradhan recalls: "I bought my camera, a Yaschica D, in Biratnagar [a town in the plains, bordering Bihar, India], for Rs. 700." It was more of an entrepreneur instinct that made him pursue photography, he said. He used some of his land as collateral to acquire a loan of Rs. 1,800 to start his business. He bought the camera but did not know how to use it, nor did he know much about darkroom techniques. "I wasted a lot of material at the beginning," he told me.
With the help of Chemjong and some trial and error, Pradhan started his photography business.
Pradhan's darkroom process is fascinating. He used kerosene lanterns to expose the photographic paper. An enlarger was not necessary to make small-sized contact prints for his clients. Besides, lack of electricity did not permit its use. One side of his lantern was covered with red safelight filter, which he used for viewing his prints as they were being developed in trays. The other side was without the filter; he used it for exposing the light-sensitive photographic paper. He would rotate the lantern as needed. He exposed the photographic paper to the lantern light for milliseconds. Overexposed, denser negatives required longer exposure to the lantern light; thinner negatives needed less exposure. If the negatives were overly dense, by opening and closing the window swiftly he exposed the photographic paper to indirect sunlight for milliseconds.
All enlargement requests had to be outsourced to Dharan, another town in the plains, from where he acquired all his photographic supplies. At such times, he would have porters for the local merchants ferry his supplies. It took two days for the porters to reach their destination by walking when they were not carrying a load and three to four days to return with freight. In those days, supplies such as salt, kerosene, and fabric were all ferried from there. Today it takes less than a day to reach Dharan on public transportation via motor roads. Pradhan ran his photography business from around the mid-1960s until 1993 when his eyesight began to fade.
I take out the tiny photograph from the portfolio box that I store it in, hold it in my palm, and look at it in the light of the window. The image makes me want to reach into the photograph and hold the tiny hands of my siblings. I want to stand next to my dad and know what he was like as a young man. The photograph stirs emotions that are difficult to describe. But I do feel a sense of void. That emptiness I feel inside me is in part from the loss of my father. And it is also from knowing that the time and place the photograph represents is forever gone, beyond my tangible reach. I can only imagine it or I can only remember it.
I have come to cherish the family photos for which I am a custodian. Every now and then, I open the portfolio box and look at them. The photos are a conduit to my family history, the history of Bhadaurey, to my Lawoti relatives, the Limbu people, to Nepal and its history. As I look to raise a family in Canada, my family photos and what they represent become ever so much more important to me.
Last time I visited Bhadaurey was in 2013. By that time, my dad had rebuilt a smaller house based on the original foundation. I am not certain if or when I will visit my village again. My partner, Kausila, and I are expecting our firstborn, which will certainly complicate wanderlust. But maybe one day I can take my son to Bhadaurey, and show him the place where the photograph was taken.
About the Author
Surendra Lawoti is a Toronto-based Nepali photographer interested in human circumstances and their recognition. His recent work, This Country is Yours, focuses on Nepal's civil rights activists during the drafting of Nepal's recently promulgated constitution. He teaches as a Sessional Instructor at OCAD University in Toronto.
Top of page