ARCHIVE PROFILE: The SouthEast Asian Images & Texts (SEAiT) Project at The University of Wisconsin-Madison

Skip other details (including permanent urls, DOI, citation information)
Volume 3
,
Issue 1
:
The Aftereffects of War in Asia: Histories, Pictures and Anxieties; Guest Edited by Young Min Moon
,
Fall 2012
This work is licensed under a Creative Commons Attribution-NonCommercial-NoDerivatives 3.0 License. Please contact mpub-help@umich.edu to use this work in a way not covered by the license. :
For more information, read Michigan Publishing's access and usage policy.
The University of Wisconsin Digital Collections Center (UWDCC) features over 60 collections ranging in content from Africa to Wisconsin and American Languages to Women, with a wide variety of topics in between. The UWDCC works collaboratively with UW System faculty, staff, and librarians to create and provide access to digital resources that support the teaching and research needs of the UW community, uniquely document the university and the State of Wisconsin, and provide access to rare or fragile items of broad research value. In the process of developing its digital resources, the Center has partnered with cultural heritage institutions, public libraries, and individuals from many places.
The SouthEast Asian Images & Texts (SEAiT) project is one of UWDCC's major resources, supporting the University's internationally-recognized Southeast Asian Studies program through the Center for Southeast Asian Studies and is freely accessible online for users both within and beyond the university community. SEAiT is home to a diverse collection of, primarily, scanned photographs and slides within the University of Wisconsin's Digital Collections http://uwdc.library.wisc.edu/ managed by UWDCC. The Center was officially formed in 2001 to create a digital library intent on making resources readily available to people and organizations worldwide, both within and outside academe, via free online access to all of its collections. The Center built upon already existing collections such as SEAiT, which commenced in 1995. From its beginnings as one of the University's first digital projects, SEAiT has grown from several Philippines-related collections to now include two concerning Cambodia, one on Laos, and one on Hmong refugees in Thailand, nine all in total. Four more are in preparation: two concerning Laos and two on Thailand, the latter especially featuring aspects of northern Thailand. Some of the digitized collections are comprised of material held by the University, while others have been gathered together for SEAiT. In June 2008, The Asian Studies WWW Monitor, a primary reviewer of online resources in the field of Asian Studies compiled by Dr. T. Matthew Ciolek, rated SEAiT "essential" for scholarly usefulness.
PHILIPPINES COLLECTIONS
The following five Philippines Collections, cover about one hundred years of the country's history. Professor Albert W. McCoy, now J.R.W. Smail Professor of History, initiated the concept of SEAiT and worked in bringing together these five collections. In support of SEAiT as a research tool, he also prepared a brief piece entitled "Orientalism of the Philippine Photograph: America Discovers the Philippine Islands" for users (see the "Philippines Materials in the Classroom" section link on the home page). Each collection has in its own way been well utilized by a variety of people, from University of Wisconsin-Madison (UW) professors and students to community folks and Filipinos abroad. Collection usage statistics, available from 2000 on, indicate an annual average of about 31,000 "sessions" for SEAiT through 2004, the year before the first non-Philippines collection was added. A list of the five Philippines collections follows.
OTHER SOUTHEAST ASIAN COLLECTIONS
In 2005, the Joel M. Halpern Laotian Slide Collection http://uwdc.library.wisc.edu/collections/SEAiT/Laos expanded SEAiT's initial geographic coverage and size, being the first collection beyond the Philippines as well as the largest by far. Its 3,004 images, scanned by the UWDCC from the original slides donated by Professor Halpern (University of Massachusetts at Amherst) to the UW, are a unique portrait of life in Laos, nearly all personally taken by Professor Halpern, an anthropologist, in Laos in especially 1957 and in 1959 and 1969. He initially went there as a Junior Foreign Service Officer attached to USOM, the U.S. Operations Mission, in January 1957 and stayed until January 1958, based in the country's royal capital of Luang Prabang. For the UW, which has a special focus on Hmong Studies, the Halpern Collection includes an especially rare set of images from the White Hmong village of Kiu Katiam (Roob Nyuj Qus, its romanized Lao and Hmong Romanized Popular Alphabet [RPA] names, respectively), in Luang Prabang province. The village was home to Father Yves Bertrais, a Frenchman of the Missionary Oblates of Mary Immaculate, from April 1950 until the end of 1959. In 1952, Father Bertrais was one of three missionary co-founders of the Hmong RPA, the script now most widely used by the Hmong around the world. Prof. Halpern's Kiu Katiam images have been significantly enhanced by the addition of personal information about individuals as well as the village through direct contact with Father Bertrais (working in Thailand at the time, December 2004) and several Hmong born in Laos, including Kiu Katiam, who now live in the U.S. In particular, two Kiu Katiam natives—-a husband and wife couple in West Chicago, Illinois—-have been invaluable informants, providing and/or confirming nearly all the names and additional information for the village community.
Joel Martin Halpern, That Luang Temple, Vientiane, Laos [Lao PDR].
Images of Angkor Wat http://uwdc.library.wisc.edu/collections/SEAiT/AngkorWat, finished in early 2009, constituted SEAiT's first Cambodia resource. The collection of 120 slides, donated to the UW, was taken by Miss Margaret Parx Hays during her Christmas vacation to Siem Reap in 1954 while she was stationed in Manila as a Consul of the U.S. State Department. They provide an opportunity to view the amazing temple complex at an unassuming time prior to the ravages of subsequent war and the horrors of the Khmer Rouge and many years before it was designated a UNESCO World Heritage Site in 1992.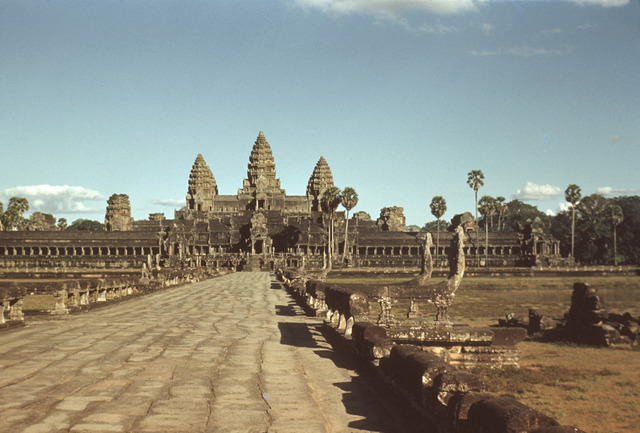 Margaret P. Hays, Angkor Wat, approach to the inner temple from the west, 1955.
SEAiT's second Cambodia-specific collection, the United Nations Transitional Authority in Cambodia: UNTAC Radio Archives http://uwdc.library.wisc.edu/collections/SEAiT/CambodianRadioArchive, added in 2010, represents a new type of collection and digital resource for the UWDCC. The Archive is a unique collection of all of the UNTAC Radio materials, namely 2,462 paper documents and 2,113 distinct tapes from about 232 radio programs. It was donated outright to the University of Wisconsin-Madison UW in 1993 upon completion of UNTAC's year-long mission, which culminated in national elections, "to ensure implementation of the Agreements on the Comprehensive Political Settlement of the Cambodia Conflict, signed in Paris on 23 October 1991. The mandate included aspects relating to human rights, the organization and conduct of elections, military arrangements, civil administration, maintenance of law and order, repatriation and resettlement of refugees and displaced persons and rehabilitation of Cambodian infrastructure." UNTAC was, in fact, a UN first. Given the vast quantity of material in the collection, SEAiT's existing UNTAC Radio Archive was done as a sample project, digitizing the Khmer-language audio content of 24 separate radio programs, toward the eventual goal of doing the Archive's entire audio as well as paper content. RealPlayer links in the records enable users to individually listen to the sample set.
Images of Wat Tham Krabok Refugee Camp
http://uwdc.library.wisc.edu/collections/SEAiT/WatTham
This collection constitutes another new direction for SEAiT, namely focusing on an ethnic group instead of a country as previously, as the collection depicts life for Hmong people from Laos in the last Hmong refugee camp in Thailand. Completed in January 2012, the collection consists of 201 digital images primarily taken by Pao Lor while a member of a Fulbright-Hays Group Study Abroad delegation of Wisconsin Department of Public Instruction educators who visited the camp in July 2004 as it was being closed and people were being resettled in the U.S.  Also included are a few additional images at the former camp site that Pao Lor, by then an assistant professor of education at the University of Wisconsin-Green Bay, took when leading a group of University study abroad students in January 2009.
Pao Lor, Children with umbrellas to protect themselves from the hot sun, Wat Tham Krabok Rufugee Camp, 2004-2007.
The four collections presently in preparation basically continue SEAiT's generally country-focused approach, although like any of the existing collections each one includes a variety of resource that can be enjoyed and educationally used in many ways. Thailand, especially northern Thailand, is the focus of two of the collections in progress and will be the project's first based on Thailand: (a) Images of Northern Thailand is the roughly 3,000-image personal collection of Katherine Bowie, current Director of the UW's Center for Southeast Asian Studies and Professor of Anthropology, going back to the 1970s; (b) the Judd Slide Collection, donated by the family of former missionaries Laurence and Ginny Judd, features a multi-faceted view of, in particular, upper parts of northern Thailand in the 1950s-1960s, including many of rural Nan province bordering on Laos, for which images from that time period are rare. The other two ongoing collections are Laos-specific ones both focusing on the roughly 1968-1974 period, a time of tumult and war in the "Land of a Thousand Elephants" sandwiched between Thailand and Vietnam, and also bordered by China and Cambodia: (c) the Terry Wofford Laotian Images collection of approximately 315 slides includes hilltribe scenes as well as life in Vientiane taken by the wife of an Air America pilot; (d) the tentatively titled USAID-Laos Refugee Collection represents a dual resource, as it consists of two complementary components being separately undertaken, both dealing with the U.S. government's extensive refugee program during the height of the so-called "Secret War" in Laos. The first component being prepared has more than 2,000 scanned documents, thus constituting SEAiT's first actual digital "paper" collection (owing to the fact that the UNTAC Radio Archive's documents have not been done as yet as previously noted). Second is several thousand slides being digitized, many vividly depicting the refugee situation as documented in the "paper" collection, and which will also complement both the Halpern and Wofford images' collections for Laos in general.
After SEAiT's expansion in 2005, the statistical annual average for the project increased by roughly one-third to about 41,000 "sessions" through 2011. With the addition of the "Images of Wat Tham Krabok Refugee Camp" collection in January 2012, the annual average should continue growing even more. Besides being freely accessible, each digitized photograph or slide image may be viewed at 3 or 4 different resolutions/sizes for educational use. In further developing SEAiT with more collections of images and/or documents, the project welcomes proposals for consideration from interested parties, be they individuals, groups, or institutions. Contact Larry Ashmun, Southeast Asian & Hmong Studies Bibliographer, University of Wisconsin-Madison: lashmun@library.wisc.edu; 608-262-0344.
---
Larry Ashmun is Southeast Asian & Hmong Studies Bibliographer, University of Wisconsin-Madison Libraries, University of Wisconsin-Madison.
Top of page