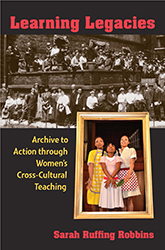 Learning Legacies: Archive to Action through Women's Cross-Cultural Teaching
Skip other details (including permanent urls, DOI, citation information)
Series: The New Public Scholarship
: Ann Arbor, MI: University of Michigan Press, 2017.
Permissions: This work is licensed under a Creative Commons Attribution-NonCommercial-NoDerivatives 3.0 License. Please contact digital-culture@umich.edu to use this work in a way not covered by the license. The print version of this book is available for sale from the University of Michigan Press.
For more information, read Michigan Publishing's access and usage policy.
CHAPTER FIVE: Learning from Natives' Cross-Cultural Teaching
"I see myself as asserting Native presence where there has been mostly absence."
—Lisa King, University of Tennessee, Knoxville
"I love educating. I've done it all my life. My father and my mother have done it all their lives. And so it's a part of my being."
—Dennis Zotigh, National Museum of the American Indian
Counter-narrative Voices on the National Mall
The first time I visited the National Museum of the American Indian (NMAI) on the Mall in Washington, DC, I arrived just in time for a drum-and-song performance by Dennis Zotigh (Kiowa, San Juan Pueblo and Santee Dakota) in the sun-drenched Potomac meeting space just beyond the entryway. Dennis began with soft taps on his hand drum and gradually built to a crescendo. Hearing this inviting call, visitors who had been scattered around the first floor's large open space, or who were just passing through the main front doorway, began to congregate, encircling Dennis in the atrium. After a brief presentation interlaced with humor, and shaped by his longtime expertise in powwow cultural practices, Dennis answered questions from the audience. While the queries that afternoon ranged from insightful to stereotypically ill-informed, Dennis maintained an affirming tone throughout. He clearly welcomed all in attendance, whatever their background knowledge.[1]
Next, I took one of the overview tours offered several times a day by members of the interpretive services staff. My guide, Renée Gokey (Eastern Shawnee/Sac-n-Fox), was joined by Susan Sheldon, an NMAI summer intern and a school-year student at Haskell Indian Nations University in Lawrence, Kansas. Renée and Susan introduced our haphazardly composed cluster of visitors to several of the museum's exhibits. Afterwards, in the Lelawi Theater, I watched Who We Are, a stirring film underscoring the diversity in contemporary Native life. I left that day entranced by the NMAI's vast collections, creative presentations, and stunning architectural spaces. I realized I had barely begun to explore the resources of the place—including, indeed especially, the expert and caring people who teach there, through a range of cultural roles. So I vowed to return and, in the meantime, to read about the museum and its history.
When I began to study journalistic and scholarly reviews of the NMAI, the number of negative assessments surprised me.[2] Had these critics really visited the same place I found to be so intellectually stimulating and welcoming? As I retraced accounts of the museum's initial reception, as well as published defenses of its vision, I was struck to discover the voices of guides like Renée, Susan, and Dennis virtually missing from these analyses. In their survey of mainstream press coverage, in fact, Aldona Jonaitis and Janet Catherine Berlo have pointed to the worrisome significance of this gap in others' reviews—that is, the striking
blindness to the carvers, weavers, dancers, storytellers, poets, playwrights, singers, and educators who conduct family programs in the Potomac Atrium and the nearby Rasmusson Theater. Innumerable studies have proved that the most important and meaningful part of a museum visit is the visitor's interaction with a knowledgeable person—not an object. No longer can a museum succeed simply by placing beautiful things on its walls; visitors must have some way of personally having a meaningful encounter with those things. And, in a museum dedicated to Native Americans who have themselves urged the exhibit designers to go well beyond the pristinely displayed object, these first-floor performers, artists, and educators are certainly as central to the NMAI—if not more so—than the exhibits on the upper floors.[3]
Such recurring silence across numerous critiques prompted me to reflect on how my own first visit had been affected by the chance to listen to Native teachers' thoughtful interpretations—to hear stories told and small-group conversations guided, on the spot, by people highly invested in the museum's mission. Over several years since then, by combining study of the NMAI's multifaceted exhibits with additional in-person and online conversations with staff members, I've come to see their teaching strategies as another form of Native counter-narrative, reconfiguring the painful heritage of American Indian education by offering a positive alternative vision for cross-cultural learning.
In many ways, the NMAI is perfectly situated to offer such a counter-narrative. The museum is rich in resources, drawing on thousands of archival materials and soaring architecture brought together on the National Mall.[4] On a reclaimed piece of Indian Country now set between the Smithsonian's Air and Space Museum and the US Capital, the NMAI designs exhibitions and programming infused with Native knowledge to proudly announce a "We are still here" message.[5]
Crucial to that theme, I believe, are the staff members who serve as cross-cultural teachers for visitors—the majority of whom are not Natives. Using dialogue and stories to create points of access for intercultural learning, these NMAI educators forge dynamic connections with each audience on multiple levels. For one thing, as Dennis Zotigh would tell me in a fall 2011 interview, they provide corrective counter-narrative content about Native peoples, undoing "stereotypes" and "bad information [visitors] may have come in contact with." This repair work is multifaceted, going beyond the explanatory labels printed alongside various displays from the NMAI's collection. For instance, Dennis has explained, most "students . . . are taught of Indians in the past. And therefore," he notes, "I refuse to dress in traditional clothing. Because I need to be a living, working example that Indians are very much alive in today's society."[6] Besides conveying such vital content knowledge, though, Dennis and his colleagues' overriding approach—their stance toward learner-visitors and their vision for how teaching best happens—is equally important. For instance, for Dennis such teaching represents a commitment to "personal interaction." He believes that "learning should be fun and not threatening." Contextualizing his own view that an "angry" tone "shuts the audience's mind," Dennis observes that "the exact same message can be said another way, where people will say, 'You know, I never thought of that. Let's talk about it. Let's open communication. And let's see what we come up with.'"
When Dennis met with me for our first one-on-one conversation, he highlighted ways in which his past experiences as a student and an educator helped prepare him for leadership at the NMAI. Though his first encounters with white-managed instruction were certainly not as affirming as what he strives to convey through his own teaching, he had parents who, educators themselves, could be "good mentors." Having traveled with them "throughout Indian Country—Alaska to Florida and everywhere in between," he also points to the benefit of having grown up "in a powwow family. A singing family," with a father who "was a pioneer in bringing Plains Culture to other tribes in the Southwest." Among Dennis's previous roles as an educator, he includes having been "a researcher and historian for the Oklahoma Historical Society," a "powwow advisor," a lecturer and storyteller for "kings and queens and children," a curriculum advocate (promoting the infusion of Native culture—including the history of boarding schools—into state-level guidelines), and "doing cultural performances, workshops, and in-service for teachers" at "over 2000 schools, worldwide." All in all, Dennis is a generous teacher whose ethical commitment to intercultural learning brought to mind, the first time I met him, the grandfather character in Robert Conley's Mountain Wind Song (chapter 4), but whose platform of NMAI's Smithsonian affiliation brings an even more evident cross-cultural authority to his daily work with diverse audiences.
Dennis and his NMAI colleagues are major role models for my own cross-cultural teaching. If Carlisle and its heritage as the epitome of assimilation education continue to embody a painful learning legacy to be reckoned with, then one important strategy for resisting that history's negative power is to create a positive counter-narrative of intercultural learning. A vital site welcoming all peoples, respecting every perspective they bring, while using story, listening, and dialogue to establish connections, the NMAI enacts, fundamentally, an "un-Carlisle" message. As educators, the museum's interpreters serve as cross-cultural alliance-builders; they carry out a cultural intervention directly tied to the museum's mission, which itself represents an ongoing counter-narrative casting Native peoples in the teaching role previously reserved to white cultural arbiters and their surrogates.[7] Observing visionary teaching practices there, and listening to staff members' reflections on their practice, I've set these stories in conversation with archives (written and oral) of other Native teacher-scholars working at intersections between white and Indian cultures. This chapter synthesizes what I've learned so far.
Native Teachers as Mediators and Guides
As far back as the boarding school movement itself, creative American Indian leaders refuted the flawed premises of assimilation education by asserting, in its place, Native visions of teaching and learning. Counter-narratives carrying out such efforts represent a potent intervention enabling teachers from Indian country to reclaim cross-cultural learning spaces and to assert a brand of educational sovereignty in the process.[8] One aim of this chapter is to highlight examples of these resources from both past and current teachers. These stories of practice-in-action come from a range of sources. One feature they have in common is an effort to forge genuine intercultural learning by turning the Negative Archive of the boarding school legacy on its head.
In place of enforced silencing, these stories of constructive Native teaching demonstrate the efficacy of open, respectful, and affirming communication. In place of a narrow, skills-focused approach, they offer an imaginative avenue to learning and living through the power of story itself and productive sharing of culture-making practices. In place of competitive success-seeking on an individual level, they enact and invite a community-conscious commitment. Taken together, they convey an ironic point from American educational history: the program to assimilate and "civilize" Indians missed a crucial opportunity for the dominant culture itself to become more civilized (in a deep, true sense) by learning from Indian communities' approaches to teaching their children.[9]
Counter-narratives constructed to critique the boarding school legacy are important resources, as outlined in chapter 4. But Native educators from that prior era have also left us a legacy of their own positive teaching stories that can help us reenvision education. Thus, we can surface specific strategies for an alternative brand of cross-cultural teaching by looking to the accounts of teachers who tried, in the midst of the most intense assimilation programs, to enact alternatives to those same oppressive approaches. Certainly, such work was never fully successful, given the power differentials involved in white-managed education of Native students. Yet even in their most tentative forms, these aspirational texts began a process that has reached a fuller level of agency more recently—one I'll describe in more detail later in the chapter.
In whatever period these alternative approaches have been carried out, one productive source for their rhetorical pragmatism and intercultural vision has been what Gerald Vizenor terms survivance, as referenced in the previous chapter, and as described, in shorthand, as "survival + resistance."[10] Another has been a willingness to take on the demanding role of cultural mediator (often dubbed a cultural broker)—a type of border-crossing intercultural engagement that requires the teacher figure to move back and forth into different cultural settings, adapting practices and language from each so as to make sustained connections. Eventually, this work of mediation can create new understandings to be held communally in an aspirational culture space, one my colleague in global learning programs at TCU, John Singleton, has called a "third space."[11] Because competing pressures continue to be exerted from either "side" of this space—that is, from the different cultures these intercultural guides seek to connect—this teaching role brings intense challenges. Yet it also carries great potential. Today, acting as cultural mediators, a growing number of Native educators choosing to teach in cross-cultural situations are drawing on the learning legacy of past responses to the boarding school era to model constructive intercultural praxis. I believe such approaches can be applied on a larger scale, across multiple sites of cultural exchange, and even, at times, toward the creation of new institutional structures, as this chapter aims to illustrate.
In my own learning, the figure of the cultural mediator who generates cross-cultural connections has been embodied by several Native educators, some of whose work I've studied (mainly) through their publications and others whom I've been fortunate enough to observe in action and/or learn from conversationally. Notable mentors through their writing have been Zitkala-Ša, Ella Deloria, Ruth Muskrat Bronson, and Esther "Essie" Burnett Horne (herself a student of both Deloria and Bronson). On a more interpersonal level, I've sought guidance from current role models such as Namorah Byrd, Kimberli Lee, Lisa King, Malea Powell, and, at the NMAI, Renée Gokey and Dennis Zotigh. From reading, observing, conversing, and listening, I have tapped into learning legacies grounded in their generous cross-cultural teaching.
Acculturating Children in Indian Country
K. Tsianina Lomawaima and Teresa L. McCarty begin To Remain an Indian by quoting Luther Standing Bear. In 1933, they note, he pointed out how, in Lakota society, every "parent was a teacher," and "all elders were instructors of those younger than themselves," so that much learning came through mentoring and positive, self-affirming experiences. Small wonder, then, that Luther Standing Bear also declared: "America can be revived, rejuvenated, by recognizing a native school of thought. The Indian can save America" (xxi). In that vein, I believe that Native approaches to teaching and learning could bring a saving grace—an alternative vision—to much that is troubling American education today. One helpful source for approaches to emulate is in texts about Indians teaching their own children; and much of this writing was actually generated in response to the oppressive boarding school program.
Zitkala-Ša provides one such example. As outlined in chapter 4, the main focus for "School Days of an Indian Girl" was to counteract the promotional portraits of assimilation instruction appearing in mass media sources like Frank Leslie's by exposing abuses in the system. As a calculated set-up to that middle story in the series, Zitkala-Ša's first Atlantic installment offered a strikingly positive contrast to the violence in boarding school programs. In vignettes limning Indians' education of children as far more "civilized" than what her first-person narrator would experience at the white-run Eastern school, Zitkala-Ša advocated for a Native approach to teaching the young.
A number of scholars have underscored this dimension of the first story in the Atlantic series. In "Zitkala-Ša and Bicultural Subjectivity," Scott Carpenter has extolled the "Yankton education," depicted in the "Impressions" text as an ironic parallel to her boarding school training, with the former emphasizing "tribal custom and knowledge" acquired through nurturing "familial relationships" and exposure to "oral legends" that lead to "civility" (13). Ruth Spack's "Translation Moves" echoes Carpenter's emphasis on learning through extended family interaction and folktales as central to the Native education practices celebrated in "Impressions." For Spack, this approach involves treating each child "with respect as a person who can learn at an early age" and having young people honor their elders as important sources of knowledge, much of which is transmitted through Dakota stories (49, 50–51). Dorothea Susag's "Zitkala-Ša" essay, meanwhile, stresses the "Impressions" narrative's affirmation of maternal teaching as leading the Native child "to value and practice hospitality and generosity to friends and strangers, and to respect the rights of others" (12).
Several scenes in this first Atlantic installment portray experience-based and child-focused teaching practices that gradually prepare learners to be productive community members. For instance, the narrator describes how even simple chores such as fetching water or watching over a corn crop become invested with social value because they address communal needs. Like the intricacies of beadwork, hospitality rites are carried out via patterns learned over time through observation and practice. Elders act on the assumption that children are trying their best to become fully vested in these social practices; thus, the young narrator's clumsy efforts to play hostess to an elder's visit during her mother's absence are honored as much as if they had been correctly done. One section of "Impressions," entitled "The Legends," presents an engaging description of the student-narrator listening to "neighboring old men and women" who told evening stories of Iktomi while the young girl "sat up eagerly listening to every word" (AIS, 71, 72). By absorbing not only the legends' details but also the values they represented, she became a member of her community through a gentle, caring brand of acculturation.
On one level, this description of story-based learning invited Zitkala-Ša's original readers to put themselves in the place of the "Impressions" narrator, attending carefully to what her character hears within the story. On another level, this episode alerted those readers to "listen" to the educative voice the print narrative itself was offering.
When reading the "Impressions" essay as offering both an argument for Native teaching of Native children and an alternative model for educating all children, we can see the seeds of a strategy that other Indian writers would embrace in succeeding years. That is, through story, Native authors would attempt to educate white readers about experiential, values-driven avenues to learning—and how story-oriented language, itself, could serve as a powerful teaching vehicle. In published texts like Charles Eastman's various collections of Native folk tales and Zitkala-Ša's own Old Indian Legends (1901), both individual stories and the larger narrative framework had more ambitious goals than merely tapping into white fascination with Indian lore as exotic. These publications also offered white readers a chance to be educated by way of the very legends traditionally disseminated by Native teachers to pass culturally significant resources across generations. Unfortunately, many readers of the time failed to embrace such texts as more than curiosities, just as many white educators in assimilationist institutions during Zitkala-Ša's lifetime failed to recognize the assets for cross-cultural learning embodied in the social practices their students were bringing from home to school.
Still, Native writers were persistent in disseminating this potential resource. Author-scholar-educator Ella Deloria labored for years over her Waterlily novel, which depicts the lifelong learning of its heroine within the culturally supportive environment of Dakota tribal society. As a textual boundary guide, Waterlily synthesized Deloria's own work as a scholar, creative writer, Sioux educator, and, in the words of Susan Gardner's "Introduction," as a keeper of "collaborative cultural remembrance" (viii). As Gardner points out, Deloria faced daunting challenges in preparing all three of her book-length manuscripts, since "the genres and audiences available to her were culturally inappropriate for what she was trying to accomplish" (vii). Acquiring great experiential skill in anthropology through collaborations with Franz Boas, Deloria translated many Sioux texts in support of his research and collaborated with Boas on Dakota Grammar (1941). A graduate of Columbia Teachers College, Deloria drew on that preparation in a number of educational positions across a wide-ranging career, including stints as a teacher at the Haskell Indian School in Lawrence, Kansas, and as director of her alma mater, St. Elizabeth's School, on the Standing Rock Reservation. Still, her lack of doctoral-level academic credentials blocked access to the kind of well-paying position in anthropology that Boas and his colleagues at Columbia could claim, even though their many collaborations demonstrate that Boas himself, along with Ruth Benedict and Margaret Mead, benefited greatly from Deloria's talents while also encouraging her own projects. ("Collaboration," in this case, exemplifies the point that not all working partnerships are egalitarian: varying identities brought differing roles, whatever supportive perspectives Boas, Mead, and Benedict may have harbored as individuals). Despite such constraints, Deloria's knowledge of Sioux culture and her great skill at field research eventually coalesced into a well-regarded scholarly text, Speaking of Indians (published in 1944), and her Waterlily novel, completed in 1947 but published posthumously in 1988.[12]
Waterlily has emerged as an influential text "revered by Sioux (and other Indian scholars)," as Gardner says, but also increasingly appreciated by students from different cultural backgrounds reading it in university courses and by others finding the novel through the Firekeepers paperback series. As an account of how Sioux adults teach their children, Waterlily tracks the experiences of the title character from birth through her own transition to adulthood. Pivotal scenes throughout the narrative endorse Dakota ways of acculturating children. For instance, after Waterlily and her mother Blue Bird join the family of Blue Bird's second husband, Rainbow, Waterlily acquires a half-brother, Little Chief, who enthusiastically joins in the family's efforts to tutor the young toddler. Deloria stresses that, despite "the gap in their ages they always played happily together. Little Chief took much credit from the fact that Waterlily learned to walk under his tutelage, and now he was trying to teach her to talk" (WL 33–34). He is joined in this endeavor by grandmother Gloku, who cautions patience when Little Chief worries that Waterlily is unusually slow to speak. "'Waterlily has a voice and she will talk soon, when she is ready,'" declares Gloku. "'No doubt she is teaching herself in her mind and trying out new words where nobody can hear her. She does not want to make mistakes and be laughed at'" (34). Sure enough, "Suddenly, overnight as it were, the child was talking, glibly and well," so that Little Chief, "triumphant," can affirm their grandmother's assessment. "'She was learning because I was teaching her,'" says Little Chief, as when he pointed out words for various animals and people. Indeed, Gloku avows: "'Yes, you were a good teacher.'" Further, the narrator adds: "Gloku was herself an excellent tutor. She had trained her own children well, so that they had good manners and were respected in the tribe. Then she had helped with her grandchildren's training and now she was starting in again with Waterlily" (34).
In such episodes, Deloria provides her readers with an authoritative counter-narrative to the assimilationist educational agenda—a model for acculturating children through patient, respectful, personalized teaching grounded in everyday life. For instance, she has Gloku counsel Little Chief that learners progress at different paces and in different ways. Gloku also reminds Little Chief (and Deloria's audience) that listening can be as powerful an avenue to learning as more overt vocal recitation; that learners desire to be respected for their efforts, not aggressively prodded; and that quiet, interior reflection can pave the way to more visible performance. Similarly, this exchange demonstrates how, for the Dakota, teaching of children is a multigenerational communal enterprise. This theme recurs across numerous scenes in the novel, as when Deloria describes elders teaching young children the centrality of gift-giving. "The idea behind it was this: if everyone gives, then everyone gets; it is inevitable" (52). By repeating and self-consciously modeling such maxims for their children, elders ensure that everyone internalizes these concepts. So, as Deloria's narrative establishes, hospitality and generosity become shared values that, in turn, ensure shared social practices. Communal teaching builds on and reinforces community ties.
At one point in the novel, Deloria enacts a deft shift to satire, when members of Waterlily's community travel to a military camp where white soldiers and their families are living. Upon returning home, Waterlily's puzzled uncle describes the whites' behavior toward their children as shocking: "'You should see them—slapping their little ones' faces and lashing their poor little buttocks to make them cry! Why, almost any time of day . . . you can hear the soldiers' wives screaming at their children. Yes, they thoroughly scold them. I have never seen children treated so'" (103). Blue Bird (Waterlily's mother) and others listening to this report struggle to make sense of such behavior, asking, "'Why do they do it?'" One Dakota woman speculates that perhaps "'when the children are naughty, that is the quaint way of training them to be good. By talking loudly and fast and by striking them, the people doubtless hope to scare them into good behavior. I know it sounds queer'" (104). Blue Bird—herself such a patient and loving teacher of young children—is appalled by this account. Hugging one of her own offspring close, while "feeling sick with sympathy for the unknown children," she continues to worry over the "horrible lot" of white youngsters, suffering cruel punishment rather than progressing through the loving, gentler, more reliable path to acculturation available within her own Dakota community.
By the time Deloria created this dialogue, these abusive (so-called) teaching approaches, carried out in many boarding school settings, were well known. Setting her narrative in the days before Dakota children would become victims of such punitive environments, Deloria simultaneously shows the superiority of Native teaching and situates the flawed strategies of white education within a cultural system that penalizes (and wounds) whites themselves. Abused as children, adult whites will become the oppressors of Indian children in boarding school settings, even as the more enlightened vision for acculturation that has been validated in the narrative of Waterlily's progress toward adulthood will be undermined by separating indigenous children from their families, where positive learning could unfold in a supportive context.
The connection between Deloria's indirect critique of white-dominated instructional strategies within boarding school settings, on the one hand, and the far more productive model in preassimilation Dakota communities, on the other, was not lost on Diane Wilson. The title of Wilson's book, Beloved Child: A Dakota Way of Life, comes from a ceremony celebrated in Deloria's novel—a link that Wilson highlights in a prefatory excerpt from Waterlily. On multiple occasions in her narrative, Wilson returns to this textual resource as an inspirational guide toward recovering Dakota approaches for teaching. Repeatedly citing Deloria's text in her own memoir-cum-teaching account, Wilson casts specific elements in Indians' education of their children today as shaped by an awareness of the negative heritage of whites' oppressive policies (including boarding schools as well as removals and other constraints associated with reservation life). But she also celebrates the positive legacy of role model Native educators such as Deloria.
Accordingly, when meeting with Clifford Canku and Yvonne Wynde to discuss contemporary Native teaching approaches as the subject of Beloved Child, Wilson begins by referencing "the beloved child ceremony in Ella Deloria's book Waterlily."[13] Wilson celebrates Native self-governance and Indian parents' moves to include children in the annual March commemorating past assaults on Dakota rights, especially whites "depriving them of their ability to raise and protect their children" (36). In a series of visits with Native role models who are excelling as educators today, Wilson highlights approaches to acculturating children that are grounded in the vision of all young people as, truly, "Beloved." For example, in conversations with Harley Eagle, his wife, and his children, Wilson directly associates the need to "heal from historical trauma" with a commitment to "raise beloved children" (46). For the Eagle family, homeschooling has represented just such a commitment. However, rather than suggesting that a Native-oriented education program would require home-based teaching, Wilson's conversations with the Eagles stress a broader system, including collaboration within the family, shared activities beyond the small family unit, and "restorative justice"[14] practices using "circle" techniques to "become competent listeners and speakers" who respect and welcome others' diverse ideas (51).
So, too, in chronicling Clifford Canku's "gifts as a teacher and as a spiritual leader," Wilson notes his (and the Dakota) emphasis on learning through "'real-life situations'" rather than "'rote learning'" (85). Hearkening back to preassimilationist acculturation strategies, Wilson honors Clifford's focus on teaching social roles through stages that stress improving character, valuing kinship, and embracing one's role in the family and larger community (87). Taken together, Deloria's Waterlily and the allusive Beloved Child offer up a positive counter-narrative framework for teaching today, both within and beyond families and local communities.
White Teachers in Assimilationist Zones
When I reflect on the shameful history of Native children being abused by white teachers, I feel overwhelmed by a collective sense of guilt. How can I, as a white teacher myself, ever hope to atone for such horrific practices perpetrated in so many white-run classrooms aimed at "killing" Indians? I can't. But I hope I can draw on studies of that painful history, and on alliances with accomplished Native educators today, to improve my own cross-cultural work. Wondering if white teachers can ever be worthy of trust from Native students and Native educators of today, I take a little comfort from the fact that a few white educators from the assimilationist era did try to cross cultural boundaries and even had a sustained, positive impact on their students. Ella Deloria acknowledged the influence of two such mentors by dedicating Waterlily to her anthropologist colleague Ruth Fulton Benedict and, earlier, Speaking of Indians to Mary Sharp Francis, a "'beloved teacher and a great missionary'" (quoted by Gardner, vi–vii). So perhaps another relevant site of study for an educator like me is, indeed, the past teaching of whites situated in instructional sites for Indians, where an archive of some partial successes at intercultural exchange can be excavated.
Elsewhere, I've examined the work of white missionary teachers who worked in other cross-cultural settings, including China and Portuguese West Africa.[15] By writing about such figures and trying to historicize the goals of their rhetoric, which was generally intended for white readers and was certainly constrained by their own racial biases and very restricted worldviews, I might have appeared to a hurried reader to be affirming their perspectives. Instead, I have been trying to recover and understand such standpoints, in all their complexity. For example, the aspects of their work that represent resistance (however limited) to then-dominant narratives driving cross-cultural education give us hope for continued progress in intercultural relationships. At the same time, if we ignore the ways in which their pedagogy was bound up with colonizing impulses, we miss equally important responsibilities to critique our own teaching.
In that context, within this chapter highlighting Native teachers as role models for us today, I want to pause here to mark the position of the rare white women educators who resisted (aspects of) the assimilationist program. Perhaps their writings helped pave the way for shifts in other whites' attitudes toward Native people and Indian education. At the least, it appears their teaching had a positive influence on individual students, such as Ella Deloria, who would themselves become teachers. (Sherman Alexie, whose award-winning young adult novel The Absolutely True Diary of a Part-time Indian includes affirming portrayals of a few white teachers encountered by his protagonist, seems to envision such a possibility.) Furthermore, educators who find themselves in comparable situations today—perhaps, for example, as white middle-class teachers in urban K-12 schools with "majority minority" student populations,[16] or in post-secondary institutions serving many first-generation college students—may benefit from examining this context so as to reflect critically on their own classroom practices.
What can we who represent "majority" culture to our "minority" students learn from the stories of white educators who made attempts—however limited—to grapple with the practical, intellectual, and ethical challenges of teaching Native students during the boarding school era? Patricia Carter has pointed out that white women teachers who tried to resist approaches to assimilationist education faced great difficulty. She explains that many of those working in Bureau of Indian Affairs (BIA) schools in the early twentieth century came to their assignments with very inadequate understanding of Native cultures, at best, and that therefore "much of the criticism of the BIA schools has been laid at the feet of the teachers." Carter then suggests that reading autobiographical narratives by teachers themselves yields a more complicated portrait.[17]
Carter's archival research revealed that at least some teachers in BIA schools became self-conscious advocates for students. Carter studied texts by six BIA-affiliated Anglo-American women educators—Minnie Braithwaite Jenkins, Mary Ellicott Arnold, Mabel Reed, Estelle Aubrey Brown, Gertrude Golden, and Flora Gregg Iliff. Carter's research showed that, even though numerous white women were "only in it for the paycheck," others embraced advocacy roles. All six teachers whom Carter studied opposed depictions of Indian students as intellectually deficient. These teachers repeatedly carried out resistance efforts in the boundary space between official policy and actual teaching practice. They defied the taboo against Native language use in the schools, expanded the curriculum to include Native cultural practices, secured enhanced instructional materials, improved school menus with healthier and more appealing foods, acquired better medical staffing and supplies, and addressed oppressive working conditions in places like the institutions' laundries (71–73). As sometimes the victims of sexual harassment and other abuses in the workplace themselves, Carter noted, some Anglo women teachers became vocal promoters of reforming BIA instruction, at the local level of their own work and beyond. Though their efforts were "limited, intuitive, often egocentric, indiscriminative, and [sadly] unproductive," Carter gave them some credit for achieving a resistant stance "consciously political and thus counter-hegemonic," as "they began to struggle for something larger than themselves" (79).
Carter certainly does not claim that her subjects are representative of the cohort of white women in BIA schools at that time.[18] Casting themselves as "disenfranchised workers and powerless change agents who were personally demoralized by the system," the women whose accounts Carter recovered were, she argues, "locked in a never-ending struggle between accommodating and resisting the system" (54). That is, Carter proposes, while individual classroom teachers were used as "tools of the dominant culture to reinforce power relationships," at least some were "questioning, resisting, and trying to change" that very power structure (54–55). Therefore, Carter calls for a nuanced view: we should, she urges, recognize examples of "teacher agency, resistance, and growth through interaction with cultures other than their own" among some individual white educators in assimilationist schools (55).
Meanwhile, if countering the racist structures of assimilationist education was challenging for white women with progressive perspectives, imagine the challenges faced by those Native women who, over time, began to claim positions in Indian boarding schools. As Elaine Goodale Eastman's 1911 fictional depiction of her eponymous Yellow Star heroine suggests,[19] even the best educated Indian woman teacher working for white-administered schools could expect to face strong challenges to her authority. At the same time, in evaluating the experiences of real-life Native women who taught during the boarding school era, we must remember that differences in specific institutional settings shaped those situations in widely varying ways.
Indian Teachers among Indians
As research by Amanda J. Cobb and Devon A. Mihuseah has shown, even during the peak years of the assimilationist movement, boarding schools managed by Indian Nations themselves tended to provide a far more supportive learning environment than did the now-infamous white-run enterprises modeled on Carlisle. Cobb's Listening to Our Grandmothers' Stories, for instance, demonstrates that the Bloomfield Academy, launched through collaboration between the Chickasaw Nation in Oklahoma in 1852 and missionary partners, is "most significant" for "its very difference from other boarding schools for Native American children" (2). Operating with substantial autonomy as a Nation during the antebellum period, the Chickasaw "founded Bloomfield, not because the federal government demanded it, but because the Chickasaw people knew that literacy training was crucial to their survival as a nation, to their preservation" (6). Accordingly, we might even say that this institution had more in common with Spelman, in terms of its student clientele, its administrative agenda, and its curriculum, than with white-run boarding schools seeking enforced assimilation. Cobb's own grandmother attended Bloomfield from 1924 to 1926 (xvii). Cobb affiliates her study with work by Sally J. McBeth (on schooling among west-central Oklahoma Indians) and K. Tsianina Lomawaima (on Chilocco), who underscore positive aspects of schools where Indians' own agency was honored, including promoting "pan-Indian" conceptions of "a strong, common ethnic identity" (Cobb, Listening, 8). Cobb also aligns her findings with those of Devon Mihesuah, who did site-specific archival recovery on the Cherokee Female Seminary.
Overall, while they both take note of class-based bias bound up with full- versus mixed-blood identities, Cobb joins Mihesuah in emphasizing the striking "disparity between the boarding schools founded by southeastern tribes [themselves] and the federally run boarding schools" (9). Though Cobb tracks shifts in emphases in the literacies promoted by successive administrations at Bloomfield (missionary, tribal, and eventually federal), she also demonstrates that the relative wealth of the Chickasaw Nation, its longstanding commitment to providing education for its children (including sending some to Choctaw Academy in Kentucky during the Removal years), and its high degree of control over the institution founded in Oklahoma made for much more positive responses from the alumnae she interviewed than an overgeneralized view of this period's schools would suggest.
Whatever the setting, over time, an increasing number of teachers in the boarding schools were themselves Natives. Gradually, from the close of the nineteenth century and into the early decades of the twentieth, Native educators acquired professional assignments even in white-run boarding school settings. Anne Ruggles Gere has accounted for the notable growth in the number of Natives holding such roles, beginning in the 1890s. One factor leading to this increase, Gere reports, was the development of teacher education programs at the five largest off-reservation schools: Carlisle, Haskell, Genoa, Salem, and Chilocco. Accordingly, by 1899, Gere indicates: "Native Americans comprised 45 percent of the staff of the Indian School Service, the federal agency responsible for administering government-sponsored schools," and "more than 15 percent of the total 1,160 Indian employees" of the organization were teachers; further, "Indians comprised 39 percent of all the industrial teachers, 65 percent of the school disciplinarians, and 4 percent of matrons." Thus, there were "enough Native American teachers," overall, "to ensure that each of the 153 boarding schools (both on- and off-reservation) then in existence could have had at least one" (Gere, "Indian Heart," 39–40).
Garnering more instructor positions did not lead to rapid changes in curriculum, however. Although some institutions allowed Indian teachers to incorporate elements from Native culture into the curriculum, others (like Carlisle and its most committed imitators) were far more constraining. Indeed, Gere explains, "Many schools made it difficult for Native-American teachers to influence the structures or people in the institution, thereby requiring them to use considerable ingenuity to shape the learning environment of their students" (45). Like teachers who today find themselves opposing broad mandates that their knowledge of students' actual needs tells them are misplaced, the educators Gere highlights resisted more on a classroom level than they could systemically.[20]
Given Carter's findings that even the most determinedly empathetic white teachers found any challenges to assimilation practices difficult, and Gere's parallel portrait of the constraints facing Native teachers during the boarding school era, we should not be surprised that Zitkala-Ša's portrayal of herself as a young Indian woman teaching at Carlisle paints a self-portrait of frustration. Thus, in "An Indian Teacher among Indians," the third installment in Zitkala-Ša's 1900 Atlantic series, we enter a site of cross-cultural teaching made oppressive by virtue of intense power differentials.
Typically, Zitkala-Ša's original audience would have come to this story last in their reading of the three-part series. Based on its title, we might expect this to be the moment when she would fully articulate an alternative, Native-informed approach to cross-cultural teaching, one overtly countering the white agenda depicted in her middle installment—the Carlisle-based programs by then spread across the continent. Actually, though, we see hardly any of her own classroom teaching here. Instead, this account, briefest of the three Atlantic narratives, highlights multiple restraints on her work at Carlisle. One is symbolized in the "small, carpeted room, with ghastly walls and ceiling," where she is to live, in a space that may be assigned as her own, but which, in its tomb-like features, is a stark contrast to the "cool, refreshing shade" outside and the wide open plains of her youth (AIS, 104–5). Whatever her teaching goals may have been on arrival, she is quickly reminded who is in charge, as the "imposing" Pratt himself pays her a visit, immediately making her feel "frail and languid" in comparison with his "wondrous height" and dictatorial energy (105). Conveying "disappointment" in his survey of her exhausted post-travel appearance, Pratt proffers a "greeting" but also an implied warning (105), reinforced soon afterward when she describes herself as persistently "watched by those around me" once she begins work (106).[21]
Having situated herself at Carlisle in Part I, Zitkala-Ša suddenly shifts not to a teaching scene there but to another journey: she is very quickly sent west to recruit new students.[22] Most of this section describes the sorrowful situation that she finds her mother and brother living in, with her parent's house in disrepair and her sibling having lost his job as a "government clerk" to "a white son" of "the Great Father at Washington" (a pointed reference to rampant nepotism in Indian Affairs appointments). With obvious bitterness, Zitkala-Ša's mother observes that "Dawée [the character standing in for the author's brother David] has not been able to make use of the education the Eastern school has given him," since his advocacy for local Indians against the graft of government officials has led to dismissal from his position (109). In this painful conversation, readers ("listening" with the narrator) encounter the sad results of Indian education programs like the one for which Zitkala-Ša had been sent to recruit. In the narrative's final section, entitled "Retrospection," the author describes her autobiographical persona as reluctantly returning to Carlisle, where, over succeeding months, she recognizes that the "army of white teachers in Indian schools" has internalized a poisoned "missionary creed." Clearly, she finds, this stance entailed "self-preservation" more than unselfish service:
When I saw an opium-eater holding a position as teacher of Indians, I did not understand what good was expected, until a Christian in power replied that this pumpkin-colored creature had a feeble mother to support. An inebriate paleface sat stupid in a doctor's chair, while Indian patients carried their ailments to untimely graves, because his fair wife was dependent upon him for her daily food. (111)
Furthermore, she observes, when the government finally does attempt to monitor the Carlisle program, what inspectors see is prearranged to paint a falsely rosy picture. Closing her story with a grim overall assessment, Zitkala-Ša condemns the white evaluators of Carlisle and similar institutions for "pass[ing] idly through the Indian schools during the last decade, afterward to boast of their charity to the North American Indian. But few there are who have paused to question whether real life or long-lasting death lies beneath this semblance of civilization" (113).
Why does an essay designated as being by "An Indian Teacher" choose not to depict the writer's own direct instruction of Indian students?[23] I think this absence is related, rhetorically and experientially, to the inescapable limitations facing Native teachers in white-run boarding schools. No Indian teacher working in such a setting would have had access to the level of policy-making, resource-acquiring, or curriculum-designing action required to make system-level changes in the program. Indeed, as "An Indian Teacher Among Indians" demonstrates, Native educators in such environments would have been restricted to calculated maneuvering within a very tight space of agency.[24] By underscoring the exasperating confines she faced as an Indian teacher, rather than depicting any small victories she may have achieved with/for particular students, Zitkala-Ša implicitly calls on her white readers—including the very white women who were, then, the major source for staffing Native classrooms—to take responsibility for changing the status quo. The sophisticated writer who produced this Atlantic series was, in effect, using an account of her constrained capacity as a teacher to offer up instruction to her white readers. In her final address to the very cultural and political arbiters whose power was enabling assimilationist teaching, Zitkala-Ša used delineations of its abuses from a trapped teacher's standpoint to craft her plea for reform.
For one sign that this call was heard, in terms of its aesthetic features, but brushed aside as a directive for redesigning Indian education, we can turn to the response of a then well-known literary critic, Elisabeth Luther Cary. Cary's "Recent Writings by American Indians," published in 1902 in The Book Buyer, assesses accounts of their schooling by Charles Eastman, Francis La Flesche, and Zitkala-Ša. For Cary, the Atlantic pieces offer unmistakable evidence of the author's literary skill: "Zitkala-Ša is not only an educated Indian, but a writer of unusual quality. Her work is nine times heated by the cruelty of her mental and moral experience. If she continues it[,] she can hardly fail to make an impression in a field where differences of race count for nothing and greatness of achievement counts for everything" (25).
Though convinced of Zitkala-Ša's literary skill, Cary nonetheless criticizes the author's tone, contrasting it with La Flesche's account of his schooling as conveying the "radical transformation" undergone with his "many little" schoolmates from a stance "not indifferent to their advantages—certainly not rebellious or bitterly opposed to their surroundings" (22). Directly opposite, Cary finds, is the "different note" struck by Zitkala-Ša's account, which grew out of what Cary dubs an inherent "melancholy," one "that forces sympathy, even where it is not admitted to be rational." Accordingly, for Cary, the "grievances set forth with truly compelling eloquence, are those which only an intensely sensitive nature would nurse and remember, and, after many years, record" (24). As such, they are indeed moving to read about, and they make a worthy "contribution to our literature" by exhibiting genuine "literary value." Yet, although this story is "[s]trange, pathetic, and caustic" enough to "burn . . . into the reader's consciousness," Zitkala-Ša's "emotions, concentrated and violent, strik[ing] us with an electric shock," elicit no call from Cary for programmatic change (25). The words achieve striking affect, Cary affirms. Yet her review shows no sign of having been enlisted as an ally in a larger political battle against programs aimed at killing Indians' identities through assimilation teaching.[25] For Cary, Zitkala-Ša's call to readers' feelings leads not to self-critical empathy but only to an awareness of literary skill at work.
Alliances as Avenues of Access
A somewhat more positive view than Zitkala-Ša's Atlantic story could envision for Native teachers' influence on Indian education had appeared almost a decade earlier in S. Alice Callahan's Wynema: A Child of the Forest, published in 1891.[26] Here, intriguingly, access to Native agency hinged on imagining a collaborative approach to cross-racial teaching.
Like Zitkala-Ša's "An Indian Teacher among Indians," this fictional text also positioned its author as writing from a Native perspective. Accordingly, the original "Publisher's Preface" to Wynema touted the volume's groundbreaking effort to set forth "the Indians' side of the Indian question told by an Indian born and bred." Concurrently, though, the preface pointed to limits associated with this authentic authorial standpoint, as the validating (and apparently white) "we" publishing voice reasserted the familiar stereotype of a "simple people" full of "inherent weaknesses" that had, this introduction said, left their mark in "the crudeness or incompleteness of the work" at hand (ix). The readers presumably invoked here anticipated those Zitkala-Ša would aim for in 1900: sympathetic, potentially, but nonetheless assuming their own superiority, given widespread views about racial hierarchies at the time. Small wonder, with this audience in mind, that Callahan would have sought the possible rhetorical benefits of creating a pair of appealing fictional figures, one white and one (part) Indian. Hence, the narrative tracked a white-Indian alliance rather than assigning textual advocacy to a single character embodying Callahan's own background as an Indian teacher of other Indians, however well-educated and representative of Creek aristocracy.
The novel's title character, Wynema Harjo, is a mixed-blood Muscogee (Creek) Indian who becomes the prized pupil of Genevieve Weir, an idealistic white southerner working at a mission school in the West.[27] The first section of the plot focuses on Genevieve's experiences as a Methodist teacher eager to learn about Muscogee culture. Through the gentle intervention of missionary Gerald Keithly, she gradually recognizes value in Muscogee practices like the Green Corn Dance.[28] In fact, Genevieve develops such a strong affiliation with her students that, during a visit home, she rejects a marriage offer from a family friend because of his anti-Indian prejudice. Meanwhile, Wynema, who has been embracing Genevieve's instruction while continuing to identify with the tribal community, finds the perfect mate in her teacher's brother. A pair of marriages celebrates intercultural possibilities for America's future when Genevieve accepts Keithly's proposal. Along the way, a notable rhetorical strategy for drawing white readers into critique of the United States' misguided Indian policies is Callahan's repeated depiction of these four characters' conversations about issues such as allotment and political corruption undermining the Muscogee community.[29]
In spite of Callahan's efforts to pitch her text to a white readership, the novel seems to have drawn only limited attention when it first appeared in the 1890s ("Editor's Introduction," xvii). But the narrative is significant today—partly for the intricate rhetorical pragmatism it strives to employ. Though written by an author with strong tribal ties, Wynema exhibits contradictions somewhat reminiscent of Elaine Goodale Eastman's narratives. With three of the four characters in the marriage plot cast as white, the novel reaffirms the dependent political position of Native peoples. Furthermore, although Genevieve and Wynema both use nurturing rather than punitive educational approaches, and although Reverend Keithly's continued touting of Native culture seems aimed at undermining hierarchies, assimilation remains the most efficacious choice for Indians, as seen in the educational trajectory of Wynema herself. Meanwhile, as in Zitkala-Ša's later account, precious few scenes take readers within the classroom itself, so the narrative lacks alternative models of actual curriculum in action. Instead, Callahan's repeated dialogues around policy issues emphasize how these forces exercise control over cross-cultural pedagogy. In this context, Cari Carpenter has observed how the righteous anger that could have been expressed by Wynema is more fully articulated by Genevieve, replaying a pattern, Carpenter argues, from earlier texts where white women assert moral leadership, pushing Natives into the background in alliances where access to social power, ultimately, is unequal.[30]
These mixed messages may help us better understand the contradictions between Zitkala-Ša's overtly resistant Atlantic writing and other elements in her life story, including having traveled and performed with the Carlisle band, having actively opposed peyote use, and having campaigned for US citizenship for Native peoples.[31] Perhaps, reminiscent of Callahan, she came to view sustained (if unequal) collaboration with white leaders as the most productive avenue for achieving reform. In what William Willard has characterized as a politically savvy phase of her career, she engaged in several enterprises after her marriage to Raymond T. Bonnin (a mixed-race Nakota Sioux) that resulted in narratives less "literary" than the Atlantic stories so often studied today but, Willard argues, fruitful politically.[32] Along those lines, an October 1918 article in Forum locates Zitkala-Ša (identified here by her married name of Gertrude Bonnin) as an inspiring example of Indian women "do[ing] their bit" for the US effort in World War I. Quoting Bonnin, the upbeat report references Indian women's selling "'their most precious bead ornaments in order to give to war funds—especially the Red Cross.'"[33] Here and in her own writings of this period, Bonnin often seems to be promoting Native peoples as eager for, and worthy of, the US citizenship she and others were seeking through organizations such as the Society of American Indians (SAI), a stance at odds with seeing tribal national sovereignty as paramount. Lobbying in Washington, DC, writing and editing for the SAI publication, and building networks within, first, the Republican Party and, later, the Democratic Party, Bonnin and her husband cultivated relationships with allies like John Collier, commissioner of Indian Affairs for the federal government.
One narrative illustrating this alliance-building strategy is the 1924 collaborative report entitled Oklahoma's Poor Rich Indians, which Zitkala-Ša cowrote (under her Gertrude Bonnin signature) with Charles H. Fabens (representing the American Indian Defense Association) and Matthew K. Sniffen (for the Indian Rights Association) to document abuses that their subtitle dubs "An Orgy of Graft and Exploitation of the Five Civilized Tribes—Legalized Robbery."[34] With Bonnin serving as a research partner under the auspices of the General Federation of Women's Clubs, the three authors spent "about five weeks in Eastern Oklahoma during the months of November and December, 1923, making a first-hand study" of "the Indian probate situation among the Five Civilized Tribes" (3). Citing the need for radical policy changes to save the tribes there from "pauperization and virtual extermination," the pamphlet calls on readers for immediate aid. Precipitating the investigation were abuses associated with congressional legislation that, in practice, had led to Indian land rights being stolen by unscrupulous "judges, guardians, attorneys, bankers, merchants" in the region (5). Large-scale exploitation of the holders of Dawes Act allotments in Oklahoma arose in the wake of oil discoveries there, as many Natives were declared legally incompetent to manage their affairs and thus rendered easy prey. Besides "excessive and unnecessary administrative costs, unconscionable fees and commissions," the investigative team found far worse manipulations, based in "flagrant disregard of the Indians' welfare" and driven by greed. Among the most heinous charges brought in this report are accounts of "young Indian girls (mere children in size and mentality)" being "robbed of their virtue and their property through kidnapping and a liberal use of liquor" (6). In a separate section of the pamphlet where these crimes are chronicled, the report declares that these "phases of our investigation . . . can be presented best by a feminine mind," so that the horrific details are assigned "to Mrs. Bonnin to describe"—an indication both of the degree to which such cases overstepped moral boundaries and of the trust accorded to her gendered reporting and writing ability, in such a sensitive area.
In this section, the text shifts from a rather detached, though forceful, perspective to a compelling series of narrative case studies rendered in vivid detail, with several episodes including first-person authentication by Bonnin, as in "I personally met Millie Naharkey [one victim], and was struck by her smallness of stature, her child's voice and her timidity" and the associated assessment, "I grew dumb at the horrible things she rehearsed. . . . There was nothing I could say. Mutely I put my arms around her, whose great wealth had made her a victim of an unscrupulous, lawless, party, and whose little body was mutilated by a drunken fiend who assaulted her day and night" (26). Horrified that Millie's "terrified screams brought no help" initially, the author here infuses the kind of intense, affect-oriented description Zitkala-Ša had used years before in her Atlantic counter-narratives into a multigenre text that simultaneously invokes gendered sentimental discourse, a witness-oriented authority grounded in Native-to-Native access, and investigative reporting bolstered by an alliance with white male authority.
Similarly, later in this first-person section, Bonnin strategically alludes to the report's title itself while also foregrounding her emotional response to the case of "Martha,—a Shawnee, and widow of an Osage": "I felt an overwhelming indignation at the legal helplessness of a poor, rich Indian woman" (29, 31). Shifting back to a shared "we" voice at its close, this complex account builds to an insistent call for immediate change: "These cases, we think, are sufficient to show the hopelessness of the present situation. . . . There is no hope of any reformation of the present system, and if action is delayed a few years there will be no Indians with property to be protected" (39). Signing the report along with her coauthors, then, Bonnin signals a strategic self-positioning as a border-crossing guide with a voice empowered through collaboration. Capitalizing on the connections designated by their various institutional affiliations, she and her coauthors together seek access to cross-cultural intervention. Based on her gender and her Indian racial identity, she has been able to secure stories otherwise still suppressed. Based on her alliance with Fabens and Sniffen as coauthors, she has gained a publication venue aimed at the audience best positioned to remedy the situation, so that she can channel righteous indignation through shared agency. While Oklahoma's Poor Rich Indians has not (yet) drawn the same level of attention as the 1900 Atlantic memoirs, this text from later in the author's career illuminates her rhetorical sophistication. Blending language that echoes official, formal government discourse with interpolated stories tied to lived experience, this hybrid genre reconfirms Zitkala-Ša/Bonnin's ability to cross cultural boundaries in public discourse, varying her composing strategies in line with different contexts. In this case, as an investigative reporter speaking to her readers in a still-gendered voice, she offers up a painful story driven by an implied hope for support.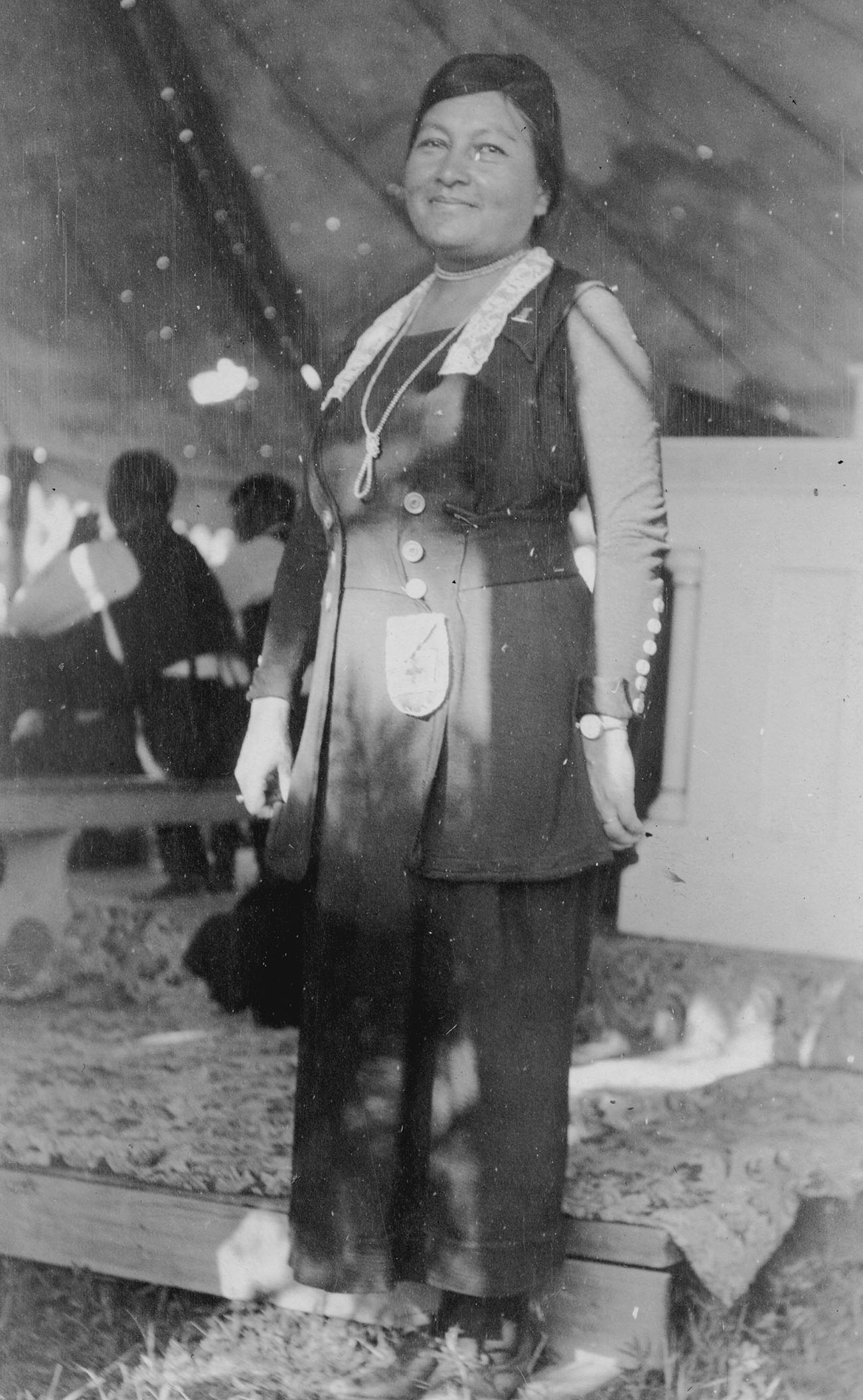 Figure 5.1. Gertrude Simmons Bonnin as a speaker at the Catholic Sioux Congress, Holy Rosary Mission, South Dakota, Pine Ridge Reservation, 1920. Courtesy of the Marquette University Archives, Bureau of Catholic Indian Missions Records, ID (BCIM) 00684.
Native Teachers Claiming Authority
Twenty years after the 1924 release of Oklahoma's Poor Rich Indians, Oklahoma-born Cherokee author Ruth Muskrat Bronson published Indians Are People, Too.[35] With its six chapters organized like an alternative textbook aimed at disabusing whites of their familiar misconceptions about Indian history, Bronson's treatise utilizes such postcolonial rhetorical strategies as a back-of-the-book map of the United States simultaneously mimicking and reconfiguring its usual boundaries by replacing state lines with icons and notations demarcating Indian tribal nations.[36] To refute racist stereotypes, she reports that "[p]sychological tests have proved that Indians possess the same capacities as whites," thus undermining one excuse for the "discrimination and prejudice" still being faced by Indians in the mid-twentieth century (93). As additional evidence of Indian capability, she reminds her readers that "Indian youth, in numbers that run to more than twenty thousand, are fighting in the armed forces all over the world" (125).
Bronson's book creatively binds up a counter-narrative response to abuses of Native peoples with a positive alternative vision. Initial chapters excoriate assimilationist teaching's heritage. Chronicling the long-term negative impact of the boarding school movement, she mocks its rationale and refutes claims for positive results: "The idea back of this policy was that if Indian children were kept out of the Indian environment long enough and educated in white ways assiduously enough, they would forget their Indian background and become 'civilized' by taking on white ways. The implication was that upon graduation the Indian student would be accepted by the white world. He seldom was" (95). Along with such counterthrusts against dominant narratives, Bronson issues direct polemical calls to an anticipated white readership. For instance, in the opening of chapter 2, entitled "Our Mother, the Land," Bronson rejects the clichéd assessment that "[w]hat happened to the Indian in this country is too bad, but it is over and done with." In its place, she insists that
deeds of such magnitude cannot be over and done with. They do not stand alone in a period of time. Their tentacles reach out to oncoming generations and touch the lives of people who live centuries after the deeds themselves are only echoes in history. I am an Indian, living in the present now, but I carry the burden and the responsibility of those distant years. So do you, whether you are Indian or white. (33–34)
Bronson's early chapters strike a careful balance between recounting wrongs suffered by America's Indians and acknowledging the support some whites provided.[37] For example, in revisiting the Cherokee Removal, she condemns Andrew Jackson for defying the Supreme Court's decision in favor of the Cherokee and observes: "The Cherokee cause was lost; their confidence in the Federal government destroyed; their faith in the justice and good will of the white man grievously shaken" (40). She poses the righteous query, "Where were the Christian people of the nation? In the records of history their voices are strangely few" (41). But Bronson also praises those same "few" allies for extraordinary courage, thereby offering potential white role models for her readers. In particular, she credits the "compassionate" missionaries who "sharing their hardships, comforting their despair, burying their dead," accompanied the Cherokee "into their exile" (41).
Similarly, she notes, "In 1890, the very same year that the last and most heartless battle was fought with the Dakotas at Wounded Knee, across the continent two Christian women pitched their tent on the edge of the Navajo reservation and began there the labor of sacrificial devotion that developed in the Methodist Navajo mission at Farmington, New Mexico," where these allies endured "criticism and scorn" for "teach[ing] the Indians about the life of Christ" (52). She praises Bishop William Hobart Hare's commitment "to raise up a native ministry" among the Sioux (135).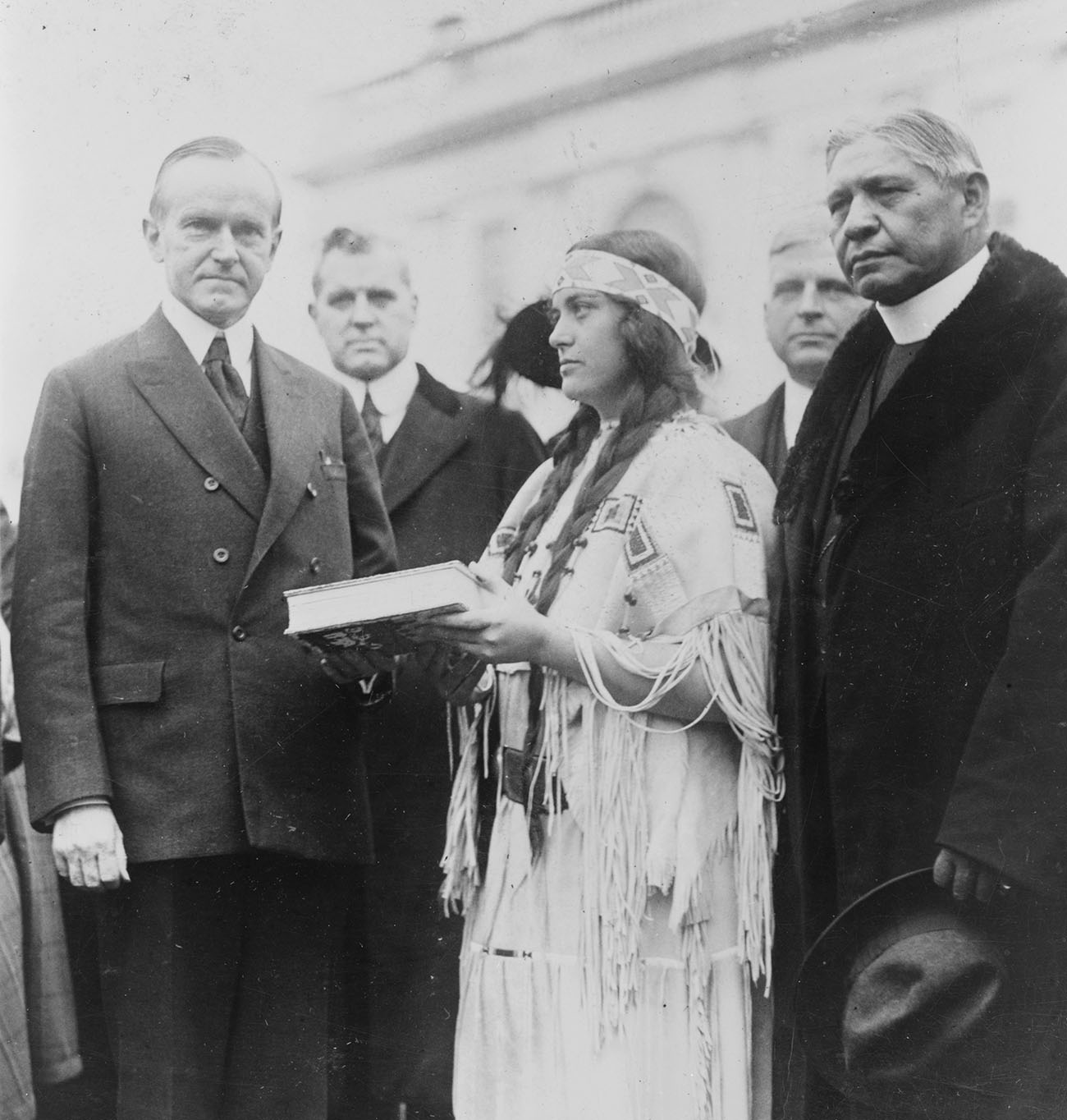 Figure 5.2. On December 13, 1923, Ruth Muskrat [Bronson] presented President Calvin Coolidge with a copy of The Red Man in the United States: An Intimate Study of the Social, Economic and Religious Life of the American Indian, by G. E. E. Lundquist (New York: George H. Doran Company). On June 2 of 1924, Congress would pass—and Coolidge would sign into law—the Indian Citizenship Act. Library of Congress, National Photo Company Collection. (c) Library of Congress, National Photo Company Collection (p. 25, no. 27839).
Much of the book proclaims Indians' inherent right to educate their own children (75), determine their own destiny (80–81), and even model superior approaches to education for whites by restoring Native practices (85–86; 110). Paramount among these values for positive teaching is a commitment "to bring the entire Indian community into the life of the school" (97). In Bronson's resolute demand for "genuine sharing" in the leadership of Indian education, we see a new stage in the process of Natives claiming a right to teach their own children and to have a lasting impact on the larger American community. Quoting Navajo elders who had defended this mandate, Bronson touts their commitment to affiliating the "hearts" of children with their home place and a communal life of "peace and harmony" (160).[38]
That Bronson herself had just such commitments and capabilities as a teacher is evident in the account Esther Burnett Horne includes of Bronson's influence in Essie's Story. Describing the mentorship of Bronson and Ella Deloria at Haskell Indian Institute, Horne interweaves narrative examples of their impact with analysis of their teaching goals. So, Horne reports:
During my senior year, I accompanied Ruth Muskrat Bronson and other students to participate in programs that we presented to schools, to church groups, and to service organizations. Instrumental and vocal music, and talks related to our Indian heritage, were part of the programs. . . . This was my first exposure to public speaking. While on these tours, Ruth arranged for us to stay overnight in people's homes, to eat and to socialize with them. She took us beyond the confinement of the boarding school. Both Ruth and Ella wanted us to learn to survive in a variety of environments. They wanted us to be proud of who we were as Indian people and as boarding school students but also to be comfortable in explaining our identity to the non-Indian world. [39]
Horne's memoir illustrates how some students from her era of the boarding school movement could capitalize on their learning experiences to become revered, productive teachers of other Indians. Pioneer educators like Ruth Muskrat Bronson, teaching at Haskell when Esther was enrolled there from 1924 to 1929, were central to this process as, with each succeeding generation, more Native educators gained authority within the educational system itself. Horne credits both Bronson and Deloria, accordingly, as her role models (41). Reconfirming that affiliation, Horne's memoir textually enacts the stance of rhetorical mediator, with Essie's Story straddling the space between personal story of teaching/learning and cultural analysis.
To create what the subtitle designates as The Life and Legacy of a Shoshone Teacher, Horne narrated her experiences to her friend and coauthor Sally McBeth, a white anthropologist whose description of their collaboration emphasizes Horne's agency and control over the text. Horne and McBeth explicitly identify their complementary yet distinct roles, as well as their shared feminist values around the cultural power of storytelling grounded in memory. For example, the first voice in the text is Horne's, in a preface, where she describes their "collaborative approach" (vii). In McBeth's longer "Introduction" (xi–xli), she presents an academic perspective on their process: she locates the text in relation to other anthropological life histories but also underlines this narrative's commitment to having Essie's voice claim ultimate authority. Thus, McBeth observes, "Through our intensive work together, Essie and I created a close bond of respect and rapport" that aimed to find meaning in story. She quotes Essie's own affirmation that their "'friendship has enhanced the project'" (xix). At the same time, McBeth acknowledges the differences in their perspectives, outlines traits their project has in common with other "collaborative life histories" (versus "self-authored autobiographies" [xxviii]), and proposes recurring themes she feels are important to Horne's story. The bulk of the text, nonetheless, is Essie's own narrative, and even for the introduction (where McBeth is designated as author), Horne has final say, as she comments on the themes McBeth has highlighted, including Essie's "'relationship to Sacajawea,'" an identity-shaping ancestor; her "'boarding school experiences [being] positive for the most part'" (due to having prominent Native instructors); her own commitment to teaching other Natives; and the pivotal influence of her parents' "'teaching us the many positive things about our Indian culture and the many things that Indian people have contributed to the American way of life'" (xl–xli). All in all, though the learning legacy presented in this text developed through collaboration with partners enacting two different roles, it is ultimately, as designated by the title, Essie's Story.
Essie's teaching/learning narrative is grounded in autobiographical memory, but she positions her life in relation to larger historical trends and cultural issues. Thus, she describes her own time at Haskell as "pretty happy," praises the "skills [she] learned" as "beneficial to me through my life," and casts her own account as "soften[ing] the point of view that government boarding schools were hellish places with harsh discipline and beatings" (36). She stresses that what made her experience positive was the shift in policy, by the time she was a student and, later, a boarding school teacher, to welcoming both Native instructors and their curricular leadership. Similarly, she uses commentary on such longstanding boarding school practices as a "military regime" to show how Indian students creatively responded to otherwise oppressive approaches by connecting them to Indian values: for herself and her husband (whom she met at school), "military experience . . . taught us self-discipline for our later lives. . . . [W]e both knew that self-control was one of the strongest of the Indian values" (36–37). Horne presents her subsequent goals, when "teaching at the Wahpeton Indian School," in similarly affirmative terms: "to instill in these kids a sense of their dignity and worth as individuals," "to continue to integrate Native American materials into the curriculum," and, overall, "to provide them with the same security and sense of self that my Indian teachers, Ruth [Muskrat Bronson] and Ella [Deloria], had instilled in me" (65).
Further, Essie points to ways in which the BIA, over the years, empowered Native teachers even more than in the early stages of her career, particularly once Dr. Willard Beatty led the organization, beginning in 1936 (69–70). At this point, Horne says, she could move from teaching "Native American culture" "secretly" to an overt leadership of curriculum in line with the goals she had always held, for "our young people to have a pride in themselves as individuals, as American citizens, and as tribal members of sovereign nations" (69). In Horne's view, then, US citizenship and affiliation to a tribe as "sovereign" were at last compatible, and she could teach with both contexts in mind.
Learning from Native Educators Today
Growing numbers of Native teachers are extending the legacy of forebears like Ruth Bronson, Ella Deloria, and Esther (Essie) Horne. Fortunately for American education, they are serving both Native and other students, from diverse backgrounds, in a wide range of settings.[40] Furthermore, if we pay close attention, all of us can learn a lot about effective cross-cultural teaching from these colleagues. I am certainly trying to do so. Besides reading their scholarship and observing them in action, I've benefited from the guidance of gifted Native teachers through in-person and online conversations.[41]
Let me elaborate on this multifaceted learning process itself. This part of my research for writing Learning Legacies has entailed building a framework that integrates several vital archives from different types of resources, each of which emerges from the larger Archive of Indigenous knowledge about cross-cultural teaching. All three of these resource types—print and material texts (such as images and culture-carrying objects), observable teaching practices, and personal accounts of teaching—can be viewed, in themselves, as positive counter-narratives offering up alternatives to the negative legacy of assimilationist teaching, with some of these models expressed explicitly and others more indirectly. Before closing this chapter with a focus on the third of these strands—conversations with Native role models about their pedagogy—I want to pause here to comment on how each of these three counter-narrative types actually come together in my own teaching philosophy now. Rhetorically, I've tried to embody that "coming together" in the content and organizational structure for chapters 4 and 5, since this process of moving from inductive exploration of cultural resources to constructing pragmatic value systems also represents an example of how I think the humanities and related fields can effectively develop and convey knowledge for daily life, over time. So, let me highlight, briefly and in turn, each of the three strands assembled for this two-chapter section of Learning Legacies, in the hope of making visible connections between inductive story-gathering and conceptual organizing that I have tried to articulate through textual pedagogy in this book, particularly in its Native-focused chapters.
One of these strands, addressed in explications earlier in this chapter, taps into print and other material texts—counter-narratives by Native teachers from the Carlisle era and later, offering up positive alternatives to assimilationist education. Also a part of this important resource from and about cross-cultural teaching is the growing body of Natives' own scholarship incisively interpreting this heritage. Though sometimes my engagement with these scholar-theorists appears in endnotes rather than being addressed in detail in my own narrative proper, I want to emphasize that questions they raise and advice they give have been central to my work. As just one example, I would cite the work of Craig Womack, whose Red on Red study of Creek national literatures underscores several points I have tried to honor here: enabling "Indian people to speak for themselves," by "prioritizing Native voices" (4); affirming that such criticism, "written by Native scholars, is part of sovereignty" and the rightful assertion of national identities, such as Womack's focus on Creek culture, as "defined within the tribe rather than by external sources" (14); and, at the same time, recognizing "pan-tribalism" (19).[42] This approach to reading Indian and First Nations educators as in conversation with each other has pushed me to see, in scholarly-creative and creative-scholarly texts like Thomas King's The Truth About Stories, a counter-narrative mixture of story-sharing, story-making, and story-theorizing that cuts across national and other boundaries.[43] Close and careful reading of this kind of resource, for me, has included everything from noting recurring images in Ella Deloria's Waterlily, to paying respectful attention to objects' and labels' historical context in an NMAI exhibit on treaties, to positioning individual historical narratives by an author like Diane Glancy or Robert Conley within their larger oeuvres, to watching for ways that the beadwork image on her professional website reverberates with rhetorical sovereignty arguments in Malea Powell's academic journal essays. In the classroom, I encourage my students to carry out a parallel brand of patient interpretive work, combining close reading with historical awareness.
A second strand of resources I've been using to explore Natives' own cross-cultural teaching has involved observing and reflecting on cultural practices in action, particularly instances of teaching. I've referenced this type of resource in chapters 4 and 5 via descriptions of Native educators at work. They include my time watching guides like Renée Gokey and Dennis Zotigh at the NMAI, participating in workshops like the Standing Peachtree session in Atlanta, noting the inclusive instructional strategies of Diane Glancy as she taught our KCAC group her own Pushing the Bear novel, and taking part in the NEH program led by Professor Gerald Vizenor at the University of California, Berkeley. Through such opportunities, I have certainly been studying important content about Native histories, cultures, and peoples. Equally important, though, I've been assembling and refining a repertoire of teaching practices. (As NEH program officer Janet Edwards once advised me, "A scholar in the act of teaching is a text well worth studying.") By reflecting on these experiences of being taught by Native educators (whether in a classroom or at a powwow), I've carried out readings of practitioner-in-action archives that have complemented and extended my study of material archives such as those captured in print.
Along with these counter-narratives of relatively formal praxis, I've tried to think deeply about experiences that might, on the surface, seem to be disconnected moments of cultural tourism,[44] but that I've sought to position within ever-growing webs of personal learning legacies that I can now share in my classroom and with my readers. So, for instance, I've aimed to be an attentive listener during a Saxman village's self-presentation to visitors in their Tlingit clan house and around their totem collection in Ketchikan, Alaska. There I noted, in particular, the respectful collaborations between elders and adolescent guides, pitched as multivocal oral presentations conveying a resilient sense of community. I've embraced an invitation to join a welcome ceremony at Klahowya Village in Stanley Park, Vancouver, Canada, and appreciated the strategic mix of place-based ceremony and intercultural bridge-building achieved through shared symbolic action. I've admired the elaborate costume-enhanced roundhouse dance by Native Brazilian hosts and then celebrated the good-humored irony of their pointing our admittedly surprised tour group up a hill to their internet-wired home-places. I've listened to Aboriginal Australians tell of their own bitter learning legacy of enforced schooling across multiple generations and heard inspiring stories of how Māori New Zealanders are exercising ecological stewardship. In all these cases, the rich diversity of Indigenous cultures has resonated across far-flung settings, along with a gradually developing portrait of shared values, a pan-tribal vision, if you will, for cross-cultural exchange.
How best to carry these stories of cross-cultural teaching in action to my own students? I can't literally take them along on all my observations of Native teaching, of course. To approximate the impact of my own experiential learning, I can at least craft assignments that push them outside the comfort zone of our "regular" classroom setting, and I can cultivate opportunities for connecting the curricular with the cocurricular, in short-term and longer-term projects that bring them in contact with cultural difference. For instance, whether skyping with a Peace Corps worker who can describe work with an Indigenous population overseas, or collecting and analyzing written responses to a documentary on migrations of Native peoples seeking economic advancement for their families, or sharing transcripts from my interviews with Angolan locals about their experiences in colonial schools—via such modestly intercultural "moments" in my classroom, students in the most self-contained university setting can at least be given opportunities, admittedly at a remove, to observe and interpret cross-cultural experiences in action.
A third strand of my research on Native teaching practices has primarily involved listening. I've tested out and refined my own reflections on learning occasions and my readings of (print and other) narrative reports by inviting educators to "story" their own practice—to theorize it through dialogue. Such a method may seem quite simple, since this brand of research basically entails asking teachers to interpret their own decision-making. But it draws from a strong tradition in teacher research and other fields where self-critique promotes theory-building and theory articulation.
More specifically, I initially came to this third strand for studying Native teachers' learning legacies—shared conversational analysis—through prior work as a teacher educator studying reflective practitioners, as Donald Schön has advocated.[45] But when I turned more recently to studying what Shawn Wilson terms "indigenous research methods," I found some strong connections there too. In fact, Wilson's Research Is Ceremony could be seen as mapping the inquiry approaches that have directed this two-chapter section of Learning Legacies—except that I actually discovered his thoughtful text during the revision stage of this project. (Equally important, of course, as a white teacher-researcher, I should avoid claiming any right to enact a ceremonial Indigenous methodology as if it were my own.)
I certainly do value Wilson's model, though, and plan to draw from it, going forward, as an intercultural researcher committed to sustained collaborative inquiry.[46] In particular, for instance, Wilson argues that "indigenous research emphasizes learning by watching and doing," that it avoids the distancing stance of anthropological participant-observer while using such similar features as seeking face-to-face relationships and shared knowledge-making. Wilson emphasizes that he has "a natural advantage" for researching Native cultures in this way, since such a brand of "participant observation in Indigenous communities has taken place all [his] life" (40). Doing inquiry "within communities that [he is] already a part of," and thus where he already has "rapport," is a stance I can never achieve. But I hope, in adopting an ally-learner stance, I have cultivated as ethical a version of this relationship-building position as possible, since it envisions collaboration that allows for different standpoints and skills to come together respectfully and productively. Specifically, Wilson emphasizes talking with and listening to individuals as a crucial feature of Indigenous research practice (40–41), including carrying out "deep listening" (59). Says Wilson of his own inquiry into the Ceremony of Indigenous research itself: "As I was listening, I was learning, and as I was learning, I was sharing." Through multiple conversations with colleagues in Canada, Australia, and New Zealand, Wilson explains, "We were helping each other to understand or analyze these lessons and giving each other feedback as we all progressed. The analysis was collaborative and ongoing" (131).
Such an approach is clearly at odds with research interviewing that starts with a hypothesis and tests it out with set queries posed to research "subjects" who become objects of analysis with limited agency. In my case, I understand that I cannot ever approach an insider status. But I can seek a relational brand of knowledge-building that includes going back again and again to reconnect with colleagues who are aiding my inquiry—such as making multiple trips to the NMAI and looping back to interviewees to share the evolution of my thinking and writing—rather than merely carrying out a single instance of "data-gathering" to inform analysis I would then do on my own.
Figure 5.3. National Museum of the American Indian, Smithsonian Institution, Washington, DC, Exterior. Photograph by John Coe Robbins.
Overall, in other words, consistent with Wilson's framework, I have tried to value relationality, to exercise responsibility, to convey respect, and to uphold reciprocity (70, 72, 77). Below, I share several stories of cross-cultural teaching gleaned from generous Native women colleagues through online and in-person conversations. Taken together, they form an archive of revisionist educational resources, reasserting Native teaching and learning methods, and a collaborative counter-narrative antidote to the legacy of assimilationist education represented by Carlisle and its heirs.
Conversations with Native Teacher-Scholars
In the section above, readers will doubtless have noticed my shift from examining textual archives of Native teaching in the first part of the chapter to giving a first-person narration about the methodological underpinning of my work. As I pointed out in the book's introduction, I recognize the gender-associated need to fold in explanation of how my own storytelling voice in this project is actually theory-driven. In addition, as Shawn Wilson argued in Research Is Ceremony and as Thomas King modeled in The Truth About Stories, a rhetorical mixing of story and analysis can be helpful to validate the intellectual rigor of narrative inquiry for some audiences. Having provided that scaffolding above, I trust my readers will now take note of the day-to-day integration of theory and practice—of the purposeful exercise of educational sovereignty—evident in the praxis of the Native teachers whose work I survey below: Lisa King, Kimberli Lee, Namorah Byrd, and Malea Powell.[47] The learning legacies from these ongoing conversations now inform my own teaching daily.[48]
Though based in the practice of everyday teaching lives, the stories I pass along from these colleagues do not focus on classroom organizational techniques linked to specific learning outcomes, or construction of particular syllabi, or lesson plans from individual courses. Rather, these reports of dialogues aim more at providing frameworks to help guide readers' own contextualized decision-making and actions. Several factors prompt this emphasis on conceptual frames. One arises from this book's aim to foreground theory at key moments so as to claim an authoritative voice. Another entails a respectful hope that my readers will turn to these scholar-teachers' own accounts of classroom practice details, particularly as seen in the recent anthology Survivance, Sovereignty, and Story and its accompanying website. (Several chapters are referenced in this section's endnotes and earlier in my text.) A third rationale assumes that readers who have come this far will welcome a chance to "hear" Native teachers' voices analyzing classroom culture in ways that invite varying localized adaptations instead of seeming to prescribe preset pathways. That said, in my Coda, I will describe a few specific examples of how I am trying to apply their thoughtful guidance in my own teaching.
Lenape (Munsee)/Euro-American teacher-scholar Lisa King has mined her own experience as a learner—including frustrations she encountered and her strategies for addressing them—to guide her work at an institution in the US Midwest, then later at the University of Hawai'i at Mānoa and, more recently, at the University of Tennessee, Knoxville. Hearing from Lisa about teaching in different institutional settings has been especially helpful because, like her, I've had numerous shifts in teaching locations, and I've found that every site brings unique challenges and opportunities for cross-cultural work. Thus, I especially admire King's blending of core principles across multiple settings and her adaptation of curriculum to the needs of students in particular locales.[49]
With energy, vision, openness, and commitment, King locates herself and her teaching within the larger legacy of Native educational history. Thus, she explains, "I see myself as asserting Native presence where there has been mostly absence." King models greater responsiveness to diversity in shaping her curriculum than what she encountered as a Native student herself:
As a student, I remember wanting to see my own experiences and background reflected back to me, or to at least find a way to locate myself in what I was learning. It didn't happen often. I think the breaking point, when I really became determined to take it upon myself to do this work, was when I took a class in life writing/autobiography studies as a graduate student. The professor was well known in her field and a general fount of knowledge on every text we read. That is, until we got to the American Indian author; that was the shortest lecture she gave all semester, and she couldn't really address it in the same depth as the other texts we read. I was so disappointed and frustrated that after that class, I began actively seeking out professors and mentors who would work with me in independent studies and could give me what I needed (since no graduate courses in American Indian literature existed in my department at the time).
But that experience was also double-edged; the classes I was taking across other cultural backgrounds and my own students were revealing my own lapses in knowledge. Given these two factors—wanting my own background respected/reflected as a student, and not feeling as though I knew enough about others as a teacher—I began experimenting with ways to create a classroom experience that would provide some kind of flexibility, where student experience was valuable, but where students also began to recognize other students' experiences and cultures as equally valuable and necessary to consider.
King's classroom is continually informed by her awareness of the complex past history of Indian education and the ongoing impact of that legacy within American culture. In Hawai'i, for instance, this often-painful heritage prompted her to be particularly attentive to the needs of her own Native students. She noted that, when teaching there, she was well aware that many of her students came "from underprivileged backgrounds" and were "struggling with the reality of colonial history, and trying to figure out how best to be themselves in this world and where/how being Native fits into that." So, she said, that while being careful not to "play favorites in my classes, . . . knowing this history I [was] extra careful to provide support for them."
King draws self-consciously on the cultural legacy of Indian education history in responding to student diversity within the classroom. (In this context, in replies to one set of digital interview questions, King offered the example of one introductory-level class's diverse ethnic makeup during her time teaching in Hawai'i: "21 students from a variety of backgrounds: Caucasian/mainland US, Filipino, Japanese, mixed-race students, and Native students in pretty even proportions.") Significantly, she starts with the assumption that all her students will embrace opportunities to broaden their horizons, however limited their exposure to cultural differences may have been before:
Early on in my teaching career (at a Midwestern university), I became acutely aware of how insulated many students are—especially if they come from the mainstream cultural influences—and also how curious they are to learn about cultures outside of their own experiences when given the opportunity. Much of discrimination, I think, happens because of ignorance, and I became and remain motivated to help students widen their field of vision in the world, and at the very least help them learn how to respect other cultures, even if students don't fully understand them or agree with those perspectives.
Accordingly, for King, foregrounding her own identity and experience is one strategy for cross-cultural teaching:
I think my experience working from the point of view of contemporary American Indian rhetorics has taught me a lot about how to reach students from a variety of backgrounds. First, I always establish who I am and where I come from, so that they know; I also let them know that they have a lot to teach me. In effect, it's a sort of recognition of cultural sovereignty on a small scale—I'm asking them to respect where I'm coming from, but letting them know that I respect their experience in the world, too. It's also about alliance, though, and so I also try to build a space where we have common goals in the classroom that everyone contributes to.
Invited to identify some key terms and/or metaphors that direct her work, King named sovereignty, contact, dialogue, and reciprocity, with the last of those being crucial since "of course you want to treat others with the same respect you demand."[50] In responding to some possible metaphors for cross-cultural teaching that I asked about, King seemed most drawn to "cultural mediator":
in many respects, I am the cultural mediator (whether I like it or not), especially for students who don't know much of anything of American Indian studies. At the same time, when I have Native students in class, that role of mediator becomes shared; their experiences will not be the same as mine, and in that respect they also have the ability to teach their classmates (should they wish to share) and I am not the sole source of information (nor should I be).
King also offered a metaphor of her own:
Alliance Builder. This is work that I see myself doing in every class I teach, and maybe is one of the strongest ways I would identify myself as a teacher. I don't mean this in any sort of saccharine or naïve way. I have had the best of intentions fail. But if I can find a good way to have my students feel affirmed in who they are and in their intellectual abilities, if I can teach them good ways to dialogue with one another, if I can help them be stronger, more compassionate, clear-eyed thinkers together, in mutual respect . . . that's the work I want to be doing.[51]
Alliances are not always easy to create or sustain, of course. King acknowledges, "I have had students lash out at me in journals or in evaluations for asking them to do what they perceive as work unnecessary to their education." Such students, King observes, "generally claim to be content with the world as it is (the 'racism/sexism/discrimination at large doesn't happen, why do we talk about it here?' question), and think my addressing of culturally-related topics is an act of political aggression, no matter how I approach the topic in class."
While acknowledging that challenges can occur in any setting, King also, in a recent update, pointed to the encouraging experiences she's had since her move to a Southern US research institution, where one might expect her to encounter some resistance to the content of her scholarship and the core aims of her teaching. Instead, she explained in email and phone conversation, followed up by an in-person shared meal, although "[t]he University of Tennessee-Knoxville is like night and day to the University of Hawai'i-Manoa in terms of student demographics," so that she is now "teaching mostly white students," she has found encouragement for her work. For instance, she observed, after she had run "a senior-level 'Cultural Rhetorics' course with an Indigenous frame twice as a special topics course, with good success, my department recognized the value of it." In short order, the course was approved as a permanent addition to the curriculum, "as a class in its own right. Student feedback has been heartening," she added: "after the last time I taught the course, the students made their own Facebook page and have continued to carry on the conversations about listening, story, and alliance. I have also recently taught it at the graduate level for the first time, with strong evaluations. This gives me so much hope that no matter where we find ourselves as teachers, we can build these alliances. These learning communities can be developed, woven, cultivated." Overall, King emphasized in another phone talk, "What I want to say is that while the strategies might change depending on the student demographics and the place, this work can be done anywhere."
Often, in fact, "this work" involves helping students reexamine ideas they have internalized because they didn't yet have the tools to critique them. And, as several of the Native women teachers I interviewed suggested, this is a goal that can apply to Native and other minority students as well as those in the United States' current majority demographic.[52]
Along those lines, Kimberli Lee of Northeastern State University in Tahlequah, Oklahoma, points to the fact that, in teaching about American Indian cultural practices, specifically, "it often feels that I have to get students to 'unlearn' so much of what they have passively absorbed about 'authentic Indian-ness,'" since "[s]tereotypes about Native peoples abound and reinscribe themselves constantly through mainstream media."[53] Reflecting back on her own days as a student, Lee echoes King's memories of having little access to mentors with deep knowledge of Native culture. She recalls a former teacher's quick in-class dismissal of "Star Quilt" by Roberta Whiteman, a response Kimberli suggests could be attributable to that instructor's discomfort with her own limited knowledge. Lee draws on such past frustrations in positive ways to fuel her own commitment "to be open to all kinds of genres and authors so I can at least engage my students when they read and have questions."
Lee proposes that this very awareness of the gaps in former instructors' and current students' knowledge actually reaffirms her commitment to teaching across cultures, especially about Native history and social practices. She hopes that coming to see "how Native peoples have shaped and continue to shape American culture at large" will also "allow students to come to know something of themselves."[54] Thus, she envisions, "We can build bridges to one another and find some common space in which to share stories and experiences."
Namorah Byrd, a tenured full professor at Rowan College at Gloucester County, Pennsylvania, describes challenges in line with King's and Lee's reports, while also affiliating with their goals and values. Having begun her career in 1997 as an English composition graduate student instructor and later an adjunct at Temple University, Byrd taught Asian American history and Native American literature there as well. Byrd's pride at having completed multiple degrees (BA, MA, and PhD at Temple) extends to the productive blending of multiple traditions that she achieved in her 2014 dissertation, "The Presence and Use of the Native American and African American Oral Trickster Traditions in Zitkala-Ša's Old Indian Legends and American Indian Stories and Charles Chesnutt's The Conjure Woman." As she points out, "given the difficult history of Native Americans and African Americans [facing challenges] acquiring advanced degrees" from such institutions, she hopes that "other scholars with my heritage [will] think, 'If Namorah could do it, I can do it,'" just as she was "inspired by the educational accomplishments of several Native American and African American authors."
Unlike Lee, Byrd is working today with students who rarely see themselves, primarily, as Natives.[55] She describes herself as having "Native American, African American, Hispanic and European ancestries," and she notes that being a "Professor of Color" often presents challenges since so many white students "have never had an African American or Native American professor, high school, or elementary school teacher prior to landing in [her] classroom." Therefore, she has labored "to invent [her] own teaching methods, particular vocabulary set, and cultural cues for successfully engaging white students," especially since so much of the "cross-cultural teaching literature out there and methods offered, while wonderful and well-meaning, primarily reflect advice directed toward white faculty members. . . ."
Namorah readily concedes that, given her own "cultural experiences," she finds herself more "able to understand the issues of students of color" and finds it "less of a challenge to engage them in the classroom." In her case, Namorah declares: "cross-cultural teaching issues revolve around facing astonished white students who are transparently amazed, and sometimes dismayed, at seeing me enter the classroom and walk up to the desk to unpack my things." Therefore, she explains, she must aid her "white students with the adjustment to having, often for the very first time, a racially and ethnically colored 'expert' providing them with their education." Byrd has observed that "[i]t doesn't take long for us all to enter into a comfortable teaching/learning 'culturally safe' social environment. I use a positive and joyful approach to teaching that recognizes our differences as we move through the difficult task of mastering the subject matter before us." She declares: "I do not shy away from acknowledging that everyone in the room has diverse ideas and experiences that inform how we interrogate literature; instead, through written productions and discussions, we examine how those differences shape and form who we are and how differences inform the America in which we live."
Much of Byrd's cross-cultural teaching goes on outside of academic institutional settings, working as a women's traditional powwow dancer, drummer, and singer. In outreach programs, Byrd capitalizes on resources linked to her own identity. For instance, through "IndiVisible: African-Native American Lives in the Americas," an NMAI project, she facilitated a New Mexico State University workshop blending Native American and African American materials; she modeled oral traditions "through storytelling, drumming, chanting, and dancing" and described how she can "research, teach, and participate in both traditions."[56] She originally learned dancing, drumming, and singing as a member of the United American Indians of the Delaware Valley and Kanahoochie: the Native American Women's Singing Circle, a group of Native women that Pura Fé, artist-activist of the singing group Ulali, gathered together in the 1990s for a project enabling Byrd and others to share and learn traditions.[57]
Similarly, she welcomes all cultural traditions into her classroom, inviting students "to 'hear' and understand the thoughts and perspectives of other people." And she self-consciously models that stance: "I explain that we, as scholars, are not obligated to shift our own belief systems just because we respectfully hear each other out; we can 'hear' difference, marvel in its diversity, and be enriched by learning about new things, new ways, and new lives, without shifting from our own base should we care not to do so. This 'permission' seems to create a safe space for us all," a place of "peace" that is still open "to dialogue with each other, without rancor."[58]
Space-shaping and shared action also emerged as themes when I interviewed Malea Powell, a professor of Writing, Rhetoric, and American Culture at Michigan State University. Among many leadership roles she holds, Powell (who is mixed Miami/Shawnee/Euro-American)[59] is one of the vital forces behind both the Standing Peachtree workshop I described in the previous chapter and, more broadly, an ongoing effort by Native scholars to claim a rightful leadership space in academic professional institutions. While some broad-based organizations might be credited with outreach to—or at least a welcoming stance toward—Native scholars,[60] even in such relatively open contexts, they may still encounter problems navigating sustained cross-cultural collaborations. Similar to the challenge of claiming a viable position as a minority teacher in white-dominated classrooms, maneuvering within the complicated social structures of academic organizations can be daunting for scholars coming from any underrepresented group (whether marked by race, gender, geographic region, or social class). But, Powell believes, bringing American Indian and First Nations voices into the vision-guiding and also the operational work of groups like the National Council of Teachers of English (NCTE) and its related Conference on College Composition and Communication (CCCC/"Four Cs"/"Cs") is crucial if Native leadership in the twenty-first century is to hold its rightful place in American educational culture. A specialized educational enterprise like the NMAI or the many regional public and private museums and centers devoted to Native cultures brings with it substantial symbolic capital, practical resources for achieving educational impact, and a special opportunity for Native educators to work together with unquestioned authority. Nonetheless, countering the still-powerful legacy of the assimilationist boarding school movement and its guiding ideology also involves having strong, thoughtful, patient Native teacher-scholars assume leadership roles within organizations that have historically been white-dominated. Having served as "Cs" chair (and thus the primary planner for one of that very large organization's annual conferences), as well as, for several years, having been on the Executive Committee for NCTE, Powell brings to her ongoing work as a teacher and administrative leader at Michigan State University a focused energy and commitment to supporting her Native colleagues while also cultivating fruitful alliances.
I asked Malea to reflect on this aspect of her educational leadership when we sat down together at another national conference—one sponsored by the Society for the Study of American Women Writers. In reference to the Standing Peachtree workshop and its various related enactments in other years at the "Four Cs" conference, Powell said that preparing those sessions regularly together has "created a community of us," that is, a self-conscious affiliation of Native scholar-teachers, in "a space where we can actually share" so as to "work with each other and learn what each other is doing, teaching, and thinking about." Linking those collaborative opportunities for already trained Native scholars with her ongoing efforts to prepare graduate students for future leadership,[61] Powell emphasized in one of our conversations that "to maintain that space" of interconnected growth among university-based Native educators is essential. She stressed that her role models for this work include "the women who have worked with African American lit." Powell also described her own strategy of "watching people" from African American Studies at work as educational leaders, seeing how they support "junior scholars" in a never-ending effort at "fighting for more space" for anyone who is marginalized.
Powell also credited artist-colleagues like Robin McBride Scott, who have helped Powell develop meaningful bridges between her study of Native rhetorics and other "practices of making." She emphasized the importance of connecting all the various forms of teaching that transmit Native cultures' learning legacies to the concept of "tradition bearers." Thus, whether as an artist creating beadwork or as an on-site teacher in a "public role" at "one of the traditional dwellings or somebody at the NMAI," Powell explained, "if you are going to put yourself out there, you have to be prepared to teach people." Given the remarkable dearth of accurate information about Native people circulating in the larger culture, she observed, "we can't go out in that kind of public space and not teach people about who you are, who your people are" through a "political, racial orientation" aimed at "communicating . . . the truth versus the mythology." She elaborated: "Your job is to pass culture on and not in some unseen, unchanged, unmediated form," but, "pass it on so it's useful for the future generations."
For Powell, that mandate requires blending teaching that is grounded in, and shares knowledge from, material culture (such as beadwork), but also oral culture and its powerful strategies for supporting communal survival. And besides conveying what we might call the content of Native cultures (including particular sociocultural practices), serving as an effective educational leader, Malea says, also requires cultivating a particular stance toward learners—one that is welcoming, that opens doors. Reaching such a self-positioning isn't easy, she admitted during one of our talks; she reflected back on the experience of attending graduate school at an institution whose "mascot was the Redskins," on being "involved in activism to change that mascot," and on feeling, at that point, intense "anger issues" associated with her own identity as it was positioned by others in what should have been an inclusive learning space. But over time, she indicated, she has learned to seek a kind of "balance" that would promote "putting your anger where it belongs" rather than "acting out." To do so, Powell avers, has moved her from carrying anger to carrying tradition—to a more "functional rhetorical work" that integrates the arts, rhetoric, teaching, and social action. This purposeful mix, I'd say, represents her personal brand of rhetorical pragmatism, expressed in diverse story forms.
Activist Spaces for New Learning Legacies
By sharing these aspirational accounts of cross-cultural teaching and learning, I do not intend to claim there is one unified or representative "Native approach" to the enterprise. Rather, similar to the work of Jo-Ann Archibald in her chapter on Canadian First Nations women academics in Restoring the Balance,[62] I hope both to honor the rich diversity among Native teachers as intercultural leaders and to suggest the benefits majority educators' practice can accrue from studying these examples. I also hope to stimulate the gathering of more such accounts. After all, each educator's story has its own notable value, shaped in part by her own past learning experiences and the institutions where she now works. If all of us who wish to become better cross-cultural teachers seek out such exemplars, we can collaboratively construct "teaching story" archives to support our work. With that goal in mind, I want to return now to a "safe space" for shared learning like that Byrd envisions, one also in line with the "common space in which to share stories and experiences" that Lee promotes. By explicitly inviting cross-cultural alliances like those King aims to build, through the kind of patient organizational leadership Powell has been enacting, the National Museum of the American Indian embodies in its enactment of mission, and through its daily teaching practices, a vision creating new learning legacies accessible to all.
Now in its second decade of public service, the DC branch of the NMAI has been resolutely extending its educational reach to ever-broader audiences. Through enhanced partnerships and new technologies, the museum is ensuring that, compelling though in-person visits to the site itself will continue to be, "visitors" and would-be partners can learn from NMAI archives without setting foot inside its walls. Live webcasts like the symposium on The Great Inka Road, broadcast for free online in late June of 2015, are just one example of this strategic audience expansion. Besides underscoring a We-are-still-here message, these teaching practices also proclaim a theme along these lines: We are "plugged in" to twenty-first century teaching/learning technologies; indeed, we are leading innovators in applying these new archive-building tools; but we are using them in ways that creatively reaffirm our traditional Native vision for community-building pedagogy.[63] With its development of new counter-narrative networks that integrate creative learning modes into the museum's tradition-keeping cultural work, this commitment to reaching ever-broader audiences aligns with the Smithsonian's overarching goals but also reasserts Native values like hospitality, storytelling, and community curation. This outwardly oriented, proactive work for sustained community engagement is consistent with approaches to museum education also seen at the Jane Addams Hull-House Museum under Lisa Lee and her colleagues (chapter 3). But in the particular NMAI context, these practices simultaneously offer a Native response to both the oppressive heritage of assimilationist education and the dominant culture's standardized model for public education so evident in many classrooms, school districts, and government mandates today. To illustrate how the NMAI is capitalizing on its rich archive of resources to generate new learning legacies using up-to-date teaching tools, I'll return now to Renée Gokey and Dennis Zotigh, two of the museum's talented educators that I introduced earlier.
Let's begin with Renée. To update this project's portrait of her teaching, we set a rendezvous in the Mitsitam first-floor café. ("Mitsitam," in the language of the Delaware and Piscataway, means "Let's eat"—an appropriate signaling of the museum's emphasis on hospitality.)[64] As mentioned above, Renée and I had originally met when she led the afternoon tour I took on an earlier visit, along with my schoolteacher daughter Margaret, several cross-generational family groups, and a half-dozen international guests. Later, Renée and Dennis Zotigh would tell me, that diverse cluster of visitors was typical of the museum's daily visitors. On this follow-up trip, in the autumn of 2011, Dennis and Renée had each agreed to meet with me one-on-one to discuss their work.
I had asked to reconnect because of the skills I'd already seen them both bring to their cross-cultural teaching. I approached our conversations as another occasion for learning about the NMAI but also to hear gifted Native educators reflect on their practice. Like my interviews with Lisa, Kimberli, Namorah, and Malea, these exchanges represented, from my perspective, not a "study" of "research subjects," by any means, but an opportunity for me to learn from role models—to be a student of their teaching. Given the positive energy I had seen her bring to a randomly formed tour group on my previous trip, I was not surprised that themes emerging from Renée's talk about her NMAI role included her commitment to serving Native youth, her efforts toward building meaningful cross-cultural connections, and, overall, her generosity of spirit.
Renée's descriptions of her strategies for leading visitors through the museum highlighted a vision for intercultural cooperation from which any teacher in today's diverse schoolrooms could learn. While it had been easy for me, during that earlier visit, to identify welcoming techniques she used for engaging learners (such as inviting individual visitors to contribute to the group's dialogue and selecting specific "stops" on the tour in line with their backgrounds/interests), to hear her thoughtful reflections during our follow-up interview reaffirmed my admiration of her strategies. For example, she outlined techniques she used to foreground her own Native identity while also emphasizing the vast array of over five hundred tribal groups in the Americas. Further, she reiterated her commitment to enabling visitors to see Native America all around them and to feel they can connect to those cultures.
Having this conversation in the early stages of my research, I was struck by how differently Renée approached her "captive" audience on a museum tour than so many teachers in the early assimilationist boarding schools did. This thought prompted me to ask her to reflect on how much of the collective mission of the museum is tied to that history. Renée's response centered at first on her grandmother's and other family members' time at Seneca Indian Boarding School. That experience, she indicated, had been full of challenges, but it had also helped her grandmother establish valuable cross-tribal connections.
At the time of this 2011 conversation, one of Renée's duties already involved working with schoolteachers, so she was thinking a lot about how to convey such complicated aspects of Indian history as the legacy of boarding schools and removals—topics which, through her mediation, would later be presented to students in many non-Native communities. She recognized ways that her personal identity and Native knowledge could be marshaled as resources. For instance, she described how, when helping to facilitate a workshop for thirty "Teaching American History" educators from Tennessee, she had integrated oral family histories into her presentation, some of which clearly struck an emotional cord with her audience.
Renée's teaching role expanded further when she was appointed to NMAI's Education Extension Services division. Partly through new technologies, her knowledge now reaches well beyond the museum site in DC on a regular basis, such as in programming for Native youth studying their own cultures. For instance, as she reported in a September 2013 online article, in one project that brought together the Extension Services team with the Miami (Myaamia) Tribe of Oklahoma, NMAI staff enabled young students attending the tribe's Summer Educational Experience in Oklahoma to connect with and analyze resources from the museum's collections through a videoconferencing session led by the associate director for scholarship, Dr. David Penney. As Renée noted in an email reflection she sent to me later, by using new technologies, the teaching team was able to connect the Miami youth to historical photographs and other cultural objects, including some with ties to their own family members. Such a process, for Native learners in particular, can counteract negative connotations often associated with archives as sealed off from daily life and separate from Indigenous peoples themselves.[65]
Noting that "[d]espite a thousand miles of physical separation, the sense of the students' pride in their culture was palpable," Gokey's online description of this partnership in action also exemplified ways that the museum is fostering a new generation's knowledge of Native people's cultural resources. For one thing, Gokey's essay explained, Dr. Penney and other "cultural knowledge bearers," along with the students, discussed how a maple sugaring sap bucket documented the Myaamia practice of making blocks of sugar as part of their tribal traditions. In addition, her essay pointed out, by conversing via the videoconference, students and the program facilitators shared a good-humored yet thoughtful laugh at the irony in a 1910 staged image of two Indiana-based Myaamia that photographer L. M. Huffman had originally labeled "The Last of the Miami." Students raised productive questions about the clear inaccuracies in the photo, including the placement of a tipi in the background (rather than an actual Myaamia home) and the inauthentic costuming (such as a Plains-type headdress).
As Gokey's vivid article chronicled, "Dr. Penney used stories and anecdotes to explain that, in the early 1900s, native people often dressed in ways that supported other people's expectations of what 'real Indians' should look like."[66] Thus, her narrative revisiting of this teaching moment presented yet another layer of learning legacy for the readers of her online story. Accordingly, her blog post moved beyond a straightforward description of that day's conversation to interpretive comments, bringing together the archive of NMAI objects that the students had studied, the process of pedagogy directed by the museum's staff, and the ongoing cultural analysis the participating students would now be better prepared to do, going forward. For instance, her essay noted, "During the adolescent years, young adults invariably explore their identity and stereotypes, trying to reconcile popular ideas of what they 'should' look like as contemporary American Indians and their daily experiences that may not fit into people's expectations."[67] Taken together, the multifaceted narrative elements in this web-based teaching story now provide specific archival resources (such as a photo of the sugar bucket and copies of the white photographer's images); an account of the learning activity itself, as experienced by all the original participants; and a theory-making reflection on the implications of this particular instructional event within the broader context of Native-led education. As such, within Renée's ably executed single text, I can carry out all three layers of reading for learning legacies that I outlined earlier in the chapter: primary and secondary documents as interpreted by Native scholars (in this case, the archival elements analyzed during the videoconference); a scene of practice in action (as in her description of the teaching activities collaboratively carried out); and dialogic reflection on teaching praxis.
Gokey's current role as an educational leader reaching publics beyond the museum's physical space is also evident in her regular contributions to the online quarterly newsletter Explore NMAI: Educational Resources for Teachers. Beginning in winter 2014, Renée's welcoming editorial voice on the opening page of each newsletter has been encouraging readers to view the publication as their "source for NMAI educational offerings, including teacher workshops, exhibits and events, classroom resources, and more." By registering online or emailing "questions and teaching ideas," teachers in any location with internet access—that is, basically, anywhere—can now connect to the Native knowledge base assembled there. Addressing a range of topics since its launch, the newsletter has given its readers access to such resources as information about NMAI's groundbreaking exhibit, Nation to Nation: Treaties between the United States and American Indians (spring 2015); an analysis of the importance of storytelling for conveying cultural values (winter 2015); and an interactive website entitled American Indian Responses to Environmental Challenges (September 2014).[68] In each issue, Gokey's overview has guided teachers through the resources presented. So, for instance, in spring 2015, she highlighted the on-site exhibition on treaties via a case study that demonstrates the links between treaty violations and Removal politics (focusing, in this example, on the Potawatomi [which translates as People of the Small Prairie] and the Trail of Death). Also, to inform teaching supported by the newsletter, she introduced questions about "removed Indian Nations" and their efforts at "maintain[ing] cultural practices" central to group identity. By providing both access to these stories and interpretive commentary online, Renée and her NMAI colleagues extend the museum's collaborative network to larger teacher-audiences, while building a reservoir of learning legacies that can turn individual archival resources into a shared Archive of pedagogical culture-making.
Like Renée Gokey, Dennis Zotigh employs a version of rhetorical pragmatism to extend the reach of his teaching voice beyond NMAI's physical site through online narratives. One such venue is the "Meet Native America" series, which (as Dennis explains in a headnote for each interview) "invites tribal leaders, cultural figures, and other interesting and accomplished Native individuals to introduce themselves and say a little about their lives and work." To contextualize the interviewees, Zotigh reminds his readers that Native Americans are important people to know, that they are exercising valuable cultural stewardship, and that they are actively leading contemporary lives (that is, they are certainly not vanished). Positioning these texts as part of an ongoing project, Zotigh's recurring headnote also posits that "[t]ogether, their responses illustrate the diversity of the indigenous communities of the Western Hemisphere, as well as their shared concerns, and offer insights beyond what's in the news to the ideas and experiences of Native people today." In this framework, Dennis invites website visitors to envision a productive balance between celebrating "the diversity" among Native communities and seeking to understand their "shared concerns." Further, these written teaching texts help his readers move beyond surface-level looks at "what's in the news" at any given moment to a longer historical view that explores "ideas and experiences of Native people today."[69] The interviews themselves fulfill this vision: ranging from figures like Robert J. Welch (chairman of the Viejas Band of Kumeyaay Indians) to Lora Ann Chaisson (vice principal chief of the United Houma Nation), the series blends its conversational accounts with photos telling visual stories of Indians' daily lives and their social, political, and educational leadership. Overall, by applying this framework for each interview, Zotigh makes vibrant counter-narratives available to the unlimited Web audience and issues a virtual invitation similar to his welcoming performances in the Potomac on-site meeting space. Conversational and contemporary, Zotigh's web texts create a network of learning legacies by blending his personal knowledge of individual Native peoples and cultural practices with his "philosophy that the only bad question is the one that is never asked."[70]
When preparing for one of my follow-up trips back to the NMAI, I took Dennis's advice and asked a question. Could we supplement previous conversations and my readings of his online stories with yet another in-person dialogue, and, if so, what would he most want me to learn? In his reply, Dennis urged me to meet, this time, in October 2012, at an off-site location, the fourth annual American Indian Festival at Patuxent River Park in Upper Marlboro, Maryland. This was an opportunity, I realized, to see his teaching in a context aligned with what he'd told me about coming from a powwow family. Sure enough, by attending the festival, I experienced yet another example of contemporary cross-cultural teaching being carried out by Native educators also eager to honor traditional knowledge and social practices.
Most of those attending the festival—like many who visit the NMAI—were white Euro-Americans. And most, I would guess, were there less for any serious study of Native culture than for an enjoyable family outing. But Dennis knew his audience and ways to reach them. As festival MC, he again encouraged dialogue, welcoming every question. After a traditional hoop dance performance that enthralled everyone, he invited all the children in attendance into the circle to perform a novice version. I had brought along part of my own family—my husband, my daughter Patty, and her husband Ethan. After admiring the young folks' enthusiastic dancing, we wandered through other stations at the festival. Kids were learning to make baskets under the guidance of accomplished crafts-people, recalling Malea Powell's salute to "tradition bearers." Participants also relished foods reminiscent of NMAI's Mitsitam café. My favorite stop, though, was the informal circle hosted by Cherokee storyteller Joseph Stands with Many. With his own updates of traditional tales, this able educator's oral narratives reiterated the efficacy of story-based teaching and listening-to-learn, and of knowledge-making achieved through shared social practices.
Joyful and generative, the learning legacies I left with that day affirmed Dennis's call for me to move beyond the familiar methods of my usual scholarly inquiry to a more communal and aspirational path. In line with the multifaceted practices many Native educators in this chapter have enacted, I vowed to embrace their models for connecting research with community action, integrating the intellectual with the experiential, carrying familial values and interpersonal relations into professional exchanges, and blending the intercultural resources of past Archives with new ones we can all create together today.
Top of page