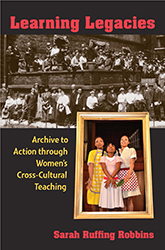 Learning Legacies: Archive to Action through Women's Cross-Cultural Teaching
Skip other details (including permanent urls, DOI, citation information)
Series: The New Public Scholarship
: Ann Arbor, MI: University of Michigan Press, 2017.
Permissions: This work is licensed under a Creative Commons Attribution-NonCommercial-NoDerivatives 3.0 License. Please contact digital-culture@umich.edu to use this work in a way not covered by the license. The print version of this book is available for sale from the University of Michigan Press.
For more information, read Michigan Publishing's access and usage policy.
CHAPTER ONE: Introduction: Counter-narratives and Cultural Stewardship
In the late fall of 2014, an Ebola outbreak crossed the Atlantic from Africa and came to America. In its early stages, the disease had seemed remote—a somewhat exotic subject of world news reports, a "problem," certainly, but one having no direct impact within US borders. But suddenly, Ebola exploded among us. In Texas, no less. And, for the community of Texas Christian University (TCU), where I was teaching in Fort Worth, Ebola became personal, almost tangible, when Nina Pham, one of our own, a nursing program alumna working in a nearby hospital in Dallas, contracted the disease from a patient, Thomas Eric Duncan. Ebola was now local news, not something far-removed.
And yet, even as the disease cried out for our attention—generating real fear, even—our responses also provided a powerful learning opportunity. As an acting dean in the Honors College, I hosted a meeting of alumni on campus just as news of Pham's illness hit the airways. TCU alumna Linda Newman, one attendee, shared a vivid anecdote with the group: she had just been to the same emergency room a few days before Duncan's trip to that hospital. As she reenvisioned her near-encounter with contagion, the conversation also led her to a memory of reading: she said that, since the news of Ebola's arrival in the Metroplex via her own neighborhood hospital, she had been mentally revisiting Albert Camus's The Plague, which she had first studied as a TCU undergrad. She wondered aloud if rereading it now, and inviting others to join in, might be a way of encouraging all of us to examine some worthwhile questions: How can we cultivate a stronger sense of empathy, perhaps even responsibility, for the pain of others? How would we respond, as individuals and as a community, if the initial outbreak of Ebola in our own homeland couldn't be contained?
As organically as that, through an informal conversation, a modest humanities-oriented community-building project was born. "Contagion, Quarantine, and Social Conscience," we called it.[1] I tapped into a small fund that TCU's teaching and learning center provides to support "global learning" and purchased about twenty paperback copies of Camus's novel to distribute, first-come, first-serve. Working with graduate student assistant Marie Martinez (who had been studying "contagion literature" for her dissertation on Victorian disease narratives) and with undergraduate student leaders, Linda and I planned a roundtable for an evening near the end of the semester. To promote involvement beyond whoever might be able to attend in person, another doctoral candidate, Tyler Branson, a frequent partner in civic engagement projects, set up an online discussion board.
This short-term project was only a small-scale endeavor. And it was far from fully successful. The residence hall's main lobby that we chose for the roundtable was loud and distracting. The main doors slammed repeatedly; most of the heavy student traffic that evening exhibited little interest in our gathering, passing through without even pausing to join in, despite the many paper and digital posters we had distributed ahead of time. Most of the undergraduates in attendance were actually students from the Popular Literature class I was team-teaching with grad student Thomas Jesse, so the effort to attract attendees from the dorm didn't really take off. And, with the weather far chillier than usual for a Texas late-fall evening, we didn't draw a crowd of area alumni either.
Yet, I'd argue, worthwhile learning certainly happened. Both the panelists for the roundtable and the other participants that night were fully engaged, beyond the scheduled time, in topics that reminded all of us how powerful cross-cultural interdisciplinary learning in a public context can be. One speaker, biologist Giri Akkaraju, started out by apologizing for the (supposed) limits of his literary interpretation skills, then insightfully launched into a series of ethical questions that galvanized the room. Brite Divinity School professor Nancy Ramsey extended Giri's themes, which were then further complicated by a postcolonial take on Camus offered up by English professor Rima Abunasser. Katherine Fogelberg, who had recently completed a dissertation on enhancing undergraduate science education, pushed us to contemplate how reading Camus's text in light of current events might encourage a shift in teaching foci in the "hard" sciences to more direct examination of public health issues.
All the panelists, and the thoughtful audience members who responded to their lead, told stories. Many were informed by the gear-up conversations on our virtual discussion board. Ephemeral though this shared moment of learning seemed to be, it nonetheless affirmed the need, as Native/First Nations writer Thomas King has so eloquently pointed out, to tell each other stories when confronting challenging social issues.[2] And this project also, however modestly, reasserted ways in which shared reading and discussion can generate stirrings of empathy—empathy that might, upon reflection, lead to social action.[3]
For my own ongoing scholarship on collaborative learning that blends textual studies with analysis of educational practices, this project resonated with longstanding questions. How can we capitalize on the potential of the humanities—especially when set in dialogue with other fields—to enhance cross-cultural understanding? How can teaching, when conceived as a public enterprise, move learners from engagement with cultural resources to actions supporting social justice aims? And, in terms of guiding and assessing such work, what does narrative inquiry look like and why is it a valuable enterprise? What are the most productive methods for documenting the impact of civic engagement projects—from modest ones like our Ebola-inspired novel study to larger-scale, sustained, and complex ones? This book is part of my ongoing effort—supported by many colleagues—to address such questions.
For the majority of that particular fall 2014 evening's participants, as well as most who had joined the dialogue online, this project ended with the roundtable. For some of us, however, an archive of activity remains as a source for ongoing analysis.[4] When I reread the postings, they prompt me to reimagine ways of teaching in the future. In that vein, Sam, one of the members of that Popular Literature class that so commendably swelled the roundtable audience, wrote later about the project in an end-of-course narrative reflection: a future secondary teacher, he contrasted that collaborative learning experience with the focus on standardized assessments that he had been observing in school visits and tried to envision approaches for promoting open-ended, interdisciplinary teaching in his own classroom.
By leaving at least a partial record of our shared learning experience behind—in this case, through our record of online conversations—participants in the "Contagion, Quarantine, and Social Conscience" project invited others to join in future narrative inquiry. To accept such an invitation, by writing into the archive or carrying out new social practices inspired by it, would affirm that these kinds of collaborations seek communal more than individual agency.
In a sense, within the framework I'll be using for this book, we left a "learning legacy"—a story about an intercultural learning process that used collaborative epistemologies toward potential social agency. The knowledge being made was admittedly tenuous and exploratory, grounded in writing linked to questions we had encountered in our daily lives and examined through the lens of shared study. I like to picture others reading through our postings and imaginatively joining our community—maybe even adding to its textual record, so that our online archive grows a bit, expanding its potential reach to others beyond the original participant community. I realize people seeking out that narrative space (or even stumbling upon it) wouldn't have a full understanding of the transdisciplinary and pragmatic applications that emerged for some of us later. They wouldn't have access to the reflection Sam wrote at the end of the semester about his future teaching; they wouldn't have gotten to read Ben's letter of application to divinity school, where he described future ethical leadership goals by echoing, and also extending, some of his previous online postings. Anytime we study archival records, we catch knowledge in fragments, at a remove from the actual lived experiences that shaped their construction. But any community that self-consciously leaves behind a learning legacy—adaptable accounts of narrative inquiry in process—surely does so as an aspirational act of rhetorical intervention, hoping it will be useful to others in the future. And learning legacies that emerge from efforts at cross-cultural teaching have a particularly crucial role to play today, given the many contact zones of social difference we are all encountering in our classrooms and the larger society.
Fortunately, there are numerous past learning legacies far more extensive and fully realized conceptually than the tiny set of exchanges generated through the brief "Contagion, Quarantine, and Social Conscience" program. Therefore, although I am especially committed to scholar-teachers' intercultural community-building within and beyond the classroom today, I am eager to tap into cultural resources from prior generations to guide such work.
The three particular instances of learning legacies I will explore in this book come from my longstanding study of gendered social interventions at the turn between the nineteenth and twentieth centuries. Specifically, I'll be drawing from archival sources to recover narrative texts responding to three pivotal educational issues in that era: what learning opportunities should be afforded to African-American women in the post-slavery decades; how to acculturate the exploding immigrant population of that time; and what role white and/versus Native cultural resources and teaching approaches should play in educating Indigenous Americans. Focusing here on a specific body of narratives around each of these ongoing debates—from Spelman College's founding period, from Jane Addams's leadership at Hull-House, and from the negative model of assimilationist Carlisle Indian Industrial School set in dialogue with alternative Native teaching practices—I will mine generative learning legacies from these knowledge-making sites.
As those three points of research attest, this previous era provides an especially fruitful ground for study. For one thing, in a seeming forecast of our twenty-first-century moment, these earlier decades in US history represented a period of intense social transformation (including increasing urbanization, a rapid rise in immigration, and enhanced educational opportunities across previous class divides). Educational sites both in and out of school—anticipating parallel American settings in the early twenty-first century—brought together learners from widely diverse backgrounds, often crossing generations; regional and national identities; and race, gender, and social class affiliations. Also similar to our current national context, the transition between the nineteenth and the twentieth centuries prompted sustained efforts by powerful groups to maintain social hierarchies (such as Jim Crow tactics directed against African Americans; a rise in anti-immigrant campaigns; oppressive containment strategies used to undermine Native peoples' own national and individual rights; and continued reluctance to give US women full political and economic access). The echoes of that era's struggles over educational values and practices resonate quite strikingly today, thereby underscoring how relevant stories of cross-cultural collaborations from the past can be for us now. In particular, I have found transportable models of rhetorical activism in cultural work by the institution-founding women who generated published accounts of Spelman College's early days, by women settlement leaders recording stories of Hull-House's Progressive-Era programs, and by students/teachers creating resistant responses to the boarding school movement aimed at Native American youth. I will link these historically situated examples of archive-making with current applications of those legacies by self-conscious heirs today and with my own analysis of stories from both time frames—the past and today. I will analyze these textual records both in their specific historical moments and across time, so as to demonstrate how humanities-oriented knowledge systems and practices from the past can enable meaningful intercultural work in our own day.
Top of page