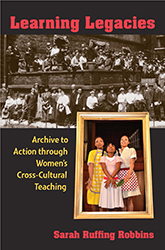 Learning Legacies: Archive to Action through Women's Cross-Cultural Teaching
Skip other details (including permanent urls, DOI, citation information)
Series: The New Public Scholarship
: Ann Arbor, MI: University of Michigan Press, 2017.
Permissions: This work is licensed under a Creative Commons Attribution-NonCommercial-NoDerivatives 3.0 License. Please contact digital-culture@umich.edu to use this work in a way not covered by the license. The print version of this book is available for sale from the University of Michigan Press.
For more information, read Michigan Publishing's access and usage policy.
53. On the history and cultural work of images in Frank Leslie's Illustrated, see Joshua Brown, Beyond the Lines. Brown dubs Leslie's "the publication that set the pattern for nineteenth-century illustrated journalism" and argues that Leslie's "did not simply reflect in its pages the crises of the Gilded Age; rather, its varying representations enacted those crises" (4–5). For Brown, such "images are not the antithesis of print culture but an intrinsic part of its nineteenth-century practice" (5). To locate Frank Leslie's place in the booming periodical marketplace of its day, see the classic multivolume study by Frank Luther Mott, A History of American Magazines.
 [ 
return to text
 ] 
Top of page