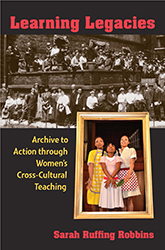 Learning Legacies: Archive to Action through Women's Cross-Cultural Teaching
Skip other details (including permanent urls, DOI, citation information)
Series: The New Public Scholarship
: Ann Arbor, MI: University of Michigan Press, 2017.
Permissions: This work is licensed under a Creative Commons Attribution-NonCommercial-NoDerivatives 3.0 License. Please contact digital-culture@umich.edu to use this work in a way not covered by the license. The print version of this book is available for sale from the University of Michigan Press.
For more information, read Michigan Publishing's access and usage policy.
27. See, in this regard, Amanda J. Cobb, Listening to Our Grandmothers' Stories. Cobb's report on the academy her own grandmother attended emphasizes that "Bloomfield was different," in part because "[t]he Chicakasaws had not been relegated to a reservation" and had "a much higher level of autonomy, self-sufficiency, and independence than most other tribal nations." Thus, this was a school founded in 1852, well ahead of the white-dominated assimilation boarding schools, and envisioned to address goals of the Chickasaw Nation itself (6).
 [ 
return to text
 ] 
Top of page