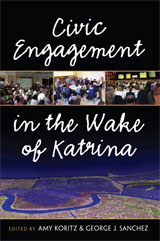 Civic Engagement in the Wake of Katrina
Skip other details (including permanent urls, DOI, citation information)
Series: The New Public Scholarship
: Ann Arbor, MI: University of Michigan Press, 2009.
Permissions: This work is licensed under a Creative Commons Attribution-NonCommercial-NoDerivatives 3.0 License. Please contact digital-culture@umich.edu to use this work in a way not covered by the license. The print version of this book is available for sale from the University of Michigan Press.
For more information, read Michigan Publishing's access and usage policy.
Page  23
"Bring Your Own Chairs": Civic Engagement in Postdiluvial New Orleans
August 28, 2005: Dr. Ivor Van Heerdon, a scientist at Louisiana State University, states unequivocally in a CNN interview that New Orleans "is definitely going to flood…. This is what we've been saying has been going to happen for years." After his prediction comes true the next day, Van Heerdon emerges as the most prominent of a small number of university-based scientists who break from academic confines and engage vigorously in the civic arena.[1]
On the morning of August 29, 2005, Hurricane Katrina's residual category 5 surge of Gulf of Mexico water penetrated a network of man-made navigation and drainage canals and inundated the heart of the sea-level-straddling New Orleans metropolis. It overtopped, undermined, or disintegrated certain levees and flood walls along those waterways, transforming the otherwise weakening category 2 or 3 wind event into a fatal deluge of unprecedented proportions. Nearly every hydrological sub-basin on Orleans Parish's eastern bank of the Mississippi River, plus all those in neighboring St. Bernard Parish and one in Jefferson, drowned in brackish water, starting from their below-sea-level nether regions and progressing to areas as high as three to four feet above sea level. Hundreds of citizens perished; tens of thousands of survivors waded to high ground or waited on rooftops for helicopter rescue.
Page  24


August 29 through early September 2005: In the ultimate display of civic engagement, hundreds of Louisianans rescue thousands of their fellow citizens by boat and vehicle under potentially deadly conditions. Federally, only the Coast Guard matches their timely heroism.
Nearly a million residents of the metropolitan region who had evacuated earlier watched with the rest of the stunned world as the apocalypse unraveled on television. It was not until September 4, after a harrowing week of human suffering, government failures, and individual heroism, that the last of the stranded citizens were evacuated to safety—and an unknown future. The effect of this searing shared trauma may never be fully appreciated, but it played heavily into the passionate public discourse that followed.


August 31, 2005: Ms. Mae's Bar on the corner of Napoleon and Magazine reopens and soon becomes a meeting place for neighbors who weathered the storm. It is the first of hundreds of local establishments to serve as civic engagement nodes.[2]
The "lost September" of 2005 found scattered New Orleanians grappling with the lower tiers of Maslow's hierarchy of needs, ranging from immediate matters of food, clothing, and shelter to long-term uncertainties about loved ones, homes, jobs, possessions, and finances. Residents of less-damaged Jefferson Parish and the West Bank of Orleans Parish trickled back during September's second week, while harder-hit East Bank Orleans and St. Bernard Parish residents awaited word from officials. Then category 5 Hurricane Rita struck, destroying coastal southwestern Louisiana, reflooding parts of New Orleans, and further delaying reinhabitation. It was not until early October that significant numbers of residents and basic services tenuously returned to unflooded areas. Even then, Hurricane Wilma—the third category 5 tempest in two months, which affected the Yucatan and Florida peninsulas—further shook residents' faith in the city's drastically compromised infrastructure. Only about 100,000 New Orleanians of the pre-Katrina population of approximately 450,000 occupied their homes by the last quarter of 2005. A city that was formerly predominantly African American and working class or poor was now mostly white, better educated, and professional. As in a frontier town, men outnumbered women, elders were few, children were practically nonexistent, and transient laborers seemingly materialized out of nowhere, toiling off the books from dawn to dusk and sleeping in cars and tents.
Page  25


October 2, 2005: After a monthlong absence for the first time since 1718, religious services return to New Orleans. "People from every walk of life, dressed in their Sunday best or in blue jeans, packed every pew in the historic St. Louis Cathedral," reported the Times-Picayune. A poll later showed that Louisianians gave highest marks to religious organizations (followed by nonprofits) in their hurricane response, far ahead of all levels of government.[3]
For all the tragedy and uncertainty, life in New Orleans in the autumn of 2005 proved extraordinary. At once reeling and resilient, the reconvening community exhibited the qualities of a frontier town crossed with a dysfunctional third world city. While mold and silence enveloped the flooded ruins of much of the city, higher-elevation areas buzzed with the sounds of saws and hammers. Historic Magazine Street became the "village's" bustling new main street, with 16 percent of its businesses reopening within six weeks of the storm and over 90 percent by Christmas.[4] "Welcome Home" banners were draped across eager storefronts; proclamations of rebuilding appeared on billboards and in graffiti; and placards offering house gutting, house shoring, roof repair, and legal services ("Saw Levee Breach? Call Us Now!") cluttered intersections to such a degree that local governments banned them for public safety. Locals reclaimed the once-touristy French Quarter as a place to conduct business, bank, worship, convene, eat, shop for groceries, recreate, and reside (albeit temporarily). Patrons at local restaurants ordered staples off paper menus for cash only, waited patiently on short staffs, and took it in stride when blackouts interrupted their dinners. Flaky utilities, limited hours at grocery stores, curfews enforced by soldiers with M-16 rifles, and other occupationlike conditions turned mundane errands into achievements. In the flooded region, what passed for good news was the moldy piles of personal possessions heaped unceremoniously in front of gutted houses, a sign, at the very least, of life. Violent crime, once pervasive, disappeared almost entirely as its perpetrators, drawn disproportionately from the social classes affected most fundamentally by the catastrophe, remained evacuated.


October 9, 2005: The city's first post-Katrina jazz funeral wends its way through the Seventh Ward, commemorating a famed Creole chef who died during the evacuation. Unique traditions such as second-line parades, Mardi Gras Indians, and Carnival celebrations offer opportunities for citizens to reengage with each other through civic rituals.
Page  26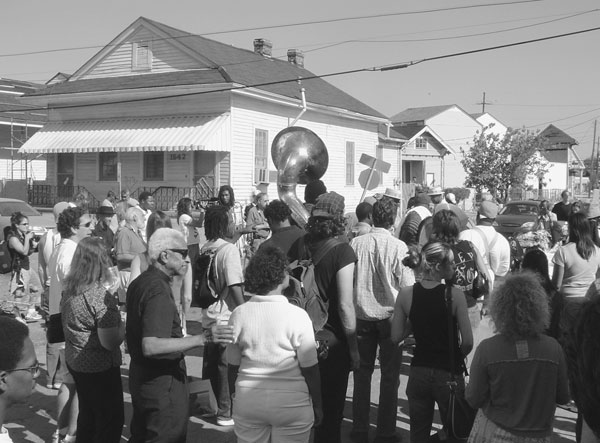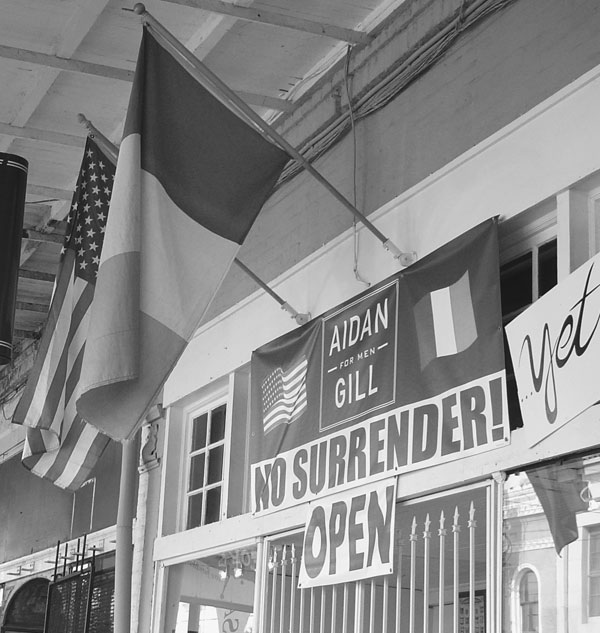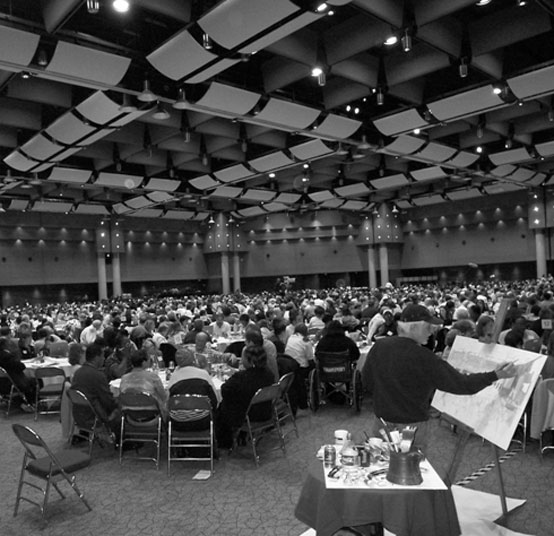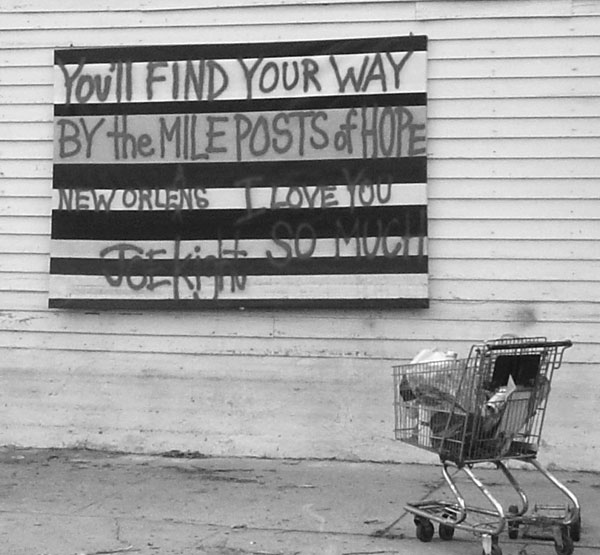 Fig. 2. Cityscapes of resiliency, cityscapes of engagement. (a) first post-Katrina jazz funeral, October 2005; (b) "No Surrender-Yet," declares a hair stylist on Magazine Street, November 2005; (c) the Unified New Orleans Plan "Community Congress" planning meeting, December 2006 (note the artist capturing the event at lower right); (d) poignant graffiti in the Fifth Ward, December 2005. (Photos by Richard Campanella.)
Page  27
A cityscape of resiliency emerged as the first autumn cool fronts mercifully ended the hyperactive 2005 hurricane season. Those fortunate enough to return home seemed to recognize the history they were both living and making, and they moved about with a sense of purpose. Human interaction was electric: emotional reunions erupted in noisy, crowded coffee shops, which, along with restaurants and houses of worship, served as important social and civic engagement nodes. Conversations began with "So how'd you make out?!" continued with war stories and reconstruction visions, and ended with "Stay safe!" Strangers at adjacent tables joined in conversations and debates and left with exchanged phone numbers and e-mail addresses. Patrons pecked away at wireless-enabled laptops—the unsung technological heroes of post-Katrina New Orleans—to reestablish social, educational, and professional networks or fight with insurance adjusters and the Federal Emergency Management Agency (FEMA). Everyone dropped Dickensian lines: a tale of two cities … best of times, worst of times….
Best of times? In some strange ways, it was. Citizens were intensely engaged with each other with a view toward overcoming tragedy and solving mutual problems. Of course, those who lived in that other city, and were suffering the worst of times, were largely absent from the inspiring postdiluvial tableau. Their stories played out beyond the Orleans Parish limits.
Each morning presented new and unpredictable adventures through unchartered waters, and everyone agreed that only one source could reliably guide the way: a fresh copy of Times-Picayune. The venerable daily, long a target of local adoration as well as disdain, was now everyone's darling, having heroically covered the apocalypse firsthand ("We Publish Come Hell AND High Water") and reported on the recovery with journalistic objectivity blended with proactive investigation and steadfast demands for accountability. Citizens purchased the "T-P" at vending machines (home delivery was still months away) or navigated its Byzantine nola.com Web page and devoured the latest news like the figure in Richard Woodville's War News from Mexico.


Autumn 2005 to the present: A steady stream of faith-based groups, college classes, students on break, and civic and professional organizations from across the nation arrange "voluntourism" visits to the city, helping to gut houses, clean parks, and build homes in union with local citizens. The remarkable phenomenon is viewed as a triumph of civic spirit over bureaucratic lethargy.
Page  28
High-stakes concerns about flood protection, contamination, health, education, residents' right to return, economic recovery, coastal restoration, and myriad other postdiluvial issues drove the energized public discourse. To help address the litany of problems, Mayor C. Ray Nagin had formed, on September 30, 2005, the Bring New Orleans Back Commission (BNOB) inside what the New York Times described as "the heavily fortified Sheraton Hotel on Canal Street, a building surrounded almost constantly by cleanup crews as well as beefy private security guards armed with weapons."[5] That hotel, as well as the First Baptist Church in one of the few unflooded sections of Lakeview, would serve as venues for scores of public meetings attended by thousands of concerned citizens.
Committees and subcommittees tackled a wide range of topics, but one topped the list and inspired the most passionate response: should the city's urban "footprint"—particularly its twentieth-century sprawl into low-lying areas adjacent to surge-prone water bodies—be "shrunk" to keep people out of harm's way? Or should the entire footprint "come back" in the understanding that federal levee failure, not nature, had ultimately caused (or, rather, failed to prevent) the deluge? That fundamental question fell under the domain of the BNOB's Urban Planning Committee.


November 2005: In response to high levels of public interaction, the Times-Picayune launches a special column (called "Meetings") entirely devoted to announcing meetings and another listing key contact information ("Meetings and Websites").
As a geographer and longtime New Orleans researcher, I pondered the footprint question and sketched out a methodology to try to answer it. It involved measuring four important variables—residents' desire to return, structural safety, historical and architectural significance, and environmental and geographical safety—and mapping out the results to inform decisions on neighborhoods' futures. Encouraged by a conversation with a stranger in a coffee shop—civic engagement in its rawest form—I contributed it to the e-mail circuit. It made its way to the chairman of the BNOB, which resulted in an invitation to present it to the Urban Planning Committee and eventually to publish it as a guest editorial in the Times-Picayune. The essay appeared precisely as representatives from the Urban Land Institute (ULI) arrived in town to advise the BNOB on, among other things, the footprint issue.
I later learned that ULI members had "hotly debated" my proposed Page  29methodology but decided not to endorse it because of the difficulty of measuring the first variable (desire to return).[6] I was told that the proposal did help frame the footprint question as a balancing act between undeniable scientific realities, on one hand, and cherished cultural and humanistic values on the other. Subsequent public meetings with capacity crowds and long lines of testifiers proved that this balancing act weighed heavily on everyone's mind. "In a city that has seen a resurgence of civic activism since [Katrina]," wrote the Times-Picayune,
more than 200 people attended the [ULI] meeting to voice their opinions about what shape New Orleans should take in the future. The resounding refrain: Learn from our history. Many residents told the 37- member Urban Land Institute panel to use the original footprint of the city—along the Mississippi river and its high ridges—as a guide for land use.[7]
Those two hundred people, however, were mostly residents of the "high ridges" they recommended for prioritization. Residents of low-lying areas, mostly flooded, were sparsely represented at the meeting but nevertheless managed to engage through their political representatives, the Internet, and commuting. Their stance (shared by many in higher areas) was firm: the entire city will return, and the footprint will remain precisely as before the storm.


December 2005: The recently formed Citizens for 1 Greater New Orleans, launched largely by wealthy uptown women, commences a determined, no-nonsense effort to consolidate parochial levee boards and unify redundant tax assessors. The group gathers 46,600 signatures by mid-December and eventually succeeds spectacularly in both aims.[8]
When the ULI finally issued its recommendations to the BNOB—via a long PowerPoint presentation that was at once wordy and carefully worded—it gently advocated footprint shrinkage through the allocation of recovery investments first to the highest and least-damaged areas and only later to the depopulated flooded region. The news hit the front page of the Times-Picayune in the form of an intentionally confusing map of three purple-shaded "investment zones" in which Investment Zone A, despite its optimistic label, was recommended for delayed rebuilding at best and possibly for conversion to green space.[9]
Page  30
The wordsmithing and mapsmithing fooled no one. "Don't Write Us Off, Residents Warn: Urban Land Institute Report Takes a Beating," scowled the headlines after the recommendations sunk in. The article continued:
Elected officials and residents from New Orleans' hardest-hit areas on Monday responded with skepticism and, at times, outright hostility to a controversial proposal to eliminate their neighborhoods from post-Katrina rebuilding efforts.
Even Mayor Ray Nagin … said he is reserving judgment on [whether] to abandon, at least for the near term, some of the city's lowest-lying ground…. During the meeting, Nagin reiterated his intention to ultimately "rebuild all of New Orleans…."
[City Council member Cynthia] Willard Lewis spoke with particular disdain for ULI's "color-coded maps" which divide the city into three "investment zones": areas to be rehabilitated immediately, areas to be developed partially, or areas to be re-evaluated as potential sites for mass buyouts and future green space. Those maps, she said, are "causing people to lose hope," and others to stay away.[10]
Indicating the reductionist power of maps—a reoccurring theme in the footprint debate—one local politician, "noting that she was wearing a pink blouse … said sarcastically that she should have worn purple, the map color used by ULI for sections of the city that suffered the worst flood damage."[11]


December 2005: Uptown woman launches Levees for Greater New Orleans, later known as levees.org, to promote federal accountability for the Katrina flood and improved protection from future storms. The organization represents citizen engagement in matters traditionally left to engineers and scientists.
Mayor Nagin found himself in a bind since ULI's advice was intended specifically for the benefit of his BNOB. He assured an agitated public that "once the recommendations are finalized … it will be up to the commission members and the community to evaluate it, kick the tires, say we like this and we don't like this."[12]
Kick its tires the community did. The ULI report ratcheted up civic engagement in post-Katrina New Orleans markedly. It, as well as a similar Page  31consultation from the Philadelphia-based design firm Wallace, Roberts and Todd, became gist for further rounds of highly attended and increasingly polemical BNOB meetings during December 2005 and January 2006.


December 8, 2005: Tulane University president Scott Cowan issues a "Renewal Plan" for post-Katrina recovery, declaring that Tulane, long considered aloof and disengaged from local realities, "will play an important role in the rebuilding" and that students will "develop a [mandatory] commitment to community outreach and public service through the creation of a Center for Public Service."[13]
Finally, on January 11, 2006, the Urban Planning Committee of the BNOB unveiled its final recommendations. Like ULI, the group (sometimes referred to as the Land Use Committee) communicated its findings through a hefty PowerPoint presentation rather than traditional literary methods. Entitled the "Action Plan for New Orleans: The New American City," the sixty-nine-page presentation's dizzying array of proclamations, factoids, bulleted lists, graphics, and platitudes seemed eager to placate all sides while sacrificing lucidity in the process. Audience members hungry for a clear answer to the footprint question grew agitated at the recommendation of a moratorium on building permits until May 2006 for heavily damaged neighborhoods. During those four months, residents themselves would have to demonstrate their neighborhood's "viability," a recommendation that cleverly placed the burden of proving neighborhood wherewithal on the backs of the most vocal full-footprint activists. Further insight into the BNOB's position regarding the footprint question came in the form of a map, revealed halfway through the presentation, entitled the "Parks and Open Space Plan." It depicted Orleans Parish with the usual cartographic overlays of street networks and water bodies. At the bottom of its legend was a dashed green line indicating "Areas for Future Parkland," which corresponded to a series of six large circles sprinkled throughout certain low-lying residential neighborhoods.


January 2006: Local television stations bring back on-air editorials, "a vanished practice on most local TV newscasts around the country," while one station launches a nightly civic education and activism forum for "the sheer need to [address] the issues that all of us are going through right now…. People who are being asked to make decisions on [rebuilding] need more than just a sound bite."[14]
Page  32
The next morning, the Times-Picayune featured the map on its front page. The newspaper's adaptation transformed the dashed circles, which cartographically suggested a certain level of conjecture and abstraction, into semiopaque green dots labeled "approximate areas expected to become parks and greenspace." The dots covered so much terrain with such apparent cartographic confidence that many readers interpreted them to represent discrete polygons rather than dimensionless abstractions merely suggesting some neighborhood parks. If my house lies within the "green dot," many readers presumed, it will be "green spaced" into wetlands. Just as citizens in November had seized on ULI's "purple investment zone" map as the parapraxis of that organization's underlying footprint philosophy, citizens now saw this "Green Dot Map" as a Freudian slip revealing the BNOB's hidden agenda. The response was livid. Said one man to committee chairman Joseph Canizaro, whose day job as a major real estate investor was not viewed as coincidental by some skeptical citizens, "Mr. Joe Canizaro, I don't know you, but I hate you. You've been in the background trying to scheme to get our land!"[15]
"4 MONTHS TO DECIDE," blared the Times-Picayune headline; "Nagin Panel Says Hardest Hit Areas Must Prove Viability"; "City's Footprint May Shrink."[16] The infamous Green Dot Map entered the local lexicon even as it motivated residents of heavily damaged neighborhoods to demonstrate "viability" and save their neighborhoods. Green space, a benign notion elsewhere in urban America, became a dirty word in postdiluvial New Orleans.


Early 2006: Women of the Storm, a consortium of mostly upper-income citizens, marches on Washington, DC, with iconic blue umbrellas in hand. They demand congressional engagement to resolve New Orleans' troubles, arranging specifically for congressional visits to the damaged city.
What ensued, starting in late January 2006, was one of the most remarkable episodes of civic engagement in recent American history. Scores of grassroots neighborhood associations, civic groups, and homeowners' associations formed organically sans professional expertise and usually with zero funding. Web sites went up, e-mails circulated, and signs popped up on once-flooded lawns (Broadmoor Lives! I Am Coming Home! I Will Rebuild! I Am New Orleans!), and impromptu venues were arranged. One association in the heavily flooded Lake Bullard neighborhood, lacking a decent venue but not an ounce of determination, demurely asked attendees Page  33to "bring their own chairs."[17] Despite their tenuous life circumstances and other responsibilities, New Orleanians by the thousands joined forces with their neighbors and volunteered to take stock of their communities; document local history, assets, resources, and problems; and plan solutions for the future.


February 2006: The first post-Katrina Mardi Gras unfurls with small but enthusiastic and predominantly local crowds. The festivities demonstrate the city's ability to handle major functions. The national and international reaction, initially skeptical, is transformed into one of endearment and admiration. This annual ritual is its own form of civic engagement.
So many grassroots neighborhood planning associations were formed that umbrella associations arose to coordinate the dealings among them. One, the Neighborhood Partnership Network, listed at least seventy fully active neighborhood organizations within Orleans Parish alone, while many more in poorer areas strove to coalesce.[18] Their names formed a veritable "where's where" of famous New Orleans places—the French Quarter Citizens, Inc.; Audubon Riverside Neighborhood Association; Bouligny Improvement Association; Faubourg St. Roch Improvement Association; Algiers Point Association—but also included less famous modern subdivisions more likely to occupy lower ground and suffer higher flood risk—the Lake Bullard Homeowners Association, Inc.; Venetian Isles Civic and Improvement Association; Lake Terrace Neighborhood Property Owners Association.
In some cases, such as that of the stellar Broadmoor Improvement Association, professional help arrived from outside (Harvard University), and funding aided the planning process. Many associations eventually produced fine neighborhood plans and, perhaps more importantly, empowered their members to meet their neighbors and learn about their environs, past and future, to degrees unimaginable a year earlier.
One crude way to measure this civic engagement is to compute the number of times the terms civic association or neighborhood association appeared in Times-Picayune articles or announcements as queried through Lexis-Nexus. Before the storm, when roughly 450,000 to 455,000 people lived in the city, those key words appeared at a steady pace of 40 to 45 times per month. That rate dropped to zero during the lost September of 2005 but returned to normal rates by early 2006 despite the dramatic drop in population. After January 2006—when the Green Dot Map inadvertently
Page  34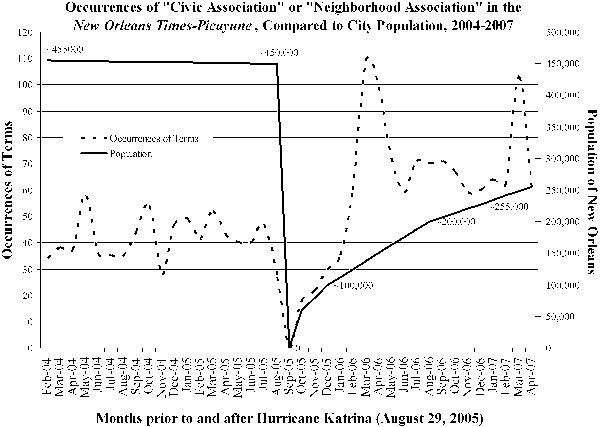 Fig. 3. This graph plots the pre- and post-Katrina city populations against the frequency of appearance of the terms neighborhood association or civic association in local newspaper announcements. By this meeasure, civic engagement on the part of New Orleanians increased roughly four to seven time (relative to population) following Hurricane Katrina. (Analysis and graph by Richard Campanella.)
kick-started the grassroots planning effort—the terms appeared up to 103 times per month before stabilizing by summertime to around 70. When the figures are normalized for population differences, neighborhood associations were literally "making news" in post-Katrina New Orleans at least four times, and up to seven times, the rate in prediluvial times despite the new hardships of life in the struggling city.[19] A statistical sampling of 362 "meeting" announcements posted in the Times-Picayune between November 2005 and April 2007 (from a total population of over 1,000) revealed that fully 48 percent represented neighborhood association meetings and another 19 percent represented civic groups unaffiliated with specific neighborhoods.[20]
In a later editorial on "the curse of the Green Dot," Times-Picayune Page  35columnist Stephanie Grace reflected on the episode. "You know the Green Dot," she reminded her readers.
In a move that will go down as one of the great miscalculations of post-Katrina planning, [the ULI and BNOB] designated the off-limits areas with green dots. Around town, people picked up the paper that morning and saw, for the first time, that their neighborhoods could be slated for demolition. To say they didn't take the news well is an understatement.
"People felt threatened when they saw the green dot," LaToya Cantrell, president of the Broadmoor Improvement Association, would say months later. "All hell broke loose." … City Councilwoman Cynthia Willard-Lewis, who represents the hard-hit Lower 9th Ward and Eastern New Orleans, said the green dots made many of her African-American constituents flash back to the civil rights era, thinking they would need to fight for equal access all over again. The maps, she said soon after they were unveiled, "are causing people to lose hope."[21]
Ironically, the very recommendations that motivated the formation of grassroots associations—the Green Dot Map, the permit moratorium, and the threat of "green spacing" if neighborhood viability were not demonstrated by May 2006—ended up torpedoing the very commission that issued them. Mayor Nagin, embroiled in an election campaign that attracted national interest, rejected the advice of his own commission. Fatally undermined despite its worthwhile contributions beyond the footprint issue, the BNOB disbanded unceremoniously. Talk of footprint shrinkage among the mayoral candidates became the proverbial "third rail" of local politics in large part because certain engaged citizens and their representatives had, for better or worse, yelled it off the table.


Spring 2006: Mayoral campaign attracts international interest and galvanizes civic engagement among both returned and displaced New Orleanians. Yet it remains high even after Mayor Nagin is reelected on May 20.
After Mayor Nagin cinched reelection in the closely watched race, the great footprint debate largely disappeared from public discourse. The mayor's "laissez-faire" repopulation and rebuilding stance, which was more of a default position than an articulated strategy, settled the footprint question by saying, in essence, let people return and rebuild as they can and as they
Page  36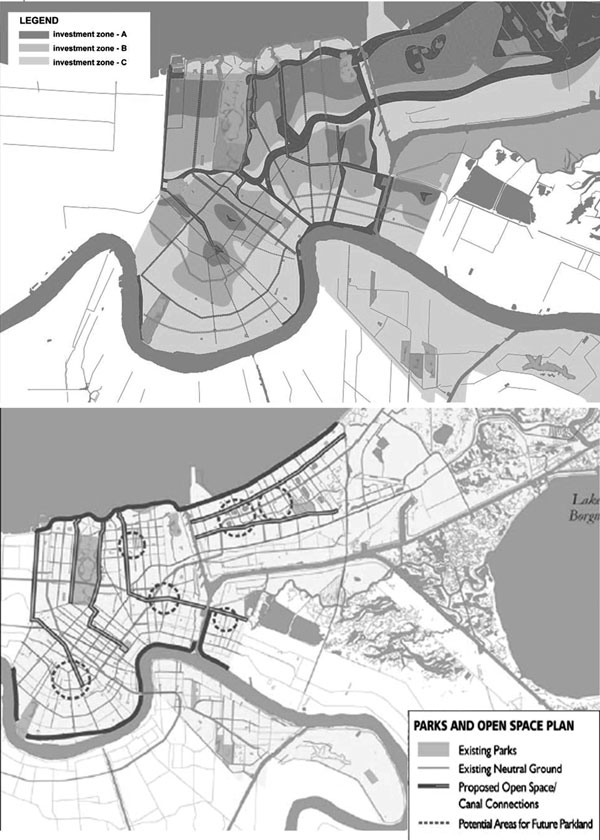 Fig. 4. The Urban Land Institute's Investment Zone map and the Bring New Orleans Back Commission's Parks and Open Space Plan (which appeared on the front page of the Times-Picayune and became known as the Green Dot Map) brought the controversial issue of "footprint shrinkage" to the forefront of civic discourse. (Maps by the Urban Land Institute and Bring New Orleans Back Commission.)
Page  37
wish, and we'll act on the patterns as they fall into place. Federal complicity bore responsibility as well: FEMA's updated Advisory Base Flood Elevation maps—which drive flood insurance availability and rates—turned out to be largely the same as the old 1984 maps, thus seemingly communicating federal endorsement (as well as actuarial encouragement) to homeowners deliberating on whether to rebuild in low-lying areas. Road Home (a state-administered recovery program) monies provided no special incentive to do otherwise, and no federal compensation fund awaited those homeowners and businesses that would have been affected by a hypothetical footprint-shrinkage decision.
The entire city could come back, but what that city would look and function like still remained an open question. Additional planning efforts would ensue, provoking more civic engagement among meeting-weary New Orleanians.


August 29, 2006: The first anniversary of the storm is marked with a wide range of civic remembrances. The front page of the prior Sunday's Times-Picayune salutes the past year's civic engagement, reporting "Katrina Generates Wave of Activism; Myriad Groups Aim to Reshape Region."[22]
One new planning effort sprang from the New Orleans City Council, which, historically competitive with the mayor's office and concerned about losing ground to Mayor Nagin's BNOB, belatedly joined the discourse. "With more and more New Orleans neighborhoods launching post-Katrina planning efforts on their own," wrote the Times-Picayune, "the City Council is trying to bring some order and overall direction to the process."[23] It hired Paul Lambert and Sheila Danzey from Miami to convene citizens throughout the flooded region and draw up a series of neighborhood plans. The planners scheduled simultaneous meetings with scores of neighborhood associations even as the public still mulled over the findings of the earlier BNOB and ULI efforts. Some wags described the overlapping efforts as "plandemonium."


November 2006: In a city reputedly more interested in musical escapism than civic discourse, a local radio station switches from a classic rock format to all-talk programming led by local hosts. Reason: "post-Katrina information-hunger."[24] A 2007 television ad promoting the new format featured a Broadmoor flood victim recounting how the Green Dot Map had motivated her to participate in civic engagement.
Page  38
Adding to the confusion was yet another planning effort, this one paid for with private foundation monies. The Unified New Orleans Plan (UNOP) endeavored to "weave together" and fill in the gaps in all the previous plans by producing a series of "district plans" and a broad plan for not just the flooded areas but the entire city. The UNOP effort initially met resistance from council members, who favored their own Lambert-Danzey planning team, while the grassroots neighborhood associations, staffed almost entirely by local volunteers with everything to lose rather than paid, out-of-town professionals, expressed impatient skepticism about everything. Civically engaged citizens grew cynical not because of lack of commitment but because too many uncoordinated efforts and competing meetings were chasing too few tangible resources to allow for honest-to-goodness problem solving.


Late 2006: With returning citizens come a small but extremely violent number of criminals. While the city's returned population doubles between last quarters of 2005 and 2006, murders and overall violent crimes increase nearly sixfold. Murders of two particularly civically engaged citizens—a black male music teacher and a white female filmmaker—incite a massive March against Crime on January 11, 2007, and help add crime fighting to the list of problems addressed through civic engagement.
The ample resources of the UNOP nevertheless empowered it to arrange three "Community Congress" megaevents in December 2006 and January 2007. Thousands of citizens gathered in the Morial Convention Center, linked through satellite feeds to groups of displaced New Orleanians in Atlanta, Dallas, and Houston, to discuss and vote on priorities using real-time electronic balloting. The resultant Citywide Strategic Recovery and Rebuilding Plan, as well as a plethora of UNOP district plans, hit the streets in draft form in early 2007 about the same time that Mayor Nagin appointed a world-renowned disaster recovery expert, Dr. Edward Blakely, as chief of the city's Office of Recovery Management. In March 2007, "Recovery Czar" Blakely unveiled yet another plan, which called for seventeen "rebuild," "redevelop," and "renew" nodes to be located throughout the city marking spots for intensive infrastructure investment. Striking more focused and modest chords than the grandiose visions of earlier plans, Blakely's proposal aimed
to encourage commercial investment—and with it stabilize neighborhoods—rather than defining areas that are off-limits to rebuilding. One Page  39such previous plan, advanced in early 2006 by Mayor Ray Nagin's Bring New Orleans Back Commission and backed by the widely respected Urban Land Institute, drew howls from residents who found their neighborhoods represented on maps by green dots that denoted redevelopment as perpetual green space.[25]
Once again, citizens engaged, calling meetings among themselves to discuss Blakely's proposal. (This explains the March 2007 spike in neighborhood meetings in Figure 3.) While a general consensus of support for Blakely's plan emerged, citizens wondered how it might affect all the parallel planning efforts. Would their civic engagement be for naught? Officials assured citizens that all the other ideas—those offered by the BNOB, the ULI, the City Council's Lambert-Danzey team, the UNOP, and particularly the myriad grassroots groups—would help guide and inform the final allocation of resources. This remains to be seen. If history is any guide, grandiose recovery plans rarely come to full fruition. The true benefit of civic engagement in post-Katrina urban planning may have been alluded to deep into the 394-page UNOP tome:
The citizens of New Orleans have invested their time, their hearts and their vision in creating a plan for their neighborhoods and their city…. New Orleans now has an educated army of "citizen-planners" who have found their voice and worked tirelessly over the many months of planning.
In return, the City must now and forever invest in its citizens as shareholders [and] stakeholders in the City…. A formal process for citizen engagement must be developed and implemented to facilitate neighborhood recovery and future development, and to ensure that citizens continue to have a voice in the City's future.[26]
Even beyond the rudimentary social benefits of civic engagement, the various planning efforts succeeded in spawning scores of fine ideas for the betterment of the city—specific ideas, with extensive documentation, ranging from bike lanes to green space to flood control and crime prevention. Many may eventually come to fruition even if "the plan" as a whole (be it the UNOP's, BNOB's, or any other) never ends up serving as the metaphorical "blueprint" or "road map" it was envisioned to be. Ed Blakely's Office of Recovery Management seemed to affirm this notion (of post-Katrina planning documents serving as handy rosters of project ideas rather than genuine guiding documents) when, in early 2008, it described
Page  40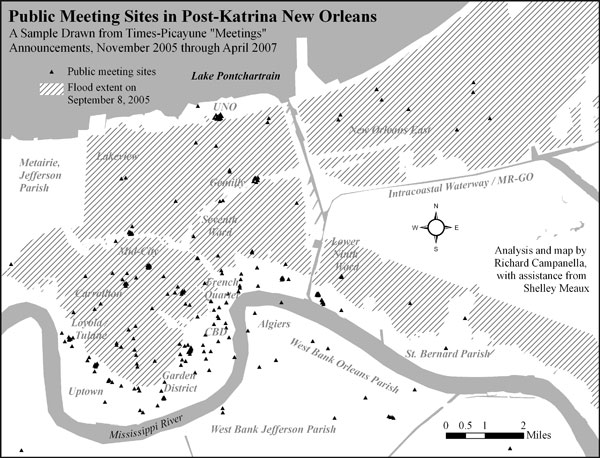 Fig. 5. This map plots over 350 public meeting locations drawn in a stratified manner from over one thousand announcements in the Times-Picayune from November 2005 through April 2007. Two-thirds of these meetings were called by neighborhood associations or civic groups. When overlaid on the flood zone, we see that nearly as many meetings were held in flooded-damaged areas as in spared areas. (Analysis and map by Richard Campanella with assistance from Shelley Meaux.)
its 117 upcoming rebuilding projects as having mostly been "gleaned from post-flood neighborhood planning efforts, including the Unified New Orleans Plan."[27]
We should not be surprised that civic engagement flourished in the wake of the Katrina catastrophe. Crises often spawn eager participation in civic affairs; few things motivate like a threat. Yet the magnitude of post-Katrina civic engagement dwarfs that which followed Hurricane Betsy in 1965 or the hurricanes of 1947 or 1915 and almost certainly tops the level of engagement triggered by recent earthquakes, fires, and storms nationwide.
Page  41
What may distinguish New Orleans' civic engagement experience is the visceral fear among many citizens that a genuine, full-scale, metropolitan death may ensue if citizens allow current trends to continue without intervention. When hundreds of thousands of citizens collectively realize that their salvation (levee repair, coastal restoration, flood-loss compensation, neighborhood improvement, and crime fighting) lies largely in the hands of detached, lumbering authorities, they engage—oftentimes passionately—in the civic arena.
Authorities, then, would do well to read this historic blossoming of civic engagement as a measure of the sheer gravity of New Orleans' problems and the fierce determination of New Orleanians to "bring their own chairs" and solve them.
Notes
For the purposes of this chapter, civic engagement is defined as occurring when individuals voluntarily venture out of their private spheres and participate in a public forum in order to learn about, address, and/or resolve a communally held problem. Typical examples include involvement in neighborhood associations, weighing in at "town hall" meetings, speaking at public hearings, editorializing in local newspapers, writing letters to representatives, and organizing to paint schools or clean parks. Civic engagement takes places in a variety of venues: in city halls, school basements, houses of worship, art museums, coffee shops, or the streets. It also may occur through publications, on the Internet, or in voting booths. Although one would be naive to assume that all people who engage in the aforementioned activities have purely altruistic motives, this essay excludes activities that involve the obligatory participation of compensated individuals or the pursuit of commercial gain. Sales pitches by insurance companies or housing contractors soliciting work are not considered civic engagement even if citizens attend, learn from, and ultimately benefit from the interaction.
1. CNN Online, "Chertoff: Katrina Scenario Did Not Exist; However, Experts for Years Had Warned of Threat to New Orleans," September 5, 2005, http://www.cnn.com/2005/US/09/03/katrina.chertoff/.

2. Ramos Dante, "What's a Bar's Best Defense? To Stay Open," Times-Picayune, August 31, 2005.

3. "New Study Reveals Louisianians' Post-hurricane Attitudes," LSU News, November 30, 2005, http://appl003.lsu.edu/UNV002.NSF/(NoteID)/445F7344A01DF40E862570C900705A0E?OpenDocument.

4. Richard Campanella, "Street Survey of Business Reopenings in Post-Katrina New Orleans," CBR white paper funded by National Science Foundation Award 0554937, May 2006 and January 2007, www.kerrn.org/pdf/campanella2.pdf.

Page  42
5. Gary Rivlin, "New Orleans Forms a Panel on Renewal," New York Times, October 1, 2005, A11.

6. Personal communication, ULI member, November 2005.

7. Martha Carr, "Citizens Pack Rebirth Forum: Experts Urged to Use N.O. History as Guide," Times-Picayune, November 15, 2005, A1.

Page  43
8. Bruce Eggler, "Drive to Unify Levee Boards Revs Up: 46,600 Sign Petition, Citizens Group Says," Times-Picayune, December 15, 2005, A1.

9. Urban Land Institute, "New Orleans, Louisiana: A Strategy for Rebuilding, an Advisory Services Program Report," November 12–18, 2005, map, p. 45 of PowerPoint file.

10. Frank Donze, "Don't Write Us Off, Residents Warn: Urban Land Institute Report Takes a Beating," Times-Picayune, November 29, 2005, A1.

11. Ibid.

12. Ibid.

13. Tulane University, Office of the President, "Tulane University—A Plan for Renewal," http://renewal.tulane.edu/renewalplan.pdf.

14. Dave Walker, "TV Editorials Return: WWL and WDSU Start Weighing In on Hot-Button Issues, Times-Picayune, January 30, 2006, Living Section, C1.

15. Gordon Russell and Frank Donze, "Rebuilding Proposal Gets Mixed Reception: Critics Vocal, but Many Prefer to Watch and Wait," Times-Picayune, January 12, 2006, 1.

16. 16. Frank Donze and Gordon Russell, "4 MONTHS TO DECIDE: Nagin Panel Says Hardest Hit Areas Must Prove Viability; City's Footprint May Shrink; Full Buyouts Proposed for Those Forced to Move; New Housing to Be Developed in Vast Swaths of New Orleans' Higher Ground," Times-Picayune, January 11, 2006, A1.

17. "Meetings," Times-Picayune, September 30, 2006, Metro Section, B4.

18. Neighborhood Partnership Network, http://www.npnnola.com/associations. Many of these associations predate the storm but renewed their efforts afterward.

19. Analysis by the author using Lexis-Nexus to search for the occurrence of civic association or neighborhood association in the full text of the Times-Picayune from February 2004 through April 2007. Lexis-Nexus is a searchable archive of newspaper articles and other journalistic content. Strategically searching this archive for certain keywords relating to a particular phenomenon is a way to characterize the nature or perception of that phenomenon through the dimension of time.

20. Analysis by the author.

21. Stephanie Grace, "Will Plan Lift the Curse of the Green Dot?" Times-Picayune, April 1, 2007, Metro-Editorial Section, B7, emphasis added.

22. 22. Michelle Krupa, "Katrina Generates Wave of Activism: Myriad Groups Aim to Reshape Region," Times-Picayune, August 27, 2006, A1.

23. Bruce Eggler, "N.O. Is Paying Consultants to Help Neighborhoods Plan: Advisers Will Work to Build Consensus," Times-Picayune, April 10, 2006, Metro Section, B1.

24. Dave Walker, "Rockin' the Ages: In the Ever-Turbulent World of Local Music Radio …" Times-Picayune, November 19, 2006, Living Section, C1.

25. 25. Michelle Krupa and Gordon Russell, "N.O. Post-K Blueprint Unveiled: Plan Puts Most Cash in East, Lower Ninth," Times-Picayune, March 29, 2007, A1.

26. Unified New Orleans Plan, "Citywide Strategic Recovery and Rebuilding Plan, 2007," 148, http://www.unifiedneworleansplan.com/uploads/UNOP-FINAL-PLAN-April-2007-15744.pdf.

27. Michelle Krupa, "City Hall Begins a Building Boom," Times-Picayune, February 23, 2008, B1–3.

Top of page