Latest Issue Online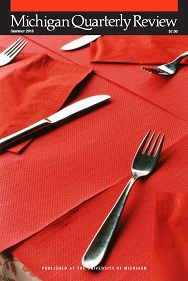 MQR, founded in 1962, is the University of Michigan's flagship journal, publishing each season a collection of essays, interviews, memoirs, fiction, poetry, and book reviews. Since 1979, when an issue called "The Moon Landing and Its Aftermath" appeared, one issue each year has been entirely devoted to a special theme. Some of MQR's most recent special issues are "Vietnam: Beyond the Frame," "The Documentary Imagination," and "China." In the last two decades MQR has published work by Margaret Atwood, Robert Coles, Carol Gilligan, Maxine Hong Kingston, Barry Lopez, Czeslaw Milosz, Toni Morrison, Joyce Carol Oates, Richard Rorty, Eric J. Sundquist, John Updike, William Julius Wilson, and other authorities in their fields, as well as some of the finest contemporary fiction and poetry.
MQR publishes in print on a quarterly basis and is available by subscription. Issues are made available online six months after print publication.
For more information, please visit MQR's primary website.
Top of page