Thoracodorsal Artery Perforator Flap for Bilateral Breast ReconstructionSimultaneous Vs Staged

Skip other details (including permanent urls, DOI, citation information)
Permissions: This work is licensed under a Creative Commons Attribution-NonCommercial-ShareAlike 3.0 United States License. Please contact mpub-help@umich.edu to use this work in a way not covered by the license.
For more information, read Michigan Publishing's access and usage policy.
Introduction
About 1 in 8 American women are diagnosed with invasive breast cancer in their lifetime.[1] For women with early stage breast cancer, treatment options are lumpectomy plus radiation or mastectomy. While mastectomy has not been shown to provide a survival benefit over lumpectomy plus radiation, a recent study found that 35.5% of women diagnosed with early stage breast cancer elected to undergo mastectomy.[2] After mastectomy, women must decide whether or not to undergo additional surgery for breast reconstruction; a recent study reported that 41.6% of mastectomy patients eventually opt for breast reconstruction.[3] Reconstruction options include artificial implants, autologous vascular flaps, or autologous avascular fat transfer. While implants are most common, many women prefer to avoid prosthetic materials. Among the autologous reconstruction options, vascular flaps are the more established and reliable option. While many flaps have been successfully used for breast reconstruction, the thoracodorsal artery perforator (TDAP) flap is a well-established method for breast reconstruction without the requirement for microvascular techniques.[4]-[7] It can be used for volume replacement in conservative mastectomies or adenomastectomies instead of silicone implants.[8] Bilateral reconstructions can also be successfully performed without microsurgery using the latissimus dorsi myocutaneous flaps.[9][10] However, latissimus dorsi reconstruction causes significant decreases in shoulder joint stability, strength, range of motion, and general functionality.[11] TDAPs have the advantage of not impairing the function of the shoulder or arm.[12]
As described in the literature, TDAP flap harvesting is performed with the patient in lateral decubitus position.[13] Therefore, in bilateral reconstruction, each TDAP flap must be harvested separately, and the patient must be switched from one lateral decubitus position to the other. Furthermore, for each flap elevation, the patient must be placed in the dorsal decubitus position. Every position change requires the operative field to be prepared again. The multiple position changes and the fact that each flap must be harvested separately significantly increase the operative time of the procedure. This can be disadvantageous since operative time is an independent risk factor for complications in plastic surgery.[14]
Gunnarsson and colleagues described a method for performing simultaneous bilateral breast reconstruction with TDAPs.[15] Flap elevation in the ventral decubitus allows bilateral simultaneous harvest by 2 operating teams. The patient can then be placed in the dorsal decubitus position for bilateral simultaneous flap insetting. This modification requires only 1 position change instead of 3 and has the potential to significantly reduce operative time, which would decrease the morbidity of the procedure.14 Here, we build on the work by Gunnarsson and colleagues by directly comparing the operative times and surgical outcomes of this simultaneous approach to the staged reconstruction.
We hypothesize that with the simultaneous approach, the operative time will decrease, patient satisfaction will be the same between the groups, and outcomes will be unchanged.
Material and Methods
Between 2004 and 2014, a series of 10 patients at Hospital Santojanni in Buenos Aires, Argentina, with bilateral conservative mastectomies without radiation were prospectively enrolled in this study with approval from the institution's ethics committee. All 10 patients were treated with immediate reconstruction with de-epithelialized TDAP flaps. The mastectomies were indicated for siliconomas (4) and malignancy treatment (6). In 2004, 4 consecutive patients were enrolled and assigned to undergo traditional staged TDAP flaps in the lateral decubitus position, one side at a time (Group A). In 2011, 6 consecutive patients were enrolled and assigned to undergo simultaneous bilateral TDAP harvesting in the ventral decubitus position (Group B). The same operating teams completed all cases for both groups.
Surgical Technique
Group A's operating team consisted of one primary surgeon and a first assistant. Group B's operating team included the same surgeons from Group A plus an additional primary surgeon and first assistant. One set of ancillary staff (one anesthesiologist, one surgical technician, and one nurse) was present and used for each case. In Group A, the patient was placed in the lateral decubitus position. The TDAP flap was elevated, de-epithelialized, and placed at the side of the thorax. The donor area was closed. The patient was then placed in the dorsal decubitus position, and the ipsilateral mastectomy was performed. The defect was reconstructed with the flap insetting. The same procedure was performed for the contralateral side. For Group A, patients were followed postoperatively for 3-10 years (mean, 7.8 years).
For Group B, the patient was placed in the ventral decubitus position. Bilateral TDAP flap elevation and de-epithelialization was performed simultaneously by 2 surgical teams. One team worked on the right side while the other team worked on the left side. The donor area was closed, and the patient was placed in the dorsal decubitus position. The bilateral mastectomies, flap insets, and reconstructions were performed simultaneously by 2 surgical teams. For Group B, patients were followed postoperatively for 6-32 months (mean, 15.5 months).
For each case, the operation time, patient satisfaction, and complications were recorded. Recorded operating time for the simultaneous bilateral procedures was the time at which the second team finished. One team usually finished first for various reasons, but the differences in times between the simultaneously operating teams were usually minimal. Aesthetic outcomes were assessed by the same senior surgeon; in an attempt to offset this subjectivity, we included patient satisfaction scores and a case example. Patient satisfaction was assessed with a simple one-question survey given at the 6-month postoperative visit ("Please rate your satisfaction with this procedure on a scale from 1-5, with 5 being most satisfied"). Each case was assessed for any recorded complication. The data were obtained from reviewing each patient's medical record individually. Given the small study population, only descriptive statistics were calculated.
Results
The 10 patients had a mean age of 52.1 years; 30% were smokers, and 20% were diabetics. Total operative time was 316-351 minutes (mean, 331 minutes) for Group A and 169-196 minutes (mean, 181 minutes) for Group B (Table 1). Time for completion of each step (flap elevation and closure, position changing, mastectomy, and flap insetting) is further broken down in Table 2.
Table 1. Patient Characteristics by Group
| Patient Characteristics | Group A | Group B |
| --- | --- | --- |
| Age (years) | 49.5 | 53.8 |
| No. with breast cancer | 2 | 4 |
| No. with siliconoma | 2 | 2 |
| No. of smokers | 1 | 2 |
| No. of diabetics | 1 | 1 |
Table 2. Mean and Range of Operative Time (Minutes) for Each Step of the Bilateral Breast Reconstruction With TDAP
| Group | Flap Elevation and Closure | Position Changing | Mastectomy | Flap Insetting | Total |
| --- | --- | --- | --- | --- | --- |
| A | 137 (125-152) | 59 (55-63) | 86 (78-99) | 49 (44-59) | 331 (316-351) |
| B | 79 (74-86) | 22 (18-25) | 48 (43-57) | 32 (28-37) | 181 (169-196) |
Aside from operative time, there were no major differences between the groups. Patient satisfaction was similar in both groups; both groups averaged 4.7/5.0. Among all cases, the only complication observed was steatonecrosis at the distal end of the flap for one of the patients in Group B. This was treated by resection of the involved area after 10 days to allow the healthy tissue to demarcate from the poorly perfused tissue. The patient eventually received autologous fat transfer for volume replacement, and the long-term outcome was satisfactory without further complications.
Discussion
In this article, we describe our experience with bilaterally reconstructing breasts with TDAPs harvested in the ventral decubitus position, as described by Gunnarsson and colleagues.12 This technique allows both flaps to be harvested simultaneously by 2 operative teams and both flaps to be inset and reconstructed simultaneously with only one position change. While this change requires 2 surgical teams instead of one, it significantly reduces the total operative time without any changes in outcomes, complications, or patient satisfaction.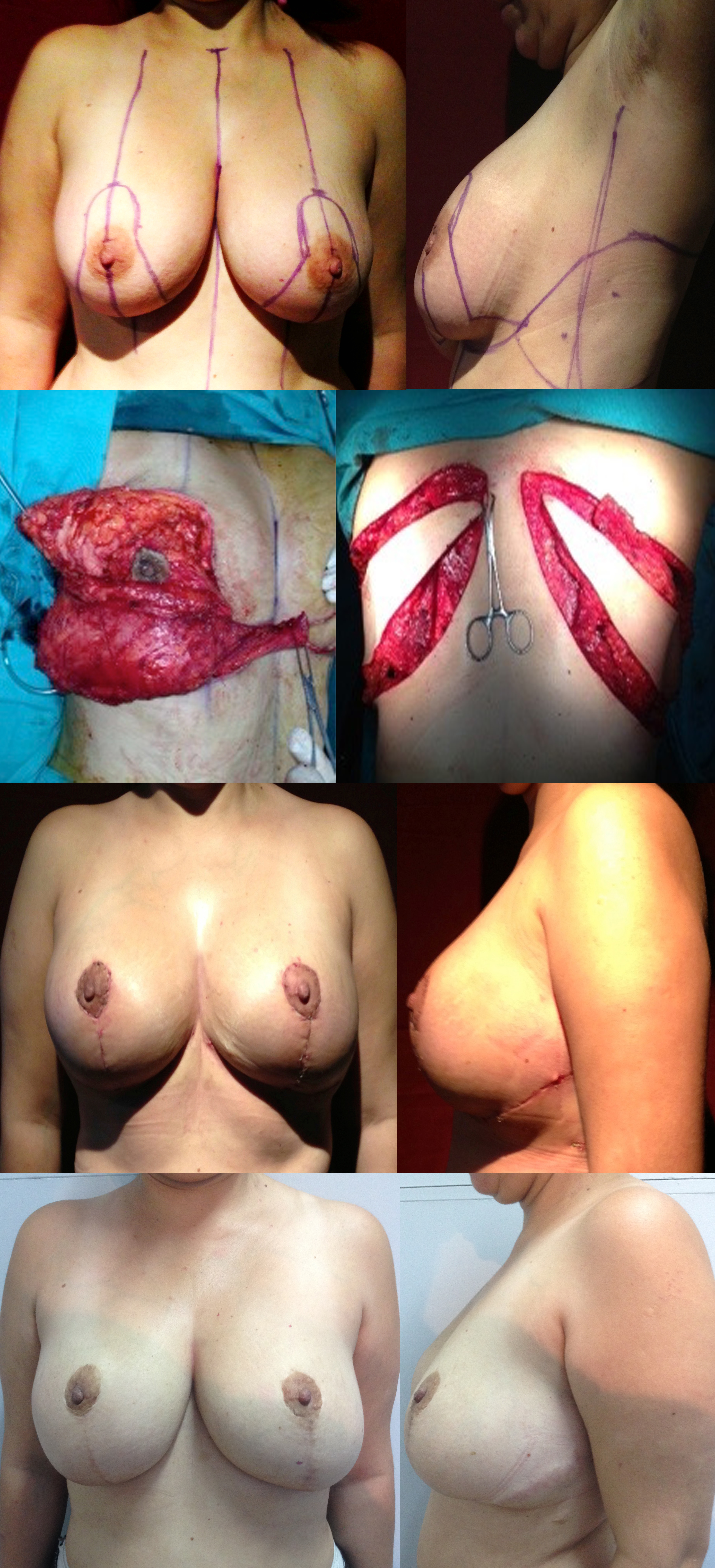 Figure 1.
A 41-year-old woman with bilateral siliconomas underwent simultaneous bilateral de-epithelialized TDAP with an ascending oblique design and turnover technique in the ventral decubitus position by 2 teams operating simultaneously. The patient was transferred to the dorsal decubitus position, and the teams simultaneously performed a bilateral reducing mastectomy with an inverted T-pattern and an inferior pedicle, then inset and reconstructed the flaps. The total operative time was 180 minutes. The patient was completely satisfied (5/5) with the final result and the donor area at 2.5 years postoperatively.
The findings of this study have direct implications on clinical practice for bilateral mastectomy reconstruction. Reducing operative time has several benefits for both the patient and the health system. Although the study group with longer operation times (Group A) did not suffer increased complication rates when compared to Group B, it is well documented that decreasing time under general anesthesia decreases the risk for major complications. For the health system, decreasing operative time significantly reduces health care costs, even if 2 surgical teams are necessary.[16] Additionally, by decreasing complication rates, the shorter anesthesia time increases the probability of early discharge.[14] These cost considerations carry particular importance in areas where health care resources are highly limited.
This study has several limitations. Because our comparison included only 10 patients, we do not have enough statistical power to detect small differences in outcomes and complication rates. However, because patients in both treatment groups received identical procedures outside of differences in positioning, disparities in morbidity and complication rate would likely be due to longer anesthesia time. The relationship between anesthesia time and complication rates has been well established in plastic surgery.[14] Additionally, the significantly shorter follow-up time for Group B may not have been sufficient to detect late complications. However, most complications of this procedure occur in the early postoperative period.[17] This study is also limited by the subjectivity of some of the outcome measures. Outcome subjectivity is inherent in breast surgery; however, future studies could address this by objectively determining breast volumes with MRI, using more robust survey instruments for assessing patient satisfaction, and having a blinded surgeon assess the outcomes.
Conclusion
Bilateral breast reconstruction with TDAP flaps harvested in the ventral decubitus position and flap inset in the dorsal decubitus position is not any less safe, efficient, or effective when compared to performing the same procedure in the lateral decubitus position. This study suggests that performing the harvests in the ventral decubitus position significantly lowers operative time without sacrificing any changes in outcomes, complications, or patient satisfaction; however, additional studies with larger sample sizes are needed to better support these findings.
References
National Cancer Institute. Breast Cancer Risk in American Women. Available at: https://www.cancer.gov/types/breast/risk-fact-sheet. Accessed December 31, 2016.

Kummerow KL, Liping D, Penson DF, et al. Nationwide trends in mastectomy for early-stage breast cancer. JAMA Surg. 2015;150(1):9-16.

Morrow M, Li Y, Alderman AK, et al. Access to breast reconstruction after mastectomy and patient perspectives on reconstruction decision making. JAMA Surg. 2014;149(10):1015-1021.

Angrigiani C, Grilli D, Siebert J. Latissimus dorsi musculocutaneous flap without muscle. Plast Reconstr Surg. 1995;96:1608-1614.

Hamdi M, Salgarello M, Barone-Adesi L, et al. Use of the thoracodorsal artery perforator (TDAP) flap with implant in breast reconstruction. Ann Plast Surg. 2008;61:143-146.

Bank J, Ledbetter K, Song DH. Use of thoracodorsal artery perforator flaps to enhance outcomes in alloplastic breast reconstruction. Plast Reconstr Surg Glob Open. 2014;2(5):e140.

Santanelli F, Longo B, Germano S, Rubino C, Laporta R, Hamdi M. Total breast reconstruction using the thoracodorsal artery perforator flap without implant. Plast Reconstr Surg. 2014;133(2):251-254.

Hankins CL, Friedman J. A 7-year experience in utilizing the latissimus dorsi myocutaneous flap for bilateral breast reconstruction. Ann Plast Surg. 2008;60(2):134-140.

Santanelli di Pompeo F, Laporta R, Sorotos M, Pagnoni M, Falesiedi F, Longo B. Latissimus dorsi flap for total autologous immediate breast reconstruction without implants. Plast Reconstr Surg. 2014;134(6):871e-9e.

Smith SL. Functional morbidity following latissimus dorsi flap breast reconstruction. J Adv Pract Oncol. 2014;5(3);181-187.

Thomsen JB, Gunnarsson GL. The evolving breast reconstruction: from latissimus dorsi musculocutaneous propeller thoracodorsal fasciocutaneous flap. Gland Surg. 2014;3(3):151-154.

Schwabegger AH, Bodner G, Ninkovic M, Piza-Katzer H. Thoracodorsal artery perforator (TAP) flap: report of our experience and review of the literature. Br J Plast Surg. 2002;55:390-395.

Hardy KL, Davis KE, Constantine RS, et al. The impact of operative time on complications after plastic surgery: a multivariative regression analysis of 1753 cases. Aesthet Surg J. 2014;34(4):614-622.

Gunnarsson GL, Borsen-Koch M, Nielsen HT, Salzberg A, Thomsen JB. Bilateral breast reconstruction with extended thoracodorsal artery perforator propeller flaps and implants. Plast Reconstr Surg Glob Open. 2015;3(6):e435.
Top of page