Book Review
Hanna, Erin. Only at Comic-Con: Hollywood, Fans, and the Limits of Exclusivity. (Newark: Rutgers University Press, 2020.)


Skip other details (including permanent urls, DOI, citation information)
This work is licensed under a Creative Commons Attribution-NonCommercial-NoDerivatives 4.0 International License. Please contact mpub-help@umich.edu to use this work in a way not covered by the license. :
For more information, read Michigan Publishing's access and usage policy.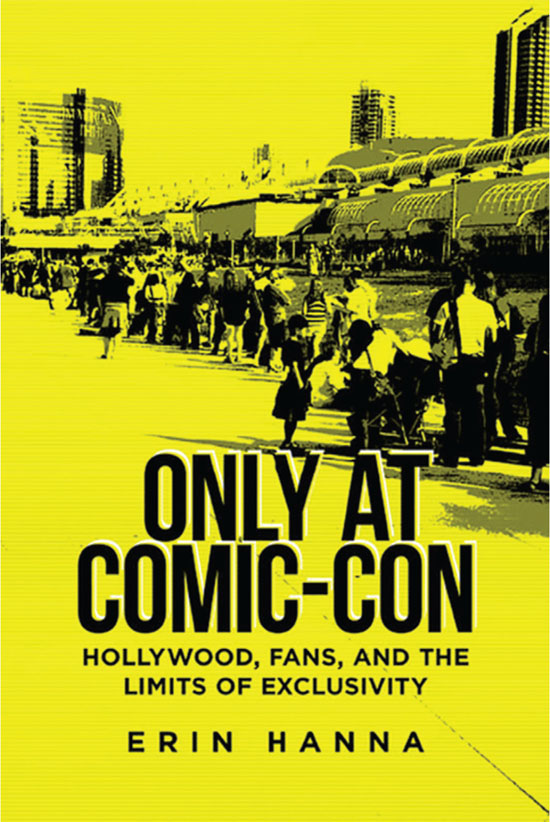 Comic-Con International: San Diego, known colloquially as Comic-Con, is one of the largest and most influential fan conventions in the world. Comic-Con as an event and as a brand has impacted fandom, popular culture, and, more importantly, for Erin Hanna, the media industries in Hollywood. Since its inception, Comic-Con has been intertwined with the media industries: comic creators and industry professionals attended the very first convention. Comic-Con has, however, expanded beyond comic books to include all popular media and has opened its doors to industry creatives, synergistic promotion, and audience testing, making Comic-Con a useful event for Hollywood's buzz machine.[2] Comic-Con, as both an exclusive event and a franchise, has made fan conventions widely popular (and lucrative) with both audiences and global popular culture industries. In this book, Hanna explores how Hollywood studios and related industries foster the appeal of exclusivity as a means of promotion that exploits fan labor.
In Only at Comic-Con, Erin Hanna uses a framework of exclusivity to dismantle the power structures embedded in fan conventions generally and Comic-Con specifically. According to Hanna, "exclusivity is not defined by presences at all, but by the power to produce absences."[3] Hanna outlines the power dynamics between media industry representatives and convention organizers (and fans), between fans and convention staff, and between fans themselves. Exclusivity functions as a "cultural construct that relies on the power to produce, enforce, or negotiate limits."[4] Exclusivity is a way to manufacture capital and economic capital for fans, the convention, and Hollywood studios.
Erin Hanna works at the intersection of media industries and fan studies. She uses a media industries approach to interrogate Comic-Con and roots her work in John Caldwell's, focusing particularly on the "experience economy" described by Joseph B. Pine, II and James H. Gilmore.[5] Hanna examines what it means to have an exclusive experience in terms of the media industry and the audience. She responds to the calls of Dallas Smythe and Eileen Meehan to incorporate fans as part of the political economy included in media industries analysis. As such, she touches on fan studies scholars like Kristina Busse, Suzanne Scott, Mel Stanfill, Rebecca Wanzo, and Kristen Warner. Though Hanna's work has its foundations in media industries, she incorporates cultural studies and fan studies into this project by considering how media industries leverage cultural capital and encourage fans to provide promotional labor in exchange for the exclusive experiences found at Comic-Con.
In true Caldwell fashion, chapter 1 is an industrial history of the convention using documentaries, convention archives, and interviews with convention organizers as primary sources. This chapter focuses not only on the history of Comic-Con San Diego but also on the larger wave of fan convention popularity, rising from the 1970s to the modern-day. This chapter also examines the struggle to define the purpose and mission of Comic-Con and the current battle to maintain the fan-run, nonprofit spirit of an event that is now worth millions locally and hundreds of millions regionally. Hanna argues Comic-Con's growth is due to the early move to integrate multiple mediums, industries, and audiences into fan convention culture.
Chapter 2 focuses on the ubiquity of lines at fan conventions and the line's function, both materially and socially. Lines at Comic-Con are quintessentially a liminal experience, a space in-between being in the room and being in the larger convention space. They are also a rite of passage, and fans gain social capital based on the length and duration they were willing or able to stand in line for a particular event or space. According to Hanna, waiting in line is a form of labor that maintains power structures while producing value through cultural capital in which waiting is currency.[6] Waiting in line not only produces value around the event but also cultivates a sense of community and shared experience that resonates beyond the promotional context.[7]
Hanna's third chapter explores the symbiotic relationship between mainstream media industries and the fan convention. This chapter uses Comic-Con's Hall H and the hysteria around it as a case study. Hanna argues, "the kind of exclusive promotions offered inside hall H are part of broader efforts on the part of the entertainment industry to decenter fandom as an audience practice and reframe it as an industry construct."[8] This chapter looks at the variety of ways Hollywood studios like Warner Brothers, Disney, DC, and Sony have courted fans at Comic-Con as test audiences, tastemakers, and promotional machines.
The fourth chapter examines the unique and exclusive retail experience that Comic-Con creates. Hanna examines how the Dealer's Room of the 1970s has transitioned into the modern-day Exhibit Hall. In particular, she explores the changes in the physical and representational space through vendor stall size and displays, relocation of small press and fan artists, and the prioritizing of larger corporate interests by convention organizers literally redrawing the map to include logos at vendor locations. In this chapter, she also explores the collector and prospector spirits of fans searching for the rare collectible or convention exclusive item.
In the book's final chapter, Hanna describes how the boundaries of exclusivity are stretching for Comic-Con, as "activations" and experiences have consumed large portions of San Diego outside the convention center proper. These experiences are often open to the public, to people without convention badges, but participants must still wait in the ever-present line for whatever opportunity is available. Beyond San Diego, activations and branded experiences are starting to become common extensions of exclusivity used as media promotion.
Overall, this slim, teachable volume provides a unique filter for examining the ways in which industry, convention programmers, and audiences interact within the confines of the convention power structure. Hanna's work examining the function, materiality, and power dynamics of the queue is particularly useful in fan and media industry discourses. Her discussion of exclusivity is primarily focused on how cultural capital is used as a promotional device for various media industries. However, Hanna rarely examines how the power dynamics of exclusivity function differently for minority fans, particularly fans of color. This lacuna leaves room for continued explorations into the variety of ways exclusivity functions differently as a cultural marker, barrier, and brand at Comic-Con and within cultural industries at large. Only at Comic-Con is a valuable contribution to both media industries and fan studies, as Hanna's work integrates the two disciplines seamlessly in a powerful argument about the limits of exclusivity, capital, and exploitation.
---
Top of page