Book Review
Brock, André, Jr. Distributed Blackness: African American Cybercultures. (New York: New York University Press, 2020.)


Skip other details (including permanent urls, DOI, citation information)
This work is licensed under a Creative Commons Attribution-NonCommercial-NoDerivatives 4.0 International License. Please contact mpub-help@umich.edu to use this work in a way not covered by the license. :
For more information, read Michigan Publishing's access and usage policy.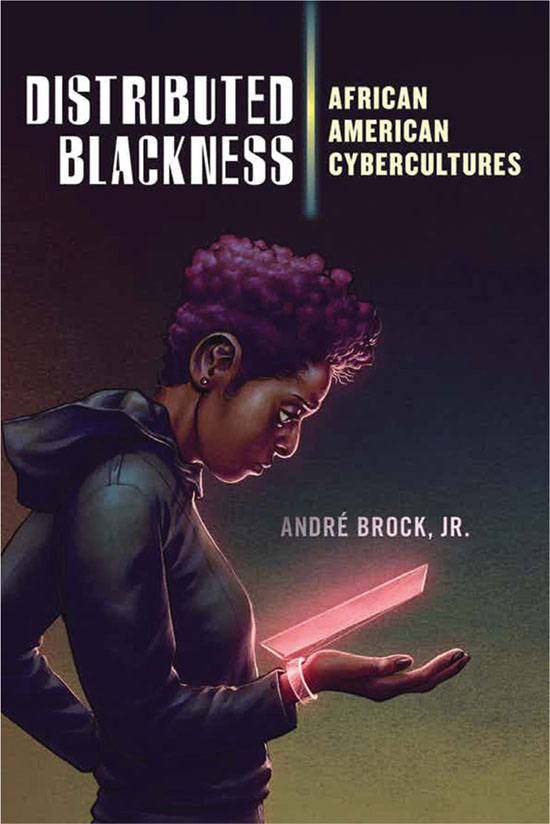 André Brock, Jr.'s new monograph, Distributed Blackness: African American Cybercultures, is an interdisciplinary and multimodal work critical to any scholar researching race and technology and the ways these two seemingly distinct categories are inextricably intertwined. Brock seamlessly ties together rigorous linguistic work with internet and computational studies through the critical technocultural discourse analysis (CTDA) lens, which gives readers a cultural and racial framework for our analyses of technology. He calls for researchers to stop only studying the intersections of race and technology by virtue of absence, deficit, and/or resistance. "Racism," Brock writes, "is not the sole defining characteristic of Black identity."[2] He encourages us to think through the joy derived from the quotidian libidinal practices of Black folks engaging in sociality on the internet, and in particular Twitter as a "satellite counterpublic sphere."[3] Networked information, Brock argues, is crucial to Black identity online, that Black folks have a natural affinity for the internet and that "all technologies are socially and culturally shaped."[4]
Distributed Blackness is primarily a call for joy. There is a moment in the text when Brock writes that Black people frequently talk about things online that have nothing to do with whiteness. This simple yet significant observation reinforces the point that there is little to be gained by defining Black cybercultures against racism.[5] He uses the same method to critique Cathy Cohen's framework of deviance. Though important to the project, Brock attempts to put distance between deviance and Blackness.
To establish these overarching themes within the structural bones of the work outlined above, Brock establishes many frameworks and terms that help the reader understand how he conceptualizes the relationship between race, the definition of which he draws from sociological works on ethnicity, and technology.[6] One of the most important terms he introduces is CTDA. Drawn from his earlier work, CTDA is a methodological approach that interrogates ideological influences within the technological artifact, within the practices incurred through the artifact's design, and within the discourses of that technology's users.[7] Brock uses chapter 1 to carefully define and map out the uses of CTDA, which ultimately employs an assemblage technique that enables readers and researchers to integrate racial, social, and cultural analysis with tech-based inquiry. To understand the foundation of the relationship between Black people and technology and/or online culture, Brock introduces the term libidinal economy. Drawn from the work by Jared Sexton, Fred Moton, and Frank Wilderson and understandings of Afro-pessimism, libidinal economy is understood as the combustion powering the engine, an infrastructure, also understood as pathos; affect, though similar, undersells the power of the libidinal, Brock argues.[8]
Closely related to libidinal is ratchetry, an aesthetic Brock explores here. Ratchetry is described as the enactment of ratchet behavior, which is defined or explored here as speaking or acting without a filter; it also has a libidinal component of pleasure. This deeply impacts a thematic thread of Brock's book, which advocates for Black folks' ability to simply be and to self-define. Therefore, ratchet behavior can also be understood as speaking or acting freely, without having to self-censor. Self-censorship, related to respectability politics (Brock cites Higginbotham for his definition), implies that there is a correct code of conduct, as determined by white folks. This unwritten code ensnares Black folks, forcing us to define ourselves against racism and/or whiteness. Brock ultimately wants more for Black folks and demonstrates his journey away from Afro-pessimism, which he believes lacks creative potential, and toward Afro-optimism.
In advocating for better ways to research and write about the relationship between Blackness and technology, Brock argues for a "Black technocultural matrix," which he defines as the interweaving of technology, culture, self, and identity.[9] The Black technocultural matrix includes six aspects: Blackness, Intersectionality, America*, Invention/Style, Modernity, and The Future.[10] This definition draws from ideas about Black cyberculture, which interrogates an ontological perspective of what Blackness means for technology use and, occasionally, design.[11] Chapter 2 uses CTDA to establish a matrix of Black cyberculture and examines how software applications shape Black identity using the Blackbird browser as an example. Overall, the first half of the Distributed Blackness deals with CTDA as its underlying theory, which propels the reader forward in the argument. Chapter 3 asks, "What would a Black online network look like?" drawing on an inquiry from Amiri Baraka's writings on Black cyberculture from 1965. Brock's answer: Black Twitter.
The second half of the book, appropriately, focuses on Brock's conceptualization of the libidinal economy. Chapter 4 examines racism and ratchetry online, while chapter 5 examines online Black respectability, using Ayesha Curry's tweets as an interesting case study.[12] Chapter 6 extends the possibility of libidinal economies of information technology to build a Black technocultural matrix.[13]
Brock's work makes considerable contributions to the fields of internet studies and digital humanities. Distributed Blackness speaks directly to the work of theorists such as Lisa Nakamura (Cybertypes), Safiya Noble (Algorithms of Oppression), Beth Coleman ("Race as Technology"), Sarah Florini (Beyond Hashtags: Racial Politics and Black Digital Networks), and Catherine Knight Steele ("Blogging While Black"), all of whom work through the relationship of race and technology. It should be noted that Brock draws much of his guiding frameworks from Black feminist thought and Black queer theory, which shows his commitment to creating and advocating for an analysis which centers Black people in all of their glory. It may then be useful to read the works of other Black feminist digital humanists in concert with Distributed Blackness, such as Feminista Jones' Reclaiming Our Space: How Black Feminists Are Changing the World from the Tweets to the Streets and Moya Bailey, Sarah J. Jackson, and Brooke Foucault Welles' #HashtagActivism: Networks of Race and Gender Justice. Also important to the infrastructure of Brock's claims are Frank Wilderson, III and Afro-pessimism as well as Afro-optimism; Cathy Cohen's conceptualization of "deviance"; Henry Louis Gates, Jr. and the ideas of "signifyin"; and W.E.B. Du Bois for his contribution of "double consciousness."
As Brock forges a new space in internet studies, he lays the groundwork for additional and equally rigorous study. For instance, Distributed Blackness, while acknowledging the diasporic nature of Blackness, firmly declares itself a work about American Blackness, a fact that is reinforced by the book's subtitle. This offers the potential for a more global international perspective informed by CTDA, although there are surely researchers currently doing this sort of work. For example, Francesca Sobande will soon publish The Digital Lives of Black Women in Britain (Palgrave 2020). CTDA also provides the infrastructure for researchers to investigate how particular groups within the heterogeneous Black population self-make online, taking cues from Brock's CTDA framework as a jumping-off point for analysis. Again, this work is already beginning to surface; in particular, Ashleigh Greene Wade works in this direction as she investigates the digital lives of Black girls.
Distributed Blackness also encourages the potential for self-reflexive autoethnographic work that investigates the role of Black folks in the Academy and how they (and other specific groups and pockets of Blackness) use Twitter. Specifically, it may be useful to think about the #BlackInTheIvory moment/movement co-founded by Dr. Shardé M. Davis and Joy Melody Woods that occurred in June 2020. While the goal of the hashtag was to expose racist acts endured by Black scholars in the Academy, and although the movement has a cathartic energy that may be read as libidinal, it ultimately falls into the category of Black digital practice and identity definition Brock is uninspired by: that which is defined by and against racism.
There are other emerging Black scholars to look out for as well. I look forward to seeing how Brock's arguments inform the work of Sasha A. Pierre-Louis whose thesis, "Come and Get Your Capital Sis: The Use of Twitter to Compensate for Gendered and Racialized Job Networks Among Creatives," has already made a splash in the realm of Black feminist digital humanities, as well as the work of PhD candidate Brienne Adams at the University of Maryland, whose work on representations of romantic love in new media and digital cultures will also greatly benefit from the libidinal component of Brock's work.
One of Brock's most important interventions in this book is how clearly and explicitly he draws the relationship between race and technology, a concept previously ignored by the assumption of whiteness as technology's default racial makeup.[14] Perhaps even more powerful, however, are Brock's primary interventions marked by critical analysis of joy, the quotidian, and being. He poignantly writes that "Blackness is neither posthuman nor interested in being so."[15] Posthumanism is concerned with becoming as opposed to being, which forms a progress narrative. In a similar vein, Afrofuturism is not particularly concerned with the "now," according to Brock, but rather concerns itself with the post-present. Possibilities of Black digital identity are endless; we see them come alive in vibrant color as Brock argues powerfully for the ability of Black folks to define themselves.
---
Top of page