Book Review
Rosen, Gary. Adventures of a Jazz Age Lawyer: Nathan Burkan and the Making of American Popular Culture. (Oakland: University of California Press, 2020.)


Skip other details (including permanent urls, DOI, citation information)
This work is licensed under a Creative Commons Attribution-NonCommercial-NoDerivatives 4.0 International License. Please contact mpub-help@umich.edu to use this work in a way not covered by the license. :
For more information, read Michigan Publishing's access and usage policy.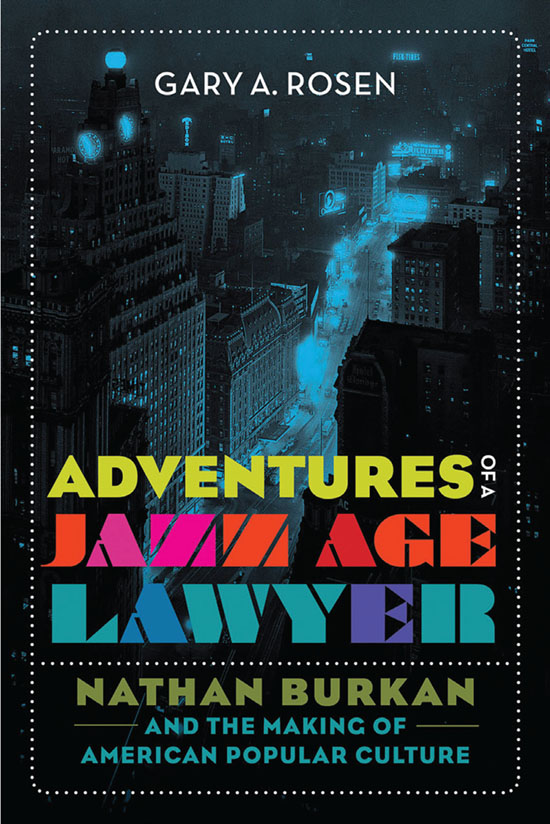 Gary Rosen's lively new biography of Nathan Burkan, Adventures of a Jazz Age Lawyer, profiles a pivotal and largely forgotten figure in the fields of copyright and entertainment law who co-founded the American Association of Composers and Publishers (ASCAP) in the first third of the twentieth century.
Burkan was born in 1878 in what is today Romania, though his family emigrated to New York's Lower East Side. He began his career with Tammany Hall, an organization remembered primarily as a hotbed of political corruption. However, for Burkan and other immigrants, the Tammany Hall "machine" provided social welfare benefits, valuable networking opportunities, and practical lessons on how the world works. These lessons were especially beneficial for Jewish immigrants like Burkan, who were fighting a rising tide of religious prejudice. Burkan's ambition and inexhaustible capacity for work helped him succeed at both City College and New York University School of Law; he was admitted to the bar in 1900 at the age of 22.
Burkan's first important patron was Victor Herbert, a German-born cellist and composer of classical, light operetta and popular music. Herbert had a flamboyant personality that guaranteed him international fame. Burkan and Herbert's relationship began with a defamation lawsuit Herbert initiated in 1902 against a Pittsburgh music publication. Although the lawsuit's stakes were negligible, the relationship proved to be fruitful for Burkan, as he became connected to Herbert's circle of friends and associates. These new connections catapulted Burkan into the world of music, where he worked for more than three decades. Burkan's career spanned the rise of recordings, radio, film, and the modern era of popular music from Tin Pan Alley to the Great American Songbook.
Burkan became firmly entrenched in the music business when he was elected counsel to the Music Publishers Association (MPA). This was during the days of wax cylinders, when sheet music sales for performance in parlors, music stores, and vaudeville shows were benchmarks of a song's success. Most titles were ephemeral and forgettable, with publishers making up the difference by pocketing the profits from more notable titles like "Take Me Out to the Ballgame" or "When Irish Eyes Are Smiling."
Burkan executed his MPA Counsel duties aggressively. As an example, Rosen highlights Burkan's treatment of the sheet music pirate Garrett J. Couchois of Rutherford, New Jersey, who crossed paths with Burkan in 1905. Couchois earned some modest success as a songwriter and dubious notoriety as the inventor of the nose flute. His most notable talent, however, was being an excellent sheet music counterfeiter, whose forgeries could only be detected by legitimate publishers. Federal copyright statutes were quite fragmented at the time, and music publishers' attitudes toward copyright infringement were rather lax, so Burkan used the severe New York state laws to pursue the Couchois. Burkan hired private detectives to document the forgeries, which he then prosecuted song by song, in exhaustive succession. The hapless Couchois spent several months in jail, while the MPA trumpeted its legal victories—at his expense—in the trade papers.
The next nine years saw the passage of the Copyright Act of 1909 and the establishment of ASCAP in 1914. Both these efforts took Burkan out of local New York City courts and into the halls of Congress and the Supreme Court. Here, his visionary gifts for building protective legal and institutional foundations for creative communities flowered.
Copyright laws, only loosely enunciated in the Constitution, were revised in lockstep with the goals of the Librarian of Congress, Herbert Putnam, and President Theodore Roosevelt, whose final term in office ended in March 1909. The MPA was the music industry's sole representative in a series of conferences leading up to the bill's drafting. Other seats at the table were occupied by publishers of books and periodicals, theatrical producers, artists, architects, librarians, photographers, and lithographers.
Rosen, a lawyer, historian-educator, and a facile writer, is adept at illuminating the technical issues articulated by these competing parties, although close reading is necessary to comprehend the technical and legal nuances of legal questions hashed out over three years of negotiations. For example, music publishers debated what, exactly, should be copyrightable: a specific medium—player piano perforated rolls—or notes on a page of sheet music.
Burkan's first appearance before the House Committee on Patents (both houses of Congress had similar committees) in June 1906 exposed his lack of understanding of copyright law. Two members of the house committee helped bring him up to speed in time for hearings in December 1906. He arrived at the Capitol with an entourage that included John Philip Sousa and Victor Herbert, who also accompanied him on a visit to the White House. Burkan had clearly used the time between hearings to absorb copyright history and law with a vengeance. Rosen writes that in the Patent Bill of 1909, "The music industry was the most conspicuous beneficiary. A common metaphor . . . likens it to 'a river of nickels'." The bill made it possible for artists to record "cover" songs in any format.
Resolution of the legislation came together quickly once copyright terms were set at fifty-six years. This time period guaranteed that few authors would outlive their copyrights and settled on a two-cent royalty rate. Signing the bill into law was one of Roosevelt's final acts. Nathan Burkan was the man of the hour. "His reputation was now spread far beyond Tin Pan Alley. At age 31, he was "undisputed dean of the American copyright bar," Rosen concludes.
The 1910s continued Burkan's journey into the burgeoning world of entertainment. In 1913, Giacomo Puccini's American representative approached Burkan with the idea of forming an American performing rights society. The roster of charter members the following year, including George M. Cohan, John Philip Sousa, Jerome Kern, and Irving Berlin (before he started his own publishing company), signaled the future direction of ASCAP, tilting in favor of top songwriters. Hitmakers like George and Ira Gershwin and Cole Porter eventually joined as well. It was Burkan's idea to unite the three major music industry constituencies: authors, composers, and publishers. The incentive to work together grew with the rise of new media industries that used both live and recorded music. Burkan worked hard to assuage inevitable tensions within and outside ASCAP—specifically, the accusation that ASCAP was a monopoly that only worked for the most popular and powerful songwriters and lyricists, whose work came to be known as the Great American Song Book. Similar territory is covered in cultural historian Ben Yagoda's 2015 book The B Side: The Death of Tin Pan Alley and the Rebirth of the Great American Song (Riverhead Books). Yagoda chronicles the battle between ASCAP and Broadcast Music, Inc. during a time when certain genres of music—primarily jazz, rhythm and blues, rock 'n' roll, and country-western—were largely overlooked by ASCAP.
Burkan became majorly involved with film through his relationship with the most iconic star of the era, Charlie Chaplin. Their two-decades-long association began in 1917, when Burkan battled on Chaplin's behalf in several copyright infringement cases. Burkan also helped Chaplin survive run-ins with studios, when Chaplin attempted to renege on his contracts, and scandalous divorces from two underage child brides. Burkan helped Chaplin secure the biggest fees and maximum artistic freedom, despite the Little Tramp's gargantuan ego and near-total disregard for others. Of Burkan, Chaplin once said, "I love him, but I'm afraid of him." Gary Rosen's chapters on the Chaplin-Burkan years are a must-read for Chaplin scholars.
Burkan died in 1936 at age 57, a much-loved and well-respected member of the music and legal communities. Rosen writes that Burkan's career serves as a foundation for music copyright law, particularly his contributions to collective rights enforcement. Much of Burkan's work has lasted right up to the modern era and the digital challenges that have upended the music business. Burkan's legacy of protecting and encouraging ongoing creative output, according to Rosen, helps assure that art continues to reflect the time in which it is made.
---
Tad Hershorn began photographing nationally and internationally known jazz musicians in his hometown of Dallas, Texas, beginning with Miles Davis, in 1969. His writing and photography have appeared in JazzTimes as well as in album art for artists such as Ella Fitzgerald, Count Basie, and Dizzy Gillespie. In 1999, Hershorn began a twenty-one-year career as an archivist and reference librarian at the Institute of Jazz Studies at Rutgers University. He has worked on a National Endowment for the Humanities grant to process the collection of pianist/composer/arranger Mary Lou Williams, and in 2011, the University of California Press published his biography of jazz impresario, record producer, and civil rights stalwart Norman Granz, entitled Norman Granz: The Man Who Used Jazz for Justice.
Top of page