Book Review
Saha, Anamik. Race and the Cultural Industries. (Medford, MA: Polity Press, 2018.)


Skip other details (including permanent urls, DOI, citation information)
This work is licensed under a Creative Commons Attribution-NonCommercial-NoDerivatives 4.0 International License. Please contact mpub-help@umich.edu to use this work in a way not covered by the license. :
For more information, read Michigan Publishing's access and usage policy.
Against the backdrop of shifting political discourse and a rise in diverse media creators who seemingly echo the theories of Fanon, Hall, and Du Bois in asserting, to varying degrees, that difference and its mediation is the preeminent issue of our time, Anamik Saha argues that cultural production research has been lost amid the flurry of textual analyses. How do cultural industries make race? This question, adapted in part from the work of Herman Gray, is at the heart of Saha's new book, Race and the Cultural Industries.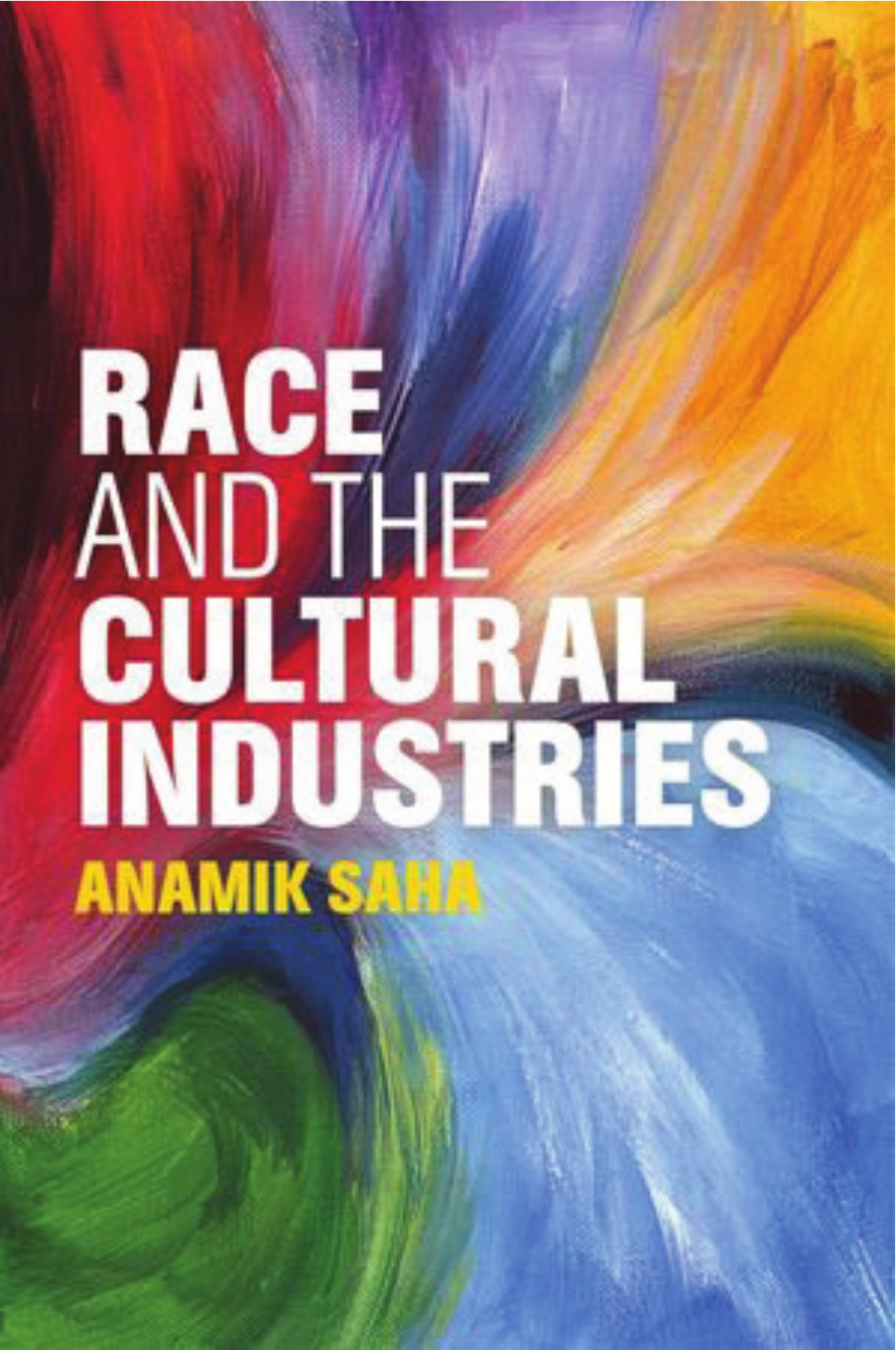 Aiming to intervene in the lacuna of research that connects representation, legacies of empire, capitalism, and cultural industry practice, Saha's interdisciplinary approach is at its strongest when articulating the dialectical tensions between macro- and micro-level forces. Saha's goal in this project is to understand why particular representations of race persist and how contradictions occur; he argues against functionalist and determinist approaches that delimit or exaggerate the uneven relationships between power, structure, labor, and texts. Instead, he proposes "a new theory of race and ethnicity in cultural production, which foregrounds the cultural industries context in the making and circulation of symbolic goods."[2] This approach, which draws, in part, from the work of David Hesmondhalgh and Nicholas Garnham, enables a careful consideration of the complex, contested, and ambivalent production of race in the cultural industries and calls for empirical data that resist perpetual theorizing.
From the outset, Saha is attentive to the ways explorations of race and racism in the cultural industries of the West can flatten histories of colonialism, erase sociospatial specificity, and invite charges of Eurocentrism. As a panacea, Race and the Cultural Industries adopts an interdisciplinary framework—"a sociological approach to cultural production informed by cultural industries research and postcolonial/critical race studies"—vast enough to be applied to transnational studies of media, gender, race, sex, and class.[3] Saha separates the book into three parts—Framework; Media, Race and Power; and The Cultural Politics of Cultural Production—to deftly move from the macro to the micro dimensions of race and cultural production.
The book's first two chapters establish the themes, rationales, and, most importantly, the framework that guides the rest of the book. It is a daunting and ambitious task to combine critical media studies, media industries research, postcolonial studies, and critical race theory, but Saha succinctly balances theoretical conceptualizations of the commodification of race and the politics of representation to highlight what he sees as the disjointed and incomplete contemporary discussions of power, capitalism, and production across cultural industries. To substantiate this, Saha critically examines two fields, production studies of news and cultural studies of production, and surveys their particular approaches to race in media production. Looking at studies from Aymar Jean Christian, Alfred L. Martin, Timothy Havens, and Simone Cottle and their attendant critiques, Saha aims to "piece together and flesh out the existence of race and racism in the cultural industries."[4]
Part II of the book, Media, Race and Power, adopts a macro-level approach to look at the historical and political economic forces that structurally shifted the cultural industries toward neoliberalism. Saha focuses on the issue of commodification to think through the relationship between legacies of empire, race, and capitalism. By combining cultural studies and critical political economy, Saha argues for a reframing that shifts the commodification of race to the notion of "the racialization of the cultural commodity."[5] This, according to Saha, allows for a more discursive interpretation of how commodities become racialized that stresses ambivalence, contradiction, and the permeation of race-thinking in the processes and labor of cultural production. Saha's reconceptualization of the relationship between race and commodification might help us to understand how and why the impact of marketization comes to bear upon people of color and their artistic and political goals in especially distinct and compounding ways.
Furthermore, Saha argues that neoliberalism impacts media and cultural policy in ways that said policies come to operate as a technology of racialized governmentalities. In other words, policy approaches that discursively center diversity or multiculturalism work to obscure and suppress race and racism. Such turns to discourses of diversity and multiculturalism, he maintains, ultimately reproduce whiteness and aid in reproducing racial tropes by erasing critique in favor of celebration. As an example, Saha looks at public service media systems in Europe, Canada, and Australia and considers how the trends of marketization and multiculturalism produce logics that desire the visual celebration of people of color in media spaces, but still operate in ways that collapse difference into politically neutral iterations of innovation, efficiency, competition, and diversity. The result is a "segregated visibility" that, Saha argues, is a "war of position" marked by enabling and constraining forces.[6]
Part III of the book, The Cultural Politics of Cultural Production, adopts a micro-level approach to focus on the dynamics of cultural production and consider how the cultural commodity is racialized. Saha asks two important questions here: First, "how do cultural industries make race during the production process?"[7] and second, "how are cultural texts racialized at specific stages in the production process?" Chapters 5 and 6 take on the heuristic weight of demonstrating how rationalizing logics can work in ways that constrain the practices of cultural producers, particularly producers of color. Saha examines the relationship between media production and representation through empirical research based on a combination of participant observation, interviews, and his own ethnographic research on British South Asian cultural production. One of the strengths of this more grounded analysis is Saha's application of Timothy Haven's "industry lore" as a specific site of value. He illustrates how such lore speaks to the racialist logic, disguised as business-savvy, that underwrites the production of "Othered cultural goods."[8] The most complete articulation of this racialized formation is Saha's concept of the rationalizing/racializing logic of capital. Using case studies that include the examination of the formatting of actress and singer Keke Palmer by her former record label, Atlantic, Saha argues that marketing, packaging, and formatting processes contain complex logics that rely on reductive tropes despite radical intentions.
Chapter 6, which explores enabling media spaces for people of color working in the cultural industries, is the most generative in that it offers a way to think through how commodification— despite its limitations—nonetheless opens up opportunities for cultural producers to resist and rupture hegemonic notions of race. Saha considers independent modes of production, even in commercial enterprises, as sites of potentiality. He perceives such modes as having the ability to mobilize commodification to achieve aesthetic, political-economic, or sociocultural goals. One apt example employed through Saha's case studies is Tyler Perry's commercial and cultural success created and sustained by staying independent and employing community outreach as a marketing strategy. Saha conceives of Perry as a cultural industry unto himself and in doing so shifts the emphasis of these kinds of case studies from a valuation of "how independent production resists capitalism" to "how effective independent practices harness commodification for the sake of aesthetic, socio-cultural, or political-economic goals."[9] There is a discussion to be had about the politics of Perry's filmic representations, but that unfortunately falls outside the scope of Saha's new theory of the rationalizing/racializing logic of capital as both a constraining and an enabling force.
Chapter 7 concludes the book by synthesizing Saha's argument that the study of race in the context of cultural production demands greater attention. According to Saha, an effective politics of production takes seriously the issues of policy and regulation, the protection of public service media, the agency of the creative worker, and the experience of industrial cultural production.
Race and the Cultural Industries is a challenging yet engaging read, thanks in large part to Saha's depth of theoretical genealogies. The interdisciplinary framework could prove useful for studies of race, media, and cultural industry practice. While it may seem obvious to say, the contemporary political moment begs for challenging and subversive counternarratives. If, as Saha emphasizes throughout the book, popular culture still matters, how should we hold the agency of the author, the text, the technology, and the production in enough delicate tension so as to not lose sight of potential and necessary disruptions? While no ideal circumstance exists to bring about a fully realized representation that resists all machinations of race, recognizing how cultural industries assist in making race moves us in the right direction.
---
Top of page