Book Review
Chung, Hye Jean. Media Heterotopias: Digital Effects and Material Labor in Global Film Production. (Durham, NC: Duke University Press, 2018.)


Skip other details (including permanent urls, DOI, citation information)
This work is licensed under a Creative Commons Attribution-NonCommercial-NoDerivatives 4.0 International License. Please contact mpub-help@umich.edu to use this work in a way not covered by the license. :
For more information, read Michigan Publishing's access and usage policy.
In Media Heterotopias: Digital Effects and Material Labor in Global Film Production, Hye Jean Chung defines and demonstrates her concept, media heterotopia, as a mode of perception which recognizes within digitally composited cinematic images the material traces of globally dispersed film production spaces and workers. Industrial and popular press surrounding digital film production emphasizes the seamlessness and fluidity of digitally composited cinematic environments and characters. Chung argues that this rhetoric obfuscates "the reality of local circumstances, geopolitical frictions, and distribution of labor in global production pipelines that, at times, sustains and reinforces structural inequalities and cultural hegemony."[2] Thus, situating her project at the intersection of transnational film studies, production studies, and critical theory, Chung's intervention attempts to reclaim materiality of digitally created imagery to reconnect it to its material industrial context.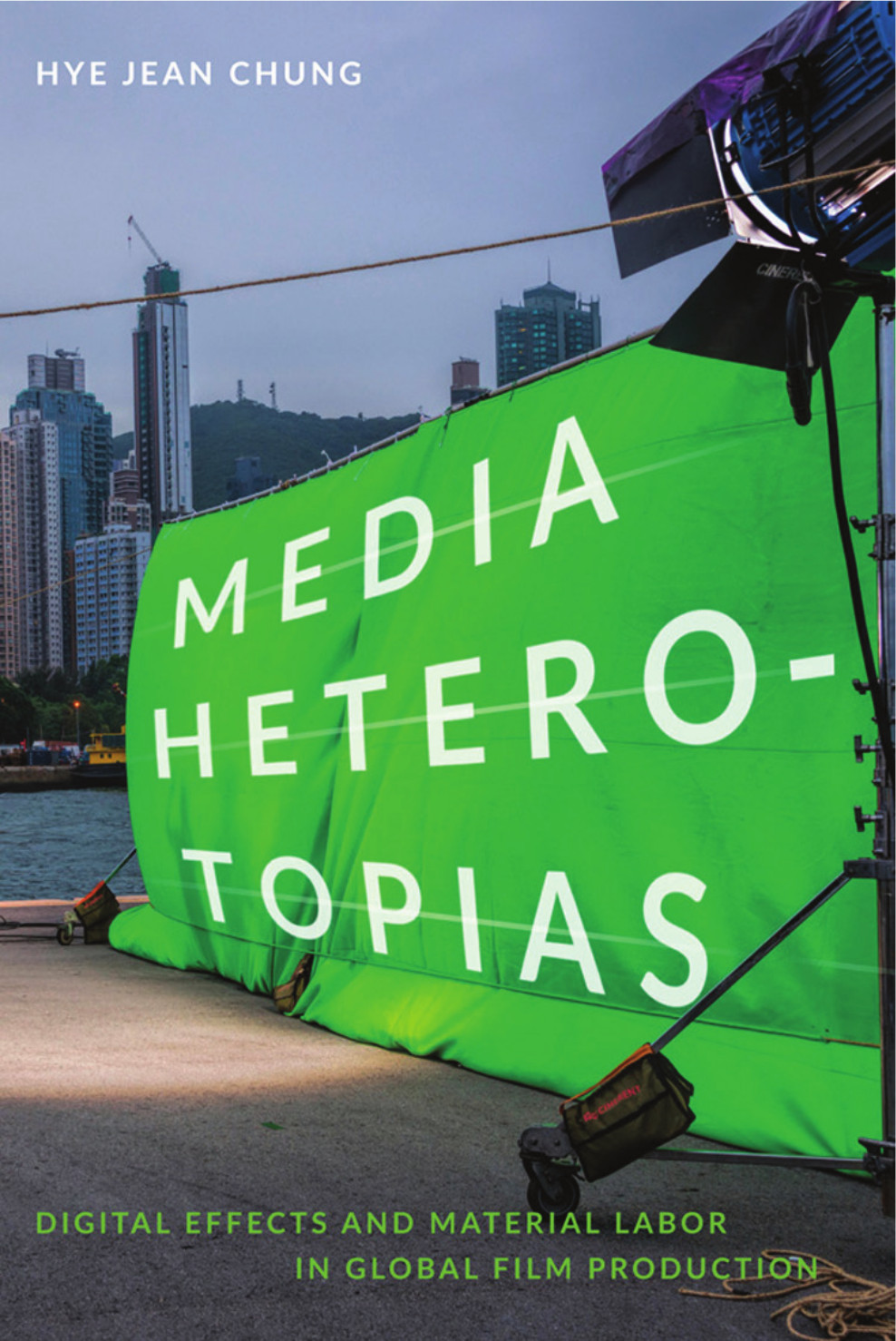 Foucault defined heterotopias as culturally constructed counter sites: places like prisons, cemeteries, museums, fairgrounds, formal gardens, brothels, and cinemas. The purposes of these other places are either to create "another real space, as perfect, as meticulous, as well arranged as ours is messy, ill constructed, and jumbled," or, as in the case of cinema, "to create a space of illusion that exposes every real space, all the sites inside of which human life is partitioned, as still more illusory."[3] Other scholars, most notably Giuliana Bruno, have used the concept of heterotopia to describe cinema as a site "capable of juxtaposing in a single real place segments of diverse geographic worlds and temporal histories."[4]
In contrast, a media heterotopia, as defined by Chung, does not describe the real place of a movie theater at all, but rather refers to the composited landscapes and/or characters of digital cinema. By shifting her application of the concept of heterotopia from the physical site of cinematic experience to the spatial and temporal representations within the cinematic text, Chung can begin to identify material traces of the many real sites of labor where the digital elements of that text were constructed.
In her first chapter, "Heterotopic Media: Assembling the Global in Digital Cinema," Chung gives examples of the industry's rhetoric of seamlessness and contrasts this with an examination of the complex, transnational, collaborative processes facilitated by digital technologies. She emphasizes that, ephemeral as it may be, digital cinema "is still embedded in, and has repercussions on the historically and geopolitically specific material conditions of media production, distribution, exhibition, storage, and maintenance."[5]
Chung's second chapter, "Heterotopic Mapping," analyzes two films, The Fall (Tarsem Singh, 2006) and Ashes of Time Redux (Wong Kar-wai, 2008), as maps by which she tracks the traces of transnational production, distribution, and exhibition. Filmed on location in twenty-four countries, The Fall compresses spaces and time to represent a fantasy of global travel, blurring the cultural and geographical specifics of its locations. Chung uses the heterotopic approach to call attention to the traces that remain within the film of its actual transnational production. In the special case of Ashes of Time Redux (2008), Chung explains that to reconstruct his original 1994 film, Wong Kar-wai had to turn to distributors and various Chinatown film theaters to find otherwise lost segments of the original. Thus, Chung reads Redux as a map of international distribution practices and the Chinese diaspora.
Chung's third chapter, "Heterotopic Modularity," explores the industrial praise surrounding the virtual production technologies used in James Cameron's Avatar (2009). The film's success masked the complexities of its production pipeline, which required a global network of VFX vendors. Chung also points out material marks of the real-world production sites of Avatar and Interstellar (New Zealand and Iceland, respectively) within the films' composited, other-worldly settings. She underscores how location shooting practices "commodify, promote, and consume national territories as alien, otherworldly, primitive, or fantastical landscapes" and "ultimately leave behind indelible marks, footprints, and physical legacies in imaginary and material forms."[6]
Chapter 4 focuses on digitally constructed bodies or monstrosities in The Host (Bong Joon-Ho, 2006) and Godzilla (Gareth Edwards, 2014). These transnational, composite monsters combine culturally specific elements in a negotiation between their nationally specific contexts (Korea and Japan, respectively) and the need to create a globally marketable product.
The last chapter, "Heterotopic Materiality," examines The World (Jia Zhangke, 2004) and Disney's Big Hero 6 (Don Hall and Chris Williams, 2014). The World depicts a theme park (based on two actual theme parks) which, via scaled-down recreations, allows its visitors to see the world without ever leaving Beijing. Big Hero 6, based on a comic set in Tokyo, was transposed by Walt Disney Animation to San Fransokyo, a fictional hybrid in which Japanese culture is mapped onto San Francisco geography. Chung sees in these films the dark and lighter sides of contemporary fantasies of cosmopolitanism and unlimited mobility while again reminding us of the creative labor and material conditions behind them.
Chung's nuanced readings of each of the film texts are Media Heterotopia's strongest sections. Placing these films in dialogue, Chung reveals intricate explorations of national, transnational, and global identity operating in both narrative and visual registers. The fantasies the films articulate contrast dramatically with the realities of global production which their seamless digital aesthetics obscure.
Less successful is Chung's definition of "media heterotopia." Wanting to avoid a "sweeping generalization that all audiovisual texts are media heterotopias,"[7] Chung limits the definition to digitally composited imagery, although The Fall's heterotopic landscapes were created nondigitally, via traditional editing. This begs the question, why shouldn't all composited cinematic spaces be viewed as "media heterotopias?" The Baghdad over which Douglas Fairbanks flew on a magic carpet, the Manhattan trampled by King Kong, the Tatooine desert young Luke crossed with Obi Wan—all of these nondigital composites also have much to say about contemporary fantasies of mobility, exoticism, modernity, other-worldliness, and the production labor that created them.
In shifting the concept of heterotopic space from the movie theater to the represented space on the screen, Chung shifts focus from the physical experience of the spectator to that of the digital worker by way of material traces left like clues within the filmic image. The spectator is not taken into account in this equation except in a sort of admonition: "the illusory seamlessness of the finished product should not obstruct the spectator's cognizance of the material practices of labor that take place in the collaborative process of digital filmmaking."[8] It seems highly unlikely that a film viewer could discern from digitally composited imagery as it flashes by on the screen the full extent of the labor involved—the hours of labor, the number of people, their nationally embedded locations, their working conditions—no matter how media-savvy that viewer may be.
Nonetheless, as a method of exploring and articulating the digital imaginary and fantasies of transnational or cosmopolitan other places, Media Heterotopias is an inspiring and intriguing accompaniment to the work of production studies and media industries scholars who focus directly on the issues and conditions surrounding digital global production, labor, networks, and practices.
---
Top of page