Book Review
Murray, Simone. The Digital Literary Sphere: Reading, Writing, and Selling Books in the Internet Era. (Baltimore, MD: Johns Hopkins University Press, 2018.)


Skip other details (including permanent urls, DOI, citation information)
This work is licensed under a Creative Commons Attribution-NonCommercial-NoDerivatives 4.0 International License. Please contact mpub-help@umich.edu to use this work in a way not covered by the license. :
For more information, read Michigan Publishing's access and usage policy.
Simone Murray's examination of the impact of the internet on literature takes a broad cultural-industrial approach, linking together a political economy of book publishing and marketing with a user-based consideration of what it means to be a literary book lover in the online era. This look at how literature is made in contemporary contexts includes the financial, creative, and institutional stakeholders in its production as well as the interactions that establish a cultural value of the literature. To do this, Murray coins and then charts the concept of the "digital literary sphere," an assemblage of participants who contribute to, benefit from, and occasionally undermine the configuration of modern book literature.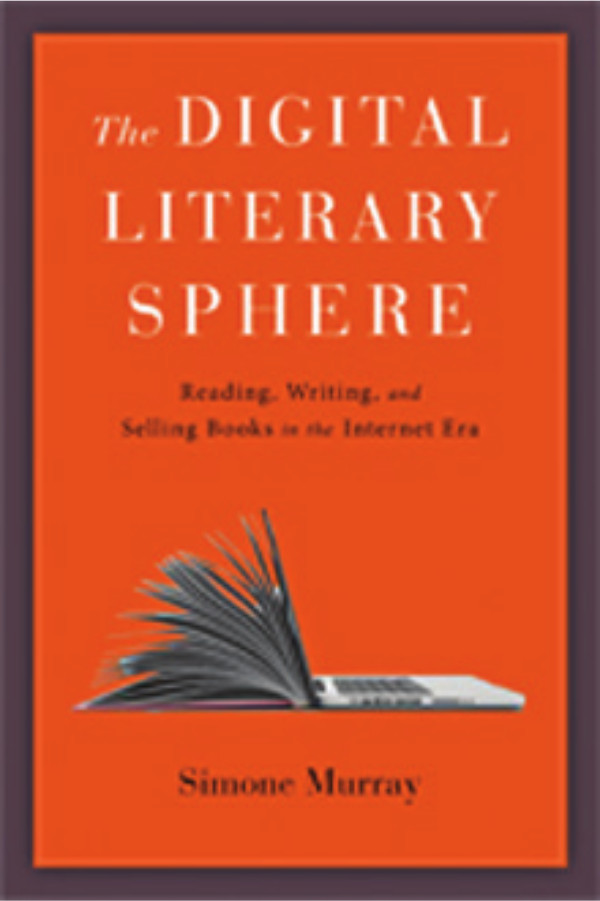 The scope of this digital literary sphere is both specific and comprehensive: Murray ties together all aspects of producing, circulating, and consuming books in an online environment while concentrating only on those works considered (or aspiring to be) literature. As a result, nontraditional and disruptive strategies taken up by nonliterary works—including genre fiction, much of the burgeoning self-publishing market, and digital-born serial narratives that are produced on blogs, in fan fiction circles, and on social sites—are all largely beyond the scope of Murray's argument, except as occasional means of illustrating book literature's adherence to its own traditions even in the face of technological and cultural shifts. Within its focus on literary works, Murray's conception of the digital literary sphere is inclusive and complex, incorporating textual and paratextual materials that frame experiences of literature online, including authorship, critical discussion, accolades, and community readership.
This project is inherently interdisciplinary. Though most rooted in book history in theoretical and methodological approach, Murray ably incorporates literary studies, new media and digital research, and, to a lesser extent, media and cultural studies throughout her work. This comprehensive approach can, at times, prove a challenge, as talking across disciplines often is: Research that is vital and timely in book history may be old news in other fields, for example. This work often seems to be translating media studies for a book history readership more than the reverse and spends substantial time situating its intervention into respective fields. Nevertheless, Murray provides an insightful, thorough examination of the complex and interrelated components that comprise the creation, circulation, and consumption of digital literature as simultaneously industrial, technological, and cultural practices.
Chapter 1 attends to what Murray calls "performing authorship," a term that acknowledges the ongoing public demands placed on authors in a contemporary market. Digital technologies may make it easier for individuals to become creators, but they also contribute to higher expectations for the amount and scope of authorial labor. Authors in the digital literary sphere take up as a matter of standard practice the kind of immaterial labor common across digital media contexts. This labor includes constant content production, a promise of interactivity, and the need to cultivate a sense of intimacy between the author and the reader. Digital media restructures authorial performance to one that is, at least ostensibly, less mediated by publishers and the author's own fictional prose; discussion of celebrity authenticity in social media performance has been taken up extensively in media studies,[2] and the conclusions here are very similar.
More interesting are the varieties of DIY authorial construction offered by writers who embrace, sometimes begrudgingly, the expectations placed upon them. From young adult author John Green's immersion in social media as a means of publicity, interaction, and research to Jonathan Franzen's high-profile critique of authors' Twitter presence as a signal of everything wrong with these modern times, established authors have taken to the persistent, inescapable demands of technology with a predictable range of willingness. These examples have significant implications for emerging authors, who do not have the option of eschewing the increasing demands of unpaid, immaterial labor of establishing and performing their own authorship—nor of taking the route of George R. R. Martin and outsourcing such work to paid "minions."[3] Left unsaid are the ways in which the relentless, uncompensated demands on authors' time echo the increasingly exploitative challenges for aspiring creative workers across the media industries.
Both chapter 2, on "selling" literature, and chapter 5, on performative reading, are about the commodification of community, although many of the close connections between these practices are not fully explored. By "selling," Murray includes marketing, publicizing, and retailing of literature and argues that, with digital tools, it is no longer enough for readers to buy books; publishers and retailers are now focused on media industry terms like "stickiness" and "engagement" to gauge success. Murray compellingly illustrates digital-born strategies adopted by both traditional and independent publishers, including book trailers and blog tours. These practices introduce digital paratexts to print literature, ones that, as Murray notes, "productively complicate neat divisions between the 'inside' and 'outside' of a text"[4] and rely heavily on the affective attachments of online reader communities to produce, circulate, and interact with promotional materials. Murray slots much of her consideration of Amazon's outsized impact on digital publishing here, noting the company's early reliance on user reviews and recommendation algorithms to create an aura of book-smart public discourse. While insightful, the examination does not delve deeply into Amazon's ongoing efforts to expand their corporate reach, up to and including becoming a digital publishing house themselves, such that books have become a mere cog in Amazon's vast realm that now includes multiple other media platforms.
A deeper, more contemporary, examination of Amazon's role in the digital literary sphere would inevitably link to chapter 5's discussion of performative reading: curation of virtual bookshelves on literary-themed social sites, virtual book clubs, and collective reading challenges. Murray separates industry-driven, for-profit efforts to direct the practice of reading from the "purer" form of book talk promoted by the semi-anonymous community found in virtual book clubs that are brought together by a mutual love for reading. The primary case study is Infinite Summer, a 2009 virtual challenge to collectively tackle David Foster Wallace's sprawling novel Infinite Jest. Murray argues that the practices of both small and mass-scale online reading programs diffuse a sense of critical authority over content and create immeasurable interventions in the practice of reading and its interpretive power. Even based on a sense of "reading together," the Infinite Summer experiment linked to a commodity function of the literary industry as participants shared both their experience and their acquisition/possession of the material book. Murray illustrates here that the digital literary sphere is built on the affective attachments and common interests of the existing literary community but "are under constant pressure in the digital literary sphere to demonstrate their financial utility."[5]
Perhaps most dramatically altered by the intervention of digital technology are the practicalities of book festivals, discussed in chapter 3. Literary festivals in offline contexts are structured by the co-presence of attendees and an embeddedness in the cultural geography of the host city; they are also fiercely competitive at preserving relevance, maintaining access to high-draw talent, and cultivating a distinct identity. The pressures of literary festivals in offline cities, Murray effectively argues, make online alternatives particularly attractive: They are dramatically cheaper, and the erosion of the distinctions between the author and the reader makes participatory—rather than presentational—events more desirable. The challenge for online literary festivals is to mimic the sense of liveness offered by geographically based events. Murray's contention that liveness and mediation are not mutually exclusive—and, indeed, that even large-scale in-person events are themselves mediated—is a compelling one, and her subsequent argument that a sense of liveness, regardless of how it is constructed, is essential to the effectiveness of online literary events is one that easily translates beyond the digital literary sphere to applications across media.
Finally, chapter 4 wrestles with book review culture. Murray contends that the distributed structure of the internet and the proliferation of user-generated criticism can coexist with the perpetuation of a cultural hierarchy that is inherent in systems of reviewing. The digital literary sphere housed rather predictable tussles between "professional" critics (who were often more "freelancer" than "professional") and the presumed underqualified interlopers of regular readers posting reviews online. Although literary criticism in traditional venues may hold the line on literary quality, Murray argues that reviews on retail sites and nonprofessional book blogs reintroduce affect into the critical process. This affect, along with ongoing interactions among authors, readers, and reviewers, frames the experience of criticism in the digital literary sphere, privileging the pleasure and experience of reading more than traditional reviews typically do. Digital platforms also illustrate reader limits in an "everyone's a critic" environment: Amazon's sock puppet scandals, in which positive reviews purportedly posted by average readers turned out to be products of publishers, friends, or authors themselves. This illustrates that the digital literary sphere may adhere to both distributed and hierarchical standards, but it nevertheless expects a degree of authenticity in its reviews.
The Digital Literary Sphere is a valuable primer on the contemporary state of literature in an internet culture. Murray acknowledges that academic research based on the economic and technological here-and-now is doomed to be dated before it reaches publication—and indeed, these case studies can feel borne of a previous era of the internet more than present day. Despite this, the thorough approach of Murray's work provides an institutional and cultural history for how digital literature arrived at its present moment.
---
Top of page