Book Review
Vogan, Travis. ABC Sports: The Rise and Fall of Network Sports Television. (Oakland: University of California Press, 2018.)


Skip other details (including permanent urls, DOI, citation information)
This work is licensed under a Creative Commons Attribution-NonCommercial-NoDerivatives 4.0 International License. Please contact mpub-help@umich.edu to use this work in a way not covered by the license. :
For more information, read Michigan Publishing's access and usage policy.
While it may seem unimaginable today, sports television has not always constituted the central focus of American network television. Sports reporting has historically occupied an important niche in the television broadcasting schedule, but sports reporting before the 1960s was often relegated to non–primetime spots. In ABC Sports: The Rise and Fall of Network Sports Television, Travis Vogan describes how ABC, the youngest major US network, used sports reporting to strategically build a distinct brand and attract a steady, youthful audience.[2] ABC Sports, through its flamboyant style and its emphasis on human-interest narratives, revolutionized sports television as entertainment. Vogan not only demonstrates ABC Sports' pivotal role in sports media but also illuminates "sport's vital role in shaping what television does, and television's crucial part in impacting what sport does."[3] Vogan, in his study of ABC Sports, captures the truly symbiotic relationship that has developed between sports and television throughout the twentieth century.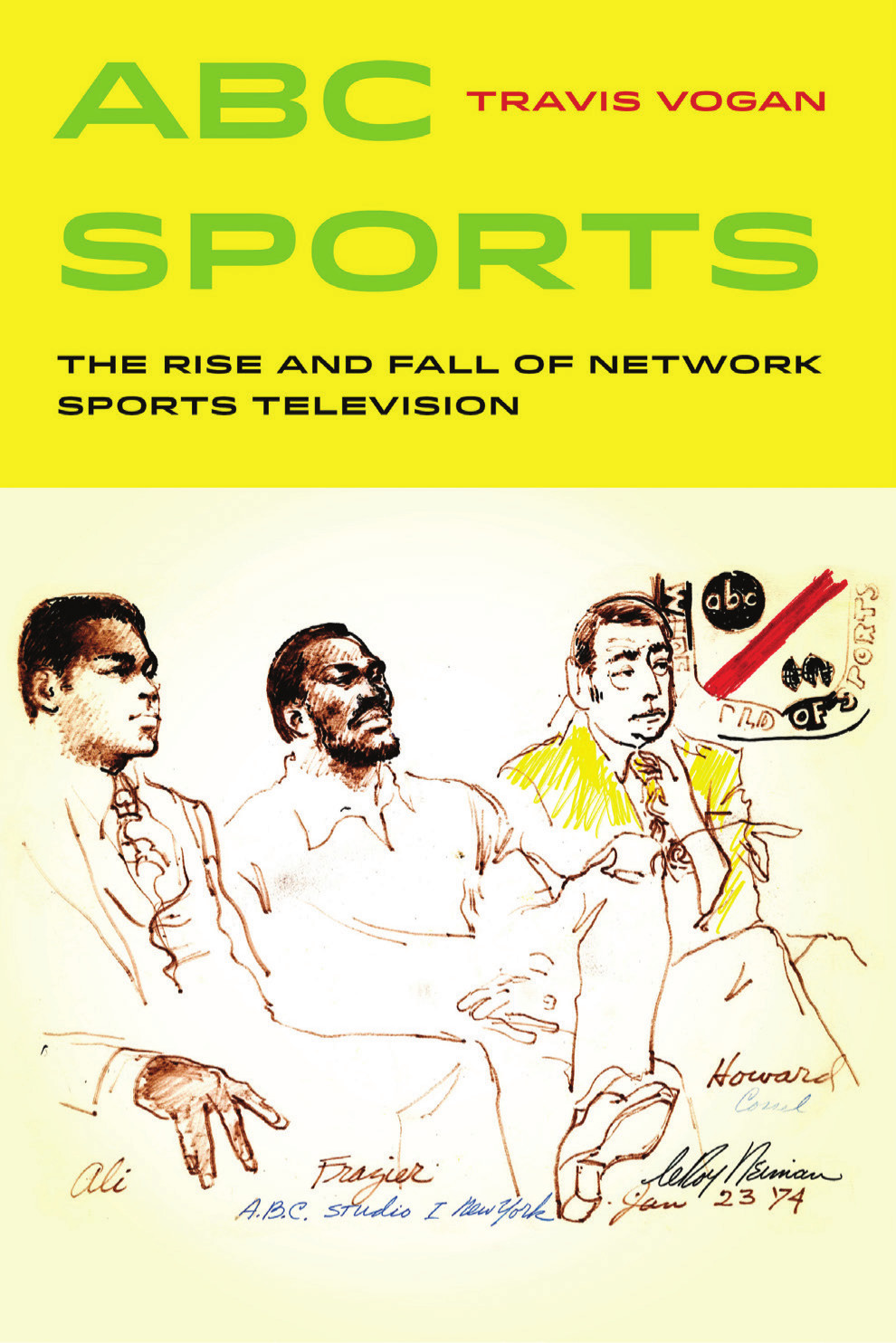 Despite ABC's later prominence, in its early years (the 1940s) it was often referred to as the "Almost Broadcasting Company."[4] NBC and CBS—the first two major US networks—shared the riches, while ABC struggled to survive on the scraps.[5] Occupying the lowest position in the industry hierarchy, ABC was the least popular and least lucrative major network. ABC's survival relied upon smart programming decisions geared toward the youth audience. To raise its profile, the network decided that it would set itself apart on the basis of unique and dynamic sports programming. In 1960, ABC hired Roone Arledge—a young NBC producer—to implement this strategy. Arledge, who had little experience in sports media, entered ABC with a vision: "to emphasize the drama surrounding sporting events to amplify their spectacular status and to attract those . . . who might not care about games but were interested in the stories and personalities they harbor."[6] Vogan argues that ABC's strategic decision to focus on sports television at this time reflected a larger shift in the structure of the sports industry in which television quickly became many sports establishments' essential source of profits. This shift also led to changes in the manner in which sports events were staged.
After describing ABC's position in the media landscape and the network's new approach to sports television, Vogan discusses many of ABC Sports' more popular and respected broadcasts. In chapter 2, Vogan discusses ABC Sports' celebrated anthology, ABC's Wide World of Sports. Wide World and its host Jim McKay traveled the world and reported on both known and unknown cultures and sports events. Vogan notes that while Wide World presented itself as apolitical, the show carried "an unmistakably American point of view and built an audience through engaging dominant attitudes about the United States' place in the world during the Cold War."[7] In chapter 3, Vogan describes ABC Sports' relationship with the Olympics. ABC used its established hit show, Wide World, to preview and introduce viewers to Innsbruck, Austria, the location of the 1964 Olympics. After ABC's success at Innsbruck, the network decided to deepen its bond with the Olympics (claiming the "Network of the Olympics" nickname). During the same period, legendary ABC Sports commentator Howard Cosell began his reign over American sports coverage. Cosell's on-air relationship with Muhammad Ali proved advantageous for ABC Sports. The relationship exploited Ali's image, but also gave Ali a public space "to explain his point of view."[8]
Chapter 4 focuses on ABC's shifting use of prime-time slots for sports shows such as Monday Night Football (MNF). MNF began in 1970 and used charismatic hosts (Howard Cosell, Frank Gifford, and Don Meredith) and celebrity guests (e.g., Burt Reynolds, Ronald Reagan, and John Lennon) to excite sports fans and attract viewers who did not care about the game. The network supplemented MNF by showing made-for-TV films (Brian's Song, 1971) and dramatic series (Roots, 1977) in prime-time Monday slots. These programming decisions also drew in audiences who might not normally watch television. ABC's innovative prime-time programming strategy during this period even inspired the National Football League (NFL) to begin scheduling the Super Bowl for prime-time slots starting in 1978.
In chapter 5, Vogan examines ABC's coverage of the 1972 Munich Olympics. During the Munich hostage crisis, ABC utilized "its position as the media outlet with the most equipment, personnel, and resources present" to act as an impromptu news unit and "became the primary source for TV coverage of the crisis."[9] Mainly due to ABC Sports' impressive work in Munich (under Roone Arledge's command), in 1977 Arledge was named as the head of ABC's news division. By this time, ABC was not only the top network in the United States, it also gained "the largest lead of any TV network ever" over the other networks.[10]
Subsequently, chapters 6 and 7 chronicle the slow but inevitable breakdown and demise of ABC Sports. Chapter 6 focuses on ABC's "TrashSports," over the top made-for-TV sport specials, and other ABC "athletic" spectacles such as the Battle of the Sexes tennis match and Evel Knievel's daredevil stunts. ABC undermined the respected position it had established for its news and sports coverage with gimmicks and over-the-top entertainment. In the book's final chapter, Vogan examines ABC's struggles throughout the late 1970s and early 1980s. In 1985, Capital Cities Communications bought ABC. Due to Capital Cities' differing focus, this purchase led to a very changed ABC Sports (one without Roone Arledge or the Olympics). Alongside these changes, the rise of cable sports television, the advent of ESPN, and the birth of the Fox network combined to eradicate ABC Sports altogether, with ABC Sports eventually becoming "ESPN on ABC" in 2006.[11]
ABC Sports: The Rise and Fall of Network Sports Television, along with Vogan's other work, ESPN: The Making of a Sports Media Empire and Keepers of the Flame: NFL Films and the Rise of Sports Media, provides a compelling account of the synergistic relationship between the media and sports cultural sphere. Vogan's otherwise thorough research leaves one area relatively underrepresented: His study of ABC Sports touches upon issues of race and gender, but a deeper discussion of such issues could have strengthened the book. Nevertheless, Vogan employs his impressive historical and archival research skills to develop an important cultural analysis of American sports media. Vogan's research helps fill large holes not only in the area of sports studies but also within the broader field of media studies.
---
Top of page