HBO's e-EUtopia

Skip other details (including permanent urls, DOI, citation information)
This work is licensed under a Creative Commons Attribution-NonCommercial-NoDerivatives 4.0 International License. Please contact mpub-help@umich.edu to use this work in a way not covered by the license. :
For more information, read Michigan Publishing's access and usage policy.
Abstract
HBO has carved out a unique position in the crowded European television marketplace among the many competing terrestrial, cable, and over-the-top streaming services. In a European Union fraught with political and economic divisions, where the dream of a pan-European identity is receding farther and farther into the distance, the values associated with the HBO brand—quality, flexibility, mobility, and cosmopolitanism forged across local affinities—have conjured up what comes closest to a palatable and desirable European identification. There is a synergy between the European Union's cultural and economic policies, which have been visualized as a database of nimble, adaptable identifications among equally available national, regional, European, and global registers at once, and its media regulation directives, which favor borderless, increasingly Internet-based media services that are able to operate in a trans-European and global scope and offer an expansive catalog of viewing choices to the savvy, cosmopolitan European consumer. HBO is an exemplary match for this cultural, economic, and regulatory landscape. Its catalog of high-quality films and TV programs is available via cable and via streaming platforms, and its specialization in creating quality format adaptations and original television series combines a transnational aesthetic sensibility with themes and genres that resonate across countries but are delivered with local inflections.The HBO brand has given a viable representational form to a pan-European identity that has been criticized as idealized and exclusionary in the past few years. This is a complex phenomenon fraught with irony, where technology, production strategies, delivery platforms, and marketing as well as local histories, themes, narratives, genres, and aesthetics all play a role. I acknowledge this complexity when examining how the HBO brand has aligned itself with the elusive European brand, navigating across the various crises and divides that have afflicted the European Union in recent decades. I am particularly interested in HBO's work in bridging the political division between Eastern and Western Europe through establishing production companies and making original programs in countries of the former Eastern bloc. In the final part of this article, I look more closely at the Romanian original crime drama series Umbre (Shadows, 2014–) and the Hungarian original Aranyélet (Golden Life, 2015–) as case studies of how the HBO brand, set free by digital mobilities, inhabits and makes available to its audiences an aspirational European identity that sews together supranational and national identifications. I conclude on a critical note to evaluate the significance of the HBO brand's digital remapping of the European cultural space.
Keywords: HBO, Europe, Streaming, Nationalism, Quality
HBO has carved out a unique position in the crowded European television marketplace among the many competing terrestrial, cable, and over-the-top (OTT) services. In a European Union fraught with political and economic divisions, where the dream of a pan-European identity is receding farther and farther into utopian distance, the values associated with the HBO brand—quality, adaptability, and cosmopolitanism forged across local affinities—have conjured up what comes closest to a palatable and desirable European identification. There is a synergy between the European Union's cultural and economic policies, which have been visualized as a database of nimble, adaptable identifications among simultaneously available national, regional, European, and global nodes and its media regulation directives, which favor borderless, digital services that are able to operate in a trans-European and global scope and offer an expansive menu of viewing choices to the savvy, cosmopolitan European consumer. HBO is an exemplary match for this cultural, economic, and regulatory landscape. Its catalog of high-quality films and TV programs is available via streaming platforms in most of the European Union, and its specialization in producing quality format adaptations and original television series combines a transnational aesthetic sensibility with themes and genres that resonate across countries but are delivered with local inflections.
HBO has given a viable representational form to a pan-European identity promoted by the European Union that has been criticized as idealized and exclusionary in the past few years. This alignment between the HBO brand and an aspirational European identity is a complex phenomenon in which technology, production strategies, delivery platforms, and marketing as well as local histories, themes, narratives, genres, and aesthetics all play a role. I acknowledge this complexity when examining how HBO has come to embody a version of the elusive European idea, navigating across the various crises and divides that have afflicted the European Union in recent decades.
One of the most contradictory aspects of HBO's work in Europe is bridging the increasing political division between Eastern and Western Europe. Indeed, given that the values embraced by HBO are much more closely associated with the social democracies of the core (Western) EU states, it is counterintuitive, to say the least, that the company first established itself in the postsocialist East in the aftermath of the Cold War and that HBO Europe has retained its headquarters and most extensive activities in Eastern Europe and the Balkans. What are the implications of the fact that HBO has staked out its corner of the European "Digital Single Market" in countries whose governments have been closing down their borders, recentralizing their media markets, and reinstituting ideological control through censorship? In the final part of this article, I look more closely at the Romanian crime drama series Umbre (Shadows, 2014–) and the Hungarian original Aranyélet (Golden Life, 2015–) to illustrate and expand on these implications. I conclude on a critical note to assess the limits of HBO's efforts at sewing together supranational and national identifications and its digital remapping of the European cultural space.
HBO in Europe
HBO's first expansion into Europe occurred in 1991, just two years after the fall of the Berlin Wall, when HBO launched its first premium pay cable channel in Hungary on Kabelkom, a joint venture between Time Warner and Sony Pictures, transmitted by microwave relay. Disney entered the joint venture in 1995. HBO Hungary had a subscriber base of one hundred sixty thousand households by 1994. In 2010, Time Warner bought out Sony and Disney and became the sole shareholder of the company. HBO Digital, a subscription video-on-demand (VOD) service, was made available in a number of markets during the same period.
HBO Hungary was followed in Eastern and Southern Europe by HBO Czech Republic in 1994 (including service in Slovakia from 1997), HBO Poland in 1996, HBO Romania (covering Moldova) in 1997, HBO Bulgaria in 2002, HBO Adria (covering Croatia and Slovenia) in 2004, and HBO Serbia, Bosnia and Herzegovina, and Montenegro and Macedonia in 2006. Across these territories, HBO has been offering the primary HBO and Cinemax linear programming services in standard and HD, as well as multiplex services including HBO2, HBO Comedy, and Cinemax 2.[2] HBO Europe's headquarters are presently in Budapest and Prague.
Rather than building its own premium cable operations as it did in the East, in much of Western Europe, HBO preferred to enter into distribution deals with various European media and telecommunication companies. Most prominently, Sky Atlantic, operated by the pan-European company Sky plc, carries most of HBO's programming in Austria, Germany, Ireland, Italy, Switzerland, and the United Kingdom. The only exception was the establishment of short-lived cable channel HBO Netherlands in 2012, which was made available on cable provider Ziggo until Ziggo acquired the broadcasting licenses for HBO content for the Dutch market in 2016, also making the content available as VOD. HBO Nordic, a joint venture with Parsifal International and serving Denmark, Finland, Norway, and Sweden, began operating as a multiplatform video distribution and VOD service in 2012. It had around six hundred fifty thousand subscribers in 2016.[3] In its most recent expansion in Europe, in an attempt to compete with Netflix, HBO launched HBO España in 2015 as a standalone streaming service, similar to HBO Now, HBO Go, and HBO Nordic. HBO España offers all seasons of HBO original content, allowing subscribers to add five different devices to their subscription.[4] HBO no longer licenses its programming to pay-TV operations in the country and has retained the exclusive rights to its shows for the service.[5]
The OTT streaming service HBO Go, which has been introduced in phases in the various territories (2010 in Poland, 2014 in Romania, 2017 in Scandinavia, and 2015 in much of Eastern Europe), is now available to all Eastern European subscribers.[6] It is offered on a maximum of five connected devices, with a free month's trial, at a rate of €6.99 per month, and €4.99 per month in Romania.[7]
HBO's steady post–Cold War growth and unbroken success in Europe in the face of fierce competition has much to do with its ability to embrace and take advantage of the European Union's interlinked economic, technological, and cultural goals for the European media and telecommunications market. While it is increasingly operating as a pan-European network across its territories, HBO has simultaneously benefited from EU regulation's emphasis on international, digitally-facilitated connectivity and the simultaneous fragmentation of European audiences into national communities that embrace locally relevant content.[8]
HBO in the European Union's e-Society
HBO's virtual map of European "territories," parceled up by nations and regions with a well-calculated recognition for the need to cater to national and regional identities, has brought to life a kind of e-EUtopia under the umbrella of a corporate brand. As HBO CEO Richard Plepler describes the seamless experience of browsing HBO's offerings in an always- available, flexible catalog of experiences, "our subscribers need to feel that they are living in a HBO environment, no matter which platform they choose to use."[9] Elsewhere, Plepler explains, "One thing is clear when you speak to distributors around the world: The more you can bring in an indigenous sensibility combined with an HBO sensibility to that market, the better you're going to do."[10]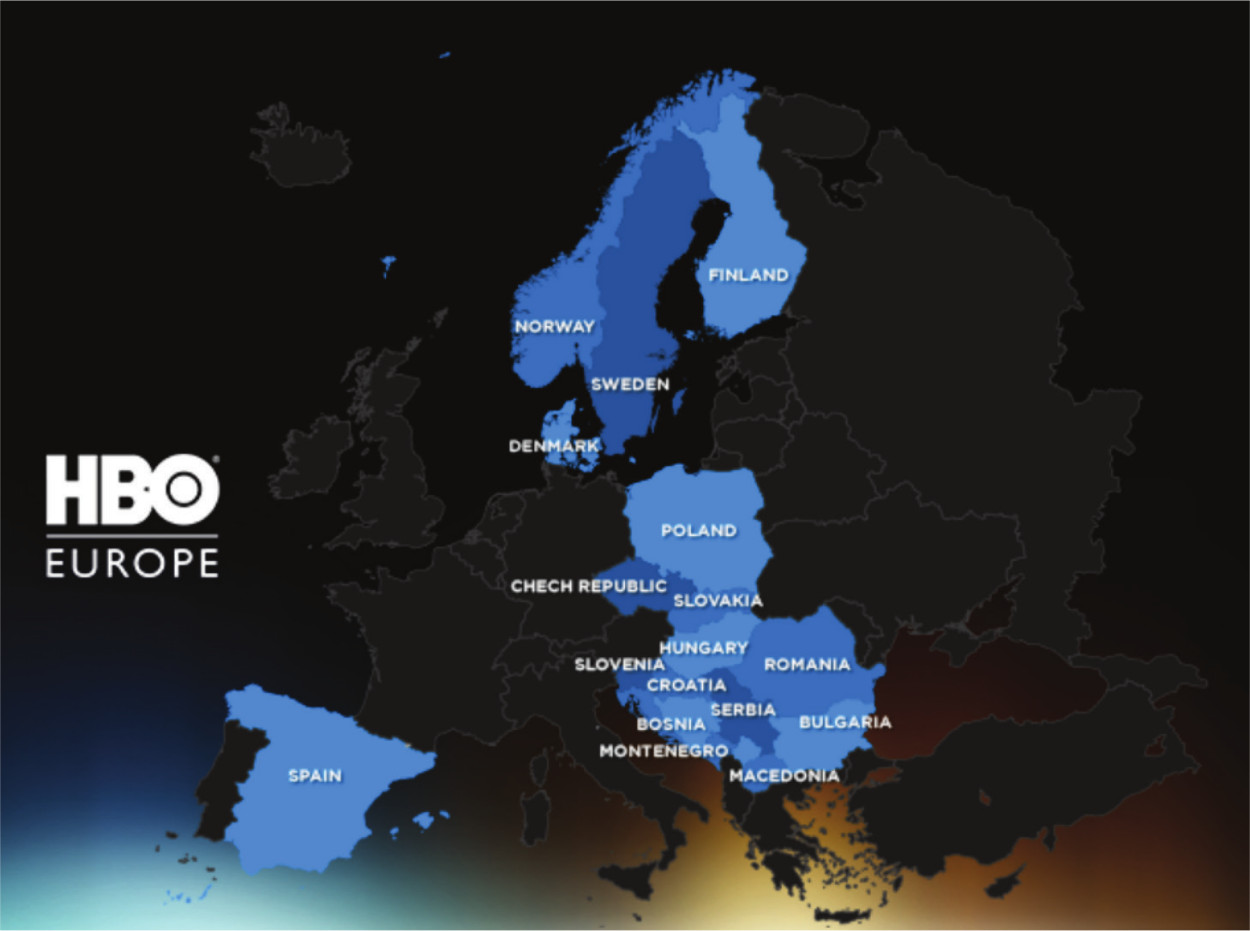 Figure 1. HBO's European availability.
Source. http://www.hbo-europe.com/.
The dual goal of combining a pan-European brand habitat with an indigenous sensibility recalls the European Union's twofold regulatory direction over the past thirty years: to facilitate the transnational expansion of integrated and flexible media corporations within an increasingly integrated Union while maintaining protections for national public service media, local tradition, pluralism and diversity.
The 1984 Green Paper that initiated the regulation of the European Union's audiovisual policy identified as its goals the creation of a common European audiovisual space by means of shared TV programs, establishing closer relations among nations, and spreading awareness of a pan-European heritage, a shared fate, and a common identity. In other words, early policy was intent on deploying audiovisual services as vehicles that engineer loyalty among European citizens to a supranational Brand Europe. The emphasis on fostering a common identity has somewhat faded in the course of subsequent, major policy updates, from the 1997 Television Without Frontiers Directive through its 2007 update, the Audiovisual Media Services (AVMS) Directive. These more recent policies have trended strongly toward commercialization, deregulation, media convergence, and corporate concentration. The policy direction of AVMS is described in the European Commission's statement on "Digital Single Market," under the slogan "Bringing Down Barriers to Unlock Online Opportunities":
The Internet and digital technologies are transforming our world. But existing barriers online mean citizens miss out on goods and services, Internet companies and start-ups have their horizons limited, and businesses and governments cannot fully benefit from digital tools. It''s time to make the EU's single market fit for the digital age—tearing down regulatory walls and moving from 28 national markets to a single one. This could contribute €415 billion per year to our economy and create hundreds of thousands of new jobs.[11]
When it comes to the specific goal of "Supporting Media and Digital Culture," one of the central areas of aggressive digitalization in the European arena, the most recent updates of the AVMS policy propose "promoting a coherent approach to media policies, covering legislation on audiovisual media services and the preservation of the European cultural heritage" and supporting policies that "empower European citizens to enjoy seamless and interactive experiences, letting them access any content from anywhere in Europe." In practice, this means sustaining a minimum set of common rules for the audiovisual and new media sector, which cover limits on advertising and protections for European content, minors, media freedom, pluralism, and copyright. The European Commission has also recently added to its goals tackling challenges posed by fake news, online disinformation, and the spread of illegal content, as well as open data sharing in the public sector, open government data, and the digitization of European cultural heritage, to be made accessible to everyone.[12]
Observers have noted a marked shift in policy over the past 20 years away from favoring "positive integration" by correcting market forces that impede social welfare and cultural and political integration toward "negative integration," which aims to remove barriers from the way of neoliberal market competition.[13] As the name implies, a "Digital Single Market" puts a high value on digital interconnectedness, supporting services such as digital television, internet protocol TV, mobile video services, and VOD. According to the European Commission, the AVMS Directive aims to "achieve a modern, flexible and simplified framework for audiovisual media content," to "boost Europe's creative economy" and to "increase choice, diversity and investment in Europe's audiovisual media industry."[14]
In this spirit, one of the most consequential effects of the Directive was that it set up a division between linear audiovisual media services (i.e., traditional TV broadcasting) and "nonlinear" services (i.e., VOD). This division corresponds to a two-tier system of regulation, applying stricter provisions to the linear media sector, while imposing lower obligations on the providers of nonlinear media.[15] In terms of cultural goals, the Directive definitively abandoned the earlier goal of cultivating a shared European identity and revised its objective as the preservation of cultural diversity, which is understood largely in terms of the national cultures.[16]
These policy shifts make it unmistakable how the flexibility and mobility attached to nonlinear media delivered via digital technology grafts onto the imagination of a desirable European identity that is flexible, mobile, and "diverse." The Brand Europe that emerges from the European Commission's various directives on media and communication is a postnational or supranational identification that is able to complement, rather than compete with, existing national identifications. Digital technology as a tool of communication, as a platform for content delivery, and as an organizational metaphor has been at the center of these descriptions from the earliest years of the European Union's post–Cold War reinvention. Julie Aveline tracks the European Union's central goal of becoming an "e-society," or a society of information, back to the Lisbon Summit of 1999. The idea of the "e-society" imagines the European Union as, primarily, a digitally connected communication network, a virtual public sphere accessible from anywhere within the Union, in which citizens can participate through web-based citizenship.[17]
This virtual network operates at multiple, interconnected levels of legal and emotional attachment, where a supranational identification develops alongside national identities while it also challenges nationalism's exclusive reliance on ethnos and demos.[18] Digital technology powers the network to support what Jürgen Habermas calls a system of "constitutional patriotism," or a national identity that is grounded in the universal (understood as European) principles of the democratic constitutional state, and that has "definitively moved beyond the various völkisch claims of ethnic, racial, linguistic, or cultural particularities."[19] This idea underscores the 1997 Treaty of Amsterdam's definition of universal European citizenship under the umbrella of "unity in diversity" as something that does not simply exist side by side with, but is actually more fundamental than, national citizenship. A supranational Brand Europe evolves from a digitally connected network of communication, sustained by various EU institutions, which helps cement a sense of universal citizenship through emphasizing the significance of shared European meanings, rituals, norms, and traditions.[20]
In the hindsight afforded by the events of the early twenty-first century, beginning with the expansion of the Union to include much of the former socialist region in successive waves, the idea of an e-democracy where citizens can freely choose between and are simultaneously invested in national and supranational affiliations seems naive. When it comes to the media sphere, media regulation's tendency toward "negative integration" has also resulted in considerable fragmentation rather than unification. Jean Chalaby notes that instead of helping to develop a European film and television production industry, the Television Without Frontiers directive "provided Hollywood with a larger market and a host of new clients desperate to fill hours with cheap television material."[21] There are indications that subsequent media regulation has facilitated, rather than mitigated, European audiences' preference for American and domestic content.[22]
In a similar vein, the European Audiovisual Observatory has reported a considerable fall in coproduction among European countries since 2000. The share of international fiction in national markets has also decreased, making European television more local than ever in an era of increasing globalization across the media sphere. In 2015, the European Commission found that less than 4 percent of all VOD content in the European Union was accessible cross-border. While Digital Single Market strategies are still in their early stages of implementation, it is already clear that the policy leaves small national markets especially vulnerable to forces of media globalization and conglomeration, with very little freedom to set their own media policies, effectively leaving them to cultivate their own domestic markets.[23] This preference has also gone hand in hand with increasing nationalistic retreat. Rather than building a supranational identification, media policy has contributed to increasing division, moving Europe further and further away from the idea of a digitally networked e-EUtopia.
It is across these increasing divisions, between national and EU-level governance, between American daytime and domestic primetime, between core and periphery, that HBO has staked its claim as the carrier of an e-EUtopic imagination.
HBO in the Other Europe
Since the early 1990s, HBO has established itself in a political-economic situation of increasingly sharp contradictions within Europe: On the one hand, European countries have been steadily drawing up defensive barriers around themselves. Sometimes these are quite literal fences and walls to stall refugees and migrants; at other times, they are manifest in protectionist policies and rhetoric driven by a nationalistic momentum that is spearheaded by right-wing leaders, who have been gaining in popularity. The consensus is widespread that the hopes for a federation of nations under the umbrella of the European Union of pluralism, of "unity in diversity," have been nearly extinguished by recent events: the failure to ratify the European constitution in 2005, the 2008 economic recession, the Eurozone's repeated crises, by a deficit of trust in Brussels, and, most recently, by the refugee crisis that hit Europe in 2015. The 1990s idea of the "Europe of the regions," where nation-states would share relevance with other units of governance within the European federation, seems to have been quashed by the realities of the past fifteen-twenty years. Far from dying out, nations and nationalisms are back with a vengeance and national publics are being swayed by proposals to exit the Union and pledge self-sufficiency.
All of Europe has been steadily moving to the right as the dream of a unified, expanded Europe has dimmed and successive economic and migration crises rattled the Union in the past ten years. At the same time, the familiar divide between east and west, recast along somewhat shifting lines as center and periphery, has also reemerged. Neo-authoritarian parties in Russia, Poland, Hungary, Bulgaria, Romania, the Czech Republic, and Slovakia have been using public money to consolidate media holdings among their loyal oligarchic networks, including television channels, local and national print media, and internet sites. These centralized media networks are not unlike late socialist networks in their structure and politics, except perhaps even more powerful. Through accumulating economic power, concentrating ownership, and silencing opposition, they are able to institute control and even censorship, ensuring the uniformity of news, spreading propaganda, and delegitimizing and restricting access to alternative news. Government propaganda has also been made more effective through extensive, carefully tailored media campaigns that involve offshore, transnational right-wing campaign firms.[24]
Earlier efforts to create democratic media institutions and attract investment by foreign media companies in the immediate aftermath of the Cold War had fizzled out by the end of the 1990s. Instead, a system of "paternalistic commercialism" prevailed,[25] with governments increasingly reasserting their ownership and political control, particularly in the news media. The evidence is now incontrovertible that the transitional period has not produced the political and economic liberalization and pluralism that optimists had hoped for. Instead, in the ten countries that have joined the European Union since 2004, the past few years have been marked by the gradual withdrawal of foreign media investors and the increasing involvement of local business elites in the news media sector.[26] The reasons for the large-scale de- westernization in the media business have certainly included the economic recession. However, even more important, de-westernization has been a concerted response to an unfavorable business climate of widespread political corruption, and the interference of oligarchic networks in market competition, often led by media-industrialist tycoons who use media holdings to advance their political or financial interests, a phenomenon familiar from Southern Europe, most reminiscent of the Italy of Silvio Berlusconi.[27] In addition, the turn toward Western divestment was also precipitated by disappointment with Western companies' adoption of "Wild East" conditions and indulgence in profit-making without committing to the standards of journalistic ethics and public service obligations that they were beholden to in their home regions.[28] This disappointment with Western interests and intensions in the media market also helped confirm a larger pattern of disillusionment with the European Union's failure to deliver on the rhetoric of inclusion and equality among the member states.
How does HBO, with its high cultural "quality" appeal, transnational aesthetic coupled with themes of acute social relevance addressed to discerning niche audiences, accessed through premium subscription and, increasingly, OTT streaming platforms, survive and even thrive in an environment of institutionalized corruption, political censorship, ownership consolidation, a virulent rhetoric of anti-globalization, and ethno-national isolation? Brokering a working compromise between the cosmopolitan ideals of a flexible European identity brought to you by the speed and mobility of internet streaming and the parochial doctrines of "völkisch nationalism" is an especially remarkable feat in a region where institutionalized corruption repels media investment and concerted campaigns against educated cosmopolitan elites and Brussels bureaucrats have been whipping up suspicion among rural and religious populations. Indeed, HBO's brand identity seems much better suited for the core countries of Europe, where the urban–rural divide tends to be less marked, where broadband penetration is higher,[29] and where HBO's quality programming and altruistic investments in progressive causes organically build on and cooperate with a strong tradition of public service broadcasting.[30]
The answer has to do with a combination of factors: The first one is HBO's localized production model, which allows for local talent to develop stories in native languages in relative independence from the parent company, reflecting or adapting transnational themes that can be embedded in histories that resonate with large populations nationally and regionally. Second, HBO's transnational aesthetic, production values, and filmic quality fulfill a high cultural preference for art that has been a cornerstone of cultural nationalism in Eastern Europe. However, parting with art film's elitist address, HBO's quality dramas offer widespread access and a broad popular appeal—a kind of entertaining quality aesthetic and language that had not existed before due to the cultural-nationalist value gap assumed to exist between film and TV, which HBO has closed in the region for the first time. Third, HBO fills a vacuum in yet another sense as a media company exempt from direct government censorship, which allows its programs to strike a tone of at least moderate sociopolitical criticism, which has become rare or extinct in most of the postsocialist countries. HBO has also become a vital supporter of documentary production and stepped into other roles of supporting public culture formerly performed by the state. These functions situate HBO in the space historically occupied by public service media, whose development was thwarted in the region in the postsocialist decades.
HBO's local production in (Eastern) Europe began with adaptations of prestigious quality dramas in the mid-2000s such as the many local versions of the Israeli format In Treatment. For instance, the Hungarian Aranyélet/Golden Life is loosely based on the Finnish series Easy Living; the Romanian Umbre/Shadows is modeled on the Australian series Small Time Gangster; and the Czech Mamon and the Polish Pakt/The Pact are remakes of the popular Norwegian conspiracy thriller Mammon. When we look at these quality series side by side, the role of format jumps out as tool of conversion, which helps to localize certain transnational sensibilities and themes and infuse them with local variations as they become available for travel across markets.
Localization is enhanced by the creative teams' considerable independence from Time Warner, the parent company. They have control over selecting writers and developing scripts (typically preferring experience in writing for feature film), and choosing the production company, the director, and the cast:
[Time Warner and HBO USA] are interested in the end results and the local successes; and they very much appreciate critical accomplishments—for instance, if our documentaries do well at a festival. Of course, we have reporting obligations and they visit us once a year.[31]
One important way in which HBO has legitimized its productions locally has been by recruiting for the small screen actors and directors who previously gained a reputation in feature films.[32] The influence of cultural nationalism in Europe, aligned with a strong public service television tradition that has similarly stressed high culture and erudition, has always suppressed the cultural prestige of television entertainment. In Eastern European countries, in particular, high culture has carried an additional political charge to define aspirational European nationhood and foreground the cultural status of the nation in the absence of economic and political clout to equal those of Western European nations. Having Agnieszka Holland direct the Czech HBO original series Burning Bush, Oscar-nominated Ildikó Enyedi direct the Hungarian adaptation of In Treatment, or Bogdan Mirica, winner of the 2016 Cannes Fipresci Award for his feature Dogs, direct the Romanian serial Shadows instantly distinguishes these productions from ordinary television.[33]
In the past few years, HBO Europe has increasingly turned from format adaptations to making original series, which have been successful in the national context and have also shown great potential for transnational sales. Blinded by the Lights is a six-part series produced by HBO Poland, set in Warsaw, currently in development and set to be released in all the HBO Europe territories. It follows in the footsteps of the highly successful Wataha, currently in its second season, which earned record ratings in HBO Poland's history and was also sold in foreign markets.[34]
Some of the original series in development also involve cooperations with other companies. HBO Romania and the German TNT Serie channel are producing an original series about Romanian hackers who attack a large German bank, to be shot in the Romanian city of Oradea (in the center of a historically Hungarian diaspora in Transylvania), Bucharest, and Frankfurt. The series is produced by venerable Romanian New Wave feature film director Cristian Mungiu. It features a multinational cast, whose composition mirrors that of the actual European networks of crime depicted in the series and also continues a historical tradition of the regional circulation of creative film and television talent.[35]
In fact, these recent productions' evocation of historical national and regional memory is a crucial aspect in their success.[36] As streaming is becoming dominant as the preferred way to watch and binge series, localizing the viewing experience through native content and language has given HBO an edge over other competitive streaming platforms, which have seen limited success in the region so far. Most prominently, Netflix's expansion outside the saturated North American market has encountered difficulties in Eastern Europe. Netflix's expansion into Eastern Europe has been slowed by not properly recognizing the importance of offering local content in local languages in countries where audiences generally have lower foreign-language competence and are used to dubbing rather than subtitles. For instance, in Hungary, in 2016, almost half of all regular Internet users (47.9 percent) only watched content in Hungarian and only about 1.8 percent watched foreign content without subtitles. This left only about 80–100,000 potential customers for Netflix.[37] The share of available non-national VOD services was typically low in small nations in Eastern Europe in 2016 (although 63 percent in Hungary): 42 percent in Slovakia, 33 percent in Romania, 31 percent in Poland, 27 percent in Bulgaria, 20 percent in Slovenia, 18 percent in Croatia, and the lowest percentage of all in the European Union in the Czech Republic, where only 13 percent of 81 VOD services available in the country were non-national,[38] whereas 36 percent of respondents in a Eurobarometer study showed that "they would not be able to use or understand the content offered in other Member States."[39] Netflix launched in the country in 2016 but offers less than 150 titles with Czech subtitles and only a handful with dubbing. By contrast, HBO is so attentive to the importance of linguistic access in the region that it has made available Hungarian dubbing as a choice on all Romanian HBO channels, to cater to the sizable Hungarian diaspora in Transylvania.[40]
In these parts, although HBO is most popular among an urban viewership, the recent original series reach a much broader audience by offering familiar, local stories and characters, at an affordable price, without requiring multilingual competence. Most important of all, these series revolve around what are seen as recognizable national character types and familiar narrative trajectories of navigating the corrupt conditions of the long transition from socialism to emerging neoliberal capitalism. For instance, the protagonists of Shadows and Golden Life are both ordinary men who engage in illegal business activities to become rich. When they try to extricate themselves from crime, they get even more entangled, exposing the inescapable web of government and business corruption in the process.[41]
The story of corruption, at the heart of the contemporary transnational crime drama genre, rightly translates well around the world at this time. It is a theme that highlights a global crisis of trust in institutions, from the European Union to state governments and corporations, as evidenced, for instance, by a 2018 special issue of the European Journal of Communication on corruption and its coverage in the news media in various European countries.[42] The tentacles of institutional corruption in crime series reach across and bring into a relatable structure of feeling digital surveillance, the terror of big data, the volatility of global markets, and impending environmental disaster. No wonder that Mammon, a successful product of the cycle of quality crime fiction popularly known as "Nordic Noir" or "Scandinoir," about a journalist exposing corruption in a company run by his brother, originally produced for Norwegian public broadcaster NRK 1 (2014, 2016), inspired two HBO adaptations in Eastern Europe, in the Czech Republic and Poland, respectively.
HBO Europe tapped into a multilevel awareness about corruption that encompasses widespread disappointment with the unbridled triumph of neoliberal capitalism globally, its continental crisis in Europe, and the local experiences of cynicism and disillusionment in the small nations of postsocialist peripheries whose populations are most susceptible to defensive retreat into nationalism. In Mammon, corruption is somewhat isolated from the regular workings of business and politics and is exposed by brave investigative journalists who ultimately rely on a strong tradition of democracy and transparency. In Italy, the European country with perhaps the most enduring history of institutional corruption, recent quality series revolving around corruption and anti-heroes have thrived, from Gomorrah (Sky Italia, 2014– Suburra (Netflix, 2017–), and Romanzo Criminale (Sky Cinema, 2008–2010).[43]
Relu and Attila, the respective anti-heroes of Shadows and Golden Life, are recognized in their local context as embodiments of the national character of the little man doomed to fail against entrenched historical odds.[44] Golden Life, which has so far seen three seasons, even provided a historical backstory for the main character's, his family's, and the enveloping community's past, threading the contemporary structures of corruption back to the waning years of socialism.[45] What transpires from this counterhistory is that it is impossible to accumulate wealth in postsocialist Hungary without willingly engaging in crime and corruption. This lesson is also an indictment of oligarchic culture and its inextricable connections with state political power.[46] The show itself is an opening into a sociological case study of class relations, which revolves around the failure of civil society, independent media, and a strong middle class to emerge through the twentieth and twenty-first centuries.
The spectacular success of the recent, locally produced series has regularly been marked by comparisons with Game of Thrones, whose ratings were beaten by both the Hungarian Golden Life and the Romanian Shadows.[47] HBO originals regularly debut at film festivals, which further elevates their cultural quality.
HBO's East European series boost cultural nationalism by foregrounding their affinity with art film through the quality of production, stars, aesthetic, and distribution. At the same time, this affinity also subverts the usual bracketing of the category of art film as "national," relieving it of its allegorical function and organically connecting it with European trends such as Nordic Noir. HBO is able to function as an independent player who can minimize the importance of long-standing rules of local political rhetoric and epistemological frameworks that make little sense in a world of transnational commerce. For example, HBO's "quality" is capacious enough to allow the Romanian Umbre (Shadows) to comfortably draw into its aesthetic and political universe the relentless naturalism of the cycle of art films dubbed the Romanian New Wave and the realism of Nordic Noir in a story that exposes the ugly underbelly of criminal corruption among the postsocialist Romanian criminal elite.[48]
In HBO's fictional series, HBO's brand of "quality" has bridged the gap between the role of art films and entertainment television, in a space that would be occupied by public service broadcasting in countries with more robust democratic traditions, such as Norway or Denmark.[49] Whereas art films in Hungary, the most overtly authoritarian "illiberal democracy" in the region, have recently had to return to the self-censoring, allegorical mode of speaking they inherited from the socialist era in an atmosphere of government censorship and media control,[50] HBO has not had to get bogged down by local politics and has been exempt from government censorship. Offering realistic, contemporary characters and speech patterns, departing from the elite address of art films, HBO has managed to broach the theme of intractable corruption in a direct way that some critics have called "cathartic" and "paradigm-shifting."[51]
HBO has put its brand and resources behind the association of art with sociocultural value in other ways as well. The company has supported national film and documentary production and exhibition in Europe, often in collaboration with public broadcasters. It runs a documentary production branch in Hungary, the Czech Republic, Slovakia, Poland, and Romania, lending support, in particular, to young filmmakers who tackle urgent sociopolitical issues.[52]
Recent transformations in documentary production in Hungary illustrate a regional trend: Beginning in the 1990s and accelerating in the aftermath of the right-wing FIDESZ party's power consolidation in 2010, public support for documentary-making has all but dried up. Public television relinquished its historical role in commissioning and producing documentaries, and other state institutions such as the National Cultural Fund, the Hungarian Motion Picture Foundation, and the Hungarian Historical Film Foundation have reduced their financial support to a trickle. The few documentaries that currently still receive state funding are expected to follow strong ideological directives by FIDESZ.[53] Since HBO entered documentary production in 2009, it has grown to be the primary, if not sole, supporter of documentary filmmaking, taking over the role formerly held by the state and providing a hub of freedom from the ideological pressure of the ruling authoritarian party. HBO supports the production of three to four documentaries in each of its Eastern and Southern European national territories. Of course, these productions are expected to conform to HBO's own dramatic, character-driven, psychological docufictional style, which is in many ways the opposite of the explorative, subdued, social-issue-based tradition inherited from socialism. But the shift toward more flair in topics and presentation alike ensures that Eastern European documentaries travel well in the region and are also made available for streaming in all of HBO Europe's territories.[54]
It is precisely HBO's presence as a transnational company with a single-minded focus on the brand's capacity to attract revenue that allows its "quality" to work as a flexible, mobile platform of conversion and confluence among various local and regional interpretations of "quality." It is HBO's status and mobility that enables its products to only graze historical conflict and pain and remain unaffected by the stickiness of local politics. It is the breezy mobility and Internet-enabled flexibility of the "quality" brand that highlights similarities among audience sensibilities in the small nations of postsocialist Eastern Europe and the small nations of state socialist Scandinavia—connections that would otherwise not come into articulation under the weight of intractable historical and political walls between east and west, north and south.
These "original" series are designed for travel and translation, to generate revenue across as many territories as possible. They foreground genres, modes of expression, and issues that consistently resonate in the process of border-crossing: for instance, a similar affective predisposition toward melancholy, the experience of distrust and corruption, the endangered role of small nations within Europe, the "fractured dream of the welfare state," and the "aesthetics of landscape as a catalyst for crime, with national anxieties about globalization conveyed in the DNA of the mise en scene," as Janet McCabe characterizes Nordic Noir.[55]
This sense of narrative, structural, and aesthetic proximity gives a new meaning to the familiar arguments for geographical or historical proximity among nations, with particular relevance to the national markets of Europe.[56] Some of the proximities made visible by HBO's mapping patterns have to do with a class-based division between cosmopolitan and national identifications. HBO's narratives, enabled by instant digital access in a commercially configured e-Europe, present choices to European citizens that transgress political and national divisions. They allow East European cosmopolitans to belong to European culture, but they also allow nationalists to identify with local narratives. Unlike top-down calls for supranational identification from Brussels's bureaucratic base, these choices are experienced as bottom-up, consumer-focused.
Conclusion and Critique
Of course, the other side of this argument is that the broad success of the HBO brand of "originality" and "quality" is conditioned on not being particularly deep or meaningful. These "original" dramas provide just enough national specificity by filling translatable, trans-continental roles with characters who have local names, speak the local idiom, and have localized back stories. They commercially exploit, rather than knowingly expose, the false sense of exclusivity and superiority at the heart of nationalistic affiliations and narratives. In HBO's approach, the popular gets out of the way of the populist rather than tackling or interfering with it; it might subject some aspects of national and European cultures to mild criticism but evades direct confrontation.
It is also likely that the local HBO originals' aura of authenticity is actually enabled by a superficial, commercialized engagement with nationalism. After all, the "völkisch nationalism" that has resurfaced in Europe, with special force in Eastern Europe, is just as fabricated, market-tested, and campaign-driven as the identification with "Europe." It is part of the ongoing effort to reinvent nations struggling to manage their own histories of socialism and present themselves as viable players in a neoliberal economic competition. The emphasis here is on invention: A nation's brand profile is an unabashed creation, a marketable composite of already circulating images, places, traditions, and products, which can be molded into a coherent country brand through strategic marketing campaigns and can mobilize bottom-up nationalism as a form of brand loyalty. As Zala Volčič and Mark Andrejevic put it in their collection on commercial nationalism, "nationalism is perhaps the ur-form of the brand—a means of channeling affective sentiment around a floating signifier. "At the same time, state-sanctioned forms of nationalism in the era of the 'enterprise state' piggyback on commercial entities and strategies."[57] HBO Europe has very successfully incorporated small nations' preexisting brand loyalties into its own brand, creating a uniquely European quality.
The fact that nationalism is primarily a floating signifier ready to be filled with content is why it takes so little for main characters in HBO series to be incorporated into a national orbit, to be "recognized" as national types despite the fact that they change relatively little in the course of their travel. What we witness, rather than instant recognition, is the nationalization of supposedly ingrained, historically aged character types. This argument is also supported in Volčič and Andrejevic's model of commercial nationalism, which echoes the logic of participation in the neoliberal, interactive era, in which citizens are addressed, positioned, and produced as nationalistic consumers, activating forms of national belonging that rely on consumption in the first place. Commercial nationalism, in fact, transforms consumers into contemporary national subjects.[58] The fact that these narratives reach consumers directly, without apparent state or EU interference and outside the usual orbit of high culture, available from a customized online catalog at will, only enhances the illusion of choice, control and belonging.
HBO Europe is a perfect agent and platform for navigating a European landscape where media regulation promotes digital connectivity and yet undermines small nations' competitiveness and effectively leads to the fragmentation of domestic markets. It has successfully broken down (or ignored) the seemingly intractable divide between national and supranational identifications. It has designed and implemented a pan-European approach that envelopes the European tradition of public service broadcasting, art film, and documentary in its elastic "quality" brand and offers stories, themes, characters, and styles that qualify as "originals" in specific national contexts while they travel easily from market to market precisely because they consist in shared European and global narratives that have become even more hybrid and homogeneous thanks to digital platforms of borderless internet distribution.
One important question that arises is what exactly is new here, other than HBO's role in foregrounding the degree of exchange and movement within the European cultural space and revealing nationalism's gatekeeping function, which has served to obfuscate the interconnectedness of European media in predigital times. Is this situation really new? Is it truly surprising or contradictory that an aggressive turn in the East toward nationalistic centralization and semi-authoritarian governance lives in happy symbiosis with attracting transnational media investment? Cosmopolitanism has, in fact, always been a key component of East European cultural nationalisms. Artists, stories, and audiences have always participated in European circulation as well. Socialist film and television were a part of extensive European networks, both official and unofficial.[59] HBO is obviously building on and profiting from these existing transnational networks and exchanges.
But what do we do with the recognition, brought to us by HBO, that the branded politics of national and European belonging connects, rather than divides, East and West, "völkish" and cosmopolitan affiliations? Does the unprecedented level and unimpeded flow of shared content offer a parallel corrective to widespread nationalistic fragmentation and challenge xenophobia, racism, and the false belief in the self-sufficiency of the nation-state? These are strange questions to ask in Europe today. They displace and mix up disciplinary and methodological apparatuses that are usually thought of as distinct. Studies of media policy, technology, and industry do not tend to align or engage with those of nationalism, xenophobia, racism, and cosmopolitanism. Policy and politics seem to be at methodological odds, which makes it harder to uncover how they are ideologically intertwined. My sense is that, to understand the politics of networked European media consumption, we need to push harder than ever for resisting to exclude those pesky issues of colonization, regional formation, and ethno-racial and class identity from studies of the media industries or to reduce those questions to normative categories of nationalism and the nation-state.
---
Bibliography
Aranyélet (Golden Life, 2015
Aveline, Julie. "Branding Europe? Branding Design and Post-National Loyalties." Place Branding 2, no. 4 (2006): 334–340.
Chalaby, Jean. "American Cultural Primacy in a new Media order: A European Perspective." International Communication Gazette 68, no. 1 (2006): 33–51.
Csiger, Ádám. "Bukarest Árnyai" [Shadows of Bukarest], Filmvilág, December 2015, http://www.filmvilag.hu/xista_frame.php?cikk_id=12509.
European Commission. "Digital Single Market Policy: Supporting Media and Digital Culture." https://ec.europa.eu/digital-single-market/en/policies/supporting-media-and-digital-culture.
European Commission. "Europe's Digital Progress Report 2017," European Commission, Digital Single Market, 2017, https://ec.europa.eu/digital-single-market/en/news/europes-digital-progress-report-2017.
"Ez lehet az utóbbi évek legsikeresebb magyar sorozata." Heti Világgazdaság Online, July 30, 2015, http://hvg.hu/kultura/20150730_Aranyelet.
Klimkiewicz, Beata. "Introduction: Harmonizing European Media Policy. Supranational Regulatory Trends and National Responses." In Media Freedom and Populism: Media Policy Challenges in the Enlarged Europe, edited by Beata Klimkliewicz, 11–26. Budapest: Central European University Press, 2013.
Lévy, Daniel, Max Pensky, and John Torpey. "Editors' Introduction." In Old Europe, New Europe, Core Europe, Transatlantic Relations after the Iraq War, edited by Lévy, Daniel, Max Pensky, and John Torpey, xi–xxix. London: Verso, 2005.
Loránt, Stőhr. Érzelmek kiáradása. Sós Ágnes dokumentumfilmes pályája az intézményrendszer tükrében. Apertúra, summer, 2016. http://uj.apertura.hu/2016/nyar/stohr-erzelmek-kiaradasa-sos-agnes-dokumentumfilmes-palyaja-az-intezmenyrendszer-tukreben/.
Polyák, Gábor, and Ágnes Urbán. "Az elhalkitas eszkozei: Politikai beavatkozasok a mediapiac es a nyilvanossag mukodesebe" [The Tools of Silencing: Political Interference in the Operation of the Media Market and Civil Society], Médiakutató 16 (2016): 109–123.
Pintér, Róbert, József Hack-Handa. "Kell-e a Netflix a magyaroknak?" [Do Hungarians Want Netflix?], Médiakutató 16: 3–4 (2016)
Skinner, Heather and Krzysztof Kubacki. "Unravelling the Complex Relationship Between Nationhood, National and Cultural Identity, and Place Branding." Place Branding and Public Diplomacy 3, no. 4 (2007): 305–16.
Splichal, Slavko. "Imitative Revolutions: Changes in the Media and Journalism in East-Central Europe." Javnost–The Public 8, no. 4 (2001): 31–58.
Štetka, Václav. "From Multinationals to Business Tycoons: Media Ownership and Journalistic Autonomy in Central and Eastern Europe." The International Journal of Press/Politics 17, no. 4 (2012): 433–56.
Štetka, Václav. "Struggling with Diversity: Objectives, Outcomes, and Future of the European Quota Policy in the Context of the Television Scene in the Czech Republic." In Media Freedom and Populism: Media Policy Challenges in the Enlarged Europe, edited by Beata Klimkliewicz, 97–124. Budapest: Central European University Press, 2013.
Szczepanik, Petr. "Localize or Die: Intermediaries in a Small East-Central European On-Demand Market." Cinéma & Cie XVII, no. 29 (Fall 2017).
Umbre (Shadows, HBO Europe, 2014- )
Vodál, Vera. "Legyen valami magyar íz. Interview Schulteisz Katalinnal, az HBO executive producerével." Filmtett, March 26, 2012. http://www.filmtett.ro/cikk/3019/interju-schulteisz-katalinnal-az-hbo-executive-producerevel.
Volčič, Zala and Mark Andrejevic, eds. Commercial Nationalism: Selling the Nation and Nationalizing the Sell. Basingstoke: Palgrave MacMillan, 2016.
Zambardino, Bruno, Monica Sardelli, Marco Bassini. AVMSD Refit or Reform? Audio Visual Media Services in the Digital Era. Bruxelles: I-Com Institute for Competitiveness, 2016. https://euagenda.eu/upload/publications/untitled-53601-ea.pdf.
Top of page