Book Review
Miller, Jade. Nollywood Central. (London: Palgrave for British Film Institute, 2016.)


Skip other details (including permanent urls, DOI, citation information)
This work is licensed under a Creative Commons Attribution-NonCommercial-NoDerivatives 4.0 International License. Please contact mpub-help@umich.edu to use this work in a way not covered by the license. :
For more information, read Michigan Publishing's access and usage policy.
The Nigerian International Film Summit held at the 2017 American Film Market was a first of its kind. This delegation of Nigerian exhibitors, distributors, and production companies, flanked by celebrity actors and directors, paraded the best Nollywood had to offer in hopes of attracting Hollywood partnership and investment. "The gap between Hollywood and Nollywood is closing," the event organizer Ijeoma Onah announced with confident optimism.[2] But why close the gap?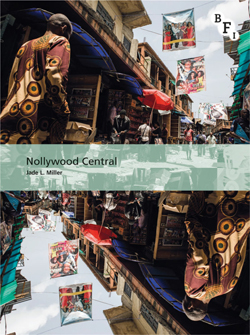 In her book Nollywood Central, Jade Miller compellingly argues for the value "the gap" affords minor cultural industries that thrive on neglect by dominant global media flows. From this perspective, the periphery becomes the center of a tremendously creative milieu. The book calls us to approach Nollywood not as a marginal industry seeking to catch up with the normative practices of international cultural industries but as the central hub of an alternative media network whose nodes extend around the world. By examining Nollywood's economic and institutional structures, the book illustrates the power of informality that holds the industry together as much as it holds government and corporate competition at bay.
Miller defines informality by several traits, chiefly the absence of documentation, legal recourse, or accreditation of agents. She adopts informal media scholar Ramon Lobato's notion that informality is only visible as measured against formality and its normative practices of regulation, documentation, and governance.[3] However, Miller illuminates what this means in practice by examining the modes of self-organization, the relationships of trust, and the politics of who can and cannot do what with whom and when in a cultural industry structured by informality. To accomplish this, the book historicizes the industry (chapter 1), maps its spaces of production and distribution (chapter 2), considers the cultural and aesthetic qualities of its product (chapter 3), compares the governing bodies (State and self-organized) that regulate it (chapter 4), and profiles one corporate endeavor to formalize the industry (chapter 5).
Perhaps the most intriguing figures of this industry study are Nollywood's marketers, the loose coalition of financiers-cum-distributors based in Alaba, an open-air electronics market at the outskirts of Lagos. If the video compact disc is the fundamental unit of this movie industry, these men assure that the materials move. The power they wield over Nollywood stems from their direct control of national trading networks, knowledge of sales figures, and first-line access to profits.[4] In Miller's words,
The marketers, both beneficiaries and architects of this system, are fully aware of the ways these business practices reserve power for themselves and limit opportunities for outsiders. In this way, informality in distribution is less a "challenge" for a burgeoning industry, as it is often described in development assessments, but, rather, a conscious and active strategy by networks of small-scale savvy entrepreneurs to discourage competition from better capitalized challengers.[5]
While this study does not explicitly aim to upend the developmentalist assumptions about the proper fate of minor cultural industries, Miller's pattern of thought nonetheless has that effect. She finds limits and assets in informality where others see only liability. The book also reverses the values ascribed to center and periphery and probes the negative spaces of dominant networks to find not emptiness but a tremendous amount of cultural activity.
The book's other strengths include its insights concerning the types of personal relationships that informal cultural industries promote and demand. What holds the industry together are bonds of trust, as well as ethnic and family ties. And while personal connections and trust are important in formal industries, as Miller observes, "what is distinctive about Nollywood is that this is the only currency."[6] The absence of written contracts or legal recourse means Nollywood producers and distributors must rely on trust alone, which can give rise to serious disputes.
Fortunately, the book offers a detailed account of the system with which Nollywood governs itself and settles such disputes. In view of the country's lax copyright enforcement and ineffectual courts, the industry prefers to resolve internal conflicts through a self-organized guild system that provides representation to almost every profession involved in movie-making. This is not to say it is an equitable or even ideal system—after all, this is politics.[7] Guild politics can turn acrimonious because, as Miller underscores, the outcome can determine who will receive favor and who will be locked out of certain opportunities.
Importantly, the book does not discount the impact on Nollywood of policy, both initiatives developed from within the guild system and those originating from government agencies in Abuja. This impact includes the unintended fallout of efforts to formalize the industry, as we find in Miller's account of the Nigerian Film and Video Censors Board's push to restructure distribution networks.[8] The consolidation of accredited vendors would have lent the government agency increased power to regulate and even tax Nollywood, but ultimately led to the agency's own marginalization as marketers instituted a tacit boycott. Here, Miller offers an important study of a policy and fallout that marked a turning point in Nollywood's development.
The book breaks new ground in its profile of the video streaming service iROKOtv, the company arguably leading the corporate encroachment on Nollywood. Ironically, the only aspect of the industry more opaque than the business practices of the marketers are those of iROKOtv, and this is, despite the founder Jason Njoku's gestures of transparency on his oft-updated blog, from which Miller draws. In Miller's personal interview with Njoku and her subsequent analysis, we are offered a glimpse of the practical and material (often infrastructural) constraints that stymie iROKOtv's efforts to close the gap between the largest informal cultural industry in Africa and the world's dominant media flows. Chapter 5 highlights certain intractable facts that account for the divide between dominant and informal media networks, including the cost of the diesel fuel required to power the internet company's personal broadband tower in a city where more hours each day are spent without electricity than with it. There are some obstacles that even US$21 million of investment and hedge fund capital cannot surmount.
The conditions in Lagos may be inhospitable, but Nollywood has devised the structures and practices necessary to survive. In its sketch of various "sibling industries," this book demonstrates that where we find cultural industries thriving under similarly inhospitable conditions, we also find practices that Nollywood pioneered. Miller points to sibling industries in Nairobi, Kenya and Dar es Salaam, and Tanzania, as well as productions in Burkina Faso, Uganda, Democratic Republic of Congo, and South Africa. Considering the impressive global circulation of Nollywood films, she argues that "we can [also] see Nollywood's business model as an export as popular as its movies."[9] In fact, Miller contends that Nollywood's lasting contribution to African cinema may not be the films themselves but rather its industrial structure. She cites the industry's independence from African art cinema's usual cultural gatekeepers. Equally important is the intimate relationship between producers and their audience that this model sustains.
This is also perhaps the advantage to Miller's method of framing Nollywood as an alternative cultural industry network and Lagos as an alternative media capital—a riff on Michael Curtin's concept.[10] For a great many people around the world, including those in Kingston, Jamaica, these alternative media networks are the access point to images, sounds, and stories that cannot be obtained through dominant networks. They are materials that often carry a cultural or experiential import that does not travel the channels of the world's dominant cultural industry networks. Fortunately, "as long as there remain gaps between connections to the Network Society," Miller asserts, "there will also be room for alternative media capitals and alterative circuits in international cultural industries."[11]
---
Bibliography
Curtin, Michael. "Media Capital: Towards the Study of Spatial Flows." International Journal of Cultural Studies 6, no. 2 (2003): 202–28.
Lobato, Ramon. Shadow Economies of Cinema: Mapping Informal Film Distribution. London: Palgrave for British Film Institute, 2012.
Miller, Jade. Nollywood Central. London: Palgrave for British Film Institute, 2016.
Vourlias, Christopher. "AFM: Nigerian Film Industry Looks to Work with Hollywood Partners." Variety, November 3, 2017. http://variety.com/2017/film/spotlight/afm-nigerian-film-industry-looks-to-work-with-hollywood-partners-1202606939/.
Top of page