Abstract
Emotional distress arising from job loss affects both the job loser and other family members. This article examines longitudinal data on unemployment and assesses its impact on automobile workers and their families. The financial hardship produced through unemployment was found to directly affect family relationships.
Key words: unemployment, families, job loss, auto industry, financial hardship


From 1979 to 1984, more than 11.5 million workers lost their jobs because of plant closings in the nation's industries. Manufacturing industries provide 20% of the nation's employment and have experienced tremendous cutbacks and closings (Bluestone & Harrison, 1982; Perrucci, Perrucci, Targ, & Targ, 1988). Various causes for plant closing have been identified, including poor corporate planning, ill-founded federal policy, capital flight, decreasing profit rates, and the pursuit of lower labor costs. The automotive industry continues to be severely affected by shutdowns. Although the corporate terminology may change—plant closings are sometimes called "plant idling"—the effects on workers and their families are similar and severe.
Almost 40% of all the U.S. auto employment has been located in Michigan. As a result of the 1980s recession in the auto industry, Michigan's economy suffered considerably. The Detroit and Flint area economies were especially hurt by industrial decline. In 1982, annual unemployment rates in these areas were as high as 16% and 21.2%, respectively, and in January 1988 the rates were still far above the national average of 5.8%-10.3% in Detroit and 17.7% in Flint.
Jobs demanding skills and training such as those required in the automotive industry are becoming increasingly scarce. Although the service industry sector of the economy has continued to expand in the 1980s and 1990s, many of the available jobs are low paying with commensurate low skill requirements. Thus, for the worker, plant shutdowns mean lower pay (if work can be found), long periods of unemployment, and eventual loss of benefits such as health coverage and unemployment compensation.
Many studies have similarly argued that marriage and family life are negatively affected by the unemployment experience (Atkinson, Liem, & Liem, 1986; Dew, Bromer, & Shulberg, 1987; Elder & Caspi, 1988; Jackson & Walsh, 1987; Liem & Liem, 1988; Liem & Rayman, 1982; Moen, 1979; Moen, Kain, & Elder, 1983; Nowak & Snyder, 1984; Schlozman & Verba, 1979; Voydanoff & Donnelly, 1988). This work shows conclusively how emotional distress arising from job loss affects both the job loser and other family members. Some studies have linked unemployment to levels of violence in the family (Straus, Gelles, & Steinmetz, 1980). Others have reported an increase in levels of family friction, tension, and arguments as a result of unemployment (Grayson, 1985; Hakim, 1982; Komarovsky, 1962). Further, a recent review documents many negative effects of parents' unemployment and associate financial distress on children (McLoyd, 1989).
In this paper, we examine data on unemployment, and assess its impact on workers and their families. We first review the methods employed to collect the data upon which our analyses are based.
Methods
THE SURVEYS
In November 1986, General Motors (GM) announced that it would be closing nine plants and parts of two others by 1990; most closings were scheduled to occur by the end of 1987. We designed a prospective quasi-experimental panel survey, comparing workers from four of the closing plants with workers from twelve non-closing plants at three points: three months before the plant closings, one year after, and two years after.
The Wave 1 survey was an approximately one-hour long interview, conducted face-to-face during August-October 1987. The measures in this survey included items about workers' financial status, mental and physical health, family conflict, self-blame and coping, social support, life events, employment history, and future plans. Respondents were drawn from four closing and twelve comparison group plants located in the Detroit and Flint areas of southeastern Michigan. Selection of workers from within plants was random within appropriate payroll categories as of the GM payroll forJune 6, 1987. Only persons "actively employed" at comparison plants were included in the sample frame. The sample was stratified in order to yield approximately equal sized groups. The total sample was 1,597 workers, 831 of whom came from closing plants and 766 from non-closing plants. Some 68% of eligible respondents who were contacted gave interviews, while 32% refused. The response rate varied only slightly across the closing and non-closing groups. Because a substantial number of closing plant workers had already been laid off by the time of the interviews, this "before" survey could itself be analyzed for effects of the initial unemployment caused by the closings.
The Wave 2 survey took place during late fall 1987 through early 1988. The instrument was again a one-hour personal interview. Although most of these interviews were face-to-face, approximately 6% were done by telephone with workers who had moved. No mode-of-interview effects were observed. Most questions were the same as in Wave 1; however, items about current employment status and job searches were added for all Wave 1 respondents. Of the 1,597 respondents to Wave 1, we successfully reinterviewed 1,288 (81%)—651 from closing plants and 637 from non-closing plants.
Wave 3 interviews took place during late fall, 1988 through early 1989. Because additional workers had moved from the immediate area, these interviews were predominantly conducted by telephone, with a small number done face-to-face. The interview was essentially the same as in Wave 2. Of the 1,288 respondents from Wave 2, we reinterviewed 1,136 (88%)—562 from closing plants and 574 from non-closing plants. Overall, then, 71% of the workers interviewed in Wave 1 were followed across all three waves.
Not surprisingly, patterns of nonresponse across waves of the survey were not random. In both later waves, closing plant workers were disproportionately represented among nonrespondents, by a small but significant margin. In Wave 2, nonrespondents were also more likely to be low in seniority and to have poorer mental health (both depression and anxiety). Wave 3 nonrespondents were disproportionately black and low in education. Given that the sample losses are disproportionately high-distress workers and workers from groups shown to be vulnerable to effects of unemployment, results from the final wave may represent underestimates of the extent of distress actually experienced.
MEASURES
We asked eight items in the surveys to ascertain levels of conflict among family members. These items assessed the frequency with which conflict in the relationship of the worker and family members is reported. The first four items pertained to the spouse and the latter four pertained to the worker's children. Two items were dropped from consideration primarily due to low response frequency. The remaining six items and the year one frequencies are presented in Table 1.

Table 1. Family Stress and Conflict Items
The first three items were asked only of people who were married or were cohabiting with a partner. The latter three items pertaining to children were asked only for respondents who had children. Exploratory factor analysis was performed on these items, and two factors emerged in the initial solution. Items loading on the first factor were items a, b, and c. The items, d, e and f loaded on the second factor. These two sets of items were averaged and summed to form scales. Only complete data on all items were used in construction of these scales, a procedure which results in a loss of a few cases. The first scale, representing conflict with the spouse, consists of items a, b, and c, and will be referred to as spouse conflict. The scale ranges from 3 to 15. The second scale, a measure of conflict with one's child was constructed similarly using items d, e and f listed in Table 1. The child conflict scale which results ranges from 3 to 15. For both scales, higher scores mean greater conflict. Reliability for both scales is good. For spouse conflict,
alpha
=.80; for child conflict,
alpha
=.75.
In each survey we asked a variety of questions about financial hardships during the preceding months or year. A series of behavioral and attitudinal questions about financial hardships experienced yielded the same picture. Whether the issue was inability to pay bills, difficulty in feeding and clothing the family, scrimping on medical care, or engaging in a series of behaviors reflective of financial difficulties (such as delayed bill paying, running up credit card bills, missing mortgage payments, or accepting public assistance), females reported significantly higher evidence of hardship than males at all waves of the study, as did blacks in comparison to whites. For subsequent analyses, a summary indicator of financial hardships reported for the year preceding each survey year was created by averaging three types of financial measures—minor financial hardships, difficulty in obtaining the basics, and difficulty in paying bills—into a percentile score, ranging from 0 to 100%. High scores indicate greater hardship. Though not shown in the tables, we statistically controlled for other variables in assessing our model. These other variables were age, sex, education, income, marital status, whether the respondent child lived in his or her home, and level of seniority of the worker.
Results and Discussion
In our previous work, we showed clear support for a model showing that financial hardship caused by plant closings was the most central factor in negative effects on family life (Broman, Hamilton, & Hoffman, 1990). People who lost their jobs were significantly more likely to experience financial hardship. People with higher levels of financial hardship were, in turn, more likely to experience family problems. This model showed that financial hardship was a powerful intervening variable in the relationship between unemployment and family conflict and stress. Our previous work used the wave one data. Below, we use our longitudinal data to investigate the issue. We find support for our model of financial hardship as an intervening factor. We illustrate this in Table 2.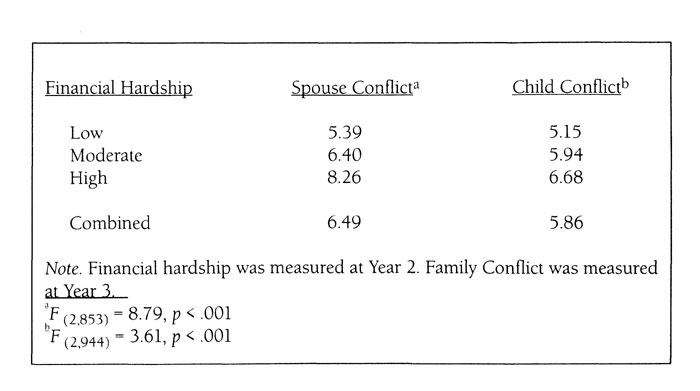 Table 2. Family Conflict Means by Financial Hardship Level
Our data show that financial hardship has a powerful impact on families, and that the effect is negative. In Table 2, it is shown that as levels of financial hardship rise, so does the level of tension and conflict between family members. The demographic variables were controlled for in the analysis, and we confirmed this effect using multivariate regression. Clear evidence is shown that unemployment of workers has a negative effect on their families, through financial hardship. It is the financial hardship that is produced through unemployment which directly affects the family relationships of these workers.
Unemployment causes financial hardship which, in turn, causes a deterioration in family relationships. Human services to alleviate the negative effects of unemployment may need to concentrate on income maintenance throughout the period of unemployment. These results are ominous considering the fact that these workers are from a relatively well-off segment of the blue-collar population.
References
Atkinson, T., Liem, R., & Liem, J. H. (1986). The social costs of unemployment: Implications for social support. Journal of Health and Social Behavior, 27, 317-331.
Bluestone, B., & Harrison, B. (1982). The deindustrialization of America: Plant closings, community abandonment and the dismantling of basic industry. New York: Basic Books.
Broman, C. L., Hamilton, V. L., & Hoffman, W. S. (1990). Unemployment and its effects on families: Evidence from a plant closing study. American Journal of Community Psychology, 18, 643-659.
Dew, M. A., Bromet, E. J., & Schulberg, H. C. (1987). A comparative analysis of two community stressors' long-term mental health effects. American Journal of Community Psychology, 15, 167-184.
Elder, G. H., Jr., & Caspi, A. (1988). Recent research on the psychological effects of unemployment. Journal of Social Issues, 44(4), 25-45.
Grayson, P.J. (1985). The closure of a factory and its impact on health. International Journal of Health Services, 15, 69-93.
Hakim, C. (1982). The social consequences of high unemployment. Journal of Social Policy, 2, 433-467.
Jackson, P. R., & Walsh, S. (1987). Unemployment and the family. In D. Fryer & P. Ullah (Eds.), Unemployed people: Social and psychological perspectives. Philadelphia: Open University Press.
Komarovsky, M. (1962). Blue collar marriage. New York: Random House.
Liem, R., & Liem, J. H. (1988). Psychological effects of unemployment on workers and their families. Journal of Social Issues, 44(4), 87-105.
Liem, R., & Rayman, R. (1982). Health and social costs of unemployment: Research and policy considerations. American Psychologist, 37, 1116-1123.
McLoyd, V. C. (1989). Socialization and development in a changing economy. American Psychologist, 44, 293-302.
Moen, P. (1979). Family impacts of the 1975 recession: Duration of unemployment. Journal of Marriage and the Family, 41, 561-572.
Moen, P., Kain, E., & Elder, G. H. Jr. (1983). Economic conditions and family life: Contemporary and historical perspectives. In R. Nelson & F. Skidmore (Eds.), American families and the economy. Washington, DC: National Academic Press.
Nowak T. C., & Snyder, K. A. (1984). Job loss, marital happiness and household tension: Do women fare better than men? Paper presented at the Society for the Study of Social Problems Annual Meeting. San Antonio, TX.
Perrucci, C. C., Perrucci, R., Targ, D. B., & Targ, H. R. (1988). Plant closings. New York: Aldine de Gruyter.
Perrucci, C. C., & Targ, D. B. (1988). Effects of a plant closing on marriage and family life. In P. Voydanoff & L. C. Majka (Eds.), Families and economic distress: Coping strategies and social policy. Newbury Park, CA: Sage.
Schlozman, K. L., & Verba, S. (1979). Injury to insult: Unemployment, class and political response. Cambridge, MA: Harvard University Press.
Straus, M. A. Gelles, R. J., & Steinmetz, S. K. (1980). Behind closed doors: Violence in the American family. Garden City, NY: Doubleday, Anchor Press.
Voydanoff, P., & Donnelly, B. W. (1988). Economic distress, family coping, and quality of family life. In P. Voydanoff & L. C. Majka (Eds.), Families and economic distress: Coping strategies and social policy. Newbury Park, CA: Sage.
Top of page