The Great Lakes Botanist (formerly The Michigan Botanist through Volume 55), established in 1962, is the peer-reviewed, quarterly journal of the Michigan Botanical Club. More...
Back Issues
Volumes 1-36 of the Michigan Botanist are available to search and read in HathiTrust.
Volume 59, Nos. 1-2 (January-June, 2020)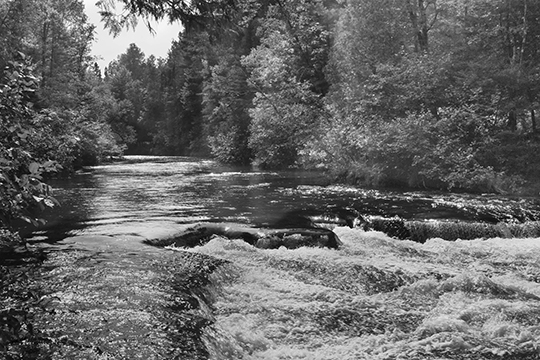 On the cover: Mays Ledges (Class II–III) on the Bois Brule River, Douglas County, Wisconsin. Photo by Derek S. Anderson
May Ledges is a series of rocks and ledges in the lower reaches of the river and is a favorite among canoe and kayak enthusiasts that is often rated as one of the best white-water experiences in Wisconsin. The river in this section falls 100 m in the last 29 km to Lake Superior.
In 1680, Daniel Greysolon Sieur du Lhut was the first voyageur to make his way up the Bois Brule River and the St. Croix River, seeking a waterway to the Mississippi. This early exploration confirmed that a waterway passage existed between the Upper Great Lakes and the center of the continent. In the ensuing centuries, new explorers traveled these waters describing the geology, vegetation, and character of the river. In 1845, Morgan Lewis Martin published in the St. Croix Falls Daily Union the following early account of one early exploration originating at La Pointe, Madeline Island, and continuing to the Mississippi. Morgan has just entered the river from the mouth, when he begins his narrative. The italicized section is one of the early accounts of Mays Ledges.
After going three or four miles, we struck the rapids of this river, over the trap boulders of which the water dashed like a mill-tail. Our voyageurs had to poke up them with all the strength and skill they could command, for there was constant danger of the canoes being dashed and stove against the rocks, or of being suddenly thrown across the current and capsized. These rapids were flanked at either side with red sand-stone cliffs; and the darkest and thickest kind of growth, composed of silver fur, or Canadian balsam, white cedars, birch, &c., and wholly unfit for tillage.

We worked forward in this way over rapids, for about thirty miles; and having passed three portages, around which we had to walk and carry our baggage, with still the fourth and last severe one before us, we finally struck up a camp near the head of the third portage, where all were sufficiently fatigued to sleep most soundly. At this last portage rapid, there appeared in the bottom of the river a mass of trap crossing it, over which the water fell two or three feet nearly perpendicular.
Paul S. Hlina, Derek S. Anderson, Reed J. Schwarting, Mary Ann E. Feist
Paul S. Hlina, Mary Ann E. Feist, Derek S. Anderson, Paul B. Marcum, Reed J. Schwarting, Nicholas P. Danz
Top of page