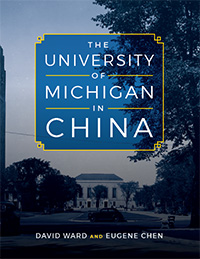 The University of Michigan in China
Skip other details (including permanent urls, DOI, citation information)
: Ann Arbor, MI: Michigan Publishing, University of Michigan Library, 2017.
Permissions: This work is licensed under a Creative Commons Attribution-NonCommercial-NoDerivatives 3.0 License. Please contact mpub-help@umich.edu to use this work in a way not covered by the license.
For more information, read Michigan Publishing's access and usage policy.
3. Kang Cheng and Shi Meiyu: The University of Michigan's First Chinese Students
Just 10 years after James Angell returned from his diplomatic work in China, the University of Michigan admitted its first Chinese students. In 1892, Kang Cheng (Ida Kahn) and Shi Meiyu (Mary Stone) traveled from Jiujiang on the southern shores of the Yangtze River to Ann Arbor to take the Medical School's entrance exam. Four years later, they graduated at the top of their class and returned to China, where they opened schools, hospitals, and medical dispensaries. As China entered a period of political uncertainty at the end of the Qing dynasty, Kang Cheng and Shi Meiyu became stabilizing forces in their community. They earned the respect of city elites and the poor alike, embracing a complex identity that was Chinese and Christian and Western all at the same time. They navigated among communities with startlingly different needs and expectations, from fellow missionaries and American congregations to Chinese Nationalist reformers, from government officials and military personnel to the local working poor. Over their lifetimes, Kang and Shi helped create a place of agency and independence for women in New China that emerged at the beginning of the 20th century.
Top of page