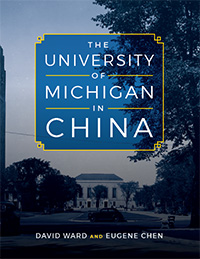 The University of Michigan in China
Skip other details (including permanent urls, DOI, citation information)
: Ann Arbor, MI: Michigan Publishing, University of Michigan Library, 2017.
Permissions: This work is licensed under a Creative Commons Attribution-NonCommercial-NoDerivatives 3.0 License. Please contact mpub-help@umich.edu to use this work in a way not covered by the license.
For more information, read Michigan Publishing's access and usage policy.
2. The 19th Century: The University Reaches Out to China
The University of Michigan's (U-M's) connection to China is almost as old as the University itself. In the school's early years, this relationship was shaped by American graduates who traveled to China as missionaries or naturalists. But the most prominent and politically important connection came with U-M president James Angell, whose service as a diplomat and minister in China paved the way for more than a century of close rapport between the institution and the nation.
In the autumn of 1841, when the First Opium War between the United Kingdom and the Qing dynasty was still a year away from its conclusion, the University of Michigan in Ann Arbor opened its doors for the first classes at the collegiate level. Six college students had enrolled in the Ann Arbor campus, then housed in one main building. Life in those early days was austere: students rose early, "awakened at 5 a.m. by a clanging bell" to attend a compulsory chapel devotion. They paid $1.50 per term for firewood, which they split themselves in the woodyard nearby and hauled, along with washing water, up to their rooms. Each living room "contained a study table, two chairs, a stove, and a wood closet" (Peckham 22). Students cleaned their own rooms, sweeping dirt and ashes from the stove out into the hall to be collected by the janitor, whom they nicknamed the "Professor of Dust and Ashes." As attendance grew, so too did the complexity of student life on campus. Despite the spartan living conditions and religious influence (attendance at a town church service was mandatory on Sundays, in addition to the daily chapel services), students organized "literary societies" and played pranks on the faculty and each other, building bonfires in the middle of town streets, filling the chapel with hay, and pilfering fruit from the faculty-­only garden (25).
Among that first class of freshmen to graduate from the University of Michigan was one Judson Collins, a young man who, at 14, had joined the Methodist Church during an Ann Arbor revival and who fit in naturally with the religious atmosphere of the early University. In fact, it was a paper assigned to him at school that led him to consider missionary service—­in an uncanny coincidence, Collins chose to research Henry Martyn, a man whose missionary work in India and early death would closely prefigure Collins's own life. On graduating from the University in 1845, Collins wrote,
Today I took sorrowful leave of many of my old schoolmates, never perhaps to see them again. I never again expect to be circumstanced as I have been here for the last four years. But college days are forever past. The world is before me. I must endeavor by divine will to fulfill well my part in it. (Eva 7)
Divine will or not, in Collins's first years after graduation, he worked as an instructor at Albion College teaching everything from botany and rhetoric to Greek. Rather than relaxing after the strict schedule imposed by the University of Michigan, he voluntarily increased the rigor of his daily life, waking before dawn at 3:00 or 4:00 am "to pursue some study and give himself to devotion or preparation for a class or lecture" (Eva 8). He wrote resolutions in his diary to eat less meat and to eat more sparingly at his meals, to devote more time to prayer, and to spend more time in preparation for the next day's work. Given Collins's personality and inclination toward an ascetic life, it's not surprising that even while employed as an instructor, he was working toward a life as a missionary. He submitted an application to the Missionary Board of the Methodist Church and wrote letters to the local bishop requesting an appointment in China, a country that had fascinated Collins during his college years. No one records what sparked this fascination, but one classmate recalled that Collins "searched through every library in the university and the village to find ancient and modern works on China" (Howe). Despite Collins's enthusiasm, the bishop's reply to his inquiry was curt and discouraging: "No mission there—­no money to establish one." The Missionary Board's response was not much better: "We have no missions in China. When the Lord wants us to enter China, He will indicate it" (Eva 8).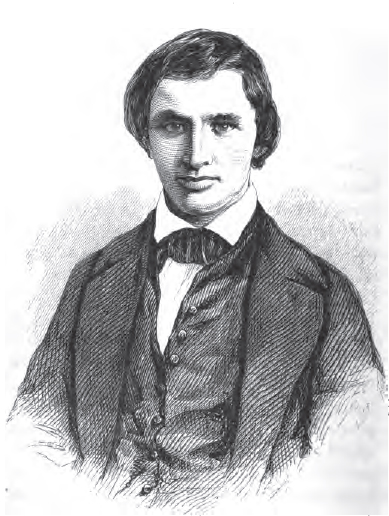 Judson Dwight Collins as a young missionary.
But Collins was undaunted. In words that were remembered more than a century later by the Methodist Church, Collins replied to the Missionary Board, "Engage me a place before the mast, and my own strong arm will pull me to China and support me while there" (Eva 8). Still, it was some months before he found passage to China, sponsored by a missionary movement at Wesleyan University. A friend recounted the arrival of the commission letter:
I was with him when he heard of the arrival in a distant village. It was dark, and the village was distant. He could hardly stay to "take a piece of bread," and he was on his way for his commission. Before the morning sunlight he had it in his hand. (Hinman 83)
By April 1847, a scant two years after graduating college, Judson Collins set sail for the city of Fuzhou in southeastern China. Boarding a steamer in New York, Collins described in a letter forcing "a passage through a noisy crowd of news boys, peddlers, porters and hack men . . . I found myself safely on board, with time to reflect that I had taken my feet perhaps forever from the soil of my native state." Meeting his two companions, a doctor and his wife, "the three stood at the rail and checked their emotions by singing college songs" (Baker 37).
Four months of travel later, Collins arrived with his companions in southern China's Fujian province. August in the subtropical city of Fuzhou was hot and humid. One million people lived in the city, half of them inside the city walls and half in the suburbs outside. Collins and his companions, the first ever Methodist missionaries in China, were lucky to find housing quickly. An English ship captain offered to rent them his house for $9.00 a month. Situated on an island in the middle of the Min River, the house "looked out on two strong, gracefully-­arched bridges sweeping away to . . . the north and south banks of the river" (40). From there, Collins began the first work of his missionary life, handing out religious tracts to throngs of curious city dwellers, many of whom took the tracts in order to write their own notes and receipts in the margins. Less than a year later, Collins and a Chinese teacher had founded a school for children. Eight boys enrolled in classes—­half of the day was devoted to Chinese studies and half to the study of Christian writing (51).
Collins's tenure in Fuzhou was not a long one. Amid the rigors of travel, poor sanitation, and the stress of assimilating to a foreign culture, Collins contracted an unnamed illness. Several years after his arrival in China, Collins began the long journey home. At 29 years old, he passed away in his parents' house in Michigan.
A second early graduate of Michigan who made a name for himself by traveling to China was Joseph Beal Steere. He received a BA from the classical school in 1868 and two years later received a degree from the Law School at the University of Michigan. After his graduation in 1870, however, Steere promptly decided to turn his career away from both classics and law. On behalf of the University's burgeoning museum, he agreed to undertake a year-­long expedition around the world to gather specimens. Steere, like Judson Collins more than two decades prior, set sail from New York. Unlike Collins, Steere traveled alone—­the man who had agreed to be Steere's traveling companion dropped out at the last minute. Seeing the small Gloucester fishing schooner set to carry the two of them to South America, "low in the water, tiny against the pier," Steere's companion reportedly said, "Joe, I'm not good enough for this. I'm going home" ("Joseph Beal Steere" 1).
Battling rough headwinds and choppy seas that "bore them almost as close to the African coast as the South American," the little schooner eventually arrived in Brazil. Steere collected botanical and zoological specimens in Pará and Maranhão, explored the Amazon, and excavated burial mounds on the island of Marajó. During his travels in Brazil, Steere met another young man from the United States, and the two made plans to expedition together. But Steere's misfortune and isolation continued: some weeks later, before they were to rejoin each other's company, Steere received word that his would-­be companion had died of yellow fever: "For the rest of the journey, Steere was entirely alone" ("Joseph Beal Steere" 2).
And yet Steere was apparently undaunted by his isolation: from Brazil he traveled to Peru and the Andes and then the Philippines and China. Once in Asia, he spent much of his time in Taiwan, then called Formosa, where he met with indigenous tribes and collected specimens.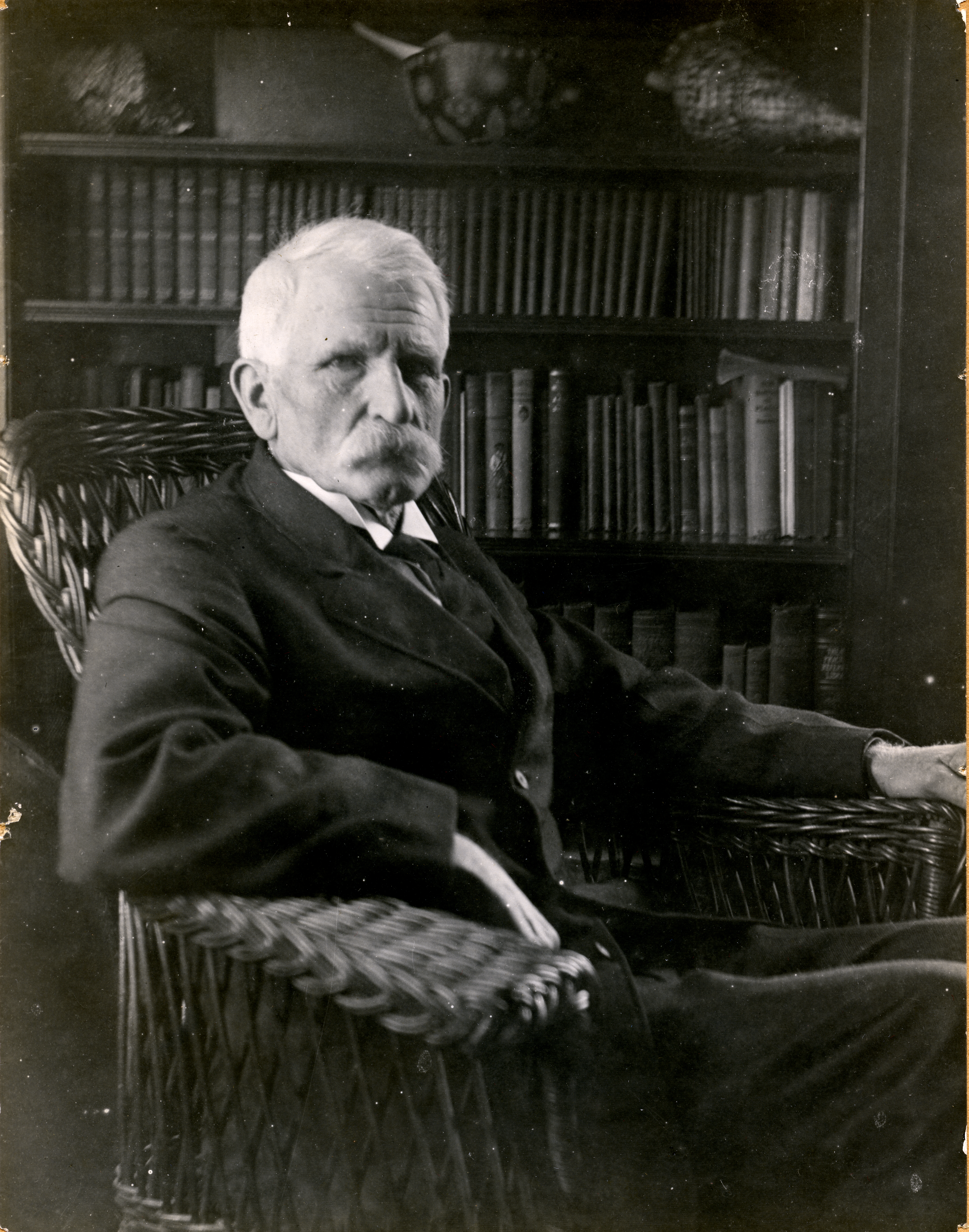 Joseph Steere in 1932 on his 90th birthday. Alumni Association Records, Bentley Historical Library, University of Michigan.
All told, Steere's expedition took almost five years. When he returned home in 1875, he was awarded an honorary PhD in zoology and donated some 60,000 botanical, zoological, archaeological, and ethnographic artifacts to the University of Michigan. A collection of this size spurred the University on to invest in its museum, and a short time later, the museum was given its own building to house the newly donated material.
Together, Collins and Steere demonstrate the University of Michigan's early interest in China and are justly remembered as courageous, ambitious students and pioneers in their fields. Yet they also show that the University's early connection to China was that of an institution tentatively reaching across a divide, hoping to learn or convert but not yet embrace. The move toward a more intimate connection between U-M and China began with James B. Angell.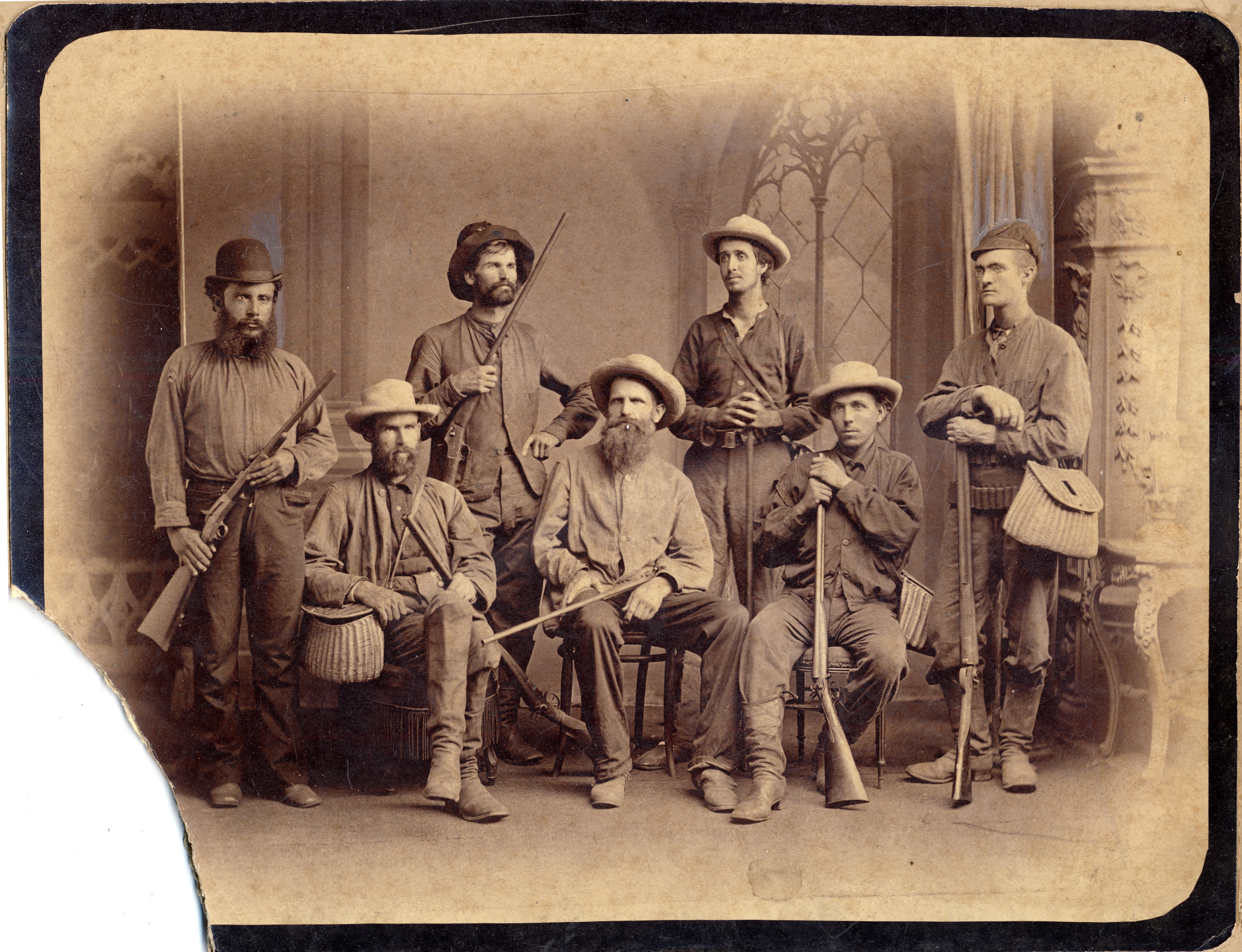 Joseph Steere (center) with his party of U-M students on an 1887 trip to the Philippines. Joseph Beal Steere Papers, Bentley Historical Library, University of Michigan.
The Tenure and Diplomacy of James Burrill Angell
The University of Michigan that Angell inherited when he took office in 1871 was a far cry from the University that Judson Collins had known just 30 years earlier. The student population had grown from 6 students to more than 1,100; women, at the urging of the Board of Regents, had recently been allowed to enroll; and athletics had become a prominent part of student life, with intramural football and baseball games encouraged by the faculty as a way of venting student energy and curbing vandalism.
Angell came to the University as a relatively young man. At 42, he had already served as a professor of modern languages at Brown University, edited the Providence Gazette, and served several years as the president of the University of Vermont. It took, apparently, some persuading on the part of the Board of Regents to convince Angell to leave his post at Vermont—­in the end, they offered him a salary significantly higher than the previous president of the University and agreed to his stipulation that the President's House be equipped with a bathroom, the first of its kind in Ann Arbor.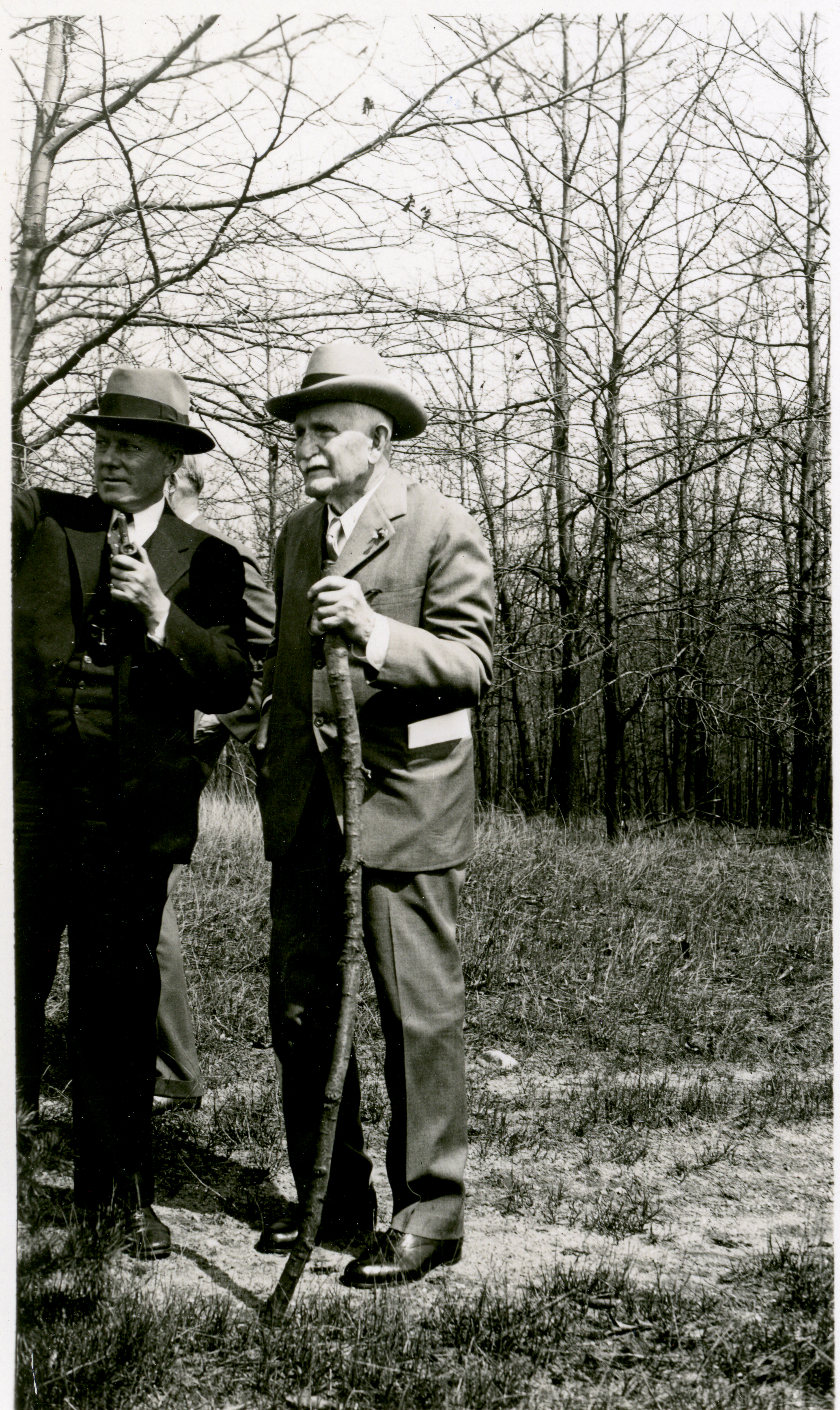 Steere (right) with L. J. Young. Alumni Association Records, Bentley Historical Library, University of Michigan.
When Angell arrived at the University of Michigan, he found that he had landed in no easy position. Troubles with the faculty—­low, uncompetitive salaries and overlarge class sizes—­were matched by troubles with the students, who had grown unruly and disrespectful during the morning chapel services. The latter issue Angell resolved personally by conducting the chapel service himself and "within the first three days reduced the students to respectful attention." More disruptive to the University's reputation, however, was a controversy that arose just a few years into Angell's tenure. A discrepancy in the funds of a chemistry laboratory was discovered, and the assistant professor, Preston Rose, was accused by his superior of embezzling the money. The controversy became public knowledge, and Rice Beal of the Ann Arbor Courier stepped in to defend Rose. Beal, coincidentally, had also helped fund Joseph Steere's expedition around the world, and he "was able to persuade the Regents to buy a half interest in the Beal-­Steere collection for the University Museum at the price of their claim against Rose," with the other half of the collection given as a gift (Peckham 75). In the end, Steere's collection of specimens helped resolve a controversy that threw Angell's early years at the University of Michigan into chaos.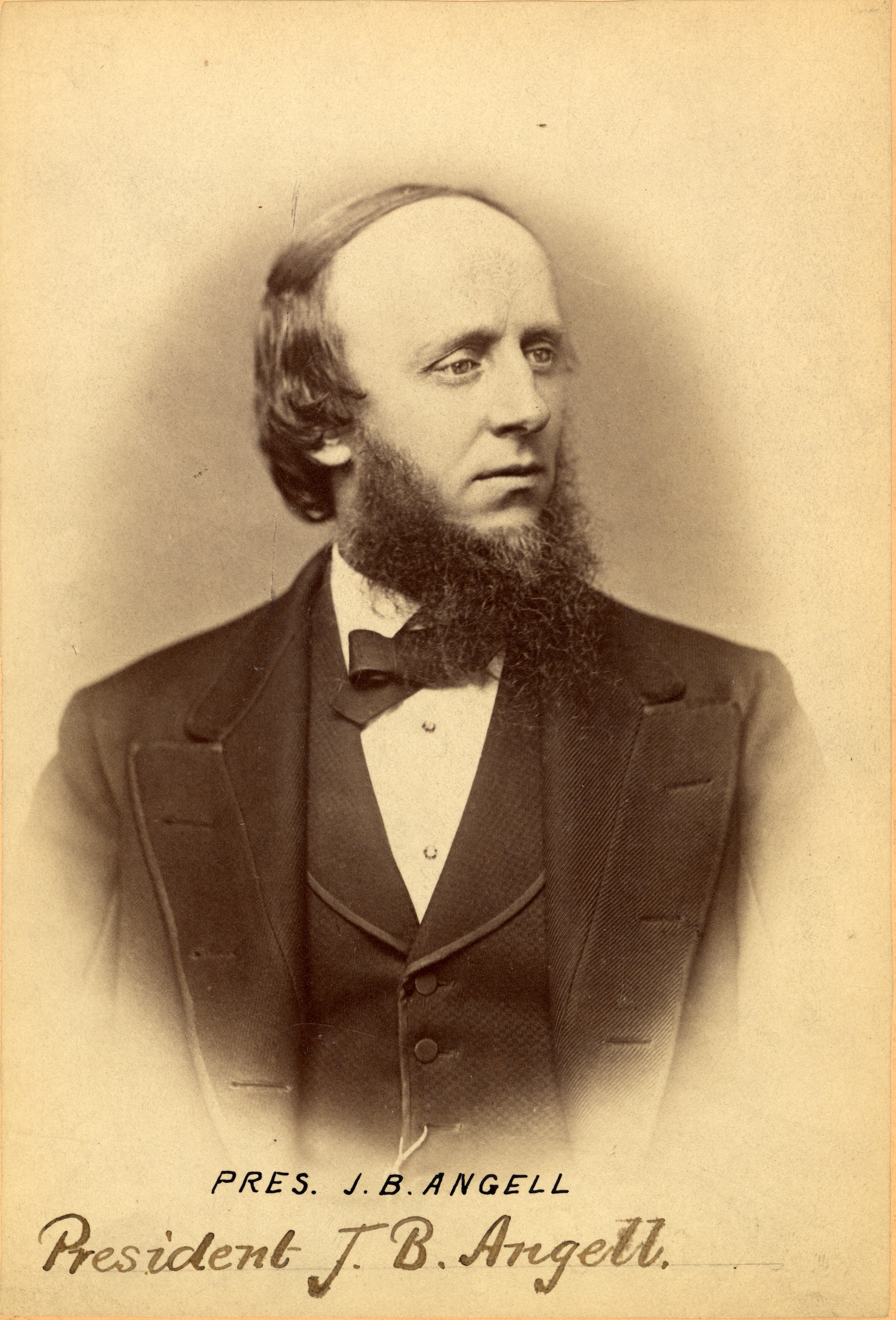 Angell, ca. 1879. James B. Angell Papers, Bentley Historical Library, University of Michigan.
With the most difficult years of his tenure behind him, Angell began a new phase of his career that would lead to some of the proudest and happiest times of his life. In February 1880, just as the trouble with the chemistry lab was dying down, Angell received a letter from the US secretary of state, William Evarts. The letter asked for Angell's assistance to help "secure, if possible, a revision of our treaties with that Empire, especially with the purpose of restraining in some degree the emigration which was threatening to flood the Pacific States" (Angell 129).
At the end of the 19th century, as at the start of the 21st, immigration was at the center of a heated debate in the United States. The Burlingame Treaty of 1868 had established China as a "most favored nation," an economic status that guaranteed equal trade advantages between the two countries. But despite this nominal step toward friendly relations, the influx of Chinese immigrants during the Gold Rush and the economic downturn in the United States after the Civil War ignited a conflict that challenged core American values. White supremacy cloaked itself with economic concerns: Chinese immigrants were blamed for low wages and accused of stealing low-­paying jobs, and anti-­Chinese groups like the Supreme Order of Caucasians formed in California. In 1878, Congress would have passed legislation excluding Chinese if President Hayes had not vetoed the bill.
This was the political atmosphere in which Angell received the letter from Secretary Evarts. Personally, the stakes were also high: the appointment would mean both uprooting his whole family with a move to China and disrupting the University by taking leave from his position as president. When he presented the letter to the Board of Regents, they "were startled, but felt that the University could not afford to miss the honor involved in being second only to Cornell . . . in having its President selected for an important foreign post" (Smith 119). With the regents' blessing, Angell traveled to Washington, DC, to meet with Secretary Evarts and President Hayes. But while Hayes, as Angell wrote in his autobiography, "seemed deeply impressed with the importance of restraining the immigration of Chinese," Angell himself felt some skepticism about the whole project. In a later letter to Evarts, he wrote,
The absolute and formal prohibition of the laborers would be diametrically opposed to all our national traditions & would call down the censure of a very large portion, if not a majority, of our most intelligent and high-­minded citizens. I must confess that personally I am not ready to favor it, until it is demonstrated much more clearly to me than it now is that the necessity for such a step is overwhelming . . . If the Commission are to be charged with that task, I should prefer that some one else should be appointed in my stead. (Smith 120)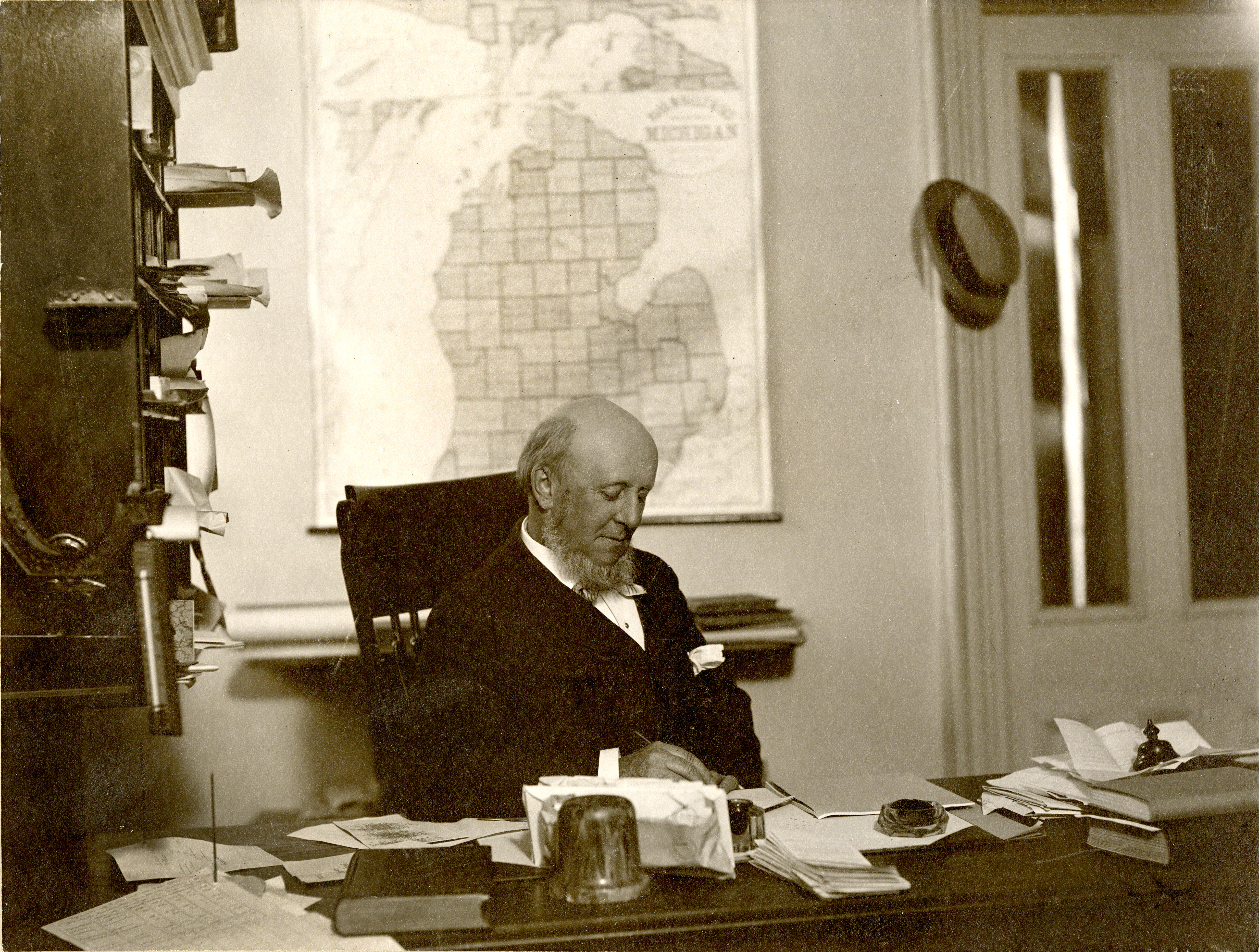 Angell working at his desk, 1897. James B. Angell Papers, Bentley Historical Library, University of Michigan.
Angell also expressed skepticism about the economic complaints of the anti-­immigrant movement. During a conversation with a labor union representative in California, the representative pushed for Chinese exclusion in order to protect American mechanics. Angell wrote that "I asked him if he could name one mechanic who had been crowded out of employment by the Chinese and he confessed that he could not" (Angell 133).
In the end, Secretary Evarts assured Angell that his misgivings were unnecessary and that the will of the US government was aligned with Angell's position—­in other words, Angell was free to work toward a treaty with more nuance than a blanket restriction of Chinese immigration. In short order, Angell was appointed as a minister and a "Chairman of the Commission for revising treaties with China," with John Swift and William Trescot working alongside him as commissioners.
In June 1880, just four months after receiving the letter from Evarts, Angell and his family (he took his wife, daughter, and youngest son) began their travels to China. From Michigan, they journeyed to San Francisco, sailed to Japan, and finally in late summer arrived in Beijing. All in all, their months of travel by rail and by sea went without mishap, except for a final incident: as the group of travelers sailed up the Pei Ho River from Tianjin to Beijing, both Angell and his daughter, Daisy, reportedly fell overboard. How they fell isn't recorded, and although to a modern reader such a moment sounds comical, falling into a polluted river in the late 19th century could have serious consequences. According to one anecdote, a sea captain who had fallen overboard and swallowed some of the water died of cholera soon after (Smith 130). Angell and his daughter were luckier—­they escaped with nothing worse than a humorous story.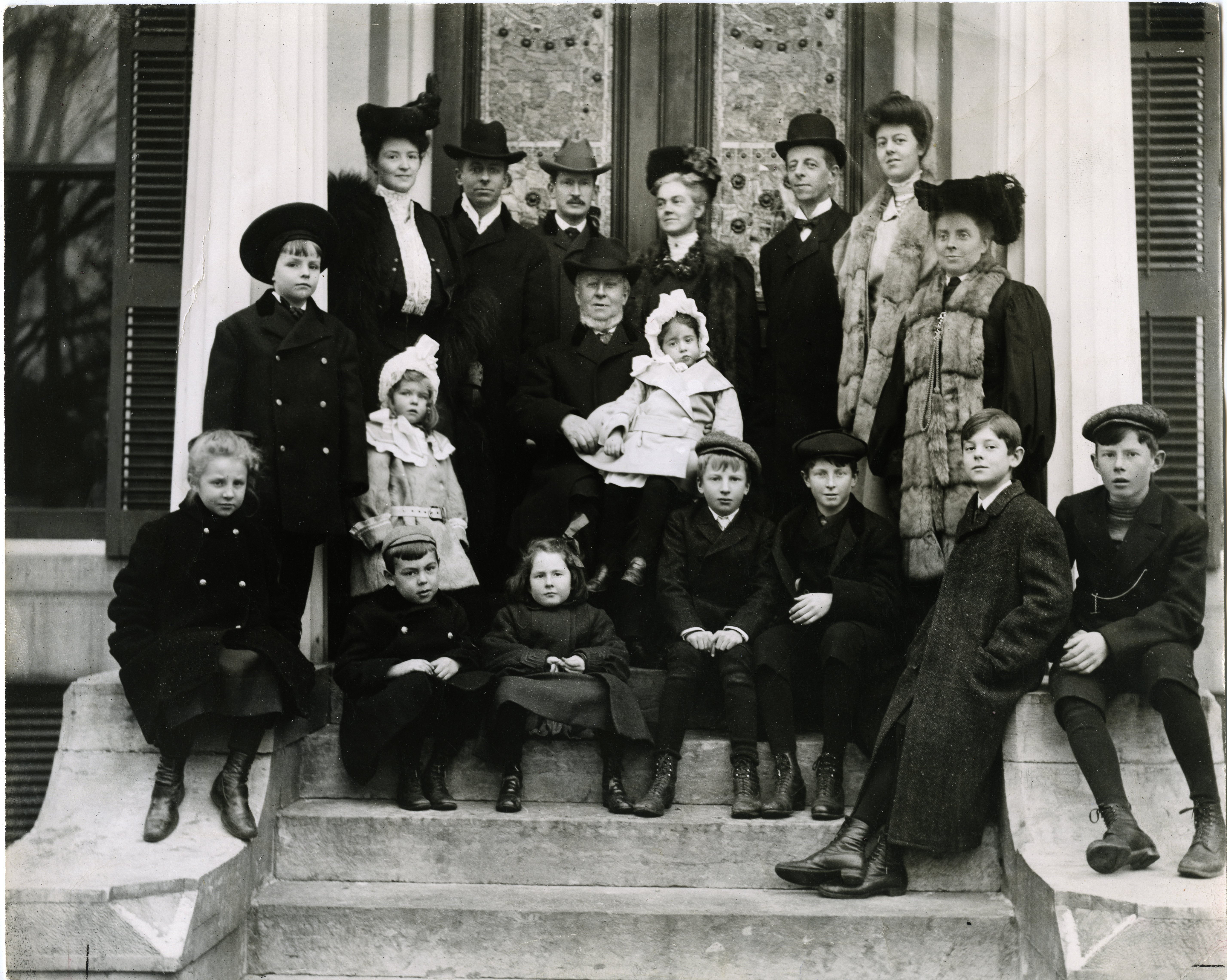 Angell (center) with family outside President's House. James B. Angell Papers, Bentley Historical Library, University of Michigan.
Once the party arrived in Beijing, negotiations began in earnest. Prince Gong, uncle to the emperor and head of China's foreign affairs ministry, met with Angell and introduced him to the Chinese commissioners with whom he would be negotiating. Angell, meanwhile, met in private with the other two American commissioners to work out the terms of a newly drafted treaty. Not all went smoothly in their early conversations, however; there was "a sharp difference of opinion" between them. Angell noted that his companion John Swift, a Californian, felt "that we should demand the absolute prohibition of immigration of laborers. Mr. Trescot and I maintained that we should ask merely for a stipulation giving us power to regulate, but not forbid, absolutely, immigration." Swift was outvoted by Trescot and Angell, who, as the chairman of the commission, had the final say. Nevertheless, Swift tried to appeal to a higher power, demanding "that we telephone Mr. Evarts for authority to present his [Swift's] demand. We declined to do so. Mr. Swift, of course, yielded, but not without some feeling" (Angell 142).
Despite the friendly reception the American delegation had received from Prince Gong and the general hospitality they found in Beijing, negotiations between the American and Chinese diplomats got off to a rocky start. As they opened discussion about the first articles in each treaty draft, Angell reports that the American commission "found ourselves so at variance with them, that Mr. Swift declared they did not mean to give us a treaty, and Mr. Trescot, usually so hopeful, thought we had come to the end." Thankfully, Angell "saw the Chinese earnestly discussing and [he] suggested patience" (143). Displaying the same tact and leadership that had charmed both unruly students and the Board of Regents at U-M, Angell suggested working with the last article of the treaty rather than the first and building some common ground. After working through some misunderstandings, everyone "got into the mood of agreeing" and went back to tackle the more difficult material.
On November 17, just 48 days after beginning negotiations, both parties signed the Angell Treaty. "The European ministers were astonished" that the US commission had arrived at a treaty so quickly (Angell 146). It had taken the German minister two years to accomplish something similar, and he had advised Angell that he "must not hope to finish a negotiation under a year" (147). It is difficult to pinpoint the reason for their quick success, whether due to the diplomatic skill of Angell and the Chinese commissioners or some mutual self-­interest between the two nations—­or, as Angell supposed, the influence on Chinese authorities of his close friend and British diplomat Sir Robert Hart. In any case, with their business concluded, Angell's colleagues Swift and Trescot returned home, leaving Angell to shift positions from chairman of the commission to diplomatic minister.
As minister, Angell's duties were somewhat less charged with tension. He fielded requests from American citizens and missionaries, communicating on their behalf with the Chinese government. But his responsibilities were less difficult than they might have been. In his autobiography, Angell wrote that American missionaries "called on me for help so much more rarely than the British missionaries called on Sir Thomas Wade that he once asked me jocosely if I would not trade missionaries with him" (Angell 163). Angell also kept in close contact with the US government. On one occasion, the secretary of state sent Angell a "very spirited dispatch," writing that a rumor had reached him that the Chinese government planned on seizing the Hawaiian Islands. "It was difficult to make Chinese ministers comprehend the gist of my inquiry," Angell wrote, "but when they did, they burst into a roar of laughter and begged me to inform the Secretary that whenever they formed such a plan they would give the US timely notice" (149).
The end of Angell's period in China left him feeling fond of the friends he had made and proud of the work he had done. With a sentiment surely shared by international students studying at the University of Michigan or American students studying abroad, Angell wrote that "the life at Peking in our time was so remote from the rest of the world that the friendships were very close. It was not without deep emotion that we parted" (Angell 159).
In February 1882, almost exactly two years after receiving the letter from Secretary Evarts, Angell returned home to Ann Arbor and resumed his office as the president of the University. His time in China remained a high point in Angell's life: as his biographer wrote, "there can be little question that [he] always regarded the China episode as the high spot of his career" (Smith 119).
Angell's Legacy
James Angell's reputation as president was impeccable. He shepherded the University through nearly four decades of change, earning a reputation among students for both warmth and toughness. Early in his career, Angell suspended 6 students for hazing. When 81 of their classmates objected, arguing that they were just as guilty as the 6, Angell took them at their word and suspended all 87 of them. He also prided himself on remembering students' names, and every semester, in addition to his administrative duties, Angell insisted on teaching a class on international law. When the head of Brown University asked Angell for advice on succeeding as a college president, Angell replied, "Grow antennae, not horns" (Smith 356).
Angell's tenure as president at the University of Michigan lasted 38 years, the longest term anyone at U-M has served. He tried to retire twice, but he was so beloved that the Board of Regents refused his first resignation until finally, at age 80, they let him retire. Even though he no longer held office, the board let him live out his days in the President's House on campus.
The consequences of Angell's work as a commissioner and minister to China are more complicated than his legacy at U-M. Just three months after his return to Ann Arbor, and despite Angell's own skepticism on the matter, US president Chester A. Arthur used the Angell Treaty as an opening to sign the Chinese Exclusion Act into law. One of the United States' more shameful pieces of legislation, the Chinese Exclusion Act was the first federal prohibition of an ethnic group. Under the act, Chinese "skilled and unskilled" laborers were prohibited from entering the United States, an intentionally vague category that included most Chinese citizens. "Non-­laborers" had to receive documentation from the Chinese government in order to enter, and Chinese already living in the United States were barred from reentry, forcing them to choose between visiting relatives in China and remaining US citizens.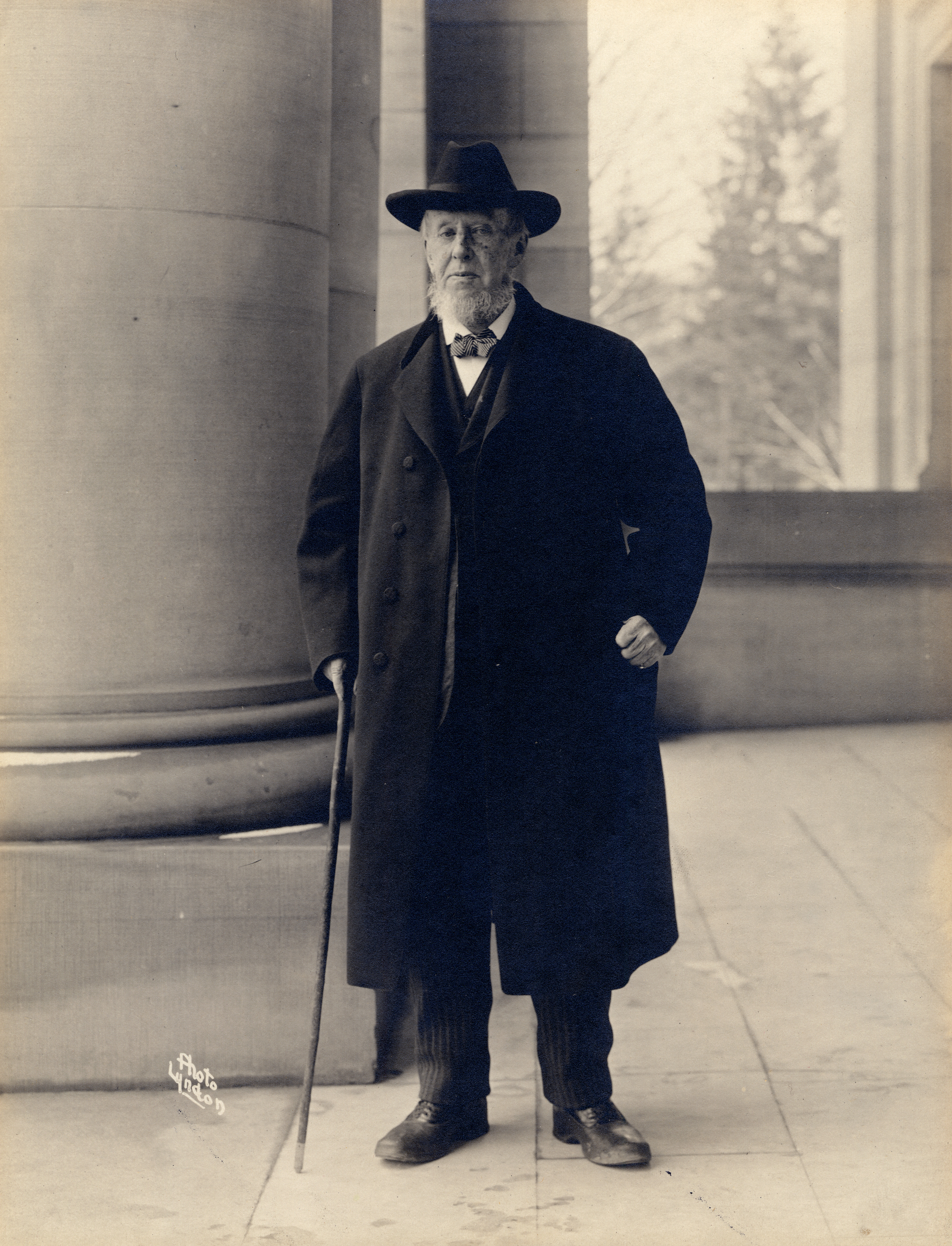 Dr. Angell, 1916. James B. Angell Papers, Bentley Historical Library, University of Michigan.
As we'll see in later chapters, the Chinese Exclusion Act caused difficulties for Chinese graduates of the University of Michigan. It wasn't until the alliance between the United States and China during World War II that the act was repealed, which meant that whole generations of prospective students had to deal with the legal challenges of proving that they were not laborers.
Still, Angell's engagement with China opened the door for a relationship between the University and the nation that would flourish in the coming decades. In 1885, for example, "the Chinese government presented to the university its exhibit at the New Orleans Exposition" (Smith 155). The University museum displayed the gifted exhibit for the next 40 years. And after the Boxer Rebellion (1899–­1901),
the foreign forces consisting of eight countries demanded an indemnity of $333 million from the Chinese government . . . Angell, together with other educators and like-­minded people, pushed the US government to return the Boxer Indemnity to China for the establishment of a scholarship program that would allow Chinese students to come to the United States for education. (Bartlet 6)
Several years later, a Chinese commissioner of education traveling the United States to "determine schools for the indemnity students, placed the University of Michigan among the top five choices" (6).
Angell's funeral, 1916. James B. Angell Papers, Bentley Historical Library, University of Michigan.
Since Angell's tenure, the University of Michigan has seen many thousands of Chinese students attend. The following chapters will examine the lives and impact of American students who have followed in Judson Collins's and Joseph Beal's footsteps, those who hope to learn from and to do good in China, as well as Chinese graduates from U-M who walked through doors to international education that James Angell helped open.
Works Cited
Angell, James Burrill. The Reminiscences of James Burrill Angell. New York: Longmans, 1912. Print.
Baker, Richard Terrill. Ten Thousand Years: The Story of Methodism's First Century in China. New York: Methodist Church Board of Missions and Church Extension, 1947. Print.
Bartlett, Nancy. The University of Michigan and China: 1845–­2008. Ann Arbor, MI: Bentley Historical Library, 2007. Print.
Eva, Sidney. "Judson Dwight Collins: Missionary from Michigan." Judson Steere Collection, Bentley Historical Library, 1947. Print.
Gaige, Frederick M. "Joseph Beal Steere: Naturalist, Explorer, Educator." Joseph Beal Steere Collection, Bentley Historical Library, 1931. Print.
———. "Michigan Loses Beloved 'Elder Scientist.'" Joseph Beal Steere Collection, Bentley Historical Library, 1941. Print.
Hinman, C. T. The Model Christian Young Man: An Address on the Life and Character of Rev. Judson Dwight Collins, Late Missionary to China, Delivered before the Union Missionary Society of Inquiry of the University of Michigan, July 14, 1852. Detroit: Free press book and job office print, 1852. Print.
Howe, E. "The Story of Judson Collins, Missionary." Detroit Free Press, 28 July 1901. Print.
Peckham, Howard H. The Making of the University of Michigan, 1817–­1967. Ann Arbor: U of Michigan P, 1967. Print.
Simpson, Cora. "My Paths Crossed His." Michigan Christian Advocate. Judson Steere Collection, Bentley Historical Library, 1947. Print.
Smith, Shirley Wheeler. James Burrill Angell: An American Influence. Ann Arbor: U of Michigan P, 1954. Print.
Top of page