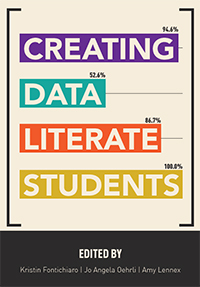 Creating Data Literate Students
Skip other details (including permanent urls, DOI, citation information)
: Ann Arbor, MI: Michigan Publishing, University of Michigan Library, 2017.
Permissions: This work is licensed under a Creative Commons Attribution-NonCommercial-NoDerivatives 4.0 International License. Please contact mpub-help@umich.edu to use this work in a way not covered by the license.
For more information, read Michigan Publishing's access and usage policy.
12  Diving lessons: Taking the data literacy plunge through action research
Helping students to become data literate is a challenge on many levels, but none is so compelling as this: how do we make data interesting and meaningful to them? One answer may lie in contextualizing data skills in the world and interests of our students by having them do research themselves following the action research model.
Knowing that modeling is an impactful teaching strategy (Coffey n.d.) and recognizing the role of affect in the information seeking process (Kuhlthau 1993), we can better address this dilemma by employing action research (AR) to both improve our own practice and skills set and provide an authentic example to students of how we use data to solve real-world problems. The visible and intentional use of action research will also help to increase our credibility with students who struggle with the inquiry process. When we show them that we have taken the plunge, too, we can state with confidence that we understand what they are going through!
In this chapter, you'll learn the stages of action research and how to apply them to pursue your own areas of interest. Once you've become comfortable with the format, you can teach it to your students. By making data collection and use personal, the data is relevant and relatable to our own contexts. Data we don't know about and things we are unfamiliar with raises two barriers for students; studying data they know closes that gap.
In thinking about how to wade into action research, it's first important to understand what it is and how it can be leveraged to our advantage. This chapter's goal is to show that action research is truly practitioner-friendly and not at all that sort of "swallowing sawdust" experience that most of us think about when we hear terms like data or research.
Top of page