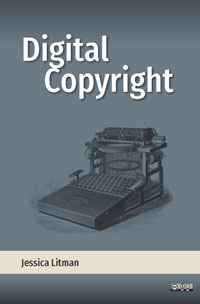 Postscript
Nineteen years after enactment of the DMCA, we have some basis for evaluating the changes it made to the copyright law. Twentieth century information and entertainment businesses deployed different strategies to defend their business models from the threats they saw in networked digital technology. The tools they secured in the DMCA were not as useful as they had anticipated. Many of my worst fears have not come to pass,[1] in no small part because legacy copyright owners' efforts to protect their ways of doing business were short-sighted and ineffective.
I focused much of my attention in this book on the dysfunctional process that we have used to craft our copyright laws. The process serves the public poorly. Members of the public, though, can and often do choose to comply with what they believe the law should say, rather than paying attention to the complicated details of the laws Congress actually enacts. That tendency can mute the effects of very bad laws on the majority of readers, listeners, and viewers. Although copyright lawyers a decade ago would have insisted that unauthorized fan mashups of popular works were simply illegal, for example, millions of fans nonetheless made millions of mashups and posted them online. Rightsholders figured out ways to adjust to that reality.
The real losers in this round may be the individuals who create copyrighted works. In the past 40 years, Congress has tweaked the copyright law repeatedly to enhance copyright owners' control over their works. None of those tweaks appear to have put more money in creators' pockets. Even when new copyright laws may have increased copyright revenues, copyright owners have displayed a persistent reluctance to share their wealth with creators. Representatives of copyright owners are eager to defend their requests for copyright expansion by raising the need to ensure that individual creators earn money from their works. That eagerness has not so far been accompanied by a willingness to actually pay those creators more money. The lesson of past copyright revisions is that even massive enhancement of the scope of copyright owners' rights and the robustness of their remedies doesn't effect a noticeable increase in author compensation. Copyright owners have recently responded to their perceived loss of income and control by striking new deals with the young businesses that use copyrighted works new ways. The deals are often structured to minimize copyright owners' obligation to share proceeds with the creators of those works.[2] When creators have complained about their shrinking royalty checks, copyright owners have blamed Internet piracy. Owners' expressed distress about creator compensation, thus, seems to be more a matter of political posturing than genuine concern. The American copyright system has always been more effective at funneling money to copyright owners than ensuring that individual creators are able to profit from their works.
_____________
When we last checked up on our characters, copyright owners were pursuing three strategies for taming the scary Internet: they were chasing the twinkling promise of technological protection measures that would allow them to prevent unauthorized uses of their works; they were filing scores of copyright infringement suits against new digital businesses with the goals of litigating them into bankruptcy and deterring investors from bankrolling them; and they were seeking ways to cause online service providers to shoulder most of the burden of policing copyright infringement. These three strategies have shaped the online world we inhabit today, but not in the ways that many copyright owners hoped.
Top of page