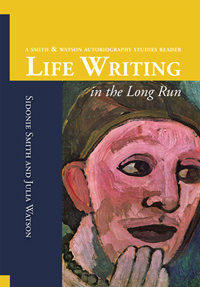 Life Writing in the Long Run: A Smith & Watson Autobiography Studies Reader
Skip other details (including permanent urls, DOI, citation information)
: Ann Arbor, MI: Michigan Publishing, University of Michigan Library, 2017.
Permissions: This work is licensed under a Creative Commons Attribution-NonCommercial-NoDerivatives 3.0 License. Please contact mpub-help@umich.edu to use this work in a way not covered by the license.
For more information, read Michigan Publishing's access and usage policy.
6. Virtually Me: A Toolbox about Online Self-Presentation (2014)
Opportunities for composing, assembling, and networking lives have expanded exponentially since the advent of Web 2.0. The sites and software of digital media provide occasions for young people to narrate moments in coming of age; for families to track and narrate their genealogical histories; for people seeking friends and lovers or those with similar hobbies to make connections; for political activists to organize around movements and causes. These everyday sites of self-presentation appear to be categorically different from what is understood as traditional life writing, be it published autobiography, memoir, or confession. And yet, as Nancy Baym (2006) observes, "online spaces are constructed and the activities that people do online are intimately interwoven with the construction of the offline world and the activities and structures in which we participate, whether we are using the Internet or not" (86, qtd. in Gray 2009, 1168). Thus, online lives exist in complicated relationship to offline lives and to what has been termed the "outernet" (Nakamura 2008, 1676). And "electronic persons" have multiple connections to "proximate individuals," as J. Schmitz (1997) has observed (qtd. in Kennedy 2006, 4). For these reasons, the analytical frames and theoretical positions of scholarship on life writing can provide helpful concepts and categories for thinking about the proliferation of online lives in varied media and across a wide range of sites.
Our contribution to understanding subjectivity and identities online, as well as the modes and media mobilized to present and perform lives, is this toolkit, organized alphabetically through rubrics derived from the framework we developed in Reading Autobiography (Smith and Watson 2010).[1] Studying the presentation of online lives makes clear that both the self and its presentation are only apparently autonomous, as many life-narrative theorists, as well as media theorists, argue. In fact, online lives are fundamentally relational or refracted through engagement with the lives of their significant others: the lives presented are often interactive; they are co-constructed; they are linked to others—family, friends, employers, causes, and affiliations. Many online lives profess attachments not to flesh-and-blood others but to media personages, consumer products, and works of art or music linked to online resources such as YouTube videos. As N. Katherine Hayles asserts for electronic literature, so for online relationships and subjectivities: they are re-described and re-presented "in terms of a networked environment in which individual selves blend into a collectivity, human boundaries blur as people merge with technological apparatus, and cultural formations are reconfigured to reflect and embody a cyborgian reality" (Hayles 2003).
Here we offer two preliminary comments. The first clarifies the key terms "self," "subject," and "subject position" as used in this toolkit. Throughout, we use the term "self" as a pronomial marker of reflexivity, the shorthand term for acts of self-reference. This sense of the term should not, however, be conflated with the liberal humanist concept of the self as a rational, autonomous, self-knowing, and coherent actor, which is a legacy of the Enlightenment. Indeed, this liberal humanist self, understood as essential, free, and agentic, has been a focus of critique for four decades. When constructing personal web pages or the like, users themselves often imagine that they are revealing their "real" or "true" essence, a person or "me" who is unique, singular, and outside social constructions and constraints.[2] Theorists of media and autobiography, however, approach the constructed self not as an essence but as a subject, a moving target, which provisionally conjoins memory, identity, experience, relationality, embodiment, affect, and limited agency.
In online self-presentation as in offline life narration, then, the "I" of reference is constructed and situated, and not identical with its flesh-and-blood maker.[3] Moreover, that "I" is constituted through discursive formations, which are heterogeneous, conflictual, and intersectional, and which allocate subject positions to those who are interpellated through their ideological frames, tropes, and language. Those subject positions in turn attach to salient cultural and historical identities. Both offline and online, the autobiographical subject can be approached as an ensemble or assemblage of subject positions through which self-understanding and self-positioning are negotiated.
Our second comment clarifies what the term "online lives" encompasses in this chapter.[4] Many media theorists invoke the term "digital storytelling" to refer to the transmission of personal stories in digital forms. Nick Couldry, for example, refers to "the whole range of personal stories now being told in potentially public form using digital media resources" (Couldry 2008, 347). We follow Couldry's lead in limiting online lives to "online personal narrative formats . . . [now] prevalent: . . . multimedia formats such as MySpace and Facebook, textual forms such as webblogs (blogs), the various story forms prevalent on more specialist digital storytelling sites or the many sites where images and videos, including material captured on personal mobile devices, can be collected for wider circulation (such as YouTube)" (381–82). We oscillate between the forms attached to particular sites, and the acts and practices of self-representation and self-performance employed by users on a range of standardized forms and templates.
Further, we do not take up oral storytelling such as co-produced stories told in offline workshops and then mounted online. Others have focused on the contrast of online narrative forms to practices of oral storytelling and projects involving listening to others' stories, as does Joe Lambert (2012) and scholars and writers affiliated with the Center for Digital Storytelling in Berkeley, California. Nor do we consider the collective websites that make available collaboratively produced life stories of ordinary people, such as StoryCorps, Lifebio.com, or My Life Is True. While many kinds of online life stories use autobiographical templates for narration, not all are produced by the single subject/user telling, performing, and/or imaging a life, the focus of this chapter.
In our online toolkit of fifteen concepts presented in alphabetical order, each brief discussion is followed by questions to enable scholars and students to productively engage with the vast variety of sites presenting lives online. You might pose these questions as you produce or interact with online "life" presentations of many sorts: an opinion blog, a profile of a desirable self on a dating site, a webcam "reality" video, a Facebook profile or LiveJournal entry. The questions offer points of entry for analyzing online self-presentations and points of departure for constructing, and critiquing, your own online life and those of others.
Top of page