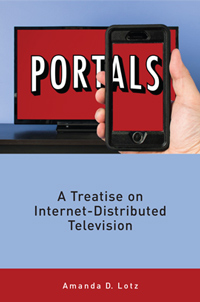 Portals: A Treatise on Internet-Distributed Television
Skip other details (including permanent urls, DOI, citation information)
: Ann Arbor, MI: Michigan Publishing, University of Michigan Library, 2017.
Permissions: This work is licensed under a Creative Commons Attribution-NonCommercial-NoDerivatives 3.0 License. Please contact mpub-help@umich.edu to use this work in a way not covered by the license.
For more information, read Michigan Publishing's access and usage policy.
2 A Model For the Production Of Culture: The Subscriber Model
Beyond the theoretical exercise of illustrating that the nonlinear affordances of internet distribution divorce portals from the flow model, recognizing the different protocols enabled by internet distribution also reveals opportunities for new strategies and ways of thinking about television's economic exchange. Nonlinear distribution and its on-demand nature require rethinking many of the strategies that have proven successful for linear television—most of which were related to scheduling. Linear distribution required synchronous viewing; it mandated timeliness as a structuring norm of television engagement.
Broadcast's technological limitations necessitated the protocol of the schedule, which was particularly well-suited for advertising because viewers had no control over the stream of content, which made them more likely to be captive for advertisers' messages. The content abundance characteristic of internet distribution and viewers' ability to self-navigate access have challenged the norms of advertising that developed for broadcast and cable distribution technologies. Legacy practices of pricing and selling advertising and measuring exposure to advertising messages have not proven effective for the very different experience of nonlinear distribution—particularly in terms of the budgets required for professional-level content. Even outside of internet-distributed video, viewer-accepted practices of advertiser messaging and valid measures for the exchange of attention remain in development and inconsistent across social media platforms. New distribution technologies such as cable-distributed, advertiser-supported, video on-demand (e.g., Comcast's Xfinity service) offer examples of access to nonlinear programming reliant in part on advertiser support, but practices specifically attuned to this environment remain preliminary.
Despite some previous cases, media have not extensively used a subscriber-funded revenue model that is not supplemented with advertising, and thus conceptualization of subscriber-funded media is limited. "Subscriptions" are most common to US media audiences in the context of magazines—which, with few exceptions, are predominantly advertiser supported despite the small subscription fee. Reliance on advertising in any amount strongly affects strategy and leads such dual-revenue media to conform mostly to logics of advertiser-supported media. US audiences also might think of a "subscription" to a cable, phone, or internet service. None of these cases is illustrative of the subscriber-funded services focused upon here. A cable subscription comes closest—it provides access to cable channels in exchange for a monthly fee. But the majority of those channels are supported in part by advertising. HBO, Showtime, Cinemax, and Starz, as purely subscriber-funded, provide the clearest precedent.
As the use of the subscriber-only revenue model has grown more prevalent among internet-distributed media, it has become necessary to theorize the specificities of subscriber-funded media as well as their use in the context of the affordances internet distribution allows. The limited use of only subscriber financing in exchange for access to an array of goods has been uncommon enough to escape detailed theorization. There are few precedents in and limited theorizing of media using a subscription-for-library-access model despite origins of this model that date to the circulating libraries of the 1700s.[1] Circulating libraries provide a precursor to portals' subscriber funding as a contemporary business model for media, as does video rental of the 1980s.[2] Subscriber funding is also a key revenue stream for emerging businesses offering streaming music access. Factors of media specificity create different dynamics in all these contexts, but nevertheless create a relevant field of examination.
Although "subscriptions" to print goods such as newspapers and magazines have been common for the last century, this transaction too is distinct from the context of portals. Miége considered these goods as produced within a "written press" model that was ultimately quite similar to the flow model because advertising provided the primary revenue stream and the regularized creation and release of these goods mirrored the scheduling function of flow media and likewise required constant production infrastructure. Moreover, subscriptions to media goods typically have been narrowly circumscribed—a subscription to a particular publication, rather than the breadth of content most portals offer. Finally, advertising remained the primary source of revenue of newspapers and magazines so that their practices of content selection are governed by strategies very different from those wholly reliant on subscriber payment.
The most significant previous work seeking to theorize subscription derives from Lacroix and Tremblay's preliminary suggestion of a "club model" in 1997. This work importantly recognized the distinctive logics of subscriber-funded media, such as cable systems that became widespread in the 1990s, but blended advertising and subscriber revenue. Moreover, their model (at least from what I can discern from translated sources) remains too broad to be extensively helpful—particularly due to its inclusion of multiple revenue models. Writing about cable and related affordances, they note, "Club logic, which develops alongside network development, offers both to those who are hooked up, that is, to those who pay a monthly subscription: programming financed by advertisements, subscriptions or on a pay-per-view basis, and products and services which consumers can … reproduce on material supports."[3] Their work is valuable in its address of shifting distribution technologies that required refinement in previous models and begins to think through the distinctive nature of a cable subscription as a media transaction. In the US context of cable subscription at least, the cable service does not play a curatorial role comparable to subscriber-funded portals. Cable and satellite service providers participate minimally in curation or scheduling, their function is more that of the gateway utility, akin to the internet service provider in the context of portals. Cable subscriptions also mostly provide access to content reliant on advertising so that the logics of advertising govern the production of cable programming.
The clearest precursor of subscriber-funded portals is linear subscriber-funded television service as offered by HBO and Showtime. Although similar in business model, even these entities are distinct from portals because of the limitation to access created by linear transmission. As for the cases of linearly distributed HBO and Showtime, portal subscribers assess the value of subscriber-funded, internet-distributed portals based on the availability of content that matches personal interests. Subscribers might only be willing to pay for a service if it offers a value proposition considerably better than what they can achieve in an advertiser-supported environment. These services consequently embraced technologies such as multiplexing and cable on demand that expanded access beyond the linear schedule to increase their value proposition. With few exceptions, linear subscriber-funded television services were such a small part of the television ecosystem that their business model has not been extensively explored.[4]
Here, I extend the endeavors of Francophone cultural industries theorists such as Miége, Flichy, Lacroix, and Tremblay by suggesting a "subscriber model" of media industry operation. More specifically, I identify the characteristics of the subscriber model utilized by internet-distributed portals to ground it in a particular context.
Key to differentiating media operating in a subscriber model: unlike flow and even written press models, advertising does not drive these industries, and viewers buy access to a package of goods, rather than the individual goods transacted in the publishing model. As established, a "subscriber model" is not particular to internet distribution. Such a model could have been created to explain the logics and strategies evident of HBO in an era in which it remained tied to a linear schedule, and this model building consequently contributes to understanding subscriber-supported, linear television such as HBO and Showtime. Likewise, although this model building relies on the situation of internet-distributed television portals, points of commonality with various subscriber-funded music services such as Spotify and Pandora can be identified. Deeper exploration of a model for subscriber-funded entities is required now that it has emerged as the preponderant model of this preliminary stage of internet-distributed portals.
Beyond its revenue stream, a subscriber model differs from other media transactions by relying on bundling, which has been a common practice in media industries. Often the bundling characteristic of media consumption in a pre-digital age—the aggregation of articles in a newspaper or magazine, the collection of songs to make an album—emerged from the economics of manufacturing and distributing a physical good. When a physical form was required for distribution, economies of scope necessitated aggregating media to justify the manufacturing costs of the good. Internet distribution eliminates the need for a physical good and, along with viewer desire for access to disaggregated goods, has resulted in the separation of songs from albums and articles from newspapers.
The strategy of bundling access to an array of content in portals—as opposed to selling individual series as done by transaction retailers such as iTunes and Amazon—is related and yet demonstrably different. It is not that the economics of transaction functionally require bundling to make efficient sale of a good, as was the case of physical media. Rather the portal strategy of collecting goods in a library is a response to heterogeneous taste, the risk averseness of audiences to paying to try new programs, and the marketing costs of transacting single goods.
Bakos and Brynjolfsson's research, while focused on "information goods," helps explain bundling as a business practice for portals distributing television entertainment as well.[5] Their analysis seeks to explain practices emerging for goods with very low marginal costs and how bundling creates "economies of aggregation." Although their models do not fully take into account the situation of portals—particularly the dynamic of a seller that creates its own intellectual property—two points of their analysis are very relevant. The value of bundling over transaction derives from bundling's greater efficiency in predicting consumer value of a collection of goods as opposed to single goods. This greater predictability is then matched with the capacity to collect extensive data about viewer tastes that quickly generates more predictive capabilities for large bundlers that enables them to extract more value from goods than smaller bundlers. Smith and Telang address the strategy of bundles for consumers by noting the larger the bundle the more convenient for consumers, which increases their willingness to pay.[6] Bundling thus produces benefits for both sellers and consumers and is increasingly beneficial in an environment of internet distribution in which marginal cost is functionally zero.[7]
Other research has also explored the strategy of bundling in contexts in which physical goods are not a factor, such as the newspaper industry's use of subscriber funding versus pay-per-article online access,[8] bundling strategies and pricing of online magazine content,[9] or tying access to a package of channels together in cable bundles.[10] Notably, in all these cases, advertising remains a crucial revenue stream. The situation of subscriber-funded portals that exchange access to a bundle of content for a flat fee consequently remains distinctive.
Miége explains the logics of the publishing, flow, and written press models by delimiting each according to their general characteristics, central function, economic organization, creative professions, income, and market characteristics. Following that organizational logic helps identify the distinction of a subscriber model that is developed with the situation of subscriber-funded, internet-distributed portals in mind. Analysis of consequent business strategies and exploration of emerging implications follows.
Implications of Subscriber-Funded Portals
Claiming implications of subscriber-funded portals for viewers and creatives at such an incipient stage is difficult. But just as delineating a preliminary subscriber model aids in organizing conversation about and analysis of this rapidly evolving market, so too can establishing areas of critical focus provide guidance as more evidence becomes available. Asserting grounded claims on any of the following key critical questions is difficult given the paucity of evidence, but the following are important questions for critical assessment of internet-distributed television in its pervasive subscriber-funded deployment—both in comparing the implications of various strategies within this distribution technology and in comparison with the experience and related theories developed over decades of linear broadcast and cable distribution.
Conclusion
From a business standpoint, the logics of the subscriber model have proven most successful in transitioning audiences from the norms of broadcast and cable distribution into experimenting with internet-distributed television. Like in the first years of cable availability, significant heterogeneous demand exists so that viewers desire additional programming services for wide-ranging reasons. The subscription library model and a conglomerated niche curation strategy correspond well with this preliminary period of internet-distributed video, just as was the case of early cable channel bundling, in which subscription to cable service met the disparate desires of those seeking varied content.[29] In time, cable channels became more narrowly targeted—or specifically branded—but that strategy was enabled by the content creation oligopoly that leveraged a particularly desirable channel to gain carriage of more narrowly targeted channels in negotiations with cable and satellite providers. Portals in many ways introduce the long sought "á la carte" cable environment in which viewers can more precisely select the range of program services they desire.
It is too soon to take the preliminary success of subscriber-funded portals as a referendum on portal business models, but it is unquestionably the case that relying only on subscriber support makes the economic relationship many times less complicated than advertiser support. Throughout the last twenty years, advancement of television has been consistently instigated by subscriber-funded services: consider the early moves of HBO and Showtime into multiplexing, then on demand, then developing original series, and most recently, as the earliest legacy companies to develop complementary internet portals. This may not be because of an inherent advantage to subscriber-funded models that will be ongoing, but this simpler relationship of economic exchange is better able to embrace the uncertainty of emergent practices. The complexity of coordinating new metrics and pricing for advertising—especially with advertisers using the linear legacy model as a benchmark for the new—have made advertiser support inadequate for the scale of funding needed for the budgets of professional content.
Notably, in time, advertiser-supported television has adopted the innovations subscriber-supported entities spearheaded. Just as the revenue models and value propositions of the services that have been in the market for some time have already changed repeatedly, continued evolution should be expected based on the range of program services available and their relative specialization.
Importantly, the characteristics of a subscriber model outlined here offer little insight into portals relying on advertising support. Although revenue model is just one of many industrial factors, the distinction between advertising and subscriber support leads to very different logics and allows for a range of strategies that differentiate media businesses regardless of distribution technology. It remains a preliminary moment in the establishment of internet-distributed television, and although several strategies have emerged, measures of success and evaluation remain uncertain.
The object of study explored here may be nascent and uncertain, but it is necessary to begin building frameworks for understanding changes in the television industries such as creating taxonomies of the strategies used to differentiate internet-distributed portals and identifying characteristics of a subscriber model that are not purely hypothetical, but drawn from the operation of an emergent industry. The task of critical scholarship typically demands deeper interrogation of the consequences of matters such as industry structures or governing logics than on offer here. This initial venture finds the operation of these industries too preliminary and uncertain for broad, evidence-based claims about the consequences of subscriber-funded portals, but it is necessary to contemplate the important distinctions among these portals, their logics, and strategies from those developed for linear and ad-supported television.
Nuanced delineation of emerging models is a crucial preliminary step in developing understandings of internet distribution. Indeed, in moments of transition, practices are often too short-lived to warrant deep critical exploration—what seem like norms in one moment expire before analyses can even be published. Although existing conglomerates appear likely to dominate the portal market, the implications of vertical integration for internet-distributed television are only the same as broadcast- and cable-distributed television in the most blunt and facile senses. Rather than assuming markets and capital work the same in all situations, considerable insight can be gained by understanding divergences and what accounts for them.
Top of page