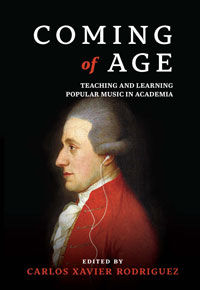 Coming of Age: Teaching and Learning Popular Music in Academia
Skip other details (including permanent urls, DOI, citation information)
: Ann Arbor, MI: Michigan Publishing, University of Michigan Library, 2017.
Permissions: This work is licensed under a Creative Commons Attribution-NonCommercial-NoDerivatives 4.0 International License. Please contact mpub-help@umich.edu to use this work in a way not covered by the license.
For more information, read Michigan Publishing's access and usage policy.
Opening the "Hermeneutic Window" in Popular Music Education
In recent decades, the acceptance of popular music (broadly conceived) as music worthy to be taught in formal music education settings in the United States has increased. This is evidenced by the variety of ways that students can engage with popular music in formal settings at the elementary, middle, and high school levels that were not available to students in the past. Such engagements include guitar classes, rock bands, a cappella groups, show choirs, and hip hop groups, among others.[1] Despite these advancements in popular music education, many music educators and scholars argue that opportunities to engage with popular music in formal settings are not yet accessible to enough students. The large ensemble tradition, which includes band, choir, and orchestra and stems from European music traditions, still largely dominates the music education landscape in the United States. A limited number of schools in each state provide students the opportunity to be part of what has historically been the most recognized popular music ensemble: the rock band.
Recent advocates for popular music in schools have focused primarily on increasing opportunities for students to make or create popular music that are consistent with popular music making in the "real world," whether that is by way of composing, improvising, or performing. In this chapter, I introduce another way students can engage with popular music "on its own terms" within the classroom.[2] It is a way that focuses on what all students seem to already be doing with popular music—that is, listening to it.
I begin with a brief history of how popular music made its way into public schools in the United States in the middle of the twentieth century, highlighting possible reasons for the emphasis on popular music performance and production. Next, I provide an introduction and demonstration of an approach to teaching popular music that focuses on music listening experiences and music meaning, an approach that I have come to call hermeneutic exploration. Finally, I provide an argument for why hermeneutic exploration seems especially relevant for today's students and lay out some advantages and challenges this approach has for incorporation into the classroom.
Top of page