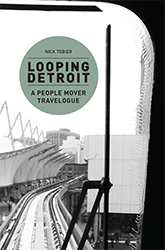 Looping Detroit: A People Mover Travelogue
Skip other details (including permanent urls, DOI, citation information)
: Ann Arbor, MI: Michigan Publishing, University of Michigan Library, 2016.
Permissions: This work is licensed under a Creative Commons Attribution-NonCommercial-NoDerivatives 3.0 License. Please contact mpub-help@umich.edu to use this work in a way not covered by the license.
For more information, read Michigan Publishing's access and usage policy.
You Are Here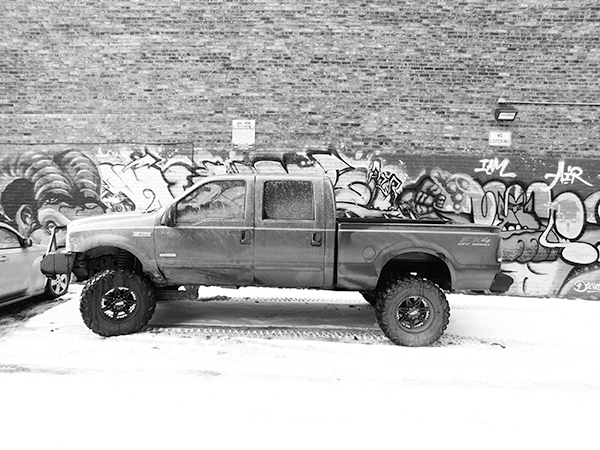 "Andre? He got into a fight at work and the Y put him in jail."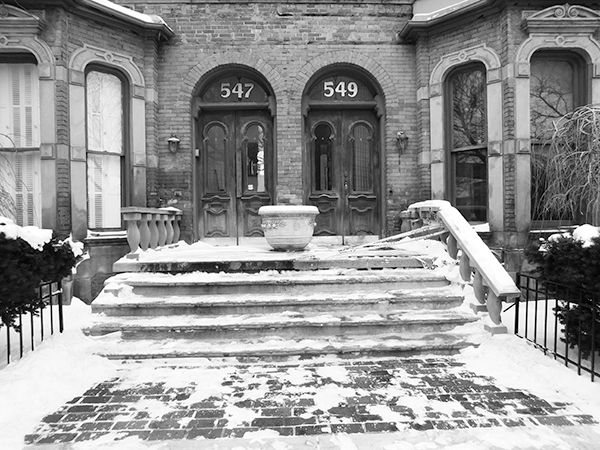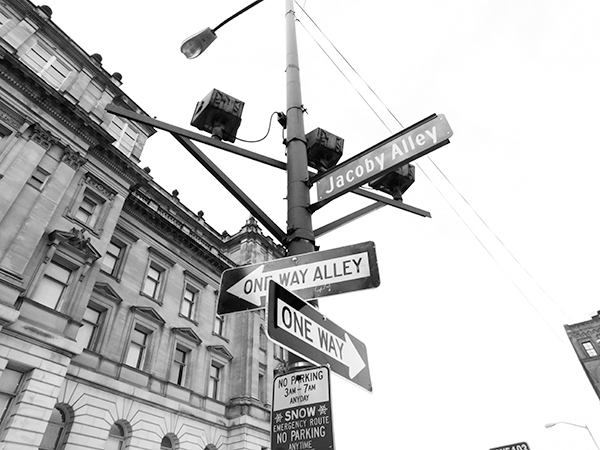 It's lightly snowing on a January morning, temperatures are in the mid-20s, and I'm locking my bike under the red X at the Bricktown People Mover Station. There is an official bike rack.
"What's it like biking today?" asks a red-haired woman. She lights a cigarette.
"Ahhh, it's not so bad. My hand is cold. That's about it right now."
I hold up my ungloved right hand. It's pale like a ghost, crispy like a popsicle, and blue-bloody in spots from the finally-here Michigan winter. My bare hand fiddles with the Christmas present U-lock that is ten times harder to manage than my old, nearly broken spin combination lock.
"You got your bike in a good spot, there's a camera right there," says the man with her, pointing.
"Yeah, got an eye on it the whole time," I reply, walking past.
Up ahead, on Beaubien, is that weird under-the-tunnel entrance to Greektown Casino where streets seem to end and a series of one-ways takes the casual driver dangerously close to losing downtown by crossing over 375. Across Beaubien is the Greektown Casino Parking Garage where Greektown Valets run in Timberlands, gloves, and ski hats. To talk, they turned heads, wrapped in scarves, carefully into the wind.
Looking up, I see the green top of the Wayne County Building, the awning at the Detroiter Bar, and Comerica Tower with its diamond shoots pointing skyward. Moving to the left, near the trash can that smells like cold cigarettes, reveals an American flag atop the Guardian Building and snatches of mid-January sun. I catch shreds of the Coleman A. Young Municipal Center and Cadillac Tower. There's Niki's Pizzeria, lofts & studios available, Loco's Tex-Mex Grille, and a tattoo shop.
Next to a collection of newspaper stands, I'm welcomed by two signs. The blue, front door sign says "This Area is Under Video SURVEILLANCE." Another outdoor sign says "Reaching Downtown Destinations in Minutes" and it oozes 2002. The Bricktown People Mover Station has tile that looks like my grandmother's old bathroom. It's gray, slate tile gray; a gray that shows dirt and projects drab. The walls, save a wonderful art piece titled "Bricktown Passage," are filled with outdated paper maps and safety signs. One sign announces "EXPERIENCE DETROIT!" and looks like it was designed in Word 2000. Another sign reads "YOU ARE HERE!" A digital notice above the entrance turnstile projects a notice: "REPORT ALL SUSPICIOUS ACTIVITY OR PEOPLE." There are three surveillance cameras.
A woman walks in and kicks snow off her boots.
"Stay warm out there today," she says.
"You too," I shoot back.
She stops to study the only map worth viewing. It's the new kind of Detroit map that you see downtown. It has big, clear arrows pointing in the direction of major destinations, a colorful map below, and a purple legend. The shiny display is bowed-out in a style that invites a hemisphere of readers.
The entrance to the Blue Cross Blue Shield (BCBS) of Michigan Bricktown Customer Service Center, which fuels the traffic and smoking crowd, is labeled with a sign one might see in a Michigan high school gymnasium marking the restrooms. The sign points down a grandmother-gray-tiled corridor that ends in a reception desk. Employees pass back and forth, lighting or getting ready to light a cigarette.
There are maps. There are safety warnings. There are token machines. BCBS is at Home in the D. There are cameras. This is Downtown Detroit during the North American International Auto Show. This is the People Mover.
But there are no people.
It's 8:40am: morning rush hour. In a ten minute span, I see twelve people in the station, and only seven are People Mover riders. One of the seven is a man who reaches over the handicapped entrance gate, lifts the lock, and walks through. The place feels hollow: marked by smokers, slow traffic, and ping-pong sounds from the People Mover.
¤
I easily slip three quarters in the slot, prepared specifically for this journey, and pass through the turnstile. The first sign says "January in the D– There's No Place Like It," and I can only think one thought: yes, it's cold, and no one goes outside.
"Bricktown Passage," by artist Glen Michaels, is the highlight of the station. The sprawling piece encompasses thirty-one individual white, glossy panels, each approximately three feet by three feet. The design consists of bars and streamers, the bars like elementary school math fraction rods, and the streamers like a winding race track colored red and orange. Adding imagination to the creation, race cars fly around the colorful track dodging the black projecting buildings.
It's cold and windy on the open-air station platform. There's a giant, larger-than-life ad for the iPad 2 draped on a building's side. The snow is light powder, the parking lots are just starting to cover, and it's that pleasant, peaceful time during a snowstorm.
I stand by the window, riding above 11-lane Jefferson, and look down at snowy, nobody streets. I float along giant sheets of ice in the Detroit River, through Cobo Center, past Times Square, up to Park Avenue, by the downtown YMCA, and prepare to alight just beyond the Metro PCS Greektown Station.
Back at Bricktown, I'm the only rider who exits. I head straight across Beaubien to the Detroiter Bar, one of the "quaint pubs" described on nearby promotional material.
ESPN plays on the televisions and old sports memorabilia lines the walls. There's a small Friday afternoon lunch crowd.
I grab a seat at the bar next to Mark. His Marlboro cigarettes, old shirt, large beard, and sunken eyes straddle the border of homelessness.
"Where are you coming from?" he asks me.
"Oh, I'm just up the street. I biked down and rode the People Mover around to here. You?"
"Rode the People Mover down here, too."
"Really? Where at?"
"Got on at Times Square and rode over here. I stay up in the Corridor," he says, "been there for years."
"Huh. I'm doing a writing project about the People Mover," I note. "You ride it. What do you think about it?"
"The thing doesn't work right now. It would work if there were bars and clubs at every stop," he says.
"Right," I reply, meekly. The female bartenders smoke cigarettes and exchange stories about making out with old men in casinos.
"It was built when they wanted to cut traffic in downtown. Coleman Young time. Get people to park on the outskirts and ride into work. But it doesn't work any more," he says.
"And plus, downtown Detroit is a giant parking lot. It's like there's some unwritten rule of parking in Detroit that you should be able to get as close as possible to your destination. So there's no need to park somewhere and get a ride in," I say. "Anyway, I rode my bike today. Best part about biking is the parking spot."
"We got bikes at the place I work at. Guy fixes them up and puts them out front. Puts so much work into each bike," says Mark.
"Yup, it's fun to have a little hobby like that," I joke.
I start packing up my collection of bike gear.
"Well, it was nice meeting you today," I say.
"Yeah, you too," he says.
"I'm sure I'll see you around soon," I reply, walking past.


I head outside, across the street, to the bike rack under the red X. My ungloved right hand fiddles with the key to my Christmas present U-lock. I hop on, follow the colorful Beaubien race track, and weave in and out of the black, projecting downtown buildings. Riding out of the saddle, tongue sticking out to catch fresh snowflakes, I find myself slowly repeating Mark's words: it doesn't work any more.
—Patrick Morris
Top of page