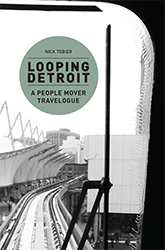 Looping Detroit: A People Mover Travelogue
Skip other details (including permanent urls, DOI, citation information)
: Ann Arbor, MI: Michigan Publishing, University of Michigan Library, 2016.
Permissions: This work is licensed under a Creative Commons Attribution-NonCommercial-NoDerivatives 3.0 License. Please contact mpub-help@umich.edu to use this work in a way not covered by the license.
For more information, read Michigan Publishing's access and usage policy.
Greektown
Why we were there that day and when was it? I kept thinking for Mama's funeral, but she died long before the People Mover began running. Yet we were in Serman's Men's clothing store on the corner of Broadway and Gratiot for so me reason to buy Daddy a black suit, but definitely not for Mama's funeral along with a lovely woman for him to dance with? Maybe that was why we were so lost about the whole experience of buying a new black formal-looking suit. It was his first date and we were preparing him for it? My son Pedro, who was probably about as old as the People Mover then, my daughter Demecina, a feisty little thing, and I accompanied him to Serman's. OK, we didn't really accompany him. He never would have known where to go; I refused to let him shop at Monkey Wards or Robert Halls (was that still around?) or Federals. Nope, Daddy, we're going to Serman's and get you a good suit. Better than that hand-me-down checkered suit coat you wore to Mama's funeral. We're dressing you up. So we made a selection based on all the sophisticated yaya sales pitch from the Serman's man. And the price was right. Maybe it was Serman himself selling to us. He fitted Daddy while Pedro, Demi and I watched. Daddy stood with composure while the man measured and tucked with pins; Daddy understood the process although he hadn't been in it for years. As I was growing up he praised his doeskin pants, tailor-made in Trinidad; somehow they worked well with the heat over there. I have a picture of a young handsome him in a pair; they fit him nice, real nice. They still hung in his closet.
I can't even remember the season when we were at Serman's. No matter, the suit was not doeskin and it clearly needed alterations. And the day wasn't Trinidad heat. Not much altering, the Serman's man said, but we'll need to kill time while he completed the work. Neither Daddy nor I knew how to do that just then. The Serman man stared at us for a second. I think he surmised that we were confused, that we were in the middle of a major life transaction, a resuiting and we had no idea of where to go while we waited for alterations. I felt embarrassed for us and stared blankly at him. Then he reached in the cash register and pulled out some quarters, almost without skipping a beat, talking fast. Here, go ride the People Mover. It's exciting. You can see all of downtown. By the time you get back, I'll be ready for you.
This was crazy. A highfalutin­—at least as far as we were concerned—men's clothing store guy gives us money to ride the People Mover? We shuffled out beholden, now tourists in our own city. Well it was my city and my children's by birth. Daddy owned his piece of it after living and working here since the forties. Originally he hailed from the Trinidad side of Trinidad and Tobago. He adapted better to everything here than his wife of over fifty years. It was always too cold for her in the winter and not friendly enough ever, even in summer. One thing, though, he never became a citizen; neither did she. He said he would never give up citizenship to the place where his navel string was buried. She agreed.
I think it must have been spring. We rode and rode and rode around a downtown you never see from the ground. We were up high and everything was ooh and aah and imagine that. It was tremendously relaxing. No joke. By the time we returned to Serman's and Daddy's suit, we were happy and laughing. We were different people, moving forward.
I've ridden the People Mover on a few occasions since. A couple times to Cobo Hall for the Auto Show, both times in blistering wind and snow. Then to Joe Louis for a Prince concert for my daughter's sixteenth birthday. Her friend came with us. We waved lights to Purple Rain along with the rest of the packed arena. That was my first time waving lights to Prince. The people in front of us were smoking weed. Oops. Maybe I've been on the People Mover an odd once or twice for reasons I can't remember. A couple times I ran into a longtime friend who is a cop on the People Mover. Each time the station was hopping, the cars full.
Now I'm at the Greektown People Mover trying to figure out something relevant to say about it. I can say this is where I'd board these days, if going to Joe Louis or Cobo. Casino people go in and out at this station, dragging cigarette smoke with them. Greektown is two stops over from Broadway. My son and daughter are out west. Daddy got off from the ride about seven years after we first boarded at the Broadway Station. We buried him in the same suit from the Serman's man. I went with a cousin to get a real island-looking bright yellow kerchief and matching tie to firmly identify him as Trinidad though in a black suit. He was always fond of saying, After one time is another. The time of his burial was late September and unusually sunny and warm.
—Lolita Hernandez
Top of page