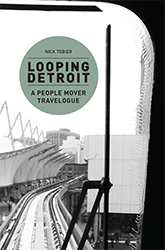 Looping Detroit: A People Mover Travelogue
Skip other details (including permanent urls, DOI, citation information)
: Ann Arbor, MI: Michigan Publishing, University of Michigan Library, 2016.
Permissions: This work is licensed under a Creative Commons Attribution-NonCommercial-NoDerivatives 3.0 License. Please contact mpub-help@umich.edu to use this work in a way not covered by the license.
For more information, read Michigan Publishing's access and usage policy.
Times Square
Here the people mover dips down,
snaking through the air,
pass the roaring 20s grandeur
of the Guardian Building and Penobscot,
icons of an era of opulence—
dips and shudders to a stop
where Grand River meets Times Square:
Not bustling.
Not posh.
No neon lights.
Nothing chic.
First the shock
of seven steel masts
and a canopy of colorless sails,
the outlandishly airborne design
of the Rosa Parks Transit Center.
Then an expanse of evacuated concrete.
Center downstage, Nick's Gaslight Bar, all red and weathered.
Upstage right, a faded, whiskered monolith, the Leland Hotel,
and at Bagley and Michigan, the marble fortress of AT&t.
On the platform,
the patina of tile mosaics
polishing the Cadillac and Millender Stations
is missing.
Nothing shining
to greet those who exit here,
who scramble to street level
and wait for the buses or
scamper away from the bleak space.
Do you come to visit sometimes, Mrs. Parks,
float in to sit among the huddled,
lament the dispossession they are resisting
as the wealthy deconstruct
and recast the City to suit themselves?
Times Square Station:
Site for waiting and moving on.
Not bustling.
Not posh.
No neon lights.
Nothing chic.
—Gloria House (aka Aneb Kgositsile)
The chain link fences blocking the entry to The International Club on
Clifford or the Park Restaurant will soon be rolled up, the bones of their old haunts stripped bare to be built out for "creative living downtown."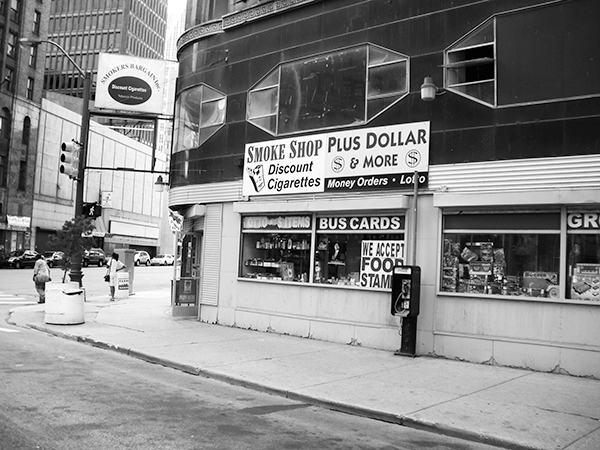 Maybe later, the one-legged dude in the wheelchair won't be staring as you read that evacuation of wheelchairs is not possible.
Maybe this next time when the journey becomes a series of tangents, you can follow the blue line down the middle, where Detroit's rapid transit loop feels most like entertainment and seems to lift off. Maybe with enough velocity, jump the river and go straight to Caesers Casino in Windsor, Canadian lights blinking their greeting.
Soon it will by May 1987 again.
The storefront podiatrist with his corrective shoes in the window will look out onto Washington and wait for bunions and corns to hobble off, take a load off in the politely padded stalls that look like mini confessionals while they wait. Watch the red Elmo figures go around again.
Maybe not today either.
"Beware of suspicious people and activity" the sign reads on the platform at Grand Circus Park, where, according to the bronze newspaper held by the stand in for a commuter, apparently, it is always 1987.
Top of page