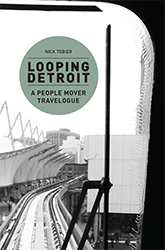 Looping Detroit: A People Mover Travelogue
Skip other details (including permanent urls, DOI, citation information)
: Ann Arbor, MI: Michigan Publishing, University of Michigan Library, 2016.
Permissions: This work is licensed under a Creative Commons Attribution-NonCommercial-NoDerivatives 3.0 License. Please contact mpub-help@umich.edu to use this work in a way not covered by the license.
For more information, read Michigan Publishing's access and usage policy.
The Little Train That Couldn't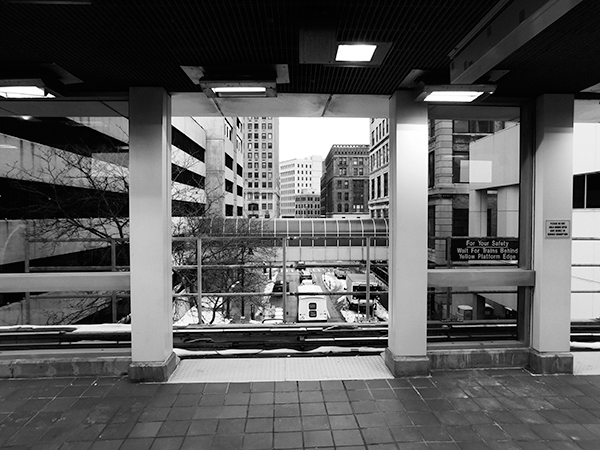 "WE'LL TAKE YOU THERE!"
In 1987, the People Mover began chasing its own tail. Still, today, the poor thing continues to circle and circle, failing to come to terms with its own impotence.
Amongst Detroiters, the People Mover inspires a unique degree of disdain. Consistent in my small and utterly un-scientific sample is how people from Detroit think of the People Mover as an embarrassment or a joke. In essence, it's a monorail without Mickey or a roller coaster at the end. It also pokes at something many Detroiters abhor—pathetic attempts at making the city cosmopolitan. Detroit is not a glamorous place and most of us are at peace with that.
How can one lil' train evoke so much anger? The People Mover has one line. It loops without deviation, without expansion, without variation. When Mayor Coleman A. Young released plans for the project, he may have actually believed that the "mugger mover" would help downtown economic development, but the people were quick to recognize the fallacy. City governments do what city governments know. Creating a limited-service train system has, apparently, worked for some cities, and for many amusement parks.
"MICHIGAN AVE. STATION. LOCATION: CORNER OF MICHIGAN AND CASS AVENUES"
As a young person, the bars of Michigan Avenue lured me in. The romance of gaudy year-round Christmas lights and empty cobblestone streets beckoned; the older folks captivated. Hearing stories about their Detroit—from tall tales of the glory days of Union labor to war stories about how tough each bar patron's neighborhood was—kept this young audience rapt. Michigan Ave. boasted the Gaelic League, the Maltese-American Club, the Kress Lounge, the Lager House and myriad other places to forget one's own little problems while getting a cultural history lesson. These glimmers of cityhood meant a lot to those of us who grew up feeling like scrubs from Chicago's grittier, less-functional cousin.
"HERE's THE BEST WAY TO DISCOVER DOWNTOWN DETROIT!"
Following a breakup in my early 20s, I drove around the city on Christmas Eve. Crying hysterically, and I do mean hysterically, the acute pain of unadulterated heartbreak took over.
Realizing there was no reason to go home, and that doing so would only make being alone harder, I drove circles around Corktown and Southwest Detroit passing places I had visited with my beloved just to make it hurt more. Driving through puffs of condensation mushrooming out from the sewer grates, I cried my face off. During this time—the late '90s—it didn't feel unsafe to drive with eyes too flooded to see, because there were seldom obstructions to see.
"QUICKLY, EASILY & SAFELY CONNECT TO ALL THE EXCITEMENT!"
This city, The City, inspires youthful dreams. Then, as we learn about the world our little hearts get broken, our spirits crushed and our minds often pickled by cynicism or boredom. The romance fades. Those twinkling strands of light become dusty and tired, like the old men who tend bar along Michigan Ave. Maybe adulthood is, by definition, a state where the sadness of the everyday has penetrated our consciousness and diminished some of life's magic; a state for coping with this world.
Eventually though, resilient creatures that we are, we scab over, heal, fall in love and open up to be hurt all over again. Tired of circling, madly, circling and in search of a new pattern, I move away at the millennium's infancy.
"TAKE a BREAK AND ENJOY a DETROIT CONEY ISLAND HOT DOG WITH THE WORKS AT ONE OF THE SEVERAL EATERIES ALONG MICHIGAN AVENUE."
Returning to Detroit in the summer of 2011, the "downtown bobsled" still whirls in circles. The determined creature continues its pursuit, despite often doing so without any cargo. I explore the new businesses on Michigan Ave. Blown-out storefronts have become yuppie mainstays (there are yuppies here!? ). Rave checkpoints from the '90s have become above-the-board businesses and unoccupied buildings transformed into new somethings
These changes evoke contradictory feelings, but the loudest is the importance of resisting tried cycles of gentrification. Instead of perpetuating the sort of cultural and economic apartheid that exists in cities, like Chicago and San Diego, we must connect. Radical re-thinking of how a city/person/society functions is a scary thing, and one that Detroit must do in order to avoid another "train to nowhere".
"AT THE CORNER OF MICHIGAN AVENUE AND WASHINGTON BLVD. STANDS A STATUE OF GEN. ALEXANDER MACOMB WHO FOUGHT IN THE WAR OF 1812. HIS FAMILY OWNED MOST OF MACOMB COUNTY, GROSSE ILE AND BELLE ISLE."
Gen. Alexander Macomb and his boys did a fine job of wiping out the local color of the places he owned. Two hundred years later, the same conversations are looping around things like Hantz Farms, where a businessman proposes investing $30 million over 10 years to create the largest urban farm in the world in southeastern Detroit.
"THE FUTURE ROSA PARKS DOWNTOWN DETROIT TRANSIT CENTER (SUMMER, 2009) WILL BE LOCATED STEPS AWAY FROM THE STATION."
In the distance, in spite of the outdated text on the People Mover's website, the Rosa Parks Downtown Detroit Transit Center glistens. This is a place that takes actual people to actual places.
"OUR GOAL AT THE DETROIT TRANSPORTATION CORPORATION IS TO PROVIDE PATRONS WITH THE SAFEST AND MOST EFFICIENT METHOD OF RAIL TRANSPORTATION AVAILABLE. THE DETROIT PEOPLE MOVER SYSTEM OPERATES ON a DAILY BASIS IN THE DOWNTOWN DETROIT CENTRAL BUSINESS DISTRICT."
It's comfortable to function without self-evaluation. The People Mover in 2015, is a reminder of the need for creativity and fresh thinking. Citizens, planners and entrepreneurs, who aren't afraid to deviate from established patterns; be free to create new forms. Just no more L7s, or perpetual circles, please.
—Katie Grace McGowan
Top of page