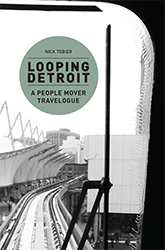 Looping Detroit: A People Mover Travelogue
Skip other details (including permanent urls, DOI, citation information)
: Ann Arbor, MI: Michigan Publishing, University of Michigan Library, 2016.
Permissions: This work is licensed under a Creative Commons Attribution-NonCommercial-NoDerivatives 3.0 License. Please contact mpub-help@umich.edu to use this work in a way not covered by the license.
For more information, read Michigan Publishing's access and usage policy.
Joe Louis Arena
When I think of this historic arena named after this historic icon I remember an NWA concert I attended in 1989 that ended in chaos.
NWA was a Ruthless group (well we thought so back then because that was the name of their record label).
We bought center box seats because we wanted to be up close & personal with the brave, rebellious messengers of freedom.
Well, at least that's how we thought of them at age the tender age of 17.
Downtown Detroit in the 1980's was BIG. It was exciting, electric, bustling. 1989 was a pivotal year because we were entering a new decade. Hip Hop had been an underground thing and now it was this huge thing that mainstream had to pay attention to.
Narratives of the hardships of marginalized folk living in impoverished conditions set to funky pulsating rhythms under the backdrop of emerging developing industrialization is nothing new in Detroit with its rich music history in Motown, Jazz, & Blues.
I remember telling my mom (who grew up in historic Black Bottom and always talked about the legacy of Joe Louis) that NWA was playing there and that I was going to see them.
Now first off, you must understand that my mother is from the civil rights and Black Power era. She lived through the 1967 rebellion, she made sure that every Friday all the other secretaries at her job at General Motors offices ordered Egyptian chicken from The Nation of Islam's then successful Shabazz restaurant, she marched with Dr. King when she was 18 years old when Grace Lee Boggs & Jimmy Boggs brought 125,000 people together for the Walk to Freedom down Woodward Ave (the precursor to the infamous March on Washington), which ended at Cobo Arena right next to Joe Louis Arena.
She would tell me stories that her Father, my Grandfather, a Shriner, 33rd Degree Mason, & Plant Worker told her about the pride Black people felt when Joe Louis "Beat the Nazi's". So when she learned that in the progressive genre of Hip Hop in the modern post civil rights era of the 1980's that young Black Men were self-identifying positively with "The N-Word" it shocked and disturbed her.
And when I told her that I was going to their concert, she questioned my integrity, so obviously it was no surprise to her when I came home in a frenzy explaining how mayhem broke out when "shots were fired" when they walked out on their groundbreaking song "F the Police".
We later learned that is was firecrackers and we thought it was beef because of their song "Straight Outta Compton" because we heard people yelling "You ain't safe in Detroit, Take Yo Asses back to Compton".
We lived in the New Center Area, off West Grand Blvd & Rosa Parks Blvd aka 12th Street directly across the street from the Motown Museum, where in the 1960's my mother worked as their Accounts Payable Department, she was responsible for making sure everyone received their checks. Although the distance wasn't that far, it seemed like the longest drive ever back to the safety nest.
The ride back home in my homegirl's car was where we recapped the entire situation. Thinking back I remember us being thankful we were all alive. We were right down on the floor in the front and center of the arena when everyone scattered. We were lucky we didn't get trampled. Fortunately we already had a contingency plan that my mom set for us to meet outside at a certain streetlight.
Cell phones were not in popular use at that time, so we literally had to find one another outside among the crowd of thousands looking for their loved ones. It was so traumatic that the memory is forever burned in my brain. I can see and almost hear each moment in still images.
In our living room, Frantically explaining to my mother with Luther Vandross playing on low volume in the background on our super stereo, she interrupted us to ask "How do you think Joe Louis would feel about your experience tonight going to see these N—as With Attitudes who got you out here in these streets running from gunshots and you're not even running for Liberation, you're running for your life over some dumb shit? Do you think he'd be proud of any of you?"
Yeah, that's my Joe Louis Arena memory.
—Piper Carter
Top of page