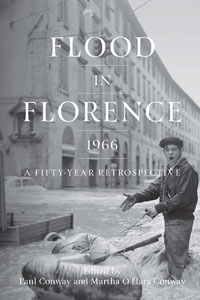 Flood in Florence, 1966: A Fifty-Year Retrospective
Skip other details (including permanent urls, DOI, citation information)
: Ann Arbor, MI: Michigan Publishing, University of Michigan Library, 2018.
Permissions: This work is licensed under a Creative Commons Attribution-NonCommercial-NoDerivatives 4.0 International License. Please contact mpub-help@umich.edu to use this work in a way not covered by the license.
For more information, read Michigan Publishing's access and usage policy.
The Florence Flood and Its Aftermath: The Photography of Balthazar Korab
It was daybreak on November 4, 1966, when the Arno River began to reveal its true destructive potential to the waking inhabitants of Florence. The rising depth and increased velocity of the river were to be expected given the extraordinary amount of rainfall that had soaked northern and central Italy throughout the month of October. However, it was the makeup of contents swirling in the river that signaled the severity of destruction inflicted upon towns upstream and foreshadowed the devastation about to be unleashed on the Florentines and their city. At first, the debris was seemingly innocuous, a typical mix of detritus one would expect to see floating in a swelling river: tree branches, leaves, litter, and the grimy froth that surfaces in a rapid flow. But it was not long before the river began to deliver a more ominous mix of wreckage: household items, furniture, fuel tanks, and the occasional bovine carcass.[1]
Up in the hills of Settignano, a small town northeast of Florence, news of the raging Arno brought a different kind of urgency to a Hungarian American photographer who was still settling into his apartment after arriving in Italy with his wife and two young children only ten days prior. His working knowledge of Italian was good enough to decipher the periodic radio broadcasts delivering updates on the intense situation unfolding in the city center. And while he had arrived in Italy without any commissioned projects planned for his year-long "sabbatical," that morning, he knew where he needed to be. So he quickly packed his medium format Hasselblad camera, a 35 mm Leica, and whatever film he had—five rolls of 120 format film (twelve exposures each) and a handful of 35 mm Kodachrome rolls—and convinced his wife to drive him down to the city center, or as near as they could get in their Fiat Cinquecento.
Approaching from the east, they made a circuitous path to the northwest corner of the city, where he disembarked the car in the vicinity of the Fortezza da Basso and the Santa Maria Novella train station. Leaving him behind, his wife was forced to plot a different path back to Settignano—one that entailed numerous harrowing turns including a heartrending drive along the raised bed of a rail line in order to avoid the rising waters. She would later admit that she was not certain she would ever see her husband again.[2]
Top of page