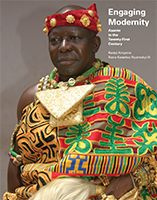 Engaging Modernity: Asante in the Twenty-First Century
Skip other details (including permanent urls, DOI, citation information)
: Ann Arbor, MI: Michigan Publishing, University of Michigan Library, 2016.
Permissions: This work is licensed under a Creative Commons Attribution-NonCommercial-NoDerivatives 3.0 License. Please contact mpub-help@umich.edu to use this work in a way not covered by the license.
For more information, read Michigan Publishing's access and usage policy.
Convocation of Chiefs
As I noted earlier, the Asante Kingdom is made up of nearly seventy Traditional Council Areas and as a result, it would require a separate volume in order to present all the paramount chiefs and queens. Due to space limitations, I present a handful of Nananom who participated in the General Assembly in 2014. The pictures of Nananom are randomly selected while the order of appearance is not based on rank or the hierarchical structure of chiefs in the kingdom. A picture, they say, is worth a thousand words. The sumptuous and colorful cloths, bodily adornments including gold headgear, necklaces, armbands, bracelets as well as sound producing and musical instruments is a sight to behold as they re-affirm the magnificence of Asante political power, identity, and culture in all its manifestations.
Top of page