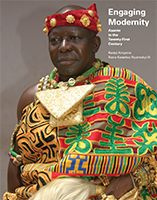 Engaging Modernity: Asante in the Twenty-First Century
Skip other details (including permanent urls, DOI, citation information)
: Ann Arbor, MI: Michigan Publishing, University of Michigan Library, 2016.
Permissions: This work is licensed under a Creative Commons Attribution-NonCommercial-NoDerivatives 3.0 License. Please contact mpub-help@umich.edu to use this work in a way not covered by the license.
For more information, read Michigan Publishing's access and usage policy.
Kyinyɛkyimfoɔ
Nana Bogyabiyɛdɔm II, Kyinyɛkyimfoɔhene
The Akan developed a varitiy of kyinyɛ (umbrellas) in response to the need to provide a cover or canopy for their chiefs and kings. Like all objects of regalia, the various hierarchies of Akan chieftaincy have their corresponding umbrella. The Asantehene's court has the largest collection of umbrellas. The Gold Stool has two state umbrellas, one umbrella which provides canopy for the king's chair during processions within and outside the palace, and another special umbrella used to shield the bosomuru sword when it is taken from the palace to Akyerɛmade for the bosomuru soul washing and purification ceremony. The Asantehene's procession requires seven different umbrellas in addition to an eighth umbrella that is used as a reserve. During processions, the reserve umbrella replaces a malfunctioning umbrella until it is hurriedly repaired and swiftly brought back to the formation. There are two types of umbrellas, bɛnkyinyɛ and krɔnpɔnkyinyɛ (also referred to as patom kyinyɛ). The former are the large ones used for ceremonies and big gatherings including Adae, Adaekɛseɛ and funerary rites. The latter are used daily in and around Manhyia Palace and when the Asantehene presides over court cases, for meetings with Asanteman or Kumaseman. The first ten photographs are Bɛnkyinyɛ followed by Krɔnpɔnkyinyɛ.
Top of page