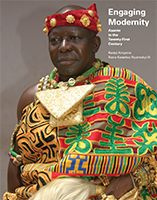 Engaging Modernity: Asante in the Twenty-First Century
Skip other details (including permanent urls, DOI, citation information)
: Ann Arbor, MI: Michigan Publishing, University of Michigan Library, 2016.
Permissions: This work is licensed under a Creative Commons Attribution-NonCommercial-NoDerivatives 3.0 License. Please contact mpub-help@umich.edu to use this work in a way not covered by the license.
For more information, read Michigan Publishing's access and usage policy.
Nkaneasɔfoɔ
Nana Kwadwo Acheampong II Nkaneasɔfoɔhene
In the absence of electrical lights, floodlights, and all the varieties of artificial lights in the past, the Akan used the ɔpam tree for light (kanea). They soon discovered that the female ɔpam tree was much easier to burn than the male one tree, which was near impossible to burn. Since Ɔpemsoɔ Osei Tutu's reign, Nkaneasɔfoɔ have provided light for late night meetings, ceremonies, and keeping the wakes for the deceased. In modern times, bronze oil lamps with long handles have replaced clay pots and thus eliminated situations where clay pots are accidentally dropped on the ground and broken. Usually, a wick is floated in palm oil that is poured into the bowl at the top. Ɔpemsoɔ created a formal office for Nkaneasɔfoɔ and asked Nana Acheampong to head that office. For the purpose of tradition, Nkaneasɔfoɔ use this ancient method to provide light for oath swearing ceremonies that take place in the night, or if the king attends funerary rites for paramount chiefs and queen mothers in the night. When the king goes to his village, Nkaneasɔfoɔ provide light for the procession for internment and in that case, atenee, another form of light made up of palm branches, leads the procession. Nkaneasɔfoɔhene and his group are located in Denase near Kɔdeɛ on the Offinso road.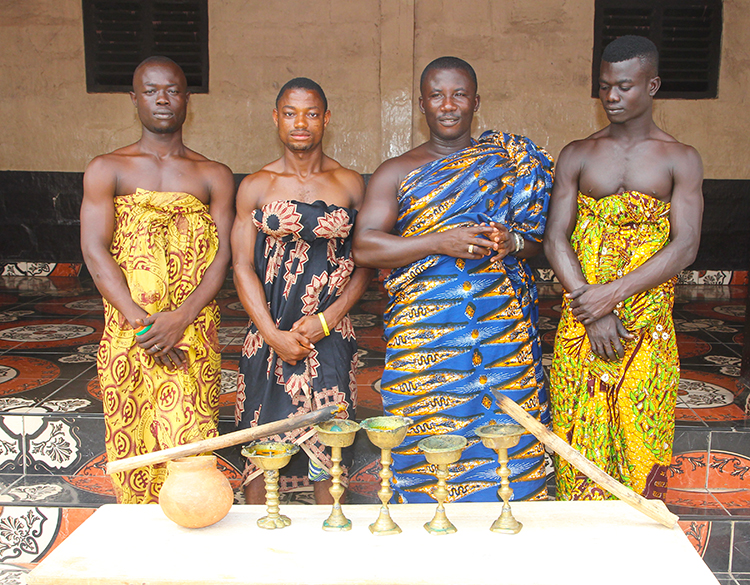 Standing from left to right: Yaw Takyi, Kwaku Frimpong, Nana Kwadwo Acheampong II (Nkaneasɔfoɔhene), Akwasi Takyi
Description: Ahina (earthenware pot/clay pot) containing palm oil. In order to have a consistent flame, they intermittently dip the ɔpam tree branch torches in palm oil. Five bronze oil containers with two ɔpam tree branches.
Top of page