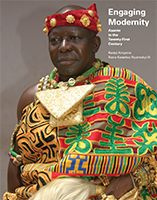 Engaging Modernity: Asante in the Twenty-First Century
Skip other details (including permanent urls, DOI, citation information)
: Ann Arbor, MI: Michigan Publishing, University of Michigan Library, 2016.
Permissions: This work is licensed under a Creative Commons Attribution-NonCommercial-NoDerivatives 3.0 License. Please contact mpub-help@umich.edu to use this work in a way not covered by the license.
For more information, read Michigan Publishing's access and usage policy.
Engaging Modernity
The rationale for choosing Engaging Modernity as the framing title for a book on the over three hundred years of the tangible and intangible heritage of the Asantehene's regalia is informed by the vision, ideals, and values that have occupied His Majesty, Otumfoɔ Osei Tutu II, for the past seventeen years. As the sixteenth occupant of the Gold Stool, Otumfoɔ began his reign on April 26, 1999, with a deep sense of commitment to engage the challenges of our times. The challenges, as identified by His Majesty, are education, health, poverty, conflict resolution and capacity building for traditional leaders. By focusing on and making these five critical needs the centerpiece of his reign, Otumfoɔ Osei Tutu II converted the "weapons of war [of his forebears] into instruments of development" (SKB Asante, 2012: 1102). Otumfoɔ has been consistent in advising his chiefs and queen mothers that, "chiefs do not go to war these days" and that the wars they are required to fight and win convincingly are "wars against illiteracy, disease, and poverty." In order to appreciate the larger historical context that lead to the above statements by His Majesty, it will be helpful to briefly examine the precarious position of chiefs and queen mothers in Ghana. Although the institution of chieftaincy is guaranteed in the 1992 constitution that ushered in democratic governance after a relatively long period of military dictatorships in Ghana, the executive and judicial powers of chiefs are fundamentally undermined by the educated elite. But the role of chiefs in post-colonial Ghana is multifaceted. Chiefs combine "executive, legislative, judicial, military, economic, and religious roles" with increasing expectations for the "transparent management of local resources for development and pre-occupation with the quality of life of the people over whom they exercise customary jurisdiction" (Odotei and Awedoba, 2006: 11). Despite the limited executive and judicial powers of chiefs in the current dispensation of democratic governance in Ghana, Otumfoɔ Osei Tutu II used his "ingenuity, diplomacy, power of motivation, and his own personal resources to establish socio-economic programs" to complement the efforts of central government (Keynote Speech, Addis Ababa, 2004: 7). According to Otumfoɔ, chiefs and queen mothers are faced with the dualism of the radically divergent living standards of the relatively small number of urban dwellers versus the vast majority of populations living in rural and deprived communities. Since this dualism poses extraordinary challenges to integrated national development and the equitable and sustainable distribution of resources, it is the moral duty of chiefs and queen mothers to step up the task of bridging the two sides. According to Otumfoɔ, as chiefs, they have "a duty to partner the governments of our time to bring solace to those members of our society who suffer wretched conditions of life and who daily find it difficult to meet their barest basic needs" (2012 Royal Diary). In order to accomplish his vision, Otumfoɔ has created foundations within the Asante Kingdom that benefit communities and individuals throughout Ghana. The success of the Otumfuo Charitable Foundation has set a new benchmark for chiefs and the institution of chieftaincy in Ghana in particular, and Africa in general. Before presenting a brief overview of a selected list of development projects, I would like to make a brief comment on the concept of modernity and its application by the Asantehene.
In the multi-authored Readings in Modernity in Africa, Peter Geschiere et al. discuss at length the potential dilemmas, intellectual paradoxes, and pitfalls embedded in the linear social theory that propels the concept of modernity in Africa (2008). Modernity is defined by categories such as contemporary, the present, the now, or more broadly, a sense of living in a new time (Peter Geschiere et al. 2008: 2). Although the notion of modernity calls to mind innovation and advancement, in post-colonial Africa it presents a set of contradictions and is emblematic of a top-down or north-south approach where Europe and the West are placed at the apex of a socioeconomic ladder that transfers its "advanced" cosmopolitan modernity to "underdeveloped" societies mired in tradition. This top-down approach is lineal and unidirectional and negates considerations for a mutually beneficial two-way partnership. However, as will be evident in the following paragraphs, the modernity envisioned, planned and executed by Otumfoɔ Osei Tutu II provides a second alternative, a center-out approach that is lateral and multidirectional in so far as it originates from within. As a king, he lives and interacts with his people on a daily basis and as a result, is in tune with the needs and challenges of the local environment, in addition to understanding the dynamics of different groups sharing a locality. Furthermore, he is better suited to understand the requisite expertise needed to satisfy those needs and in the process contribute significantly to poverty alleviation and reduction. The center-out, multidimensional approach takes us away from the mythic definition of tradition as 'static' and backward or normatively consistent, and consequently, antithetical to innovation. Rather, Otumfoɔ's conception of modernity not only recognizes tradition as the foundation of development programs, but also balances the best of tradition with that of modernity for development administration. In his keynote address at the Norwegian-African Business Summit in Oslo, Norway (October 12, 2012), His Majesty cautioned participants not to abandon "our culture and traditions and surrender to everything foreign." He went on to say that, "understanding our past and our culture which identifies us as a people is important for our self-confidence and that self-confidence is an indispensible prerequisite for our survival in the challenging new era" (ibid, 2013). For those familiar with the trajectory of over three hundred years of Asante history, tradition has never been static. Tradition has persistently been dynamic in all aspects of Asante life including the temporal dimension of modernity. For example, by uniting previously independent Akan states in the seventeenth century and defeating their overlord in 1701 (the powerful Denkyira Kingdom), Ɔpemsoɔ Osei Tutu accomplished a feat that was modern for his time. Similarly, the complex regalia items that form the basis of this book were either acquired in war or created over time by each succeeding Asante king to the extent that each addition was by and in itself a creative response to modern issues of the time. For the Asante, the only way to live in the twenty-first century and beyond is to constantly transform and adapt to the inevitability of change, that is, by making tradition relevant to modern-day realities.
In the shadows of any consideration of modernity is what Otumfoɔ Osei Tutu II refers to as the "galloping wheels of globalization (2012 Royal Diary). In order to comprehend the resistance to globalization among indigenous cultures worldwide, a quote from His Majesty's address at the 2005 Millennium Excellence Awards in Accra, Ghana may prove instructive. According to Otumfoɔ, "almost imperceptibly, we are all being led to belong to a global village when we do not know which part of the village we will occupy." There are several sides to globalization but generally, integration of economic, financial, trade, and communications across national frontiers is the source of great concern for traditional leaders as evidenced in the two statements above by Otumfoɔ. At best, globalization leads to power shifts and consolidates Euro-American hegemony by prioritizing homogeneity over heterogeneity. For post-colonial societies in Africa who are still grappling with tensions, the resultant violence and the catastrophic loss of human lives, the memory of shifting ethnic boundaries to create new nation states is a painful one. For the homogenous element in globalization displaces the ontology of the vast majority of indigenous societies around the world. Once they are morphed into the "global village," they lose the right to name or control their existence. Such is the predicament of chiefs and queen mothers in Ghana. Without executive or judicial powers, they are made to depend on the central government to provide social services including education, health, and development projects that will lift the masses from poverty. However, the over burdened central government cannot fully accomodate the needs of the masses. Otumfoɔ Osei Tutu II responded to the conditions in his kingdom by creating development programs to complement the work of the central government. Let us now turn our attention to the four areas that Otumfoɔ has actively supported for fifteen years: education, health, conflict resolution, and his work with the World Bank.
Top of page