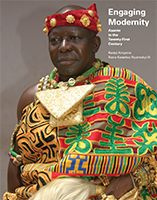 Engaging Modernity: Asante in the Twenty-First Century
Skip other details (including permanent urls, DOI, citation information)
: Ann Arbor, MI: Michigan Publishing, University of Michigan Library, 2016.
Permissions: This work is licensed under a Creative Commons Attribution-NonCommercial-NoDerivatives 3.0 License. Please contact mpub-help@umich.edu to use this work in a way not covered by the license.
For more information, read Michigan Publishing's access and usage policy.
Asantehene Kete
Nana Agyei Boahen, Asantehene Ketehene
Nana Ama Agyeiwaa, Asantehene Ketehemaa
Just before he departed for the Gyaaman war in 1818, Asanthene Osei Bonsu Panin caused the kete drums to be performed for him while he danced all night with his wives, Asantehemaa, and members of the royal household. Until then, the kete drums had been kept in a room after Asantehene Osei Tutu defeated Tafohene (Ketekyire) and seized his set of kete drums. Before embarking on this war, King Osei Bonsu Panin's spiritual advisors informed him that he would potentially defeat Adinkra but would not live beyond three years. They gave him the option of either staying home or going to war. The king chose the war option and its potential consequences, so prior to his departure, Osei Bonsu (1800-1823) staged an all night performance of Kete where he danced with the royal household until dawn. He was quoted as declaring he was going to kill Gyaamanhene, Adinkra Kofi, so that scavengers would devour his flesh. True to his word, he defeated and beheaded Nana Adinkra Kofi. For unexplained reasons, he did not return to Kumase immediately after the war, rather he decided to settle temporarily at Breman saying: Ɔman yi, ma'brɛ mo (I am tired of this nation, after sacrificing so much for it). Before finally going to Kumase, he requested that upon his death he would be buried at Breman. King Osei Bonsu did not know if he was going to survive the Gyaaman war. Kete drums are symbolic of the king's crises, therefore, the drums are covered with red and black cloth that depict crises, matters of grave consequences, and grief. The tradition of Asantehene celebrating Mmaadae (women Adae) after the public event in the afternoon on Akwasidae and having this celebration inside the palace (where it is restricted to Asantehemaa, the royal wives, and members of the royal household) is in response to this incident. The current Asantehene continues Nana Osei Bonsu's tradition by performing through the night with the kete ensemble after performing burial rites for a member of the royal family at Breman. This also takes place inside the palace with restricted participation. The ensembles that take part in the all night performance include, Nkukuadwe, Mpɛbi ne Nkrawiri, Atumpan, Fɛntɛmfrɛm and Apirede, but they usually do so outside the inner palace. Presently, most people associate kete orchestra with only the drum ensemble, however, the Asantehene's grand kete orchestra is made up of a chorus of Aheneyerenom (royal wives) with the first lead singer as Ketehemaa (queen of Kete). When she is present and if she is not singing the chorus, the Asantehemaa ocassionally take turns leading the songs. The Ketehene (Chief of Kete) leads the drum and percussion group while the long vertical flutes (or pipes) have its corresponding chief. In the past, only the Ayɔkomanhene could possess the kete orchestra but later, the Asantehene gave permission to the Tafohene to reestablish his kete orchestra. The Amanhene in the kingdom are also allowed to own Kete. The Asantehene's kete orchestra performs a variety of dance suites including Kete Tene, Nusuo Bekume, Dakwadwam, Abɔfoɔ, Ɔyaa, Apɛntɛm, Adaban, Adinkra Kofi, Kwame Dogo (Tenten), Antrefo, Me Mpɛ Asɛm, Yɛtu Mpɔn, and Mmorosa.
Top of page