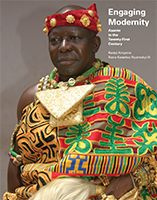 Engaging Modernity: Asante in the Twenty-First Century
Skip other details (including permanent urls, DOI, citation information)
: Ann Arbor, MI: Michigan Publishing, University of Michigan Library, 2016.
Permissions: This work is licensed under a Creative Commons Attribution-NonCommercial-NoDerivatives 3.0 License. Please contact mpub-help@umich.edu to use this work in a way not covered by the license.
For more information, read Michigan Publishing's access and usage policy.
Mmedie (Nkukuammedie)
Nana Akofena Bediako II, Asantehene
Akyerɛmahene, Nkukuaboɔhohene
Mmedie is made up of seventy-seven drums and it is found only at the Asantehene's court. In the strictest sense, they are sound producing drums since they essentially "speak" and do not accompany any form of dance. At any given moment, they are allowed to present any number of mmedie drums but it has been predetermined by Kɔmfo Anɔkye that they should never play all seventy-seven drums at once. The custodians are originally from Dɛnkyira Ntoam where they served Dɛnkyirahene Boamponsem and later, Ntim Gyakari. Like most of the court musicians and poets who sought refuge with Ɔpemsoɔ Osei Tutu during the Asante-Dɛnkyira war, Asumadu Brempɔn, as the chief custodian, escaped from Dɛnkyira Ntoam with all seventy-seven drums and Amoampɔn, the deity attached to mmedie to Kumase. Once in Kumase, they first went to Samaanhene who was then living at Asikasu, a suburb of Kuamse. It was Saamanhene who formally presented them to Ɔpemsoɔ Osei Tutu. The king was impressed with Asumadu Brempɔn and noted that he was the first person to bring seventy-seven drums from Dɛnkyira to him, and as a result, he would honor him with the title, Akyerɛmahene (chief of drummers). They were with Samaahene until the Asantehene created the ananta stool and placed the akyerema (drummers), mmedie and Nkonwansoafoɔ with the Anantahene. The Ananta Fekuo is responsible for protecting the king during processions and this is why the Asantehene is referred to as: Tiburukusu a odi Ananta mu (the mighty head that is in the center of ananta group). At any rate, and like apirede, the Asantehene placed mmedie with Anantahene for the singular purpose of being part of the regalia surrounding and protecting the Gold Stool during processions. Before settling permanently in Nkukuaboɔho, they first settled at Nkukuakyerɛmade the present location of Kwaadaso Agricultural Training College. Mmedie is, technically speaking, not part of processions. Rather, they are strategically positioned around the corner from Nyiayɛm at Sankroase (where the king climbs into the palanquin). As soon as the king arrives at Nhyiyɛm, the players of mmedie will invoke tumi (spiritual power from the creator) for him. With tumi, the Asantehene will be able to face adversaries or challenges that may come his way during the day's ceremonies. The Asantehene will stop, listen and acknowledge them before proceeding to pramaso (the gathering). The procedure to invoke tumi is as follows: The panten (lead drum) will initiate the call: Tumi, tumi, tumi (power, power, power), followed by the rest of mmedie drums (responders): Bra, bra, bra, bra, bra, bra, bra, bra, bra, bra (come, come, come, come, come, come, etc). The phrase is repeated three times. Due to the drum text, tumi, these drums are mistakenly referred to as tumi. The same is the case when he is retiring from the gathering, the Asantehene will stop when he gets to where the mmedie are positioned and listen to what they have to say before going on. There are times when a special drum will be brought in to produce the phrase: Me som Kɔtɔkɔ/Me som Asanteman/Me wura/Me som Kɔtɔkɔ (I serve Kɔtɔkɔ/I serve Asanteman/My lord I serve Kɔtɔkɔ). Like the performing arts and sound producing instruments at the Asantehene's court, the mmedie's drum text reminds him of his position, that he is 'Otumfoɔ' and given his position, he possesses special powers (he is all powerful).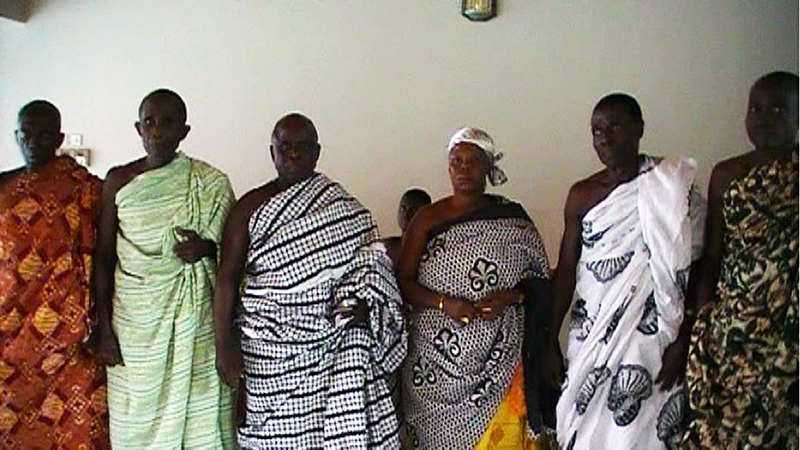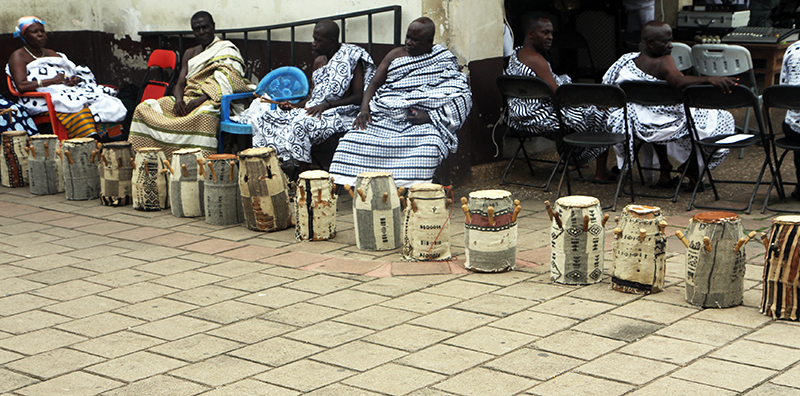 Top from left to right: Nana Akofena Bediako II (Asantehene Akyerɛmahene/Nkukuaboɔhohene), 4th from left: Nana Akosua Nyarko (Nkukuaboɔhohemaa)
Elders: Opanin Frimpong Ansah, Opanin Boakye Yiadom, Opanin Okobuban, Opanin Kwaku Dua
Players: Kofi Amakye, Oti Yaw, Okyeame Fori, Akwasi Owusu, Kwaku Adu, Opanin Okobuban, Opanin Kwaku Dua, Kwame Ofori
Description: Relatively short and smaller drums, covered with nsaa. The drumhead is covered with leather with an opening at the bottom. Only panten, the eighth drum from the left is played with nkonta (curved sticks) while the rest are played with straight sticks.
Top of page