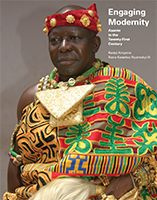 Engaging Modernity: Asante in the Twenty-First Century
Skip other details (including permanent urls, DOI, citation information)
: Ann Arbor, MI: Michigan Publishing, University of Michigan Library, 2016.
Permissions: This work is licensed under a Creative Commons Attribution-NonCommercial-NoDerivatives 3.0 License. Please contact mpub-help@umich.edu to use this work in a way not covered by the license.
For more information, read Michigan Publishing's access and usage policy.
Mpɛbi ne Nkrawiri
Nana Osei Kwabena (Mpebi ne Nkrawirihene) and Opanin Kwame Safo
Ɔpemosu Osei Tutu created mpɛbi ne nkrawiri drums for purposes of displaying animsɛm (heroism). During processions, they are played to signal the approach of the king. It was, as it still is, an indication that the king is close by or present. In the past, these drums were associated with tribunal cases and executions and like the pair of nkukuadwe drums, they were played to signal the execution of a criminal or a war captive and that is why, to this day, the mpɛbi ne nkrawiri are played to punctuate the poetry of Abrafoɔ (executioners). Gender attributes are generally assigned to drums when a pair of drums are played together, but due to their association with tribual cases and executions mpɛbi ne nkrawiri are both males. Despite its association with executions, mpɛbi abhors animal sacrifices or any form of blood. The Twi phrase is me mpɛ bit (I don't want it) and that is why it is covered with nwera (white cloth).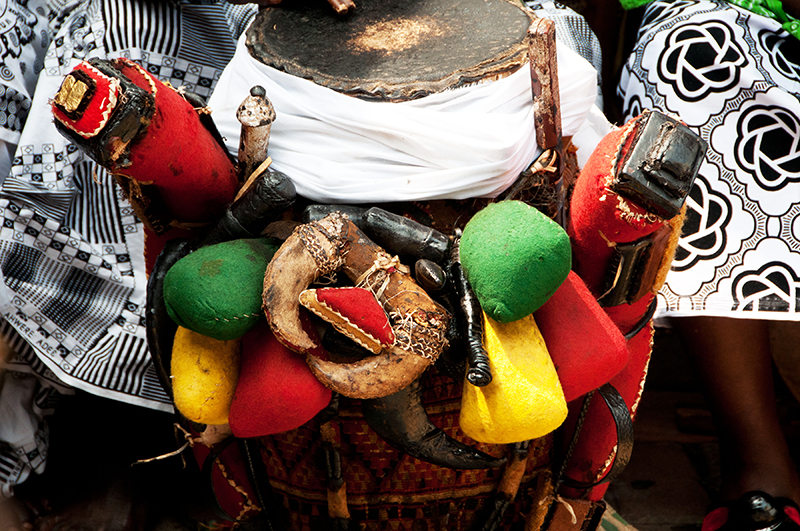 Between the two drums, mpɛbi is larger and slightly shorter than nkrawiri. Both drums are covered with nsaa and in addition, mpɛbi is covered with white cloth with metal jingles attached to the leather. Additional jingles are attached to the inside of the drum. Both metal jingles vibrate when the drum heads are played. Nkawiri with the top part covered with white cloth and suman (talismans) of defeated enemy chiefs are attached to the wooden part of the drum. Some of the talismens are akobɛn (fighting trumpets) and sikantwaa (also sɛpo) knives attached to it. There are usually four knives.
Top of page