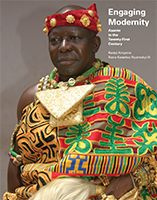 Engaging Modernity: Asante in the Twenty-First Century
Skip other details (including permanent urls, DOI, citation information)
: Ann Arbor, MI: Michigan Publishing, University of Michigan Library, 2016.
Permissions: This work is licensed under a Creative Commons Attribution-NonCommercial-NoDerivatives 3.0 License. Please contact mpub-help@umich.edu to use this work in a way not covered by the license.
For more information, read Michigan Publishing's access and usage policy.
Durugya
Nana Yaw Opoku Mensah
Durugyahene
As stated previously, the durugya is a flute and it is not part of the asɔkwa fekuo. Durugya is a compound word: duru-gya. (full sentence: Me duru agya wo. lit. I'll get there before you) in the sense that, doors are readily opened for the durugya player while others have been waiting to enter. Although the history of the durugya can be traced to the time before the founding of the Asante Kingdom, Nana Yaw Mensah's account is from 1924. In a welcome gathering to celebrate the return of Otumfoɔ Agyemang Prempeh from his exile in Seychelles, the Kukuomhene had a durugya player in his procession and when it was his turn to greet and welcome the king, those around pointed to the durugya saying: Nana here is one of your flutes. In a conversation with the Kukuomhene, the Asantehene informed him that his was lost in his absence. The Kukuomhene indicated his willingness to teach anyone from the Asantehene's court if they were prepared to travel to Kukuom with him after the ceremony. Nana Yaw Mensah, then in his teens, volunteered to go with him. In the Asantehene's court, durugya is played solo or sometimes as a duet with a singer. It is made of demire (cane) and is about 24 inches long. In making the flute, they remove the soft tissue from the interior of the cane and carve five finger holes; four are carved in front of the instrument from the mid-section down and a single hole is carved on the back. The thumb of the left hand is for the back hole, the index and the middle fingers of the left hand are for the two holes on top while the index and the middle fingers of the right hand are for the two lower holes respectively. The hole on the back is slightly above the hole for the index finger. Durugya is designed for playing in transverse (or vertical) position since the embouchure is at the end and it is covered with black felt. The opening at the end is decorated with ɛdoa (raffia) and it is made to hang as an extension of the flute. Usually, the player ties a handkerchief around the mouthpiece that he uses to cover the mouthpiece when he is not playing it. As a solo instrument, the player stands behind the king and with his poetry, recounts history in addition to praise poetry. The durugya sometimes plays music, so strictly speaking, it can and does play music.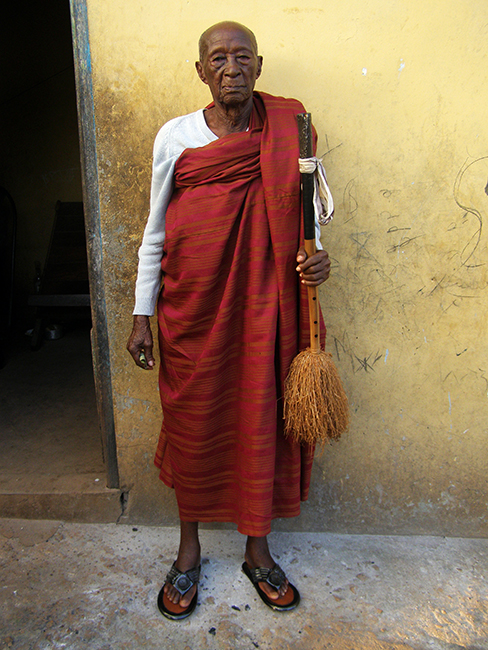 Top of page