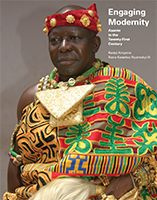 Engaging Modernity: Asante in the Twenty-First Century
Skip other details (including permanent urls, DOI, citation information)
: Ann Arbor, MI: Michigan Publishing, University of Michigan Library, 2016.
Permissions: This work is licensed under a Creative Commons Attribution-NonCommercial-NoDerivatives 3.0 License. Please contact mpub-help@umich.edu to use this work in a way not covered by the license.
For more information, read Michigan Publishing's access and usage policy.
Amoakwa/Nkrawobɛn
Nana Owusu Mensah II Amoakwahene
The king created tipre ne amoakwa for Asantehemaa (Asante queen). They are part of her regalia and form part of her procession as they perform behind her. This is one of the largest orchestras in the palace and quite unique for combining drums, percussion, and different varieties of ivory trumpets. Since tipre consists of drums and percussion and it is listed under akyerɛmade (drummers) we have them here as means of convenience. On the other hand, amoakwa, nkrawobɛn, mɔdwemɔdwe, and patuda are ivory trumpets. Nkrawobɛn got its name from the red felt, nkrawoɔ, that covers the trumpet. The red felt is also the ahyɛnso, the identifying marker for that particular trumpet. All of the above named groups have their respective chiefs: Amoakwahene, Nkrawobɛnhene, Mɔdwemɔdwehene, and Patudahene. The villages where they settled are named after the trumpets. Unlike the ntahera, kɔkroanya, nkofe, and nkɔntwema groups, tipre ne amoakwa's repertoire fall under dance music and as a result, we can categorize them as musical instruments. In response to their music, there are special dances by the Asantehemaa, female members of the royal family, and Mmɔdwoafoɔ (young maidens at the queen mother's court). Unlike other court ensembles, they do not go to war rather, they remain with Asantehemaa, when the king and the Asante army are engaged in war, and accompany the women of the royal household as they sing mmommome (songs of exhilaration). Sometimes, the trumpets will play without the drums and that is referred to as mmɛnten. The amoakwa group are from Denkyira Nyaadoam, they both arrived in Kumase around the same time as the tipre group and were both presented to the king at the same time. Strangely for all present, the Amoakwa group joined the tipre group when the latter performed and in addition to playing the drum texts on their trumpets, they were able to improvise and support the drums. Once he was impressed with this orchestra, the king placed them under the care of Dadeɛsoabahene and later asked them to join the Asantehemaa's (Asante queen) court. Chiefs of Amoakwahene and Nkrawobɛn swear their oath of office with ahwebaa.
Top of page