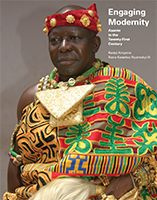 Engaging Modernity: Asante in the Twenty-First Century
Skip other details (including permanent urls, DOI, citation information)
: Ann Arbor, MI: Michigan Publishing, University of Michigan Library, 2016.
Permissions: This work is licensed under a Creative Commons Attribution-NonCommercial-NoDerivatives 3.0 License. Please contact mpub-help@umich.edu to use this work in a way not covered by the license.
For more information, read Michigan Publishing's access and usage policy.
Afenasoafoɔ (Sword Bearers)
Afenasoafoɔ are the custodians and bearers of swords that are generally referred to as kɛtɛanomfena (lit. swords on the edge of bed) for they are placed at the edge of the king's bed when he goes to sleep. Additionally, they are placed on the edges of the apakan (palanquin) when the king rides in it as part of a procession. Kɛtɛanofena are further subdivided into two sets: akrafena (swords of the soul) and abosomfena (deity swords). The akrafena are positioned to the right and the abosomfena to the left of the Asantehene during processions and they maintain the same position when he sits in state. In a hierarchical order, the akrafena are: mpɔnpɔnsɔn, ahwebaa, kraku panin, Kra Kofi (Apemase Nsa Da), Kra Kwasi, Kra Kwame, Kraku Kumaa, kɔtɔkɔ, abubummabaa, sakatempobi. Similarly, the abosomfena are: bosomuru, dɛnkyɛm, bosomprapanin, nimsaakakyi, bosompra kumaa (akokɔbaatan), bosomurutwe, esie, esrɛmusei gyata, gyapetia. kɛtɛanomfena are identified by the abɔsodeɛ (cast gold ornaments) of an animal or a fruit representing a proverb or an epigram. Practically, all the kɛtɛanomfena are proverbs conveying a message or statement from the king, or embodying an incident in the history of the kingdom. Further, the Afenesoafoɔ wear a hat mostly made from ɔtwe nhoma (duiker leather) or sebɔ nhoma (the leopard's skin). Akrafokɔnmu (gold disc-shaped chest ornaments) are usually tied to a rope and hang around the neck to the chest. These are also referred to as pectoral discs and they come in different sizes, shapes, and designs.
Top of page