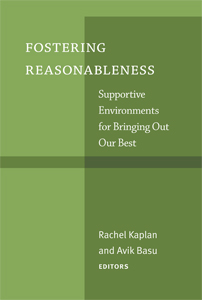 Fostering Reasonableness: Supportive Environments for Bringing Out Our Best
Skip other details (including permanent urls, DOI, citation information)
: Ann Arbor, MI: Michigan Publishing, University of Michigan Library, 2015.
Permissions: This work is licensed under a Creative Commons Attribution-NonCommercial-NoDerivatives 3.0 License. Please contact mpub-help@umich.edu to use this work in a way not covered by the license.
For more information, read Michigan Publishing's access and usage policy.
Contributors
Lisa Bardwell is president/CEO of Earth Force, a national nonprofit that engages young people in solving environmental problems in their communities. She attributes the organization's success in part to the fact that its robust strategy for working with young people (and adults) reflects the tenets of the Reasonable Person Model. Lisa has a PhD from the University of Michigan's School of Natural Resources. Prior to joining Earth Force to help found the Denver office, she taught at the University of Michigan, Utah State University, and the University of Denver. She has always been committed to finding ways to better engage students in learning and their communities. Her expertise in environmental justice, community development, service learning, environmental problem solving, and how our environment influences people's well-being and ability to function made Earth Force a natural fit.
Avik Basu is a lecturer and research area specialist in the School of Natural Resources and Environment at the University of Michigan. In catalyzing and applying the Reasonable Person Model (RPM) he has also extended the framework in new contexts. His applications of RPM have included facilitating local participation in international development, making sustainable development more acceptable to rural residents, promoting the adoption of sustainable transportation, and designing environments that simultaneously enhance individual and communal well-being. He has authored a number of publications based on RPM and cotaught the seminar leading to this volume. Avik earned a PhD in environmental psychology and a master's degree in electrical engineering, both from the University of Michigan. In addition to his academic work, Avik is also an entrepreneur, having founded three companies, the most recent of which developed web and smart phone applications to help bring out the best in people's health decisions.
Gordon Bradley is the B. Bruce Bare Professor of Forest Resources in the School of Environmental and Forest Sciences at the University of Washington. His interests revolve around the application of planning and design theory and practice to natural resources problems. Applications include urban forests, developing landscapes, commercial plantations, and wild land conservation areas. The relationship between people and nature is fundamental to his work. He edited two books related to the topic, both published by the University of Washington Press: Land Use and Forest Resources in a Changing Environment: The Urban Forest Interface (1984) and Urban Forest Landscapes: Integrating Multidisciplinary Perspectives (1995). Gordon earned a master's degree in landscape architecture from the University of California, Berkeley, and a PhD in urban and regional planning from the University of Michigan.
Jane Buxton has had a lifelong interest in positive interactions between people and nature. She has a master's degree in landscape architecture from the University of Michigan and lives in Rhode Island. While in Ann Arbor, she became intrigued by the Kaplans' work, especially the model of nature as a restorative setting. Jane assisted in research regarding the personal motivations, challenges and rewards of volunteer ecological stewards. She also assisted Robert Ryan in exploring community involvement in urban parks in Rhode Island, using the RPM model. Jane has worked in park planning, therapeutic garden design, and land trusts.
Laura Cooper is an architect who returned to school after 13 years of professional practice to earn a master's degree in natural resource planning at the University of Washington, with the intention of integrating an understanding of ecological systems into her work as a designer. She became familiar with RPM while working on her thesis, interviewing family forest owners about the meaning their forestland has for them. Laura is currently working as a parks planner with the Washington State Department of Natural Resources and hopes to continue her growing interest in the planning process as a forum through which relationships between people and places are developed over time.
Jason Duvall is a lecturer and postdoctoral researcher at the University of Michigan, where he received his PhD in the School of Natural Resources and Environment. Jason is broadly interested in understanding how environments impact people's ability to function effectively and how health-related beliefs and motivations interact with and influence proenvironmental behavior. His research has focused on the use of nearby nature and environmental engagement to support and encourage more physically active lifestyles. Jason has also been working closely with the Sierra Club to explore the impact group–based nature that recreation experiences have on military veterans.
Tom Gallagher retired recently after nine years as the director of the Ford Institute for Community Building, a unit of the Ford Family Foundation of Roseburg, Oregon. As director, he led development of the institute's training, grants, and resource programs, which are designed to build the capacity of rural communities to define and achieve their own vision of success. Previously Tom was on the faculty at Oregon State University and the University of Alaska, where he instructed classes and conducted research in the areas of public engagement and leadership development, always with a focus on rural places. He holds a bachelor's degree in landscape architecture from the University of Oregon and master's and doctorate degrees in natural resource management from the University of Michigan. In his retirement, he is writing and speaking about his "Rural Oregon Experiment" while tending a vineyard and grandchildren.
Rebecca Ginsburg is associate professor at the University of Illinois in the Department of Educational Policy, Organization, and Leadership and the Department of Landscape Architecture. She is a cofounder and current director of the University of Illinois Education Justice Project, which provides on-site educational programs to incarcerated men at an Illinois state prison. Rebecca received her PhD in architectural history at the University of California at Berkeley and her JD from the University of Michigan Law School. She is the author of At Home with Apartheid (University of Virginia Press, 2010) and Cabin, Quarter, Plantation, a coedited volume on landscapes of slavery (Yale University Press, 2010).
Robert E. Grese is the Theodore Roosevelt Professor in Ecosystem Management and professor of landscape architecture in the School of Natural Resources and Environment at the University of Michigan and serves as director of the university's Matthaei Botanical Gardens and Nichols Arboretum. Bob is interested in design and management approaches that engage the public and result in ecologically sound landscapes and communities. He has also studied the work of early landscape architects who advocated such an approach to design, especially the work of O. C. Simonds and Jens Jensen who worked throughout the Midwest and were known for the Prairie style of landscape gardening. Bob's 2011 book The Native Landscape Reader was published by the University of Massachusetts Press in conjunction with the Library of American Landscape History.
Karen R. Hollett is a lawyer, mediator, and arbitrator with over twenty years experience across a range of disciplines. While serving as general counsel at Memorial University in Newfoundland with responsibility for the legal department and managing the legal affairs for the largest university in Atlantic Canada, she also completed a master's of law in alternative dispute resolution (ADR) at Osgoode Hall Law School, York University, Toronto. During this effort she stumbled upon the writings of Rachel and Stephen Kaplan on RPM and was hooked. Karen's major work was focused on RPM and its usefulness in understanding how mediation works and how the model is instrumental in designing appropriate mediation environments. She also has a bachelor of law degree from Dalhousie University and advanced training in ADR. Karen is the chair of the Canadian Bar Association's ADR section in Newfoundland and represents the province on the national executive.
J. Eric Ivancich has overlapping interests that include neural models of learning, memory, and cognition; cognitive psychology; RPM; computer science; and education. A particular interest of his is the clarity mechanism—how it works, how it impacts many facets of our lives, and how it can be leveraged for people's benefit, particularly in the realm of education. Eric earned his PhD in computer science and engineering at the University of Michigan.
Abram W. Kaplan is associate professor of environmental studies and Anne Powell Riley Director of Environmental Studies at Denison University in Granville, Ohio. While his training and much of his teaching and research have been in the social sciences, his current work is in the visual arts, using photography to explore dimensions of identity and the food system. Through interactive and immersive art installations, Abram seeks to bring people opportunities to question and engage with the systems, approaches, impacts, and opportunities embedded in our food production. He earned his MS degree in land resources and a certificate in energy analysis and planning at the University of Wisconsin, Madison, and his PhD in city and regional planning from the University of North Carolina.
Rachel Kaplan is the Samuel T. Dana Professor of Environment and Behavior at the School of Natural Resources and Environment at the University of Michigan. In that capacity she has been incredibly fortunate to work with many wonderful people, including the contributors to this project. Her good fortune also includes more than a half century of collaboration with Stephen Kaplan, who led the way in the development of RPM.
Stephen Kaplan is emeritus professor of psychology and of computer science and engineering at the University of Michigan, where he taught many of the participants in this project during his fifty years on the faculty. With Rachel Kaplan he has coauthored a number of books, including Humanscape: Environments for People (Duxbury, 1978; republished by Ulrichs Books, 1982) and Cognition and Environment: Functioning in an Uncertain World (Praeger, 1982; republished by Ulrichs Books, 1989).
Anne R. Kearney consults on a broad range of issues related to human-environment compatibility and interaction. Her research has covered topics ranging from the impacts of neighborhood design on psychological health to informal education assessment to identifying countermeasures for maintaining psychological and behavioral health during long duration spaceflight. She is the principal and founder of Kearney Environmental LLC and the affiliate faculty member at the University of Washington. Anne holds a BA in cognitive psychology from Stanford University and an MS in natural resource policy and behavior and a PhD in environmental psychology from the University of Michigan.
Lori M. Kumler is assistant professor of political science and international studies at the University of Mount Union in Alliance, Ohio. Her interests include understanding civic participation in environmental issues, examining how people connect with and understand natural science versus social science components of socioecological issues, and exploring the extent to which environmental concepts (such as climate change) are integrated into social science courses. Lori earned her MS and PhD degrees from the School of Natural Resources and Environment at the University of Michigan.
Martha C. Monroe is a professor and an extension specialist at the University of Florida. She works with education and communication strategies to increase public engagement and understanding around natural resource issues such as wildfire, woody biomass, water quality, and climate change. Martha uses RPM and behavior change theories to develop and evaluate programs for youths, teachers, resource managers, and extension service agents. She earned her graduate degrees from the School of Natural Resources and Environment at the University of Michigan. Her numerous publications include the coauthored books Working toward Sustainability: Ethical Decision-Making in a Technological World (Wiley, 2012) and Conservation Education and Outreach Techniques (Oxford University Press, 2006).
Carl H. Petrich retired in 2013 after working since 2006 as a senior environmental scientist with HDR Engineering, Inc., in Phoenix and Tucson. Previously, he spent nearly twenty years as a member of the research staff at Oak Ridge National Laboratory and several years as a researcher in business innovation for Ernst & Young in Cambridge. Carl's work as a landscape architect interested in visual impacts and energy and environmental challenges has enabled him to live in Jakarta, Anchorage, Appalachia, Boston, and the Sonoran Desert. Policy responses to climate change have been a continuing research interest since 1988. Most recently, he has been exploring the role that attachment plays in creating sustainable landscapes, cities, and structures. Carl holds a BS in botany from Duke University, a master's degree in landscape architecture from the University of Michigan, and an MBA from the University of Chicago.
Kimberly Bosworth Phalen received her MS and PhD at the School of Natural Resources and Environment, University of Michigan. Her research focuses on public participation in landscape design, specifically approaches to improve communication between designers and participants. Other interests include access to nearby nature, its effect on people's well-being, and the importance of outdoor play for children. Kimberly recently provided guidance on the design of nature-based play areas for children in the Bahamas. She has worked professionally in architecture, environmental policy, and health care design research.
Karl Pillemer is the Hazel E. Reed Professor of Human Development at Cornell University and a professor of gerontology in medicine at the Weill Cornell Medical College. His research interests include social integration in later life, with a focus on volunteerism and civic engagement. Karl's recent work has focused on the intersection of population aging and environmental sustainability and, in particular, on ways to engage individuals postretirement in environmental volunteerism. His extension and outreach work involves translational research, exploring ways to speed the transfer of findings from basic research into scientifically tested interventions. Among his many publications is the book 30 Lessons for Living (Viking/Penguin, 2011). Karl received his PhD in sociology from Brandeis University.
Robert L. Ryan is professor at the Department of Landscape Architecture and Regional Planning, University of Massachusetts, Amherst, where he teaches courses on landscape planning, environment and behavior, and research methods. He holds a PhD in natural resources and master's degrees in landscape architecture and urban planning from the University of Michigan. Robert is a registered landscape architect in California, where he practiced for seven years as a planner and landscape architect. His research interests include landscape preference, place attachment, and public attitudes toward natural resources planning and management in both rural and urban areas. Robert is the coauthor with Rachel and Stephen Kaplan of With People in Mind: Design and Management of Everyday Nature (Island Press, 1998). Recently, Robert has been working in an urban ecology study in metropolitan Boston looking at the ecological and social benefits of urban green space.
William Sullivan is a professor of landscape architecture at the University of Illinois, where he examines the health benefits of having everyday contact with green places and citizen participation in environmental design. He teaches on campus and at the Danville Correctional Center—a medium- and high-security prison—and is an active member of the Education Justice Project at Illinois. Bill received an MS in horticulture from the University of Illinois, a master's degree in landscape architecture from Kansas State University, and his PhD from the School of Natural Resources and Environment, University of Michigan. He is a senior fellow at the National Council for Science and Environment.
Nancy M. Wells is an associate professor in the Department of Design and Environmental Analysis, College of Human Ecology, Cornell University. She is interested in the influence of built and natural environment on health, health-related behaviors, and proenvironment behaviors across the life course. Although she does not have an appointment with the Cooperative Extension Service, her extension activities include studies of the influence of school gardens on children's physical activity, diet, and health as well as the Retirees in Service to the Environment (RISE) program discussed in her chapter. She holds a master's degree in design and environmental analysis from Cornell and a joint PhD in psychology and architecture from the University of Michigan. Prior to her present appointment, she completed a National Institute of Mental Health postdoctoral fellowship in the School of Social Ecology at the University of California, Irvine.
Top of page