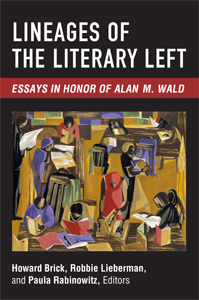 Lineages of the Literary Left: Essays in Honor of Alan M. Wald
Skip other details (including permanent urls, DOI, citation information)
: Ann Arbor, MI: Michigan Publishing, University of Michigan Library, 2015.
Permissions: This work is licensed under a Creative Commons Attribution-NonCommercial-NoDerivatives 3.0 License. Please contact mpub-help@umich.edu to use this work in a way not covered by the license.
For more information, read Michigan Publishing's access and usage policy.
3. The Darker Brother and the Cracker Boy: Langston Hughes, Don West, and Poetry as Social Conversation
I am the darker brother. 

They send me to eat in the kitchen

When company comes,

But I laugh,

And eat well,

And grow strong.

−Langston Hughes

"Rise up, you Cracker boy. Sing your ballads,

Dream your future."

−Don West
In 1947, Langston Hughes and Don West, a radical white poet and organizer from Devil's Hollow, Georgia, arranged to make guest appearances in each other's college writing classes at Atlanta University and Oglethorpe University, respectively. Hughes and West, who were born just four years apart and published their first books five years apart, had known each other for several years and were both huge-selling poets by this time, despite the way the publishing deck was stacked against them as an African American and a poor white Southerner and as political radicals: both achieved this status by operating largely outside of the mainstream publishing world. For instance, Hughes's book A New Song was published by the International Workers' Order (IWO); Louise Patterson, a leader in the IWO, used to read Hughes's poems at talks and hawk the books. West's books, similarly, were sold through union meetings and other gatherings of sharecroppers, miners, and farmers in what Jeff Biggers calls a "populist poetry crusade."[1]
The idea for the exchange of classroom visits by Hughes and West initiated from the mutual respect and interest the two felt for each other, sometimes manifested in the physical envelope of front and back matter: West thanks Hughes in the acknowledgments to his 1946 collection Clods of Southern Earth for "teaching me through the beauty of his own work," and Hughes in turn called West's work "the poems of our heartbeats" in 1951, a comment that was used on the back cover of West's 1973 collection O Mountaineers![2] But Hughes's and West's presence in each other's writing classrooms was also a literalization of an important part of their relationship: in their fond if not close acquaintanceship, the two poets were able to school each other in particular and consequential ways. The structure of the twin classroom visits, then, raises and enacts a fascinating question: what did these two poets teach each other—particularly as they worked through a shared radical politics toward what we might then call a radical poetics? And how does treating poetics as a conversation challenge more static visions of poetry as words on the page emerging from singular vision? As in the epigraphs above, this essay will attempt both to move toward and signal a conversational analytical approach by presenting all quotations of Hughes's and West's poems side by side instead of in tandem (adapting a practice both familiar and generative in art history classrooms).
Linking Hughes and West in an analytical enterprise serves as a kind of scholarly twofer: Hughes's broad inclusion into the American canon is able to direct our attention back to West, whose work had been out of print for nearly twenty years until the 2004 publication of Biggers and Brosi's reader No Lonesome Road (with much of it remaining out of print today). But this dimension of Hughes's legacy also directs us back to the more radical and formally challenging aspects of Hughes's work that actually get less attention now than before his widespread anthologizing (and before his own self-sanitizing following his appearance before the House Un-American Activities Committee in 1953, reflected in what he chose to include in his Selected Poetry in 1967). Many of Hughes's most explicitly leftist poems, mostly from the 1930s, remained out of print or uncollected until after his death, with the 1973 appearance of Good Morning, Revolution (edited by Faith Berry) and the 1994 appearance of Collected Poems. In particular, the relationship between Hughes and West highlights the interracialism that was such an important part of their poetic projects, especially interracialism born of class solidarity. Further, while promotion of class solidarity characterized much literature of the American Left, the "conversation" between Hughes and West is instructive in the way that it reveals a process by which the two poets helped each other grapple with what that solidarity would mean in terms of both politics and poetics.
Although in the twenty-first century even most US high school students are familiar with Hughes—who after all received a literal stamp of approval from the US Postal Service in 2002—West, even with some sustained recent attention (from Jeff Biggers, Chris Green, and James Lorence), largely remains a victim of the historical amnesia regarding the Literary Left that still has not been fully addressed. West's fourth volume of poetry, Clods of Southern Earth (1946), sold over twelve thousand copies by subscription before even coming from the press, and it sold nearly one hundred thousand copies during its run. This was reported in the Atlanta Constitution as a record for a first book of poetry—which is remarkable even though Clods was not, in fact, West's first book of poetry—but West, succinctly tagged a "mountain socialist" by his colleague and Highlander School cofounder Myles Horton, remains mostly unknown.[3]
Top of page